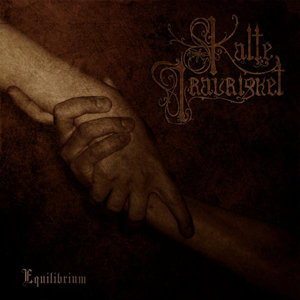 Title: Equilibrium
Artist: Kalte Traurigkeit

Genre: Classic / Electronic
Release Date: 2008
Label: Shinto Records
Album Review

The whole story started in the winter of 2002, when Eric Labrie started experimenting with dark ambient, Dark Wave, and down tempo music under the alias WINTER OF FANTASY, which produced three demos but never had any official release. During his musical experiments the style shifts into a more symphonic, classically oriented direction, eventually leading to the addition of mezzo-soprano singer Mirelle Tessier to the line-up. In October 2007, they entered the studio to produce 'Equilibrium', the first part of a trilogy.
With 'Introitus', we're entering the neo-classical universe of 'Equilibrium', firstly dominated by disquieting organ play, later to be replaced with contemporary classic elements like strings; synthesized ones for that matter. Founding on minor piano and equalling strings, the next track 'Equilibrium' radiates a kind of depressing melancholy that's hardly to be clothed in words. But where the introduction relied on emotion breeding instrumentation alone, the bland voice of classical singer Mirelle manifests on this one, bringing a striking beauty into the aural portrait of a barren landscape in grey tints! 'October Reveries' is being gently pushed forward by cold winds of sorrow, the autumn brought along. Nothing but sad thoughts can come to the minds of those, listening to these notes.
The next one's offering no cheery, brighter tones either. One gets invited to a funeral mass. Heavy knells sound and the church gates slowly open to let the cortège pass. It's not the bright voice of Mirelle we get to hear this time, but the grief-stricken, distorted screams of second member Eric Labrie, filling our souls with anxiety, while the song's utilizing all possible kinds of classical components like the mighty church organ, clarinet or the already familiar strings to craft an atmosphere of grief, the omnipresent theme of this record. 'Commiseration' is nearly 3 minutes of vocals without any additional instrumentation. That only turns out good if you're having a real good singer by your side like Mirelle and the beautiful sound of her voice really dispenses with the need of every other instrument.
'Equilibrium' definitely is no easy listening music or something you could listen to while being overly happy. It's a perfect soundtrack for the dark and melancholic hours in life, for cold and lonely autumn or winter nights brought to life with the means of classic and electronic music. Convince yourself if it's magic aura.
Tracklist

1. Introitus – 1:27
2. Equilibrium – 6:14
3. October reveries – 2:26
4. Mother, beneath this mask – 5:47
5. Les idées noires – 7:53
6. Shadows of memories – 5:31
7. Dance of Leaves – 1:48
8. Commiseration – 2:49
9. For funerals to come – 8:38
Line-up

Eric Labrie - Piano, Keys, Lyrics, Songwriting, Male Vocals
Mireille Tessier Doyle - Female Vocals, Choir compositions, Songwriting
Website

http://www.myspace.com/kaltetraurigkeit
Cover Picture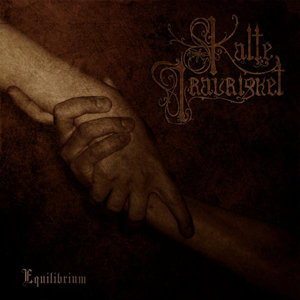 Rating

Music: 8
Sound: 7
Extras: -
Total: 7.5 / 10