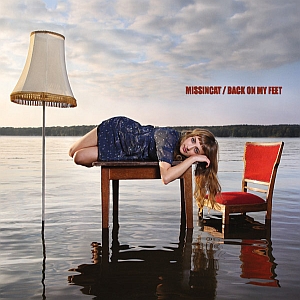 Title: Back on my Feet
Artist: Missincat
Genre: Acoustic
Release Date: 20th February 2009
Label: Revolver Distribution
Album Review

MISSINCAT alias Italy born Caterina Barbieri is a musical multi-talent: She plays piano, guitar and for six years played the bass in a band called VERTIGINI before she decided to do something on her own. Eventually she came to Berlin just to travel back to Italy soon 'because she won an award connected with participation at famous Heineken Jammin' Festival in 2007. The same festival also became her sponsor for the first album taking over the studio costs and in-between her work for the debut album supported AMY WINEHOUSE on the German leg of her tour. Anyway 'Back on my Feet' was finished in December 2007 and is to be released now on Friday.
It's astonishing to see how reduced-to-the-essentials the songs on 'Back on my Feet' are. The respective song always gets what it needs and so a song like the opener and title track has no drums but just acoustic guitar, Cat's unmistakable voice and a few vibraphones drops in-between and that's definitely enough. For the next one 'Inside my Heart' which also transports a slightly darker mood she adds a few rhythmic shakers, deeper bass drones, as well as some really nice trumpet solos providing a bit of a South American, perhaps Mexican flair to the song which I find very refreshing. 'Shoot!' is judging from its lyrics a clearly political influenced song 'Some says the world is sick / and our justice could heal it / staining with blood the hands of the people / but still preaching love." Does that, too, remind you of a certain man? Bass and acoustic guitar seem to be inextricably linked to each other for most of the song. Just for the chorus it disappears for a short while and the vibraphone comes back.
'If I could change the end' not only has some great and a little driving, soft drum spots to come up with; the piano as well has an appearance but even though it's rather subtly integrated into the sound here it always shines through with its grace. A little chiming melody like from a nursery rhyme drifts off the speakers when 'Never Kiss You Again' starts. A melancholic mood is attached to many of the guitar chords which are amongst others underlain by a tambourine. 'Absent Minded' has a more dirty feeling to it and don't ask me why I somehow felt reminded of a Western movie. Perhaps it was the special sound of the guitar that triggered this feeling.
'Back on my Feet' is like a little world full of tiny acoustic pearls and Cat is the guide that leads us through it. No overkill, just pure and simple but never trivial arrangements and a voice that can't be mistaken. Be sure to check her out!
Tracklist

01. Back On My Feet – 2:37
02. Inside My Heart – 3:06
03. Shoot! – 2:59
04. If I Could Change The End – 2:59
05. Everything – 2:20
06. Just For Love – 3:07
07. Never Kiss You Again – 3:29
08. I Don't Believe – 2:36
09. Absent Minded – 2:10
10. My Friend – 2:55
11. Again – 3:37
12. Say To Me – 1:39
Line-up

Caterina Barbieri
Website

http://www.missincat.com/
/
http://www.myspace.com/missincatmusic
Cover Picture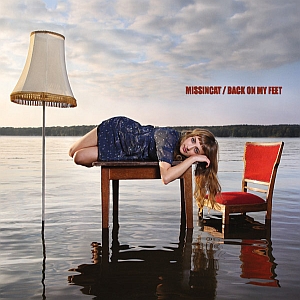 Rating

Music: 7
Sound: 8
Extras: -
Total: 7.5 / 10