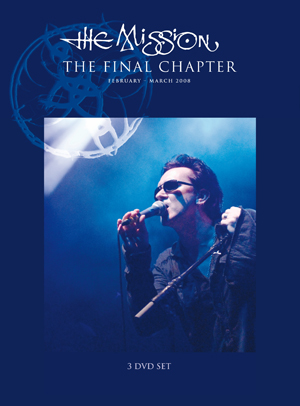 Title: The Last Chapter (DVD)
Artist: The Mission
Genre: Goth Rock
Release Date: 27th February 2009
Label: Cherry Red
Introduction

THE MISSION are or rather were a band that, with their music, touched millions of hearts all over the world and if you would have let their fans decide they would still do it. But this time it would be for good. After 22 years THE MISSION would disband but it was clear they wouldn't leave without a whimper and so they went on Farewell tour in 2008 climaxing in a 4 days live spectacle in London.
Line-up

Wayne Hussey - Vocals, Guitar
Mark Thwaite - Guitar
Simon Hinkler - Guitar
Richard Vemon - Bass
Steve Spring - Drums
Website

http://www.themissionuk.com/
/
http://www.myspace.com/themissionuk
Detailed Review

Most of the material you'll get to see on these discs has been recorded at the triumphal shows at Shepherds Bush Empire in London where THE MISSION played their last shows ever. There's a certain aura to this 2 DVD's spanning live recording that makes you instantly a part of the live experience. Almost as if you've been in the crowd yourself. You'll get shivers on songs like 'Bird of Passage' or 'Butterfly on a Wheel' or go with the flow when it's time for fast-rocking pieces like 'Hungry as the Hunter' or 'Bridges Burning'. One of the most exciting moments comes when former guitarist and THE MISSION founding member Simon Hinkler joins his old friends to deliver some amazing riffs. At no point the band shows any weaknesses and everyone gives everything he has to make this a memorable show for everybody and most important is: They have fun and you can really see that!
The audience too of course! There's no song without a wave of excitement coming from the people and in many of the songs they just sing the lyrics alone. That's usually the point when you see a big grin on Wayne Hussey's face, who is also never tiring of speaking with his fans in a very leisure and familiar way. Besides the full live package there's tons of bonus footage on an additional third DVD where you get a big glimpse of the rehearsals for this mammoth project. I heard they rehearsed over 100 songs. A treat for all German fans must be the outtake with three songs recorded at the Live Music Hall in Cologne. But the biggest part of the bonus DVD belongs to an in-depth tour report showing the band at all stages of the Farewell Tour with lots of backstage footage. Topping off the release are interviews with all the band members and some fans and some material from the after show party including a short live performance as well!
Now it's time for some technical but not less interesting stuff. On the DVD you can choose between different audio modes suiting your home set-up. Standard for many would be the 6 channel DD track but there's also one DTS and of course a stereo track in best sound quality so no one gets a raw deal here. The cuts during the concert are not too fast and you get to see enough before the camera springs to the next angle. This is probably the most complete live package you'll ever get of this extraordinary band and considering the flood of material packed on the discs the prices are more than fair. Value for money and a must have for your collection!!!
Cover Picture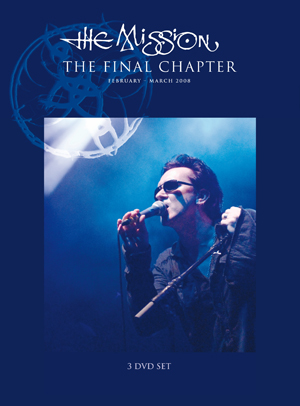 Tracklist

DVD1
01. Amelia
02. Hand Across The Ocean
03. Into The Blue
04. Paradise (Will Shine Like The Moon Tonight)
05. Butterfly On A Wheel
06. Sea Of Love
07. Grapes Of Wrath/ Lovely
08. Bird Of Passage
09. Belief
10. Hungry As The Hunter
11. Deliverance
12. Like A Child Again
13. Mr. Pleasant
DVD2
01. Like A Hurricane
02. Over The Hills And Far Away
03. Bridges Burning
04. Dance On Glass
05. Stay With Me
06. Island In A Stream
07. Love Me To Death
08. Dream On
09. Afterglow
10. Fabienne
11. Severina
12. Wake (rsv)
13. Forevermore
14. 1969
15. Shelter Form The Storm
16. Tower Of Strength
DVD3
01. Rehearsals mit Ausschnitten aus:
- Kingdom Come
- Love Me To Death
- Black Mountain Mist
- Mr Pleasant
- Island In A Stream
- The Crystal Ocean
- Garden Of Delight
- 1969
- Bridges Burning
- Heat
- Fabienne
02. On the road with the Mission
03. Live in Köln - Live Music Hall, Germany
- Kingdom Come
- Beyond The Pale
- Garden Of Delight
04. Aftershow Party @ Shepherds Bush Empire mit Liveauftritt
- Serpents Kiss
- Wasteland
05. Interviews
Rating

Audio: 8
Video: 8
Concert: 9
Extras: 9
Total: 8.5 / 10