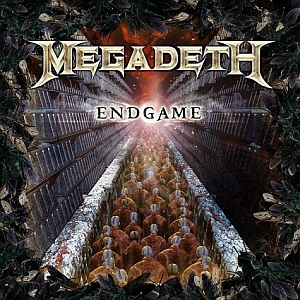 Title: Endgame
Artist: Megadeth

Genre: Heavy Metal
Release Date: 11th September 2009
Label: Roadrunner Records
Album Review

America has exposed itself to a wide range of music one being heavy metal music and thus the birth of MEGADETH. The band unleashes upon the world their twelfth LP to date - entitled 'Endgame'. But is this really the "end" of MEGADETH? As far as this album goes, it's a rotation of new beginnings. For instance it welcomes guitarist Chris Broderick, allowing him to do his part on this album making process. Front man of the ground Dave Mustaine had this to say about the album.
"It is fast, it is heavy, there is singing, yelling, speaking, and guest voices (maybe not singing - more like in "Captive Honour"), the soloing is insane. We have some great song concepts, like 'Nothing Left to Lose' which is a song about having been wiped out, like so many Americans, from the recession and potential depression years of 2000, or 'Bite the Hand that Feeds' which is a song about the greed of the fiduciary leaders of the financial world and how they just didn't care about the responsibility they had to the public. There are also songs like '1,320' a song about nitro fuel funny cars (something I enjoy)."
- Wikipedia
He goes on to say 'How the Story Ends' and 'This Day We Fight' were both inspired by
"warrior creed from the great Sun Tzu with the use of drums and flags in ancient war, and an impassioned plea from Aragorn to his loyal fighters in Lord of the Rings trilogy, respectively".
He adds
"I also have some bizarre songs, like 'Head Crusher' which is about the medieval torture device, and 'Endgame', the title track, which is about a bill that ex-President George W. Bush signed into law that gave him the power to put American citizens in detention centres here in the United States, and a favourite lyric of mine on this record about the North Hollywood bank robbery of 1997."
- Wikipedia
When it comes to breaking down 'Endgame' you get delivered with 11-tracks that are, as Mustaine calls, very fast and heavier than anything they've ever made before managing to recapture the pure essence and energy that MEGADETH was known to create when they first started making music. Some songs consider listening too 'This Day We Fight!', 'Bite The Hand That Feeds' and 'Bodies Left Behind', aside from the ones Mustaine had mentioned of course but these three selected tend to overpower all the others altogether. In short each of these three selected tunes carries out the true MEGADETH sensation that this band was known to create when they first started as a band. The instrumental styles are intense and raw with extreme emotion written all over it along with the lyrics being very meaningful and true to the cause they're discussing. The music alone setting up the perfect theme, MEGADETH is trying to produce, the theme of absolution.
Tracklist

01. Dialectic Chaos
02. This Day We Fight!
03. 44 Minutes
04. 1,320'
05. Bite the Hand That Feeds
06. Bodies Left Behind
07. Endgame
08. The Hardest Part of Letting Go... Sealed With a Kiss
09. Headcrusher
10. How the Story Ends
11. The Right to Go Insane
Line-up

Dave Mustaine - Lead Vocals, Lead, Rhythm, and Acoustic Guitars
Chris Broderick - Lead, and Rhythm Guitars
Shawn Drover - Drums
James LoMenzo - Bass Guitar
Website

www.myspace.com/megadeth
/
http://www.megadeth.com/
Cover Picture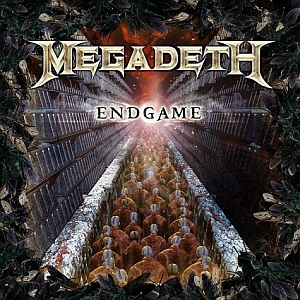 Rating

Music: 8
Sound: 8
Extras: -
Total: 8 / 10
{jos_sb_discuss:19}