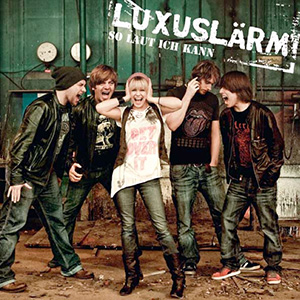 Title: So laut ich kann
Artist: Luxuslärm

Genre: Rock, Pop
Release Date: 29th January 2010
Label: Die Opposition
Album Review

The German Rock formation LUXUSLÄRM from Iserlohn started its career under the name BLUE CINNAMON. Front woman Jini Meyer and her male colleagues Henrik, Eugen, Jan und David used to play cover versions of popular rock and pop songs until they decided to write own German-language songs in 2006. After they had won the North Rhine Westphalia "Rock it!" contest in 2007, the single `1000 km bis zum Meer´ (2008) caused quite a stir as well as the same-titled album. A further single entitled with `Unsterblich´, numerous appearances and club gigs followed up the release and LUXUSLÄRM soon gained a big following. Though I had heard about the formation, I only knew the catchy `1000 km bis zum Meer´ which was played many times on the radio. In last year's summer, I attended the Schlossgrabenfest in Darmstadt and was pretty impressed by LUXUSLÄRM, as the likeable five-piece delivered a rousing concert and was welcomed euphorically by the young audience. Therefore, I was curious about the recent piece of work which has been available in the stores for some days.
The first impression: The band members remained true to themselves and their style. 14 German-language songs, Jini's distinctive vocals, thoughtful lyrics and a radio-ready soundscape with catchy guitar lines clearly refer to what LUXUSLÄRM has become famous for. The opener `Sag es wie es ist!´ is a ska-influenced, mid-tempo rock track with a passionate refrain revealing the strengths of the quintet. Contrary to the first song, `Sie sieht es nicht´ is a dreamy and poetic ballad coming up with a gentle piano melody whilst energetic drums and melancholic vocals taken from `Schrei so laut ich kann´ result in a rather alternative style. The sad but relaxed `Regen´ is one of my favourite tracks, as it features a beautiful symphonic pop melody connected to fragile singings Jini Meyer is intonating in a very passionate and authentic way. While listening to the album, it struck me that the LUXUSLÄRM music also lives on the down-to-earth song writing: Without any kitsch and pathos, the lyrics deal with everyday life problems everybody should know about. Compared to other stylistically related artists such as SILBERMOND or JULI, LUXUSLÄRM scores with more expressive vocals as heard on `Wirf den 1. Stein´. Nevertheless, `So laut ich kann´ should appeal to fans and listeners of the aforementioned bands in particular.
Tracklist


01. Sag es wie es ist!
02. Sie sieht es nicht
03. Nichts ist zu spät
04. Feuer
05. Jemand anders sein
06. Du weißt nicht wie das ist
07. Komm´ ins Licht
08. Vergessen zu vergessen
09. Regen
10. Leb´ deine Träume
11. Schrei so laut ich kann
12. Etwas bleibt
13. Wirf den 1. Stein
14. Letzter Tag
Line-up

Janine "Jini" Meyer - vocals
Henrik "Henne" Oberbossel - guitar, vocals
Eugen Urlacher - bass
Jan Zimmer- drums
David "Dave" Rempel - keyboards
Guest musicians: Laith Al-Deen and Anne de Wolff
Website

http://wwwluxuslaerm.de/
/
http://www.myspace.com/luxuslaermmusic
Cover-Picture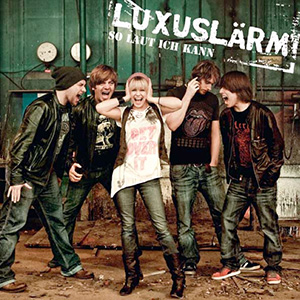 Rating

Music: 8
Sound: 8
Extras: -
Total: 8 / 10
{jos_sb_discuss:19}