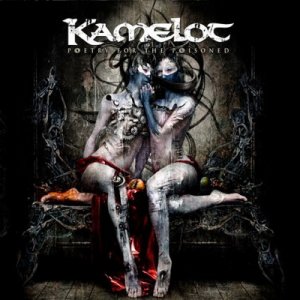 Artist: Kamelot

Title: Poetry for the Poisoned
Genre: Progressive / Metal / Rock
Release Date: 10th September 2010
Label: Ear Music / Edel
Album Review

American KAMELOT let it known that the new, ninth album 'Poetry for the Poisoned' is going to explore "new sounds" and diverse topics in an interview preceding the release. Whilst they delivered on exploration of new sounds - be it Spanish guitar shadowing or the sample interludes, like 'Dear Editor' and 'Pt.I: Incubus'. Though it's a relief from the previous album 'Ghost Opera' which displayed over the top theatricality and seemed to be an application for Andrew Lloyd's Webber's retirement replacement, this is not so very different from what they've done before - no new horizon reached by any means, rather only possibility of a starting stone to taking their music to another level. It doesn't raise the bar for the other bands either. Considering that the band's bio on their official site makes Julius Caesar sound modest by comparison, they need to think again if they are under the impression that they've outdone bands from BLACK SABBATH, JUDAS PRIEST, IRON MAIDEN, QUEENSRYCHE to NIGHTWISH and STRATIVARIUS amongst many others.
Are they at least good for any head banging? 'The Great Pandemonium' would be the song to enjoy oneself in the mosh pit the most. Although the lyrics are a letdown in terms of a rousing epic this could have been, the vocal narration of the song is interesting enough. The opening riff is promising and a good album opener, though the instrumental intermezzo later on is more a show off than the song deserves, it goes on too long and disjoints the whole impression. 'House on a Hill' is certainly the best song of the album; it follows in the tradition of great metal ballads. It has a natural atmosphere that is lacking where most of the album is concerned. 'Once Upon A Time': They love Blind Guardian but don't tell anyone because they are unique! How else to explain the fact that some of the chorus riffs in this specific songs are inspired by the 'Mirror Mirror'? Artistic influence is only great when it is fully transformed; otherwise it's just sterile mimicry.
As far as the lyrics go, which Roy Khan co-wrote with Thomas Younglood, the diversity comes down to only topics such as religion/fate and (pitfalls of) relationships, psychological reflection and a miniscule social theme in one contained spurt. The promised diversity is not of topics as such but of their aspects and that in a limited scope - they're questioning one's place in correlation to religion with some weak God-rebellion included, it comes out insincere, redemption and a hand of fate, the last song ushers in a whiff of an apocalypse and rebirth, and 'after me, the flood' à la Madam de Pompadour's attitude [remember we hide / then so what / if the human race suffocates].
In 'The Black Halo', their seventh album, KAMELOT tried to give their own version of Goethe's Faust; one would think that they would up the game - especially as there is an attempt to establish themselves as the Poets of progressive / power metal. There are too many clichés, they are simplistic, many songs lack overall textual coherence. If this was avant-garde the lapses would be to take the audience into the labyrinth of themselves and the inverted world, but the lapses here predominantly lead nowhere. The title has a promise of a greater exploration lyrically and/or poetically than what they've delivered, except in 'Dear Editor' and 'Zodiac' with a loose echo in 'Hunter's Season'. In terms of content they are the most interesting out of the whole album, more challenging, contemplating the Zodiac Killer of San Francisco or more likely the film about it, whichever, they are more thought-provoking, the rest of the album doesn't measure up although there is tangible air of trying to.
However vocally is where I feel the band has bested themselves; they are stronger, more at ease, and evoke the mood of the song better than before. Simone Simons from EPICA lent her vocals to several songs, which was a great choice - she fits in effortlessly, compliments Roy Khan's vocal and elevates their songs further especially in 'PFTP pt. II - So Long'. Though let it be said, Khan would have done better if he stayed with conception, which did him more justice and with which he had a better, more natural chemistry than with the overproduced KAMELOT; this step for him seems to be more a reactionary setback than progress!
The difficulty in classifying them within one definite brand of metal is nothing but a typical patchwork - symphonic, power, epic and progressive lukewarm parts, randomly attached together as are many of their lyrics. By no means is it an original invention to the gender, it's nothing to write home about yet, this album has not shifted them above their mediocrity.
Tracklist

01. The Great Pandemonium - 4.22
02. If Tomorrow Came – 3.55
03. Dear Editor – 1.18
04. The Zodiac – 4.00
05. Hunter's Season – 5.33
06. House on a Hill – 4.15
07. Necropolis – 4.17
08. My Train of Thoughts – 4.07
09. Seal of Woven Years – 5.11
10. Pt. I: Incubus – 2.56
11. Pt. II: So Long – 3.23
12. Pt. III: All Is Over – 1.03
13. Pt. IV: Dissection – 1.57
14. Once Upon a Time -3.44
Line-up

Roy Khan – vocals
Thomas Youngblood – guitar
Sean Tibbetts – bass guitar
Casey Grillo – drums
Oliver Palotai – keyboards
Website

http://www.kamelot.com/
/
http://www.myspace.com/kamelot
Cover Picture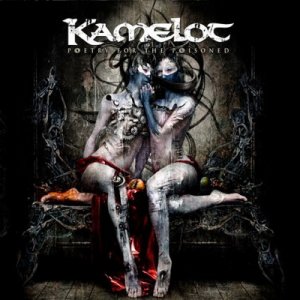 Rating

Music: 5
Sound: 7
Total: 6 / 10
{jos_sb_discuss:19}