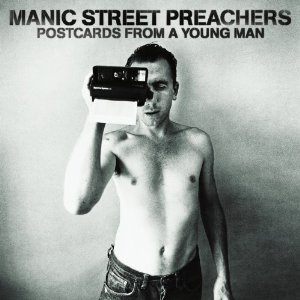 Artist: Manic Street Preachers
Title: Postcards From A Young Man
Gender: Alternative Rock
Release Date: 17th September 2010
Record Label: Columbia (SonyBMG)
Album Review

MANIC STREET PREACHERS (MSP) started out as a punk rock band, lost a member (Flicker) when they've tried to go more mainstream and gained another, Richey James Edwards, who shifted them back to the punk attitude, radical lyrics and harder sounds. After his mysterious disappearance in 1995 (Edwards was legally pronounced thirteen years later as deceased), they oscillated between their post-punk, grungy, hard rock sounds, leftist roots and selling out. In the previous album 'Journal For Plague Lovers', MSP went back to the darker, punk sound and sung lyrics that Edwards left behind and as a whole it had more artistic core and feel than this, in words of Nicky Wire, "unashamed pop album". At the same time, Wire has assured the fans that they still have "the rage". When listening to 'Postcards From A Young Man', you will need a stethoscope to find it; it's too faint to hear it.
Music-wise, this album is as if they've put their old catchy songs into a dysfunctional washing machine and decided to convince you that it's a new garment. The washing powder here is Ex GUNS N' ROSES bassist Duff McKagan featured on one of the album's songs, 'A Billion Balconies Facing the Sun', and Ian McCulloch from ECHO & THE BUNNYMEN on 'Some Kind Of Nothingness' who do brighten up the songs for MSP, not so much the gospel choir. As for musical influences for this album the list goes on from BOWIE, QUEEN, PINK FLOYD to BEATLES and other mainstays of mass popularity. The album titled second song states "this life... it sucks your principles away, you have to fight against it every single day" and ends with proclamation "I will not give up and I will not give in"... not so convincing, furthermore, the gospel choir to confirm the song's sentiments spoils it. The "congregation" might sing along it once as it's catchy, but the result is tepid and unmemorable.
'Some Kind Of Nothingness' is one of the better songs on the album, it's not beating the dead horse of the before-tried tunes, and the choir is not placed here so intrusively to underline the instruction how to feel as in the previous song, rather the feeling of melancholy is let out more naturally and doesn't impose on the listener. 'Hazelton Avenue' is a yawner; as is the next 'Auto-Intoxication', vocals are terrible, even embarrassing. The pace is musically determined to be energetic, but it's played as if it was the last hour of a long shift. 'A Billion Balconies Facing The Sun' is definitely helped by McKagan's presence and it is by far the best song on the album. It has the most energy that doesn't feel as if it was sucked out hard from exhausted batteries. It is so unlike the overall tired feel that it comes as a welcomed surprise; it also lacks the pretensions that abound otherwise, and above all it is a very good Rock'n'Roll song to have fun with.
Placing 'All We Make Is Entertainment' right after it brings on a complete contrast with this song's re-cycled and tedious music, its simplistic and disappointing lyrics. This is a critique of UK being the elephant in a china cup with its foreign policies. This sermon brings nothing new under the Sun and it won't rouse even a cat out of its sleep. Its rhetoric is as empty as electoral promises of any government out there. The critique of the internet (are they scared of its anarchic nature by any chance?) in some of the songs only serves their claim that they are classical kind of rockers, nothing else (and don't steal their music on the Satanic net!). Authenticity has always been the Sword of Damocles above their heads; Edwards even carved out "4Real" on his arm with a razor blade in response to the accusation of lack of it. Nicky Wire speaking about the new album in NME said that their prerogative is to sneak into the mainstream and infiltrate it with their message.
Wire also hailed this as a last attempt at mass communication. I don't think that compromising with the system and simultaneously apologising for it that the album communicates is what the "masses" need right now. And if they wanted to infuse the mainstream with political and social consciousness, where is it? Well, it's missing or subdued or preached from the pulpit at us, not from the street, just liberal garbage with radical pretensions - where is the informative nature, more authentic radicalism, and complexity of Edward's lyrics? Where is the artistry in the sound? Sadly, 'Journal for Plague Lovers' appears to really be a good bye for that. The credibility of MSP is shown a fast approaching expiration date on this album; let's hope it's the last pop swing as Wire claimed it to be or it will come sooner than later.
Tracklist

01. (It's Not War) Just The End Of Love - 3.27
02. Postcards From a Young Man - 3.35
03. Some Kind of Nothingness (feat. Ian McCulloch) - 3.50
04. The Descent (Pages 1 & 2) - 3.27
05. Hazelton Avenue - 3.23
06. Auto-Intoxication - 3.47
07. Golden Platitudes - 4.23
08. I Think I found it - 3.06
09. A Billion Balconies Facing The Sun - 3.39
10. All We Make Is Entertainment - 4.15
11. The Future Has Been Here 4Ever - 3.38
12. Don't Be Evil - 3.18
Line-up

James Dean Bradfield - lead vocals, guitar
Nicky Wire - bass, backing vocals, lead vocals on 'The Future Has Been Here 4Ever'
Sean Moore - drums, percussions, trumpet
Website

http://www.manicstreetpreachers.com/
/
http://www.myspace.com/manics
Cover Picture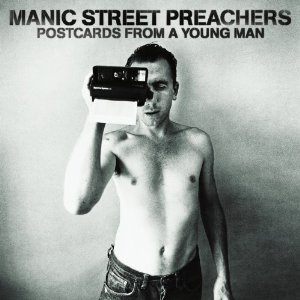 Rating

Music: 4
Sound: 4
Total: 4 / 10
{jos_sb_discuss:19}