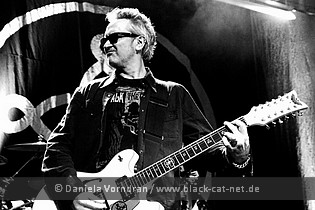 Bürgerhaus Stollwerck, Cologne, Germany
1st November 2011
The Mission, Dead Guitars

The eve of all Hollow's Day was a special one for THE MISSION fans. The band was playing a series of selected shows on occasion of their anniversary. As expected, the show sold-out in no time. Friends of the band DEAD GUITARS were supporting them again this time.



Dead Guitars

The DEAD GUITARS came to life in 2003. None of the founding members was dark horse in the music business. Pete Brough is former founding member of the band 12 DRUMMERS DRUMMING which gained international attention and Ralf Aussem was member of the original line-up. Third founding member Carlo van Putten was singer and songwriter of THE CONVENT and gathered lots of stage experience during that time. In 2007 they have been joined by Patrick Schmitz on drums and Sven-Olaf Dirks on bass guitar. That same year, in June to be specific, the DEAD GUITARS debut 'Airplanes' was released. In October 2008, the following second album 'Flags' saw it's pre-release with two shows in Germany and the Netherlands. In the meantime the guys have put out their third album 'Stranger' in 2011. http://www.deadguitars.com/ / http://www.myspace.com/deadguitars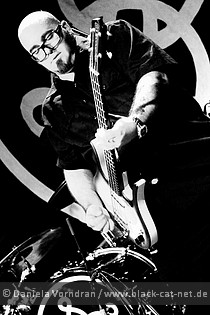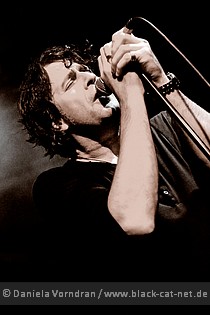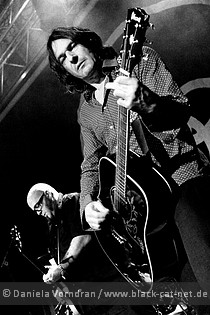 Music & Performance
Last time, when they were playing in Duisburg, I didn't have the chance to see them so I was more than happy to have made it now. Seeing them without any fog surrounding them seemed a little strange at first, but you get used to everything. The set started with 'Name Of The Sea' which does a lot better live than on CD to me. Particularly the vocal performance is ace. Since there's a new album out since September, a few tracks of it needed to be on the setlist of course. First of which being the opening 'Love Goddess & Loveghost', a softly driving song, actually classic DEAD GUITARS. I hoped this song would be played so thanks guys for hearing my prayers. The chorus is one of the best to have appeared in one of the songs for me. The second track out of 'Stranger' was 'Along The Great Divide' drifting along on melancholy waves it's got a density that's hard to be found. They even went slower with the following 'Silver Cross River' which does its name real justice. If you've heard it once before you'll know what I'm talking about. 'Crash' off the first album made the closing of the set. Once again spiked with many instrumental intricacies DEAD GUITARS once again fully delivered.

Setlist
01. Name Of The Sea
02. Crumble Zone
03. Love Goddess & Loveghost
04. Along The Great Divide
05. Silver Cross River
06. Crash

Rating
Music: 9
Performance: 9
Sound: 9
Light: 7
Total: 8.7 / 10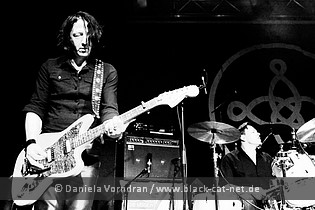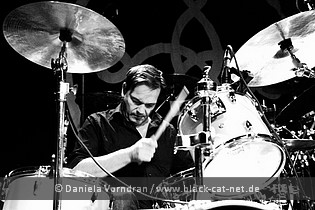 The Mission

In October 2007, Wayne Hussey announced the "second" end of THE MISSION after 22 years "with a minor interruption". After a farewell tour in February 2008, he started to pursue other projects. Right in time for the farewell tour, his first solo album 'Bare' was released never intended to be released regularly. Except and April Fool's joke some time ago that met with mixed reaction the silence about THE MISSION remained permanent. But just at the end of an aspiring festival in Belgium, named SINNER'S DAY it was announced that THE MISSION would be playing a gig there this year, celebrating over 25 years as a band. Well, without the gaps of course and while they were at it they just announced that it will become a little series of shows, one taking place in Cologne on All Hallows Day. http://www.themissionuk.com/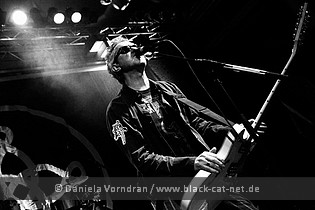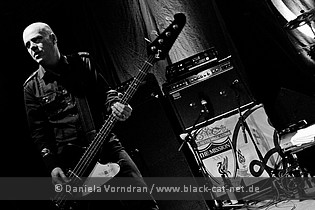 Music & Performance
The highly anticipated start of the main show was made with a classical intro to the end of which the band entered to a brooding audience welcoming them with an applause worthy of a stadium. The actual first track thrown into the audience was 'Beyond The Pale' which the band performed in top shape. Well, not quite Wayne's got some slight problems as he revealed later and that he would need some help. The audience of course was more than eager to fulfil his wish. Actually they did before he was asking on the aforementioned one, but on the following ones like 'Hands Across The Ocean' or 'Serpents Kiss' the gave it even more. In-between songs it was clear as crystal that Hussey would be telling one or the other story and do some of his jokes. But as he put it quite aptly later they were there to play songs, continuing with such highlights of the catalogue as 'Severina' or 'Butterfly On A Wheel' with a great sing along by the audience. At no point during the show you felt any loss of energy, neither on stage nor in front of it. Like a constant exchange between the band and their fans. Rarely seen in an intensity like that. 'Wake' and 'Wasteland' kept that high level up before 'The Crystal Ocean' and 'Deliverance' marked the end of the main set already.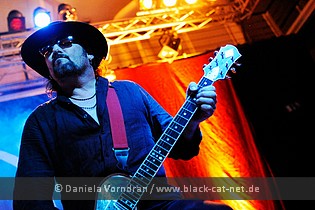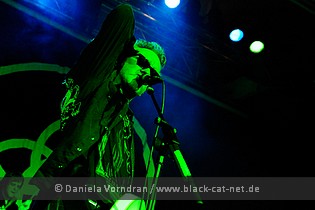 Especially 'Deliverance' was the famous bang at the end. Several people in the front row were singing the chorus one after the other before the entire crowd joined in to guide the band's way off stage. Certainly they wouldn't be gone for long because the clapping wouldn't cease until the band came back for another two encores, culminating with the galloping '1969' as ending ceremony. Bottom line: Great show!!!

Setlist
01. Intro
02. Beyond The Pale
03. Hands Across The Ocean
04. Serpents Kiss
05. Naked And Savage
06. Garden Of Delight
07. Severina
08. Butterfly On A Wheel
09. Stay With Me
10. Wake (RSV)
11. Wasteland
12. The Crystal Ocean
13. Deliverance
---
14. Like A Child Again
15. Like a Hurricane (Neil Young cover)
16. Tower Of Strength
---
17. Blood Brother
18. 1969

Rating
Music:8
Performance: 9
Sound: 8
Light: 7
Total: 8.2 / 10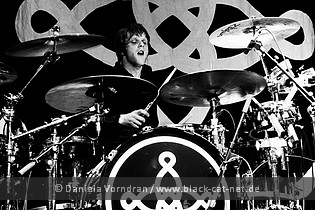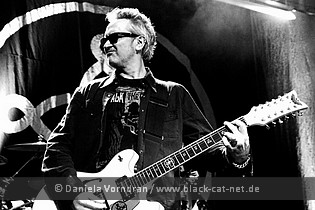 All pictures by Daniela Vorndran (http://www.vorndranphotography.com / http://www.black-cat-net.de/ / http://www.myspace.com/vorndranphotography / http://www.facebook.com/blackcatnet)



See also (all categories):