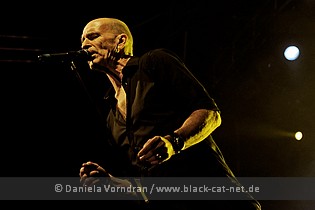 Jovel Music Hall, Münster, Germany
14th November 2011
Marillion & Saga

A sensational package was awaiting us this Monday evening in Münster. After three years of abstinence, original singer Michael Sadler returned to SAGA, who are playing now together wit MARILLION for the first time ever. Besides that, SAGA have a new album in stock full of epic Rock. MARILLION lately excited as support for DEEP PURPLE and were now exciting once more. During the Tour, both bands were chaning headliner position and for this evening in Münster, SAGA was the headlining band.



Marillion

Rock band MARILLION, formed in 1979 (at this time with Fish as vocalist and under the name SILMARILLION according to Tolkien's novel), is one of Britain's most enduring bands. Even though they never won any prices like Brit Awards or Grammy and radio stations barely play them, they have sold more than 14 million records, released 16 studio albums and numerous live albums as well as DVDs, had 8 UK Top 10 albums, played gigs to well over 3 million people and released 24 UK singles. And, they are still making records and are touring 25 years after they formed. The latest release dates back to 2009, when the album 'Less is more' was released. MARILLION today is Steve Hogarth (vocals), Steve Rothery (guitar), Mark Kelly (keyboard), Ian Mosley (drums) and Pete Trewavas (bass). http://www.marillion.com/ / https://www.facebook.com/MarillionOfficial / http://www.myspace.com/marillion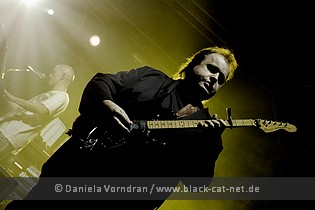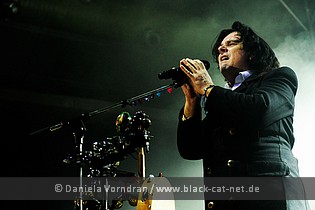 Music & Performance
Before the show started, the venue filled up slowly. This might have been caused by the early start at 19.30. MARILLION started quite calm with 'Splintering Heart' when first only singer Steve entered the stage to start the song. After the first verse, he was joined by his band mates. From the very start I had the impression that Hogarth's voice lacked some power and sounded a little whiney. Anyway, with good sounds and enlightened by white spots from the front, 'Cover My Eyes' from the early nineties was up next. Overall, the sound of MARILLION is surely not easy to catch; the songs are complex and melodic, but also calming and exciting. Their modern flattened Prog-Rock delivers much variety and sense. Furthermore, Mr. Rothery on guitar was responsible for lots of extended guitar solos marking the typical MARILLION sound. During the show, the band earned quite some applause and when Hogarth wanted to welcome the audience, it took a while until he could speak and apology for his bad German, but anyway, he was happy to be there, as he told. Probably best known MARILLION song 'Kayleigh' was played towards the end accompanied by loud singing, followed by 'Neverland' ending the main set.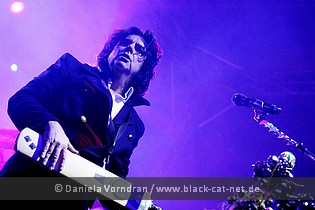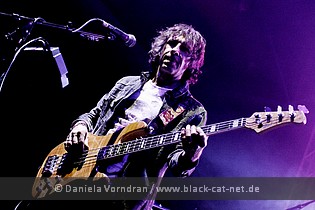 But since both bands had more or less headliner status, an encore was inevitable and so, the band came back for one more song, namely 'The Invisible Man'. Conclusion after about 85 minutes show might be, like one of the visitors told me: if you compare MARILLION with football, the band is second or third league while SAGA are playing Champions' League. This caused high expectations in me and SAGA had to prove later if they could fulfil them.

Setlist
01. Splintering Heart
02. Cover My Eyes (Pain and Heaven)
03. Slainte Mhath
04. King
05. Somewhere Else
06. Hooks in You
07. Afraid of Sunlight
08. You're Gone
09. Man of a Thousand Faces
10. Kayleigh
11. Neverland
---
12. The Invisible Man

Rating
Music: 7
Performance: 7
Sound: 8
Light: 8
Total: 7.3 / 10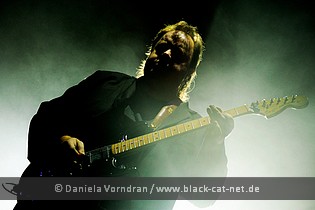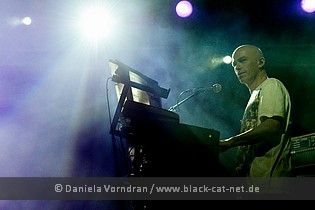 Saga

Roots of Canadian Neo-Prog band SAGA date back to the mid seventies releasing the first album 'Saga' in 1978. Latest release out of 20 studio albums is 'The Human Condition' hitting the stores in 2009. Besides so many albums, the band also released several live albums and DVDs. Besides the "regular" studio albums, SAGA is famous for the 'Chapter' releases, reaching a total number of 16 'Chapter' albums between 1979 and 2003, all having a certain connection to each other. Founding member Michael Sadler left the band end of 2007 and SAGA introduced new singer Rob Moratti. But since beginning of 2011, Sadler is back taking care for the lead vocals once more. SAGA today is (Michael Sadler (vocals), Jim Crichton (bass, keyboards), Ian Crichton (lead guitar), Jim Gilmour (keyboards, clarinet, vocals) and Brian Doerner (drums). http://www.sagaontour.ca/ / https://www.facebook.com/groups/77703339709/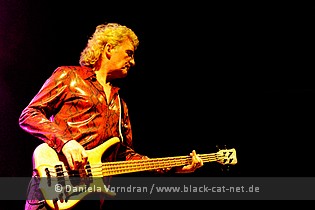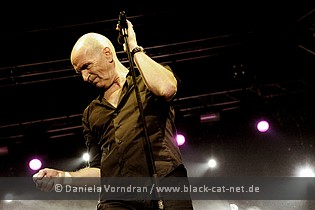 Music & Performance
It was 21.30 when the band entered the stage. SAGA were finally back with extroverted singer Michael Sadler! And the audience was very happy about it, welcoming him after the band had already presented 'Out of the Shadows' and 'Careful Where You Step' with the words "Good to see you back!" what was answered with "Good to see YOU! I missed that!" It turned out that Sadler hat to talk a little longer than this few words since there was a minor technical problem with the drum set. But this was solved quickly and so, the show went on with 'How Long', the first song of first SAGA album, simply named 'Saga', released back in 1978. Right from the start, the audience was more into the show than during MARILLION's set, singing along and clapping loudly. SAGA's sound was very proggy based on massive keyboard and piano lines that were especially recognisable in 'Ice Nice' being played without additional instrumental support. Furthermore, the set contained, several songs out of 'World's Apart' from 1981, like i.e. 'On the Loose', 'Framed', 'Time's Up' or very last song of the evening, 'Conversations'.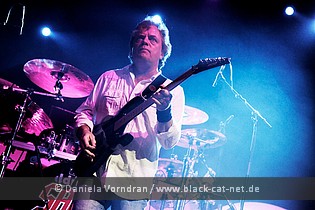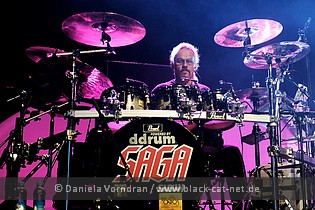 But back to Sadler! He was connected closely to the audience, telling some jokes or commanding people to song along or play a little game with him meaning that first, one half of the audience was screaming and then the other one while 'You're not alone' was on the run. Sadler really is an impressive front man, striking a lot of theatrical poses making comparisons with QUEEN's Freddy Mercury coming up. Maybe he's indeed one of the most charismatic lead singers of all time. Even though people surely could endure a lot of more songs, any good thing has come to an end and so, after nearly 90 minutes, it was time for the last song 'Don't Be Late'. Well, you guess right, there was of course an encore consisting of 'Wind Him Up' and the already mentioned 'Conversations'. Great show that makes you wanting more!

Setlist
01. Out of the Shadows
02. Careful Where You Step
03. How Long
04. On the Loose
05. Ice Nice
06. You're Not Alone
07. The Runaway (was cancelled from the setlist)
08. 3/4 Medley (... / The Perfectionist)
09. Framed
10. Time's Up
11. Scratching the Surface (long, band version)
12. The Flyer
13. The Pitchman
14. Humble Stance
15. Don't Be Late
---
16. Wind Him Up
17. Conversations

Rating
Music: 9
Performance: 9
Sound: 8
Light: 8
Total: 8.7 / 10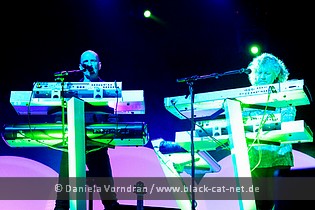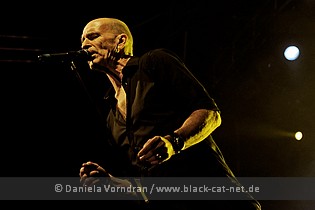 All pictures by Daniela Vorndran (http://www.vorndranphotography.com / http://www.black-cat-net.de/ / http://www.myspace.com/vorndranphotography / http://www.facebook.com/blackcatnet)