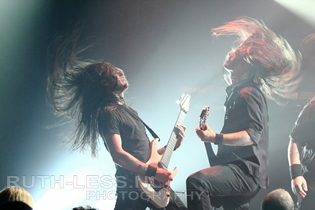 P60, Amstelveen, The Netherlands
6th January 2012
Mayan, Purest of Pain

I have seen several of tonight's band members in their other or previous bands EPICA, DELAIN and AFTER FOREVER, but I'm looking forward to seeing them turn it up a notch for some more loudness and guitar violence. Although I expected P60 to be more crowded, a proper bunch of people have gathered in front of the stage and the number of MAYAN fan shirts is pretty well represented.



Purest of Pain

Death metal band PUREST OF PAIN was formed in 2008 by composer and guitarist Merel Bechtold. With only a few songs in their repertoire, they were able to do a lot of live shows with both national and international acts such as UNEARTH, TORTURE SQUAD, ONSLAUGHT and EVERGREEN TERRACE. From tonight on, MAYAN can be added to this list. PUREST OF PAIN was nominated for the Dutch 3VOOR12 Award Best Live Act Utrecht. In June of last year, they released their debut EP 'Revelations in Obscurity'. PUREST OF PAIN is Ilja van de Rhoer (vocals), Merel Bechtold (lead guitar), Frank van Leeuwen (bass), Jop Engels (drums) and Daan van Houten (rhythm guitar, backing vocals). www.purestofpain.com / www.myspace.com/purestofpainband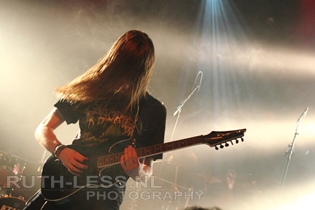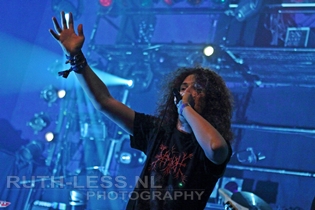 Music & Performance
Do not let the youthful appearance of PUREST OF PAIN fool you is the first thing to notice about this band. After a short intro, PUREST OF PAIN kicks off this black metal evening with 'The sickening reality' from their debut EP 'Revelations of Obscurity'. Blasting drums, raging guitars and roaring grunts characterize their music. Although the evening is still young and most of the audience is sipping on their first beer, PUREST OF PAIN seems very well warmed up. There's only time for a short set, and after a song or two, front man Ilja asks the audience if they feel like moshing… the silence for the audience speaks for itself… but fortunately that doesn't lower the enthusiasm and energy of PUREST OF PAIN.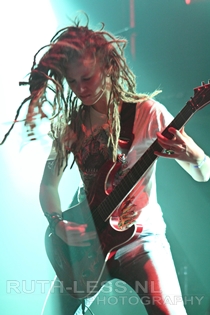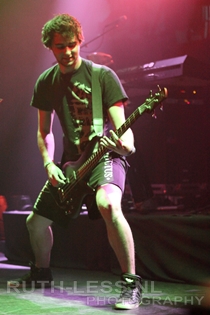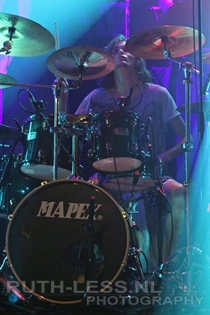 Although the drum sound seemed a bit off, I definitely am confident to conclude that fans of death metal should keep their ears and eyes open for PUREST OF PAIN in the future!

Setlist
01. Intro
02. The sickening reality Part II
03. Wandering through parallel Dimensions
04. The fall
05. Misconception in a devouring world

Rating
Music: 8
Performance: 7
Sound: 7
Light: 5
Total: 6.8 / 10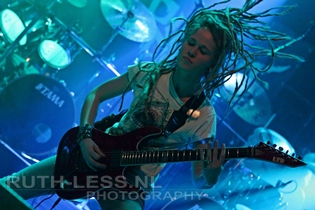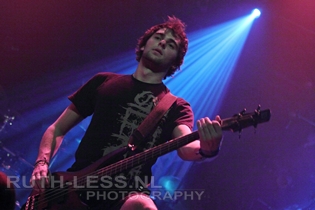 Mayan

MAYAN started out as a project in 2010, founded by musician Mark Jansen (EPICA) with two former members of AFTER FOREVER: Jack Driessen and Sander Gommans. Their goal is to produce heavy technical death-metal with a symphonic touch. MAYAN was completed with the addition of well known names from the scene Frank Schiphorst (SYMMETRY), Ariën van Weesenbeek (EPICA, ex-GOD DETHRONED), Isaac Delahaye (EPICA, ex-GOD DETHRONED) and Rob van der Loo (ex-SUN CAGED, ex-DELAIN). The clean vocals on their CD are taken care of by a series of guest vocalists, such as Floor Jansen (REVAMP, ex-AFTER FOREVER), Simone Simons (EPICA), Henning Basse (SONS OF SEASONS) and opera singer Laura Macrì. Their debut album 'Quarterpast' was released in may 2011. After a tour in South America, MAYAN is back in the Netherlands to rock the stage. www.myspace.com/mayanofficial / www.mayanofficial.com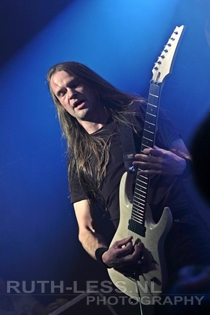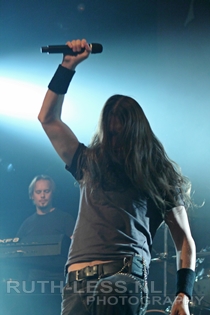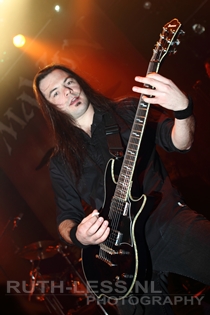 Music & Performance
After a short break, MAYAN enters the stage with the first song of their CD 'Quarterpast': 'Symphony of Agression'. Several guest singers are present on their debut album and tonight, singer Henning Basse of SONS OF SEASONS joins the show, as well as opera singer Laura Macri. Together with the "chocomel-grunts" of MAYAN front man Mark Jansen, the combination of voices works out really well, and creates true death metal opera musical-like atmosphere. Fortunately, the essential elements of death metal are not neglected; not at all. Drummer Ariën (also EPICA) can hardly be seen behind his giant drum rack, but we can hear him fairly good to say the least: drums like a machine, loud and aggressive. Guitars are properly taken care of by Isaac Delahaye and Frank Schiphorst and Rob van der Loo on bass.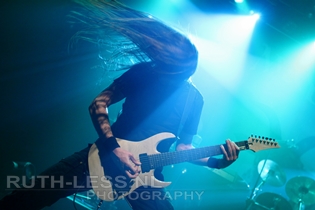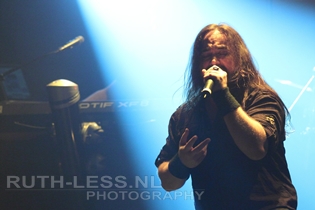 After a series of songs from 'Quarterpast', MAYAN takes on EPICA cover 'Incentive'. The atmosphere at P60 is relaxed and the audience visibly enjoys the show. In between songs, front man Marc reminds the audience not to drink too much beer, but certainly not too little either. Their show at P60 is not that crowded and also not enhanced by pyros and flames. Although this takes away a bit of MAYAN's grotesqueness and glamour, it proves even more that musically, they stand their ground. A small alteration was made to the set list by skipping the Iron Maiden Medley, leading to a bit of a disappointment for some of the audience. MAYAN takes a short break and up next, singer Laura takes the stage with a vocal solo 'Solo Mio' from Puccini. She's a great singer for sure, but personally this is not what I came here for tonight. Fortunately, things are made up with 'War on Terror' which according to Mark is the loudest most brutal song on 'Quarterpast'.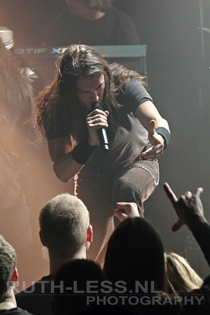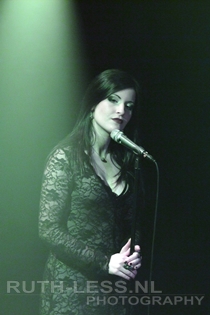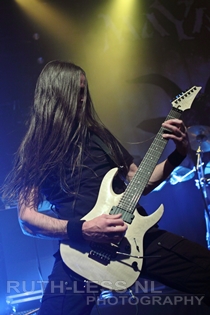 Tonight's set list concludes with 'Sinner's last retreat'. And I would like to conclude by saying that MAYAN is almost too much testosterone and long hair to handle!

Setlist
01. Symphony of Aggression
02. Mainstay of Society
03. The Savage massacre
04. Quarterpast
05. Course of Life
06. Essenza Di Te
07. Incentive (Epica Cover)
08. Celibate Aphrodite
09. Bite The Bullet
10. Solo mio
11. War on Terror
12. Sinner's last retreat

Rating
Music: 8
Performance: 8
Sound: 8
Light: 6
Total: 7.5 / 10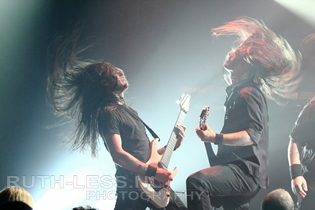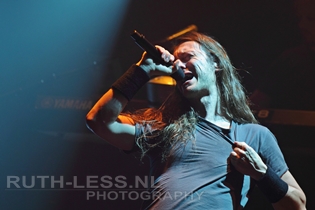 All pics by Ruth Mampuys (www.ruth-less.nl)