Backstage Werk, Munich, Germany
17th March 2012
Megaherz, Hämatom, Cold Rush

After MEGAHERZ accompanied SUBWAY TO SALLY on their winter tour in 2011 and after the release of their 7th album 'Götterdämmerung' on 20th January 2012, the band started their own 'Götterdämmerung' tour through Germany. Now it was time for the final show in Munich!



Cold Rush

COLD RUSH comes from Munich. Their music is a mixture of Industrial, Electro- and Metal sounds. Up to now they rocked all over Germany already with bands like LETZTE INSTANZ, STAUBKIND, MONO INC., and… MEGAHERZ! www.cold-rush.com/

Music & Performance
Already at 7:45 PM, singer Matthias, guitarist K.L., bassist Ramirez, drummer Flo, Keyboarder Daniel and guitarist Wutzl arrived on stage. For them, this evening was a home match. In the Backstage club, still lively activity ruled at this time - probably caused by the fact that the concert should start originally at 8:00 PM and a lot of visitors still stood in a long queue in front of the doors. Anyway, the rockers were not holding back and gave everything while delivering a programme full of power during half an hour. Yet, the power unfortunately was not so surely arising within the already present guests. And thus, COLD RUSH left the stage under only moderate applause.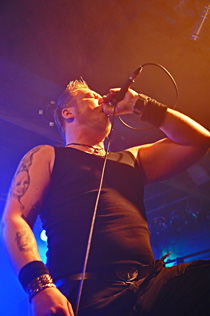 Setlist
01. Intro
02. Under Control
03. Karmageddon
04. Mein Leid
05. Warstomp
06. Fields Of Glass
07. Daily Crime
08. White Z

Rating
Music: 7
Performance: 7
Sound: 7
Light: 5
Total: 6.5 / 10


Hämatom

HÄMATOM is a German Trash-Metal or Neue Deutsche Härte band which was founded in 2004. In the beginning, the lyrics of their songs - all spoken in German - were descended from European fairy tales, as for example to the 'Bi Ba Butzemann'. In the meantime, they write their own fairy tales. They already played at festivals like the Wacken Open Air 2011 and the Hexentanz Festival in 2011. Last year, they published their third album 'Wenn man vom Teufel spricht' which reached place 60 in the media Control charts. www.haematom.de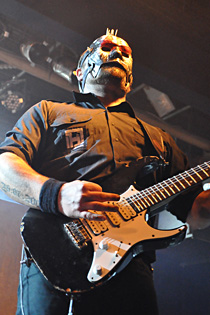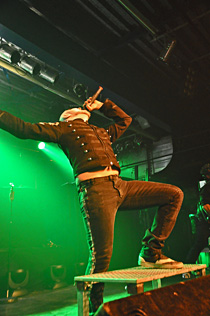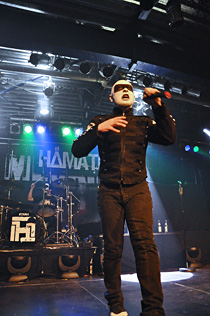 Music & Performance
After a really short rebuilding break, singer 'Nord', guitarist 'Ost', bassist 'West' and drummer 'Süd' of HÄMATOM appeared on stage. By the use of pseudonyms and masks, the artists would like to aim that nobody is deflected by worldly names and appearance of music and visualisation. In the meantime, the hall was well filled; the audience presented a coloured mixture of people of all age groups and style directions. From the very beginning, the band bewitched the listeners. Lightshow and sound were better than with COLD RUSH before and the mood reached one climax after the other for the first time. Songs and show of the band were diverse and at the end they had to play an addition what I in fact have not experienced with a support band before.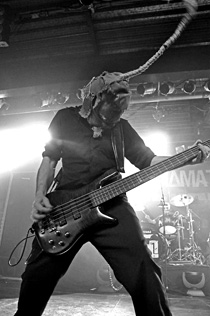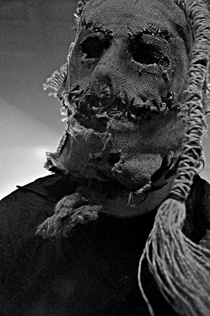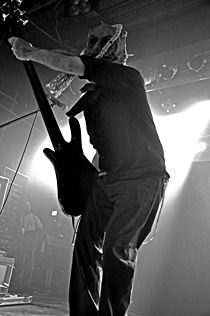 Setlist
01. Intro
02. Kiste
03. Auge um Auge
04. Neandertal
05. Circus Maximus
06. Totgesagt Teil 2
07. Eva
08. Spieglein
09. Schau sie spielen Krieg
10. Sturm
---
11. Leck mich

Rating
Music: 8
Performance: 8
Sound: 8
Light: 7
Total: 7.8 / 10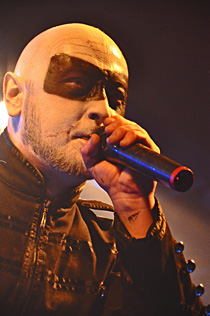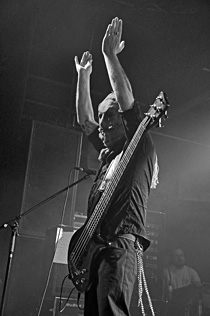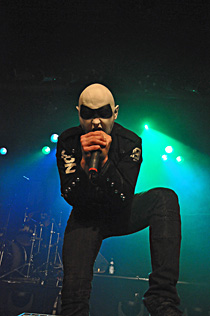 Megaherz

As well as already COLD RUSH, the Neue Deutsche Härte band MEGAHERZ also comes from Munich. The band was founded already in 1993. At that time foundation member was today's EISBRECHER singer Alexander 'Alexx' Wesselsky. Since 2007 Alexander 'Lex' Wohnhaas is singer of the band. Their lyrics often deal with subjects as for example burnt-out love ('Miststück'), everyday problems, social mismanagement ('Mann von Welt') or loss. In January 2012, after a long time of silence finally a new album was released under the name 'Götterdämmerung' wich reached place 19 of the charts. www.megaherz.de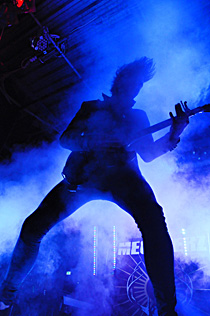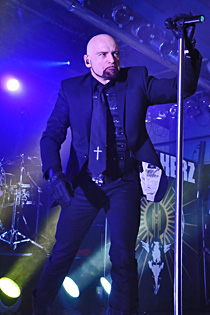 Music & Performance
Then after the rebuilding break the show went on with the long desired main act of the evening: MEGAHERZ! On stage appeared singer Alexander 'Lex' Wohnhaas, guitarist Christian 'X-ti' Bystron, bassist Werner 'Wenz' Weninger, drummer Jürgen 'Bam Bam' Wiehler and guitarist Christoph 'Chris' Klinke. In the meantime, the Backstage Werk was nearly full, and the mood was excellent. The audience took part enthusiastically and at the end of the show you had a wonderful view on many sparklers in the front hall area when standing at the rear area of the hall. Until then, the band offered a successful mixture of older songs which never could be missed on a show, as for example 'Kopfschuss', and of course also songs from their new album 'Götterdämmerung', as for example 'Jagdzeit'.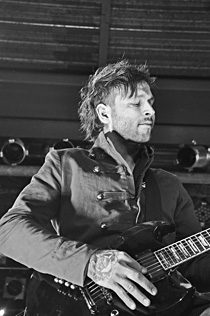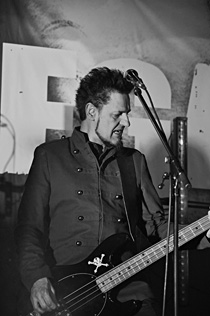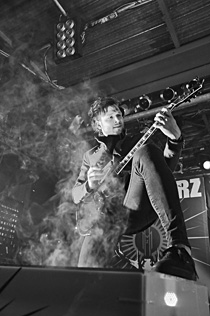 Also the lightshow had exceedingly succeeded - this made, above all, the countless photographers in the very narrow photo pit very glad. Unfortunately, everything has an end and thus, MEGAHERZ said goodbye with some additions and left the stage under blustering applause.

Setlist
01. Intro
02. Glas und Tränen
03. Beiss mich
04. 5. März
05. Kopfschuss
06. Jagdzeit
07. Herz aus Gold
08. Mann im Mond
09. Dein Herz schlägt
10. An deinem Grab
11. Prellbock
12. Rabenvater
13. Feindbild
14. Gott sein
---
15. Licht am Ende der Welt
16. Abendstern
17. Heuchler
---
18. Heute Nacht
19. Miststück

Rating
Music: 8
Performance: 8
Sound: 8
Light: 7
Total: 7.8 / 10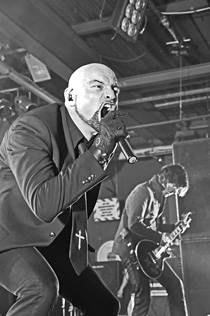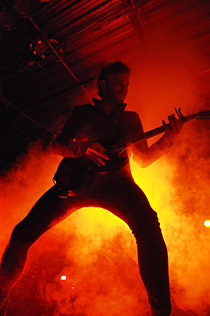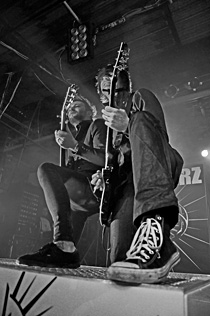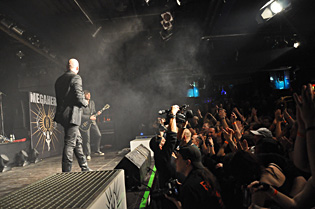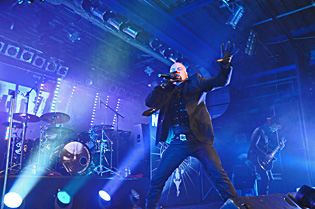 All in all, it was a very well successful concert evening and a nice tour end. However, COLD RUSH could not keep up completely - different to HÄMATOM

All pictures by Erika Knepper (This email address is being protected from spambots. You need JavaScript enabled to view it., www.facebook.com/erikaknepper)