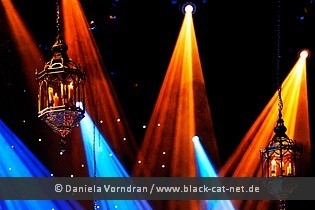 Halle Münsterland, Münster, Germany
29th March 2012
Loreena McKennit - Celtic Footprints Tour

LOREENA MCKENNIT is one of the most popular (Celtic) Folk artist with Gold and Platinum awards in countries like Germany, USA, Argentina and her home country Canada. This spring she's on the road in Europe with her band on the "'Celtic Footprints Tour" which also made a stop in Münster, Germany.


LOREENA MCKENNIT is truly a giant in her genre, although it is a bit difficult to tell what genre this actually is. It's Folk, of course. But there are many elements from quite a number of styles and different cultures from all over the world. Of course there are strong Irish and Scottish Folk roots in LOREENA MCKENNIT's music, after all the Canadian born singer is of Irish and Scottish heritage. But MCKENNIT picks elements from traditional music from all over the world as well as medieval and classical music and New Age, an often somehow historicized style of music which scarcely lacks the melancholic and dreamy quality which is one LOREENA MCKENNIT's trademarks. The singer and multi-instrumentalists also does considerable research for her works, which always have some sort of concept or central theme. With the "Celtic Footprints Tour", MCKENNIT returns to her roots and explores, as you would have guessed, the Celtic music of Ireland, Scotland and England. http://www.quinlanroad.com / www.myspace.com/loreenamckennitt / https://www.facebook.com/loreenamckennitt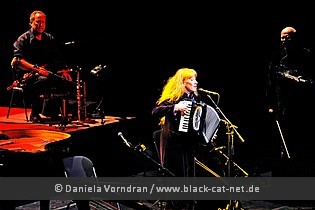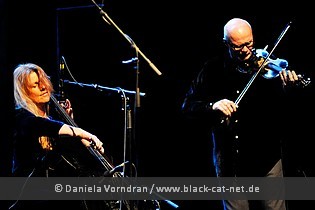 Music & Performance
Seeing LOREENA MCKENNIT live on stage was actually a first for me, and it was about time! The first thing that stroked me was how diverse her audience is. From ageing Goth couples to long-haired guys in NIGHTWISH or SUBWAY TO SALLY shirts to middle-class folks well into the 50s or even 60s to the local Bohemians you see at every vernissage in town. Quite clearly the average age was above 40 although there were certainly also some younger folks. Anyway, without any support act LOREENA MCKENNIT's nine-piece band opened the show on the dot at 8pm. The first song, 'Spered Hollvedel', was performed without leading character who entered the stage to a roaring applause and placed herself behind her big harp for the performance of 'Morrison's Jig'. The atmosphere of the show was pretty intimate, with a black backdrop behind the band and huge candelabra hanging over the stage. The light show was rather minimal for an arena show but beautiful and effectively supporting the mood of the songs. After a couple of songs MCKENNIT became quite talkative, explaining the meaning or history of certain songs, telling little anecdotes from her life or just bantering a little with the crowd. MCKENNIT also said that she actually learnt German for two years in her school days but that she hardly remembers anything except for a few bits of 'Das Lied der Loreley'. She spontaneously sang the first lines of HEINRICH HEINE's famous song, answered by loud and enthused reaction from the audience.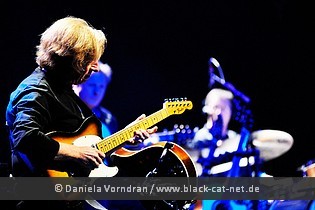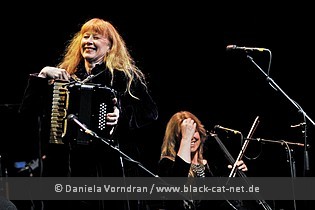 Surprisingly MCKENNIT's speaking voice sounds just as soft and fragile as her singing voice. And her vocal performance was truly stunning! Considering that she's already in her mid-50s LOREENA MCKENNIT's voice sounds pretty young and fresh, and she mastered the vocals perfectly while she was switching between harp, piano and other instruments. Her accompanying musicians are second to none, all of them being brilliant musicians of excellent reputation. Like a theatre production the show had two parts with a 15-minute break in between. The sound of a gong announced that the show will go on and as soon as everyone got back on their seats MCKENNIT and her band started the second part of the performance, which featured a few more classic songs from LOREENA MCKENNIT's back-catalogue, beginning with the popular 'The Wind That Shakes the Barley'. The intimate, enchanting performance is enjoyed best while sitting comfortably, so it was most apposite that the entire arena including the ground floor was seated. From the tender and ethereal 'Raglan Road' to the vibrant and pounding 'The Mummer's Dance' to the mystical and epic 'The Lady of Shalott' it was a stunning and sweeping experience to witness such musical mastery and perfection.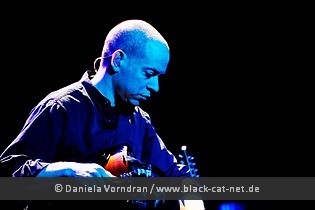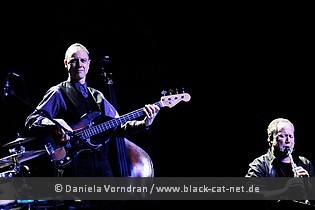 After the second part of the show MCKENNIT and band returned quickly for the encore, which featured fan faves like 'Huron Beltane Fire Dance'. The crowd in Münster even got a very special extra as someone printed out the full lyrics of 'Das Lied der Loreley' backstage during the show; hence LOREENA MCKENNIT sang this song a-capella as a final goodbye. This concert was a quite a refreshing musical experience for me, and it's a rare thing to see such a stellar performance of such highly talented and experienced bunch of musicians. Full points for this!

Setlist
Part 1:
01. Spered Hollvedel
02. Morrison's Jig
03. Bonny Portmore
04. The Star of the County Down
05. The Highwayman
06. The Emigration Tunes
07. As I Roved Out
08. Down by the Sally Gardens
09. The Bonny Swans
---
Part 2:
10. The Wind That Shakes the Barley
11. Raglan Road
12. All Souls Night
13. Santiago
14. Stolen Child
15. The Lady of Shalott
16. The Mummers' Dance
17. The Old Ways
---
Encore:
18. Never-ending Road (Amhrán Duit)
19. The Parting Glass
20. Huron 'Beltane' Fire Dance
21. Lied von der Loreley

Rating
Music: 10
Performance: 10
Sound: 8
Light: 8
Total: 9.5 / 10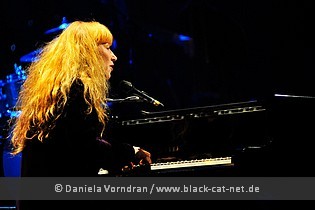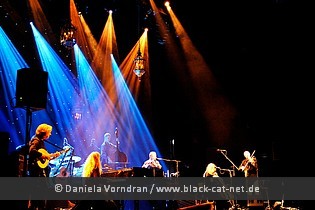 All pictures by Daniela Vorndran (http://www.vorndranphotography.com / http://www.black-cat-net.de/ / http://www.myspace.com/vorndranphotography / http://www.facebook.com/blackcatnet)