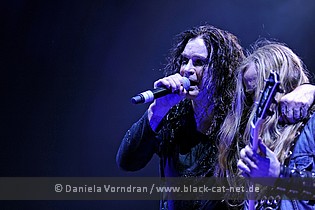 Westfalenhalle, Dortmund, Germany
04th June 2012
Ozzy Osbourne & Friends, Black Label Society, Steel Panther

Originally, this should be one of the BLACK SABBATH concerts after the reunion in late 2011. The reunion was said to feature an appearance at the 2012 Download Festival and a newly recorded studio album by producer Rick Rubin expected to be released in 2013. In November, the band announced a string of European tour dates to take place in May and June 2012. What started so happy was followed by dark clouds. In January it was announced Tony Iommi had been diagnosed with the early stages of lymphoma which was not expected to impede the group's activity. He had to start chemotherapy. In February, the band announced that they will not continue the world tour but will play the Download festival in June 2012. Next to the sad news about Tony Iommi, there were differences with Bill Ward, so instead of BLACK SABBATH the tour featured Osbourne and guest musicians billed as "Ozzy and Friends". Ozzy with his special friends Geezer Butler and Zakk Wylde. The Dortmund show started half an hour earlier than planned. The standing area was filled well, but there were a lot of empty seats above… the BLACK SABBATH show was sold-out, but lots of people gave tickets back after the line-up change was announced.



Steel Panther

STEEL PANTHER is the hottest band out of Hollywood since MÖTLEY CRÜE, GUNS N' ROSES and POISON ruled the Sunset Strip. Arriving in 2009 with debut album 'Feel The Steel' - hailed by Kerrang! magazine as "close to perfect" - STEEL PANTHER has won a legion of fans across the world. And now the band is aiming even higher with second album 'Balls Out'. Released worldwide through Universal Music on November 1, 2011, 'Balls Out' is another masterpiece of kick-ass rock and roll. STEEL PANTHER is Michael Starr(Lead Vocals), Satchel (Lead Guitar), Lexxi Foxx (Bass Guitar) and Stix Zadinia (Drums). http://www.steelpantherrocks.com/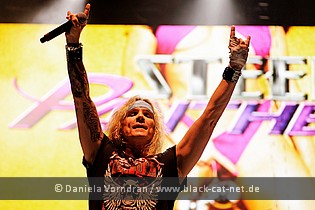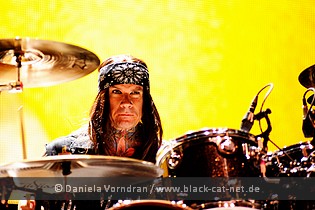 Music & Performance
I never took this band serious. Should I? Are they really loving the 80ies style or do they just make their fun of it? They are playing 80ies hair metal and are singing most of the time about sex and girls. They know how to pose and prefer doing the same moves together. Bassist Lexxi had a lot to do to throw his hair (or wig) in one direction and checking his look with a mirror and putting some new lip-stick on. Guitarist Sachtel let us know some of his German, so he said that their singer has a small dick or that he wants to have sex with a dog. Singer Ralf Saenz (Michael Starr) ask two girls to show him their boobs, but without any success. All in all they are good entertainers.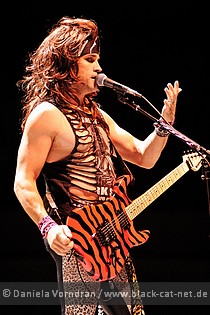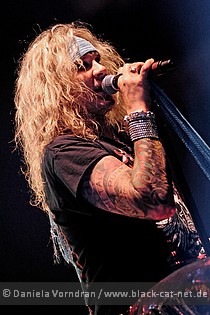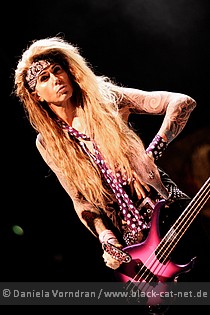 Setlist
01. Supersonic Sex Machine
02. Tomorrow Night
03. Fat Girl
04. Asian Hooker
05. Just Like Tiger Woods
06. Community Property
07. 17 Girls in a Row
08. Death To All but Metal

Rating
Music: 7
Performance: 8
Sound: 7
Light: 9
Total: 8 / 10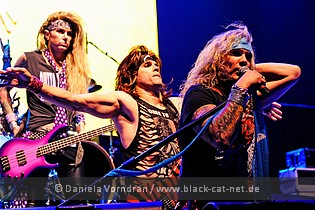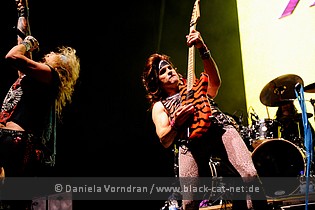 Black Label Society

BLACK LABEL SOCIETY is a heavy metal band formed by Zakk Wylde. The band has released nine studio albums, one live album, two compilation albums, one EP, and three video albums. Zakk Wylde is an American musician, songwriter, and occasional actor who is best known next that he formed this band as the former guitarist for Ozzy Osbourne. In May 1998 after limited commercial success with BOOK OF SHADOWS, Wylde and drummer Phil Ondich recorded what became BLACK LABEL SOCIETY's debut album 'Sonic Brew'. www.blacklabelsociety.com

It was planned to publish an article and pictures from the show on this place. But BLS presented an unacceptable photo contract. Needless to say we declined and so, we also won't publish a concert report here…


Ozzy Osbourne

John Michael "Ozzy" Osbourne is an English heavy metal vocalist and songwriter whose musical career has spanned over 40 years. Osbourne rose to prominence as lead singer of the pioneering English band BLACK SABBATH whose dark and hard sound helped spawn the heavy metal genre. Due to SABBATH's dark style, Osbourne became known as the "Prince of Darkness". Osbourne is also known as the "Godfather of Heavy Metal". In the early 2000s, Osbourne's career expanded when he became a star in his own reality show "The Osbournes" alongside wife/ manager Sharon and two of their three children, Kelly and Jack. A documentary about his life and career, 'God Bless Ozzy Osbourne', premiered in April 2011 at the Tribeca Film Festival and was released on DVD in November 2011. Osbourne has achieved multi-platinum status as a solo artist and with BLACK SABBATH and has sold over 100 million albums worldwide. www.ozzy.com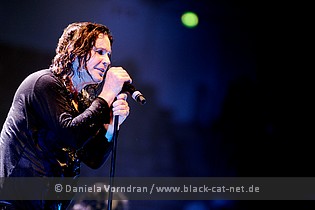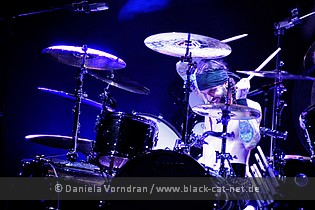 Music & Performance
When Ozzy's show started, the curtain was still closed, but on a video screen were shown important live moments and songs of Ozzy's long career. First song of the show finally was 'Bark At The Moon' and when the pyros were burning and Ozzy came out, the audience just went wild. Right from the start it was such a fantastic mood and also Ozzy himself enjoyed the show and atmosphere. Already during the second song 'Mr. Crowley', he had such a fun to take a hose and splash water and foam into the audience and on himself… maybe I should mention also onto the photographers in front of him. He looked like a big child so much fun he had with that. The audience was singing along and loved every track. After 'Shot In the Dark', Ozzy left the stage and Gus played a brilliant guitar solo which ended up as a band solo before Ozzy returned.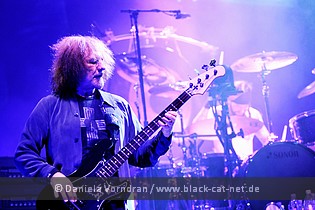 In the middle of the set, Geezer Butler came on stage and the BLACK SABBATH part began with the classic 'Iron Man'. Three songs later, also Zakk Wylde came on stage to perform the next two BLACK SABBATH songs. The first part ended with two Ozzy songs again. He returned to stage with the lovely 'Mama I'm coming home. Before Geezer Butler and Gus came back to perform all together the one and only 'Paranoid'. Though we didn't had the complete line up as the lucky people at the Download festival a few days later, we had a fantastic show with amazing songs. It was great to see at least Geezer Butler on stage and a fab Ozzy. The most important thing is now: Tony Iommi get well soon!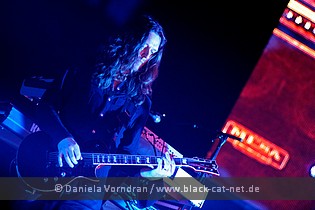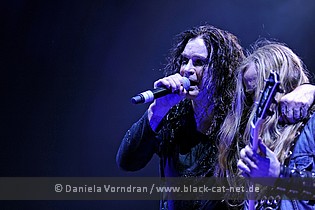 Setlist
01. Bark At The Moon (with Pyro)
02. Mr. Crowley
03. Suicide Solution
04. I Don't Know (with Pyro)
05. Killer Of Giants
06. Shot In The Dark
07. Rat Salad (with Pyro)
Rob "Blasko" Nicholson went off stage – Geezer Butler came on
08. Iron Man
09. War Pigs
10. N.I.B.
Gus G. Went off stage – Zakk Wylde came on
11. Fairies Wear Boots
12. Into The Void
Geezer Butler went off stage – Blasko came on
13. Change The World (with Pyro)
14. Crazy Train
----
15. Mama I'm Coming Home
Geezer Butler and Gus came back on stage
16. Paranoid (Pyro)

Rating
Music: 10
Performance: 10
Sound: 10
Light: 10
Total: 10 / 10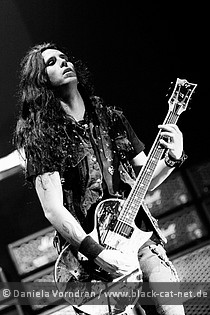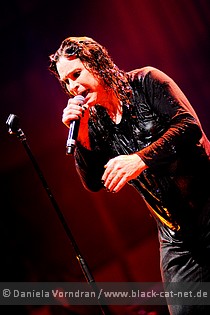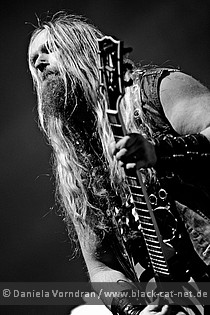 All pictures by Daniela Vorndran (http://www.vorndranphotography.com / http://www.black-cat-net.de/ / http://www.myspace.com/vorndranphotography / http://www.facebook.com/blackcatnet)