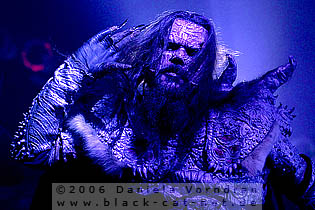 Live Music Hall, Cologne, Germany
29th September 2006
Lordi, The Dogma


It is simply amazing what happened to Lordi since they won the Eurovision Song Contest 2006. No one guessed that such a band could win this serious contest; it was already a surprise that they could be part of it. But it was just wonderful to see that it was possible and it was really necessary that this show gets a new face and gets into a new direction. If you are asking yourself, who's listening to Lordi, we just can say – everyone who likes hard rock music. The audience was mixed; age between 15 and 50. They wore t-shirts from Metallica, Hammerfall, Grave Digger, Stratovarious, Kiss and so on. Lordi is hard rock for everyone!
The land of the monsters was still hidden; just two big columns left and right from the stage with ugly faces and bat wings confirmed who we will see later. But before Lordi invited us on their castle there were five Italian men who sprayed their charm over Cologne.



The Dogma


Life itself frequently writes the best stories, and a band history as unusual as Dogma's is bound to result in an extremely independent and excellent act. Their career to date has been as colourful and exceptional as the music on their debut album, 'Black Roses', which sees the band from Italy mix traditional heavy metal with progressive elements and a touch of melancholia, giving their ten songs a contemporary and unusual flair with additional orchestra parts and electronic keyboard cascades. So what exactly has happened, what brought these five musicians and their diverse musical tastes together?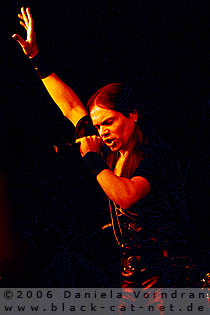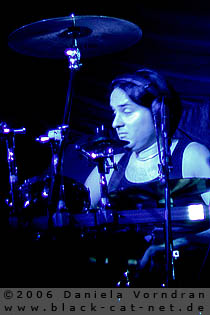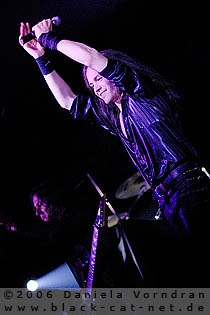 Was it coincidence or fate? Were there higher powers involved that ensured that these very different individualists got together? Guitarist Cosimo Binetti, for one, would certainly not be in a position to present as strong a debut album as 'Black Roses' had he not met vocalist Daniele Santori at a friend's funeral, working at the cemetery.
"Daniele saw how upset I was and wanted to cheer me up,"
Binetti remembers.
"We got talking and discovered that we're both musicians, which led to the idea of trying to do something together."
The concept gained momentum when Binetti met keyboarder Stefano Smeriglio at the police station in Ancona.
"We were both in big trouble, were questioned by the police and soon became friends,"
the guitarist explains with a wink, adding:
"If I feel treated unfairly I can get so angry that I end up getting into trouble with the boys in blue."
Before this incident, he'd spent several months travelling from city to city, staying with friends, living from hand to mouth. In Ancona he had one of those fateful encounters that made Binetti, Santori and Smeriglio a composer team. They soon found the right drummer in Marco Bianchella, best skinsman in town. Bassist Steve Vawamas happened to be an old friend of Binetti's and completed the band that soon developed into a tight unit. The Dogma are today Daniele Santori (vocals), Cosimo Binetti (guitars), Stefano Smeriglio (keyboards), Marco Bianchella (drums) and Marcel (bass).
Read more here:
http://www.thedogma.net/home.htm
/
www.myspace.com/thedogma
Music

The guys had released just one album called 'Black Roses', and now as support for Lordi they had the chance to present their material as good as they could to the German audience. There was not one minute or even a second the question, if the people liked their music. The Dogma kicked ass right from the start. It was Heavy Metal with great guitar riffs, great keyboard parts included and vocals which couldn't be more perfect for these songs - sometimes hard and progressive and then with a little bit of melancholy. Steve Vawamas must have left the band. There was a new man at the bass, introduced as Marcel.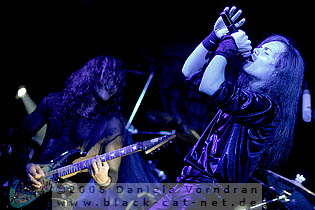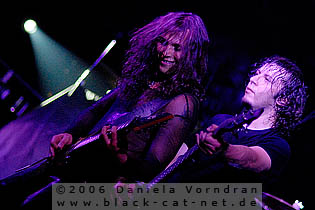 Performance
They must have stood on stage already many times before. They just knew how to act and how to move the people and let them show their enthusiasm. Already when they entered the stage singer Daniele asked:
"Do you wanna rock?"
Everyone was just waiting for it to happen. They started the typical games between band and audience like shouting
"Hey, hey, hey…"
or tried to find out which side of the audience was louder. Hopefully they had the same great time on stage as we had with their performance.
Setlist
1. Black Roses
2. Wicked Angels
3. Devil's Bride
4. …And Julie No More
5. Queen of the Damned
6. Temptation
7. Waiting for the Rain
Rating

Music: 9
Performance: 8
Light: 7
Sound: 8
Total: 8.25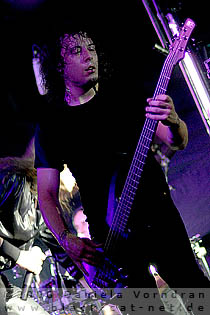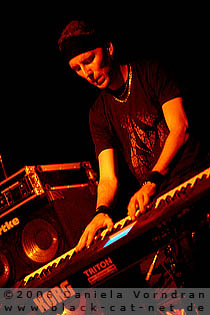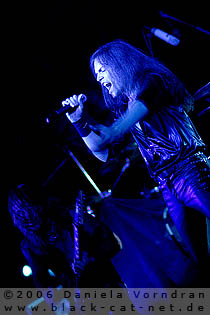 Lordi
We all have our dreams, even the most world-weary of us. Some of these dreams are clearly materialistic, some possess commendable spiritual values. Some are more unrealistic than others. The one thing they all have in common is that we cherish them and they are our driving force. This goes just as well for the fragile dreams we keep close to our hearts as well as the L-O-U-D loud ones we want the whole world to know about. The ones like LORDI and the Monsterican Dream.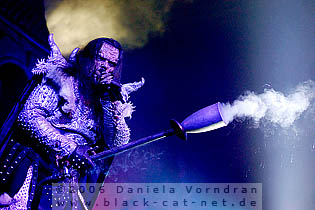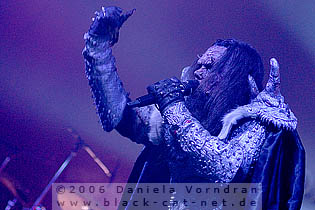 Amen the unstoppable mummy, Awa the vampire countess, Ox the hellbull and Kita the alien manbeast, share the combined strengths of all the beasts known to man. Led by Lordi, this true last gang in town arm themselves with guitars, bass, drums, keyboards, voice and killer songs. And then there was sound! Once you wake up from the Monsterican Dream you'll know at least one thing. Monsters have more fun.
The ultimate way to experience the Monsterican Dream is of course by catching Lordi in action, live on stage. Their act goes unashamedly over the top, combining the theatrics of horror movies with a pyrotechnic-fuelled rock`n`roll show. In other words: good clean fun for everyone and not a subtle moment in sight! Lordi are Mr. Lordi (vocals), Kita (drums), Amen (guitar), Ox (bass) and Awa (keyboards).
http://www.lordi.fi/
/
http://www.myspace.com/thelordi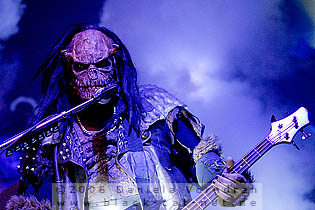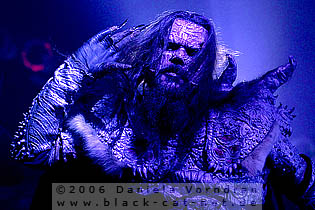 Music

Lordi play catchy hard rock music; just as they said about themselves:
"Create the band that you would like to see on stage. Write the songs you'd love to sing along to. That's pretty much all that we love to do."
They played songs of all their four albums. Kita played a great drum solo dedicated to their musical heroes I guess - because you could hear some well-known parts of great songs for example from Skid Row or Marilyn Manson. On their latest and recent album they had some famous guests singing with them like Accept-legend Udo Dirkschneider, Ex-Kiss guitarist Bruce Kulick and Dee Snider and Jay Jay French from Twisted Sister. It was such a big surprise when for the first encore no one else than Udo Dirkschneider entered the stage to sing with them 'They Only Come Out at Night'. After the song Udo got from Mr. Lordi the Platinum Award for the success of the 'The Arockalypse' album. If there were people in the audience who just came to the concert to hear 'Hard Rock Halleluja', they had to wait until the very end.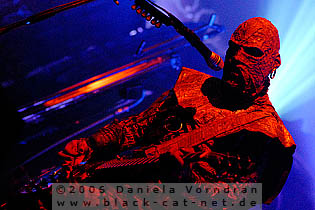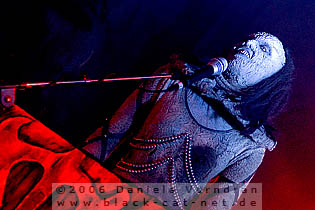 Performance

If there is no good horror movie shown on TV, why don't you go to a Lordi show? You will see everything what a horror fan is waiting for. A big castle was built up on stage with a big clock which showed it was five minutes to twelve /midnight. As the lights went down and the clock struck at 12 o'clock the trip into the monsterland began. Right from the start a lot of fire, firework and explosions hit the audience. There were also video screens on both sides of the castle; so sometimes it looked like the castle was burning and sometimes different other animations were shown. Lordi just wanted to entertain and that's what they did. Apart from their monster costumes you could seen speared up heads, Mr. Lordi with a saw and also monsters are playing with dolls - although the doll also ended up speared on a pole. Ox was speaking a really strange language and when the audience was too quiet he got his weapon, a little missile to warn everybody and shot along the stage. During the performance of 'Who's your daddy' we got some extra fog which came from a machine Mr. Lordi had in his hand and while 'Pet The Destroyer' he was wearing an apron full of blood like a butcher.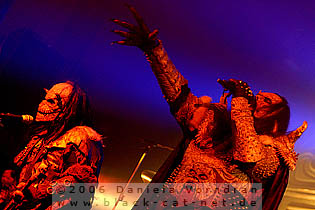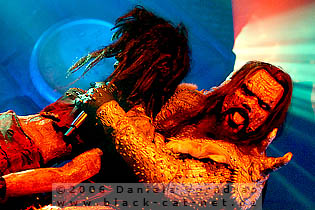 Before they played 'Bloody Red Sandman' you could hear baby screaming and a cradle was brought on stage. But later when a roadie looked after the baby he was knocked down with a bass by Ox. By the way every roadie was dressed like a hangman. We got a little bit snow during 'It Snows in Hell' - the only ballad during that evening. While singing 'Devil Is a Loser' Mr. Lordi turned into a bat with big wings. As you can maybe imagine now there was nothing missed for a good horror show. They only forgot blood! There was no blood running but I don't think it was necessary. The band has my respect for wearing these costumes the whole evening, because there were these extremely hot temperatures in the hall and under these clothes they must have sweat like hell. But it's hot in hell, that's the way you wanted it. Hallelujah!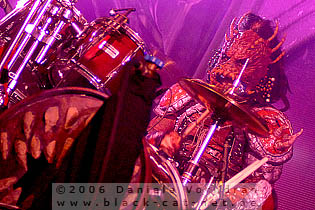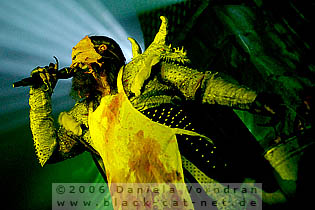 Setlist
01. Intro
02. Bringing Back the Balls To Rock
03. Get Heavy
04. Who's Your Daddy
05. Not the Nicest Guy
06. Pet The Destroyer
07. Rock The Hell Outta You
08. Blood Red Sandman
09. Biomechanic Man
10. The Kids Who Wanna Play With the Dead
11. It Snows in Hell
12. Drum Solo
13. Deadite Girls Gone Wild
14. Dynamite Tonite
15. Devil Is A Loser
-----------------------------------
16. They Only Come Out At Night
17. Would You Love A Monsterman?
-----------------------------------
18. Hard Rock Hallelujah
19. Outro


Rating

Music: 9
Performance: 10
Light: 9
Sound: 8
Total: 9.2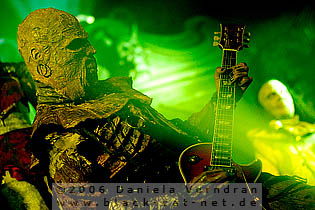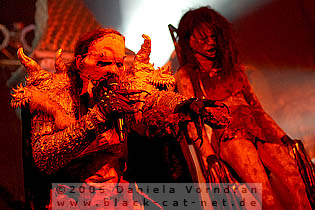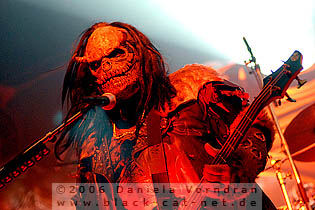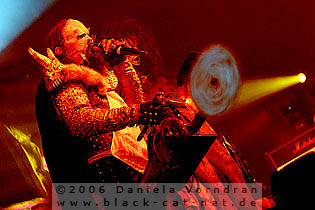 More pics on Black-Cat-Net
{jos_sb_discuss:17}