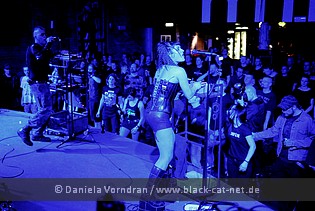 Kulttempel, Oberhausen, Germany
14th April 2013
KMFDM, Pre/Verse & Full Contact 69

KMFDM are doing it again! After the release of their latest album 'Kunst' embarked on a world tour, and after an American leg the group around Sascha Konietzko hit Europe for a number of shows. We caught up with them on a sunny Sunday evening in Oberhausen. And KMFDM brought two support acts with them, both being exclusive to the Oberhausen gig.



Full Contact 69

First on was FULL CONTACT 69 from Erfurt in Germany, a spin-off from the EBM band EDRIVER 69 which came into life when producer and vocalist Andreas Schubert wrote a few songs which didn't fit the tight concept of his main project EDRIVER 69. But before FULL CONTACT 69 could enter the stage of the Kulttempel in Oberhausen the fans had to wait for more than an hour - outside the venue! Due to technical problems during the sound check of KMFDM the doors opened much later than planned, which is a little disappointing when there are three bands in store for you on a Sunday night and you know that the alarm clock is set early the next day because of work. At least it was the first sunny weekend of this spring so that people could enjoy the weather a little bit. Unfortunately the nice weather on a Sunday also provoked a rather poor attendance; it soon became clear that the last KMFDM concert at this club attracted a much larger crowd. Anyway, FULL CONTACT 69 finally entered the stage with a few apologetic words and the remark that their show was supposed to end at this point of time but they would start now anyway.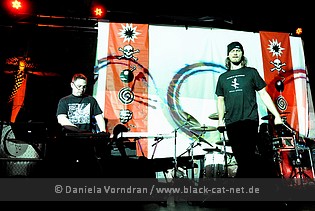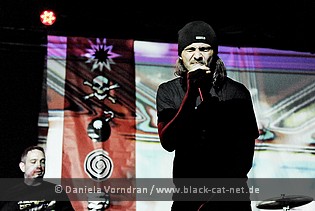 FULL CONTACT 69's show was well worth the waiting. Their dirty and dark Electro sound, supported by great video projections, show the 20+ years of experience of Andreas Schubert in various bands and projects. No surprise that FULL CONTACT 69 won last year the "Battle of the Bands", a newcomer contest of German music mag Sonic Seducer. The music of FULL CONTACT 69 at times echoes the sound of legendary Industrial heroes like FRONT LINE ASSEMBLY or NITZER EBB but especially live there's also a subtle Crossover notion which reminds on DIE KRUPPS in their Metal-heavy period in the late 1990s. As a vocalist Andreas Schubert, who was live on stage backed by his EDRIVER69 band mates, could also front any Metal or Hardcore combo, his qualities as a shouter would easily do justice to these styles. But FULL CONTACT 69 is a fully electronic outlet and for rough 40 minutes they pumped their energy through the speakers and won over the audience. Their debut album '(Wo)Man Machine', which is available via their Bandcamp site, is highly recommended! http://www.edriver69.com / http://fullcontact69.bandcamp.com

Rating
Music: 8
Performance: 7
Sound: 7
Light: 6
Total: 7 / 10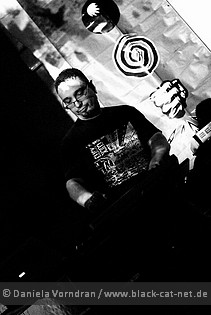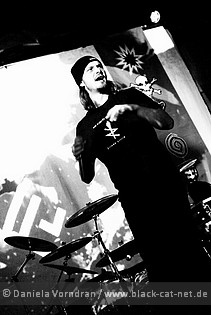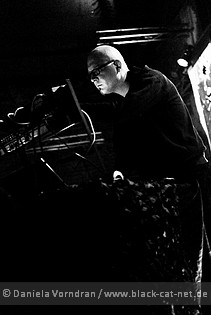 Pre/Verse

Next was PRE/VERSE, another rather young band which started in summer 2010. For PRE/VERSE it was a home gig as the quintet originates from the Oberhausen area. In contrast to first band of the night, PRE/VERSE are much more of a Rock band with a disposedness to Pop hooks. Eye catchers of the PRE/VERSE show were the two female members, keyboardist Dae Joon and especially bass player Neila Fynn with her spacy Goth outfit. Singer Kyran Tate (known also as singer of STRAFTANZ) did his best to stand out between these two ladies, and to be frank he overdid it at times, I'm afraid. Musically the electronic elements of PRE/VERSE are a bit less dominant when they perform live, emphasizing the Goth pop side of their sound a bit more. In some moments they sound like a more synthesized version of THE MISSION, in some others like a tamed and less anarchic KMFDM, which make PRE/VERSE are quite adequate support act for this concert night.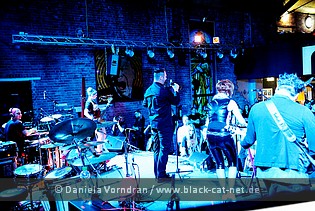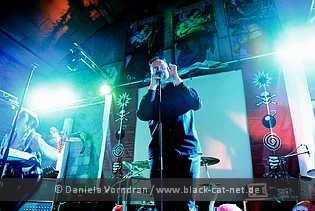 But there are also cheesy moments like the ballad 'Bringing Me Home' which could easily please an UNHEILIG crowd. At the end of the day PRE/VERSE are a talented young band who know how to write a catchy melody but perhaps it will take some more time for them to truly stick out. http://www.preverse.de / https://www.facebook.com/preverse

Setlist
01. Faith In My God
02. Goddess Of Seduction
03. Lost
04. My Shadow Has A Gun
05. Bringing Me Home
06. Rubber Tears
07. Truth Hurts

Rating
Music: 6
Performance: 7
Sound: 7
Light: 6
Total: 6.5 / 10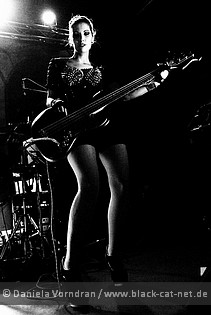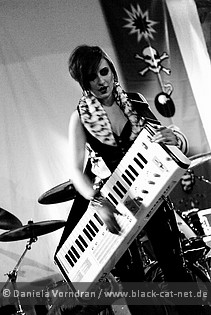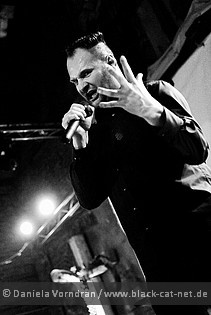 KMFDM

The venue was acceptably filled, though far from being packed, when Sascha Konietzko (vocals, synths), his wife Lucia Cifarelli (vocals, effects), Jules Hodgson (guitar), and Andy Selway (drums) entered the stage much later than scheduled. The gig in Oberhausen was announced as an "electronic set" show, which KMFDM would only bring four times during this tour to their audiences. The differences from their "full band show" was, however, rather marginal. To be completely honest, I learnt about this little detail only after the show, and the most significant difference to other KMFDM shows was that guitarist Steve White was not on stage in Oberhausen. Apart from that the show was KMFDM as usual: storming beats, rumbling bass lines, Konietzko's commands and distorted shouts, Lucia's lewd and sharp vocals, pre-programmed sequencers, a cranking guitar (instead of two) and a lot of sheer energy.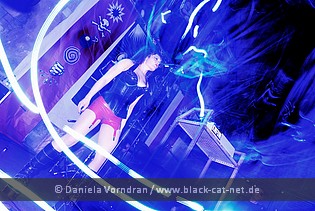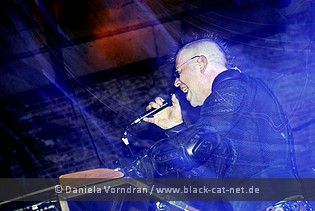 The technical problems recurred a few times, triggering longer breaks between songs while Konietzko had to take care of the backup laptop in the back of the stage. Not that this would have encouraged him to address the crowd for an explanation or whatever, he stayed as reserved as ever. Most of the time he was behind his desk with MIDI controllers and effect devices in the middle of the stage, which looked like some sort of sci-fi lectern, and apart from a raised fist every now and then he left the stage action to Lucia and guitarist Jules Hodgson. And especially Lucia availed herself of the entire stage, in particular during the songs for which she delivered the lead vocals. And those songs were among the highlights of the set, notably the single 'Amnesia' and the new 'Animal Out'. The crowd was up for having a good time and there was a lot of dancing in front of the stage. After all there was enough space for everyone for some wild moves...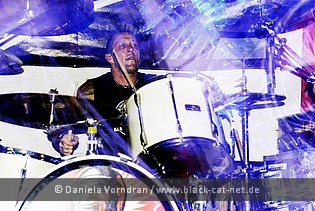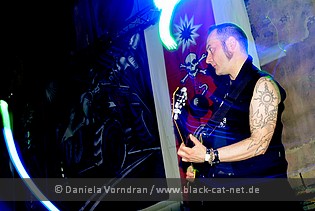 The main set focussed on the last two or three KMFDM albums and only for the encores the band dug deeper in their history and performed the classics 'Megalomaniac' and 'A Drug Against War'. Just like their recent albums the live show was a bit KMFDM by numbers but on the other hand the intensity and electricity of this band is still pretty irresistible. KMFDM live is still a shock wave of energy! http://www.kmfdm.net / http://www.myspace.com/officialkmfdm

Setlist
01. DIY
02. Amnesia
03. Kunst
04. Ave Maria
05. Quake
06. Free Your Hate
07. Son of a Gun
08. Rebels in Kontrol
09. Potz Blitz!
10. Pussy Riot
11. Krank
12. Animal Out
13. Tohuvabohu
14. Hau Ruck
---
15. Megalomaniac
16. A Drug Against War

Rating
Music: 8
Performance: 7
Sound: 8
Light: 6
Total: 7.5 / 10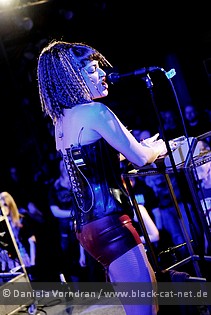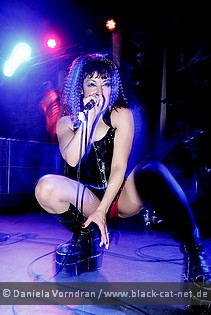 All pictures by Daniela Vorndran (http://www.vorndranphotography.com / http://www.black-cat-net.de / http://www.myspace.com/vorndranphotography / http://www.facebook.com/blackcatnet)