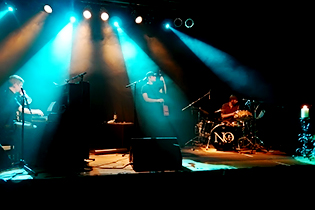 FZW, Dortmund, Germany
19th September 2013
NO|ME & Vic Anselmo

The FZW in Dortmund is a kind of recreation centre with a concert hall for 1,200 people, a club room with a capacity of 300 persons and a bar. While the concert hall is for the more bigger and commercial live acts, the club room offers interesting live appearances of bands and musicians that aren't so well known or just at the beginning of a promising career. Unfortunately on this evening only a few people showed up which was really a pity - not only for the musicians but the people have really missed a lot.



Vic Anselmo

Tonight the Latvian musician, who lives since a couple of years in Germany, presented us an acoustic set at the piano. She is known for offering two different kind of live performances: with her band and acoustic shows with (keyboard) piano and guitar. Both have high quality but her acoustic sets are a special sensation as here you are more focused on her voice. Her angelic voice touches the people and you always wonder how such a frail person has so much power in her vocals. Furthermore she is able to sing diverse kind of singing styles in different music genres. So it is no wonder that she was already guest singer for several bands and musicians like MESH, DAS ICH, SAMSAS TRAUM, ANTIMATTER, ION and is also member of the Metal Band INNER FEAR.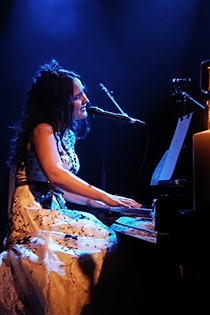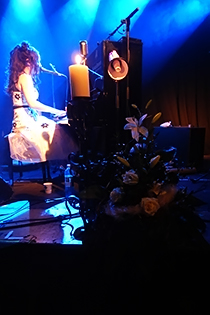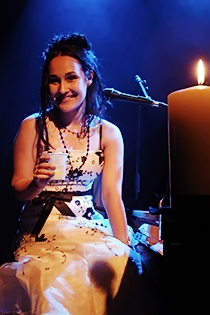 Besides the piano there was some nice decoration with flowers and candles on stage that gives the whole setting a nice atmosphere. As there was only a small bunch of people who showed up it was a kind of living room concert. Nevertheless Vic Anselmo was in a cheerful mood and communicated a lot with the people between the songs. We experienced a funny situation when she had to start two times with the song 'Wellspring' as she has forgotten the notes of the intro for a moment. But she took this with humour and had a good laugh about herself. Thus it was a quite entertaining concert. http://vicanselmo.com / https://www.facebook.com/vicanselmomusic

Setlist
01. Who
02. Open wide
03. Horizon
04. Bone's Blues
05.Wellspring
06. Cody
07. Wonderful world
08. I am the one
09. Leaving Eden
10. Tumsha nakte

Rating
Music: 7
Performance: 7
Sound: 8
Light: 7
Total: 7.3 / 10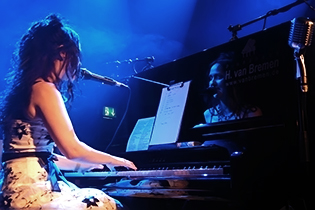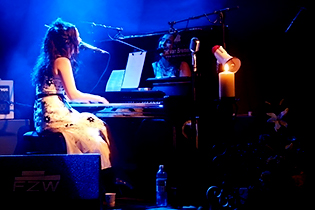 NO|ME

As I came to see Vic Anselmo, I have to admit that I took not so much notice about the following band and only grabbed some superficial information about them. So I only learnt that it is a kind of multicultural band with a diverse repertoire of different musical genres. Founded in 2010 in Amsterdam (NL) the band consists of the Dutch singer, who also plays piano and guitar, the Finnish electric contrabass player and the drummer from Belgium. They describe their music as a mixture of sounds of French chanson, Weimar cabaret, Argentine tango and Gypsy swing, creating their own collage of music and language and uniting elements of time and memory. Until now they have performed more in the Netherlands at different kind of events in museums, universities, theatres, factories, living rooms and streets.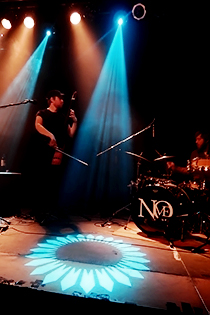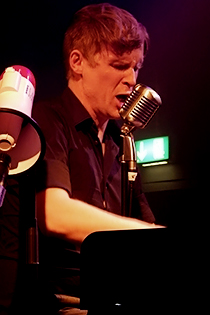 As their performance is really stunning and entertaining, they hopefully will now have more concerts in other countries, too. For the audience who didn't know them yet, they were definitely a positive surprise and we all enjoyed their show very much. With their kind of music I could also imagine them being supporting act for musicians like AMANDA PALMER, EMILIE AUTUMN and the like. http://zonk.net/nome / https://www.facebook.com/nometrio

Setlist
01.Strukturen
02. Suite part 1 (Then you opened...)
03. Suite part 2 (Then you were there...)
04. Suite part 3 (Tonight)
05. Suite part 4 (Instrumental)
06. Suite part 5 (Pain...)
06. Suite part 5 (disco)
07. Suite part 6 (new tango)
08. Polka
09. March
10. Waltzer
11. Hanky Panky
12. Gainsbourg
---
13. Umpa/ Das Kabarett???
14. Guitar song

Rating
Music: 7
Performance: 8
Sound: 8
Light: 7
Total: 7.5 / 10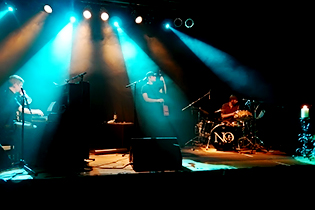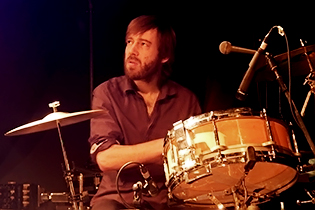 All pictures by morTICIA