Page 1 of 2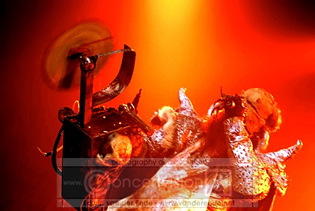 Melkweg, Amsterdam, the Netherlands
25th of October 2006
Lordi, Powerdice
After winning the Eurovision Song Festival their song 'Hard Rock Haleluja' was know throughout all of Europe. Some were very happy to see this band win, others thought of never joining in again if this kind of bands could win as well. Personally I had a laugh and we even more pleasantly surprised when my grandmother said even she thought it was a good song.



Powerdice

A Dutch opening act tonight, they must be honoured. The venue was packed and the crowd was certainly excited. There was a diverse audience, both in age and style of clothing. They started immediately at eight o'clock and seemed excited themselves to be on stage this evening.
Music
Powerdice is not a band formed around a vocalist. This music is fun, it is easy to listen to and won't scare anyone away. As good as that sounds it might also be the downside to the sound of this band. It is too common, it has been done before and does not bring anything new. Their vocalist knows how to hit a high note (even without the tight pants which usually accompany this music). The guitarists are fine as well. It is as if they have just arrived here from the eighties.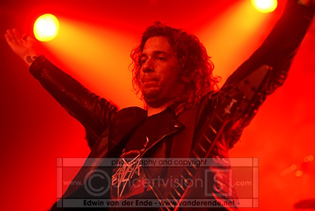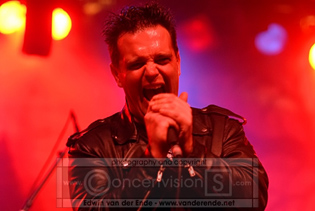 Performance
It is definitely fun to see Powerdice perform, they are full of enthusiasm and it is clear to see they love what they do. They audience immediately reacted to the band, a small pit was formed and there were even crowd surfers surfing the audience to complete the picture there was also a stage diver. Guitars up in the air, hair swinging across the stage and powerful arm movements when the singer hit his power notes. The evening started off as a rock and roll party and that was exactly the idea. The band was grateful for the warm welcome they received this evening.
Rating

Music 7
Performance 6
Light 6
Sound 7
Total 6 (6.4)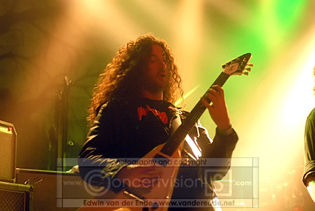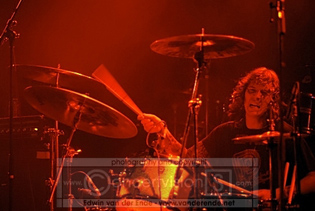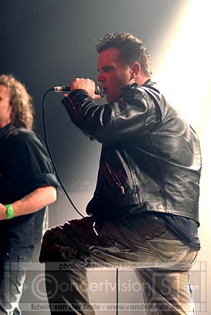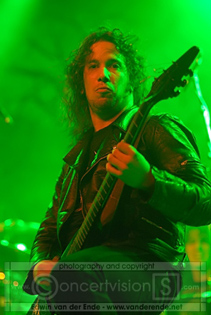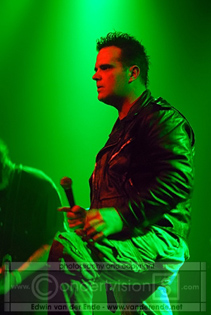 Lordi

A banner with congratulations for winning the song festival (in Finnish) hung from the balcony. The stage was decorated with a backdrop depicting a scary castle with dark trees surrounding it, the keyboard was placed in a standard decorated with skulls and lights on top of it. Their drum kit had a bite, an open mouth full of teeth stared at you from both bass drums. After quite a wait, it was time for the leading band of the evening. Lights were dimmed, intro music was started and excitement rose, chatter and cheers buzzing through the venue.

Music

Lordi treated us to most of the songs from their latest alum 'The Arockalypse' but also to their greatest hits such as 'The Devil is a Looser'. The music is solid, it sounds like it should. The vocals are sometimes hard to hear, as are spoken words, but that has to do with their masks of course. To several songs there were spoken intros which were very atmospheric and put some extra excitement to the show (and gave Mr. Lordi time to change). Overall their songs are short and easy to listen too, it was a very accessible performance on that part. Most band members got a solo moment in which they got to show of their qualities and have a good time with the audience.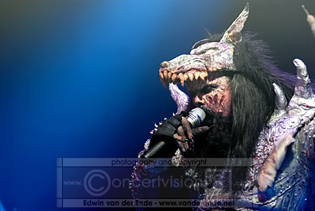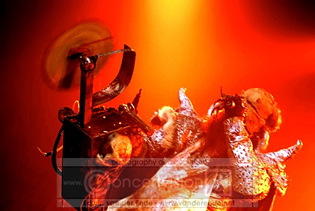 Performance

Have you ever seen anything like this? Probably not (well yes if you have seen Lordi before you have). Let alone the entrance of the band members… it is a feast for your eyes. The most extensive human transformations I have ever seen. They are dressed up and do so even more during the show, Mr. Lordi has several extra outfits and accessories he uses during the performance. During the first song he entered with the head of a huge rat on his head with a fur cloak attached to that. Under that was his 'normal' cloak with a glittering Lordi logo embroidered on to it. They ask for a lot of audience participation and strangely they don't seem to get as much reaction as Powerdice did, perhaps they scared the audience a bit too much.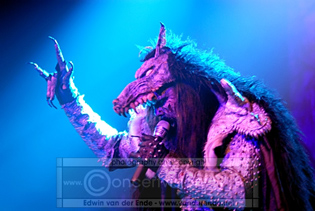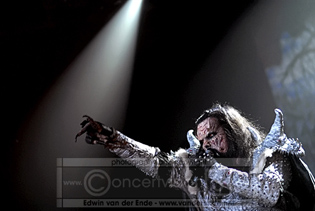 Just imagine a huge monster with a chainsaw spraying blood, that will shut you up. The Lordi stagehands are dressed in jute and are not treated all that friendly, being hit off stage with a guitar and having drum sticks thrown at them (they must have a nice salary to endure that every evening). The final song of the show definitely rocked the Melkweg. The entire audience sung and shouted as loud as they could to 'Hard Rock Haleluja', what a way to end the evening.
Rating

Music 7
Performance 9
Light 7
Sound 7
Total 8 (7.8)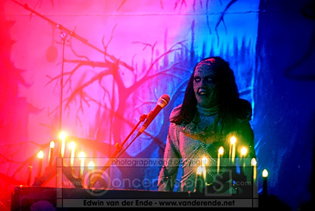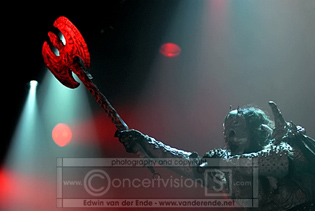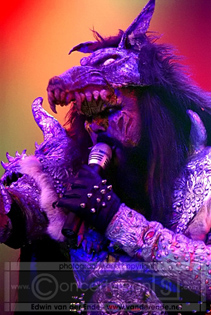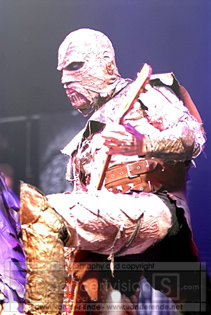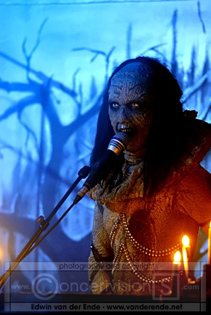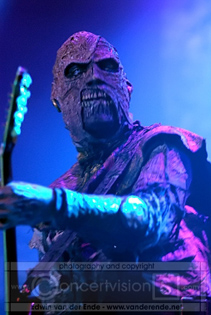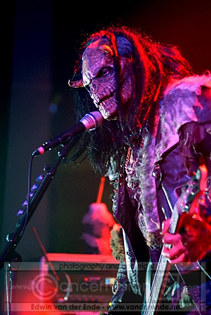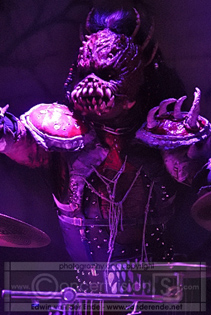 More photos on page 2
{jos_sb_discuss:17}