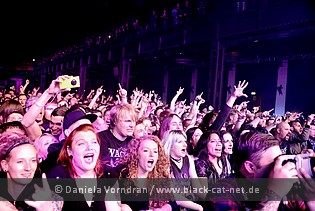 Palladium, Cologne, Germany
6th May 2014
KoRn & Hacktivist

It's a sad fact that KORN is not touring frequently in Germany. Thus it is really a highlight if you have the chance to see them live. 4,000 fans and friends were the same opinion and also quite happy to have their tickets as they are selling pretty fast. No wonder that the concert in the Palladium, Cologne was close to sold out. Personally I was very pleased to finally see them live as I couldn't make it to their concert in Bristol, UK, in 2012.
Hacktivist

Formed in 2011 in Milton Keynes, UK, the five piece band, consisting of J Hurley (vocals), Ben Marvin (vocals), Timfy James (guitar, programming, vocals), Josh Gurner (bass) and Rich Hawking (drums) fit in the genre of Nu Metal/ Progressive Metal/ Rap Metal/ Grime. In 2012 they released their self- titled EP and their debut single "Unlike Us" reached No. 2 in the Amazon UK metal chart within 48 hours. Though they hadn't signed for a label, the EP became quite popular in the Metal media with the coverage of 'Metal Hammer' and being played several times at the BBC Radio 1. After the release the band started touring in order to promote their music. They were supporting act for ENTER SHIKARI and performed at several festivals, such as Sonisphere Festival, Download Festival and Rock am Ring and Rock im Park in summer 2013.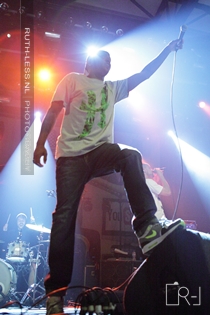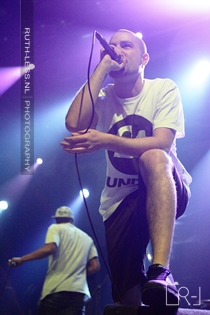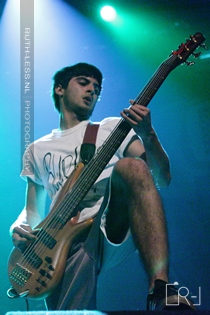 In April 2013 they released the song 'Elevate' and did a cover version of 'Niggas in Paris' (Original by JAY Z and KAYNE WEST). In winter of the same year the band had their headline tour in the UK. Like the band's name implies, they show support for the hacking collective Anonymous, as well for whistle-blowers like Edward Snowden and Chelsea Manning.
http://www.hacktivist.uk.com
/
https://www.facebook.com/Hacktivistband
Music & Performance

Due to a traffic jam close to the venue and then the problem to find a parking place, I arrived not on time. Apparently the band started already at 7:00, earlier than concerts normally start. Thus I had not the chance to hear and see much of them. They played a powerful mix of Nu Metal/ Metal with Rap elements. Actually they were not too bad and the guys did their best to rock the place with moderate success. But it is very hard of course to be supporting act for a band like KORN.
Rating

Music: 7
Performance: 7
Sound: 7
Light: 7
Total: 7 / 10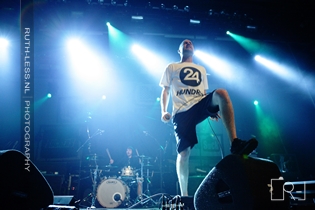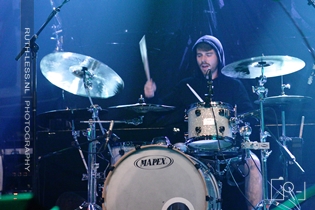 KoRn

In 1993, the US Californian band saw the light of day. Nowadays they are regarded as co-founders of the Nu Metal genre. Already their self- titled debut album, which was released in 1994, caused a stir. Songs like 'Shoots and ladders' or 'Blind', contained new sound elements which the music industry called Nu Metal then. On several tours performing as supporting act for bands like DANZIG, HOUSE OF PAIN, MEGADETH, KMFDM, BIOHAZARD, MARILYN MANSON and OZZY OSBOURNE, they gathered new, open- minded, fans who listen to music from Hip Hop to Trash Metal. Critically acclaimed as the "next big thing" by many music magazines worldwide, they released their second album 'Life is peachy' just in 1996, which was even darker and more disturbing. Within a few weeks KORN made it to the third position of the US American billboard charts. Despite their success and the exuberant reaction of the press, critical voices claimed that the band reached a one way street with their sound. With their third album 'Follow the leader', released in 1998, they slightly changed their style without neglecting their typical sound. For this album they had some guest musicians like Fred Durst (LIMP BIZKIT) or ICE CUBE.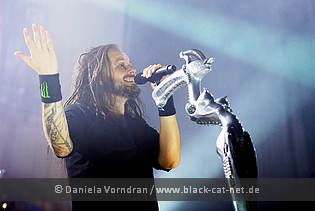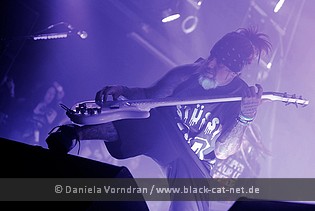 With this album they had their commercial breakthrough and their videos for 'Got the life' and 'Freak on a leash' were frequently shown on MTV. In the same year they organised as headliners the successful 'Family Value' tour, performing all over the US with bands like LIMP BIZKIT, ORGY, RAMMSTEIN, ICE CUBE and ROB ZOMBIE, as well as INKUBUS later, on board. As being pioneers of the Nu Metal genre they helped bands like DEFTONES, COAL CHAMBER or KID ROCK to gather a wider audience. Being such a successful band casted a shadow on the band and their members with personal problems, changes of band members and then of course the critics of the media for not being innovative anymore. But fortunately they overcame these problems and proved by working with different renowned producers and artists that their creativity has not come to an end. Despite some negative critics they integrated different sound elements, like Dubstep by working with SKRILLEX, into their songs without changing completely the typical powerful KORN sound. And so this band survived all their highs and lows and can now look back on a career of 20 years. Long may it continue! With their latest album 'The paradigm shift', launched in 2013, they have released thirteen albums so far. KORN is Jonathan Davis (vocals, bagpipes), James Shaffer (guitar), Brian Welch (guitar), Reginald Arvizu (bass) and Ray Luzier (drums).
http://www.korn.com
/
https://www.facebook.com/korn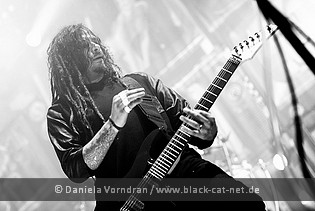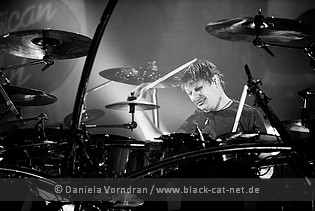 Music & Performance

When HACKTIVIST left the stage a black, slightly transparent, curtain fell down. The stage rebuilding time was a bit too long for my taste. It took more than half an hour, though after a while you couldn't see any movement on stage and the sound check was already finished, too. And even laying the carpet on Jonathan's spot and arranging his extraordinary microphone tripod (designed by HR Giger) wouldn't take so much time. No wonder that some people started to be impatient. At least I had the time to have a good look at the audience to find out that it was mixed ages from 15 up to 50 with some teenagers accompanied by their parents. Every now and then you could see fans wearing black jogging suits of a famous sportswear brand which was a kind of eponym for a song title. Finally the band appeared on stage. With 'Falling away from me' they started to raise the roof from the first tune on and all the indignation, because of the long waiting, was immediately blown away. Jonathan danced and jumped on stage and invited the audience to do as well. His band mates seemed to be in high spirits, too.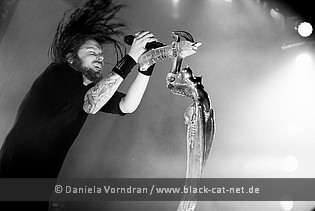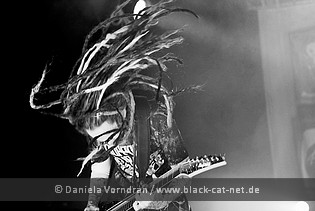 This energetic atmosphere passed on the audience and you could watch the people rocking with the band, waving their arms, singing the refrains and some were crowd- surfing. After 9 songs the band suddenly left the stage. I was a bit confused as I couldn't believe that a concert could be that short. But then Jonathan turned up playing his bagpipes as a solo intro before the band returned again and joined in for 'Shoots and ladders/ Somebody someone'. Then Jonathan told us that they are very happy to be back in Cologne, the city where they played already 20 years ago and told us further that they are thankful to have so faithful fans. This little speech contained of course some f- words as is right and proper for an American Rock musician. And then they continued to rock the place until their last song. While there was already a drum solo, the guitar solo was performed at the encore. The fabulous concert ended with 'Blind'. Quite interesting was the extended intro as it reminded me a bit of the intro of 'Too many puppies' of PRIMUS. A diverting and energetic concert with a perfect mixture of songs of their 20 years career, including some of their current album, ended. And for me it was quite clear that this was hopefully not my last KORN concert.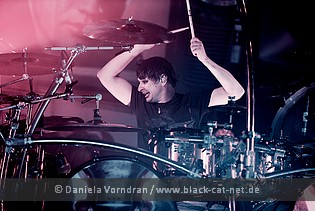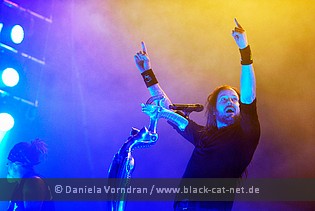 Setlist

01. Falling away from me
02. Twist
03. Got the life
04. Love & Meth
05. Narcissistic cannibal
06. Dead bodies everywhere
07. Spike in my veins
08. Get up!
09. Did my time
10. Shoots and ladders/ Somebody someone
11. Coming undone
12. Here to stay
13. Drum solo (part of 'Starting over and throw me away' jammed)
14. Never never
15. Freak on a leash
---
-Molested Intro-
16. Clown
17. Good God
18. Blind
Rating

Music: 10
Performance: 10
Sound: 9
Light: 8
Total: 9 / 10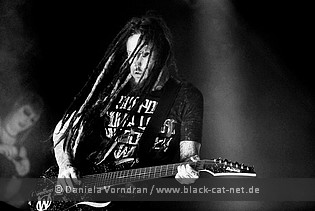 All pictures of KoRn by Daniela Vorndran (
http://www.vorndranphotography.com
/
http://www.facebook.com/blackcatnet
) / all pictures of Hacktivist in Eindhoven by Ruth Mampuys (
www.ruth-less.nl
)