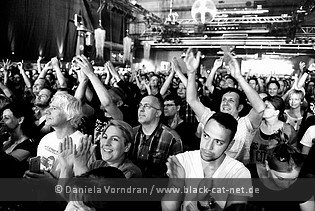 Live Music Hall, Cologne, Germany
21st May 2014
Manic Street Preachers & Public Service Broadcasting

With only four concerts in Germany it was no great surprise that the show at the Live Music Hall in Cologne with a capacity of 1,300 people was sold out. Thus people from all parts of Germany and even the Netherlands and the UK came to see the band.
Public Service Broadcasting

The London based duo, consisting of J. Willgoose, Esq. (guitar, banjo, sampling) and Wrigglesworth (drums) was founded in 2009. They sample public information films and archive material and accompany them with Electronic music, adding guitars, banjo, Theremins and drums to it. At live shows the films are screened simultaneously to their music. Their album 'Inform- Educate- Entertain' was released in March 2013.
http://publicservicebroadcasting.net
/
https://www.facebook.com/PUBLICSERVICEBROADCASTING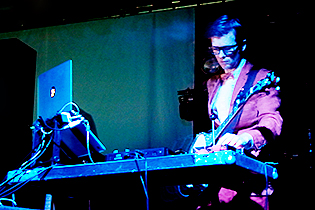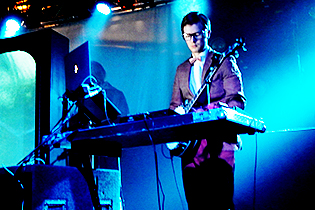 Music & Performance

As the first song started instrumentally I thought it was an intro and expected J. Willgoose, Esq. to start singing at the next songs. But my expectation was not fulfilled. Actually he played guitars, banjo and handled his sampler and notebook. He even did not address personally to the audience but let his notebook speak. The music was not bad for real and most of the audience, who were already at the venue, liked it as well, but somehow some of us were missing the vocals. I was a bit reminded of the sound of KRAFTWERK. Despite the guitars, drums and banjo the music was quite artificial and sterile but this fits to the band's name of course.
Setlist

01. London can take it
02. Signal 30
03. Theme from PSB
04. Night mail
05. Spitfire
06. Everest
Rating

Music: 7
Performance: 6
Sound: 8
Light: 7
Total: 7 / 10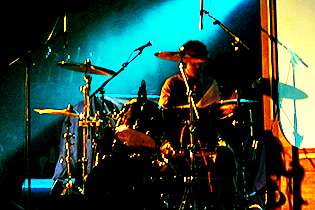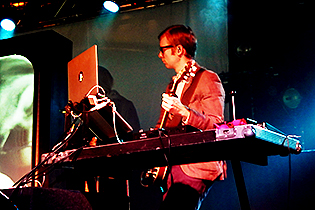 Manic Street Preachers


The band from Wales, UK, was founded in 1989. James Dean Bradfield (vocals, guitar), Nicky Wire (bass) and Sean Moore (drums) got to know each other already at school. Actually the band was a four-leaf clover with Richey James Edwards on guitar but in 1995 he vanished mysteriously. Deeply influenced by the situation and politics of their region, which is an important centre of coal mining in the UK that had to suffer severe economic problems in the Thatcher era, their music and lyrics reflects their experiences and attitude. While their style in the early years was more influenced by Punk and Glam Rock, it changed throughout the years to be more Pop-Rock with some Soul. They had one No 1 album in the UK Top 40, two further albums made it on the second position and had two singles at the top. In 1996 and 1999 they won at the Brit Awards for both categories: best band and best album. Showing a socialistic attitude they were the first Western Europe band performing in Cuba after the Cuban revolution in 1959. Until now they have released eleven studio albums, three compilations, four video albums and 39(!) singles. Their new and 12th album 'Futurology' will be launched in July 2014.
http://www.manicstreetpreachers.com
/
https://www.facebook.com/manicstreetpreachers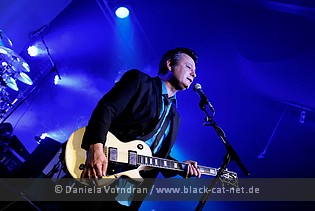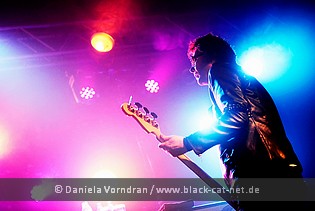 Music & Performance

During the stage rebuilding the venue filled until it was packed. When finally the band entered the stage they were greeted enthusiastically. It was for sure a smart choice to start with 'Motorcycle emptiness' as they got their fans immediately going and no invitation from the singer was needed to sing the refrain together with the band. With such a long career in the music business it is no wonder that the audience was mixed ages between 25 up to 60 but everybody was singing and moving to the songs just the same. The sound was fine though partly too loud for this venue. James Dean Bradfield did not only show up with good live vocals but he impressed us with his virtuous guitar playing as well. Despite the songs on the album, the songs ended live quite abruptly which I found a bit irritating. Anyway the band presented us a good mixture between rocking and then some slower songs so that the people had the chance to catch their breath again. This was dearly needed as it was a very warm day and the temperature in the venue rose quickly, so that some people preferred to listen to some songs in the open- air pub that belongs to the venue. The middle part of the show had a special highlight as two songs were performed acoustically before they rocked the venue again.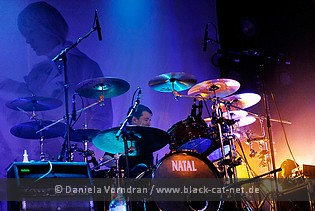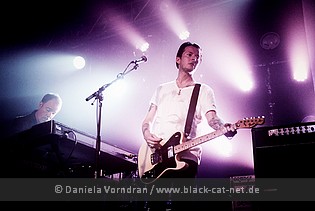 With a long setlist of 22 songs there was no encore needed as everyone was quite exhausted and as the next day was a workday, too, some people had already left before the end. It was definitely a nice and entertaining concert and hopefully it won't take too long until the guys come back to perform in Germany again.
Setlist

01. Motorcycle emptiness
02. You stole the sun
03. It's not war
04. Europa geht durch mich
05. Suicide is painless
06. Stay beautiful
07. Rewind the film
08. Die in the summertime
09. Your love alone
10. No surface/ Enola alone
11. Walk me to the bridge
12. Design for live
13. Sullen Welsh heart (acoustic)
14. From despair to where (acoustic)
15. Revol
16. Let's go to war
17. Ocean spray
18. You love us
19. Tsunami
20. Show me the wonder
21. Motown junk
22. If you tolerate this then the children will be next
Rating

Music: 9
Performance: 9
Sound: 8
Light: 8
Total: 8.5 / 10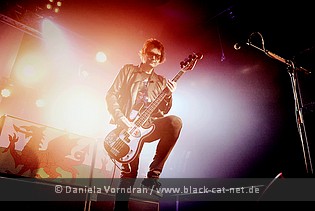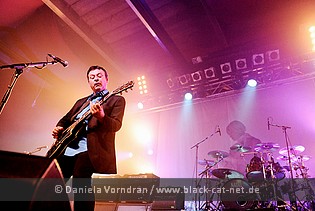 All pictures of Manic Street Preachers by Daniela Vorndran (
http://www.vorndranphotography.com
/
http://www.facebook.com/blackcatnet
), Pictures of Public Service Broadcasting by morTICIA