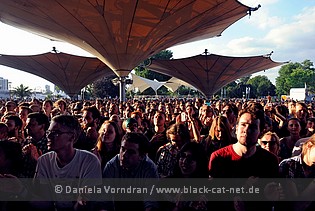 Tanzbrunnen, Cologne, Germany
11th June 2014
The National & St. Vincent

At the Tanzbrunnen, there has to be silence sharp at 22:00. But before… before there can be noise, especially if it is as well sounding as the music of US-American Indie / Alternative institution THE NATIONAL from the Big Apple, being founded in 1999. Since Matt Berninger and his companions did not come alone to the metropolis at the Rhine River, beginning of the concert evening was very early to give the support act ST. VINCENT enough time for their set.
St. Vincent

ST. VINCENT is the name of the project of American musician, singer-songwriter, and multi-instrumentalist Anne Erin "Annie" Clark. At the beginning of her career she was a member of THE POLYPHONIC SPREE and she was also part of Sufjan Stevens' touring band before she finally formed her own band in 2006. Her debut album 'Marry Me' was out in 2007, followed by 'Actor' in 2009 and 'Strange Mercy' in 2011. Her fourth, self-titled solo album was released in February 2014. Besides, she worked together with many other artists. For example, she provided vocals on the SWANS album 'To Be Kind'. Musically, her songs have been noted for their wide range of instruments and the complexity of arrangements. Clark is really talented, she plays several instruments. Besides guitar, there are bass, piano, organ, and Theremin to mention. Critics describer her musical style as mix of chamber rock, pop, indie rock, and cabaret jazz. On stage, she is accompanied by other musicians to form a full live band.
http://www.ilovestvincent.com
/
https://www.facebook.com/St.Vincent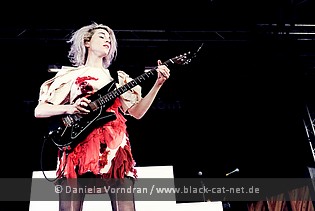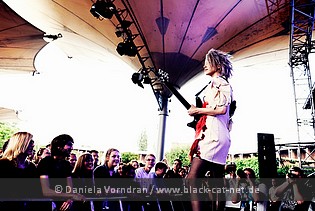 Music & Performance

When their show started at 18:45, probably not all fans who bought a ticket for the show had arrived already. The Cologne show was btw the last from six German concerts. Annie Clark, the lady behind ST. VINCENT was catching the audience just with her pure appearance. She did not cut down the use of eye shadow and her haircut seemed a little as she was surprised by one of the Whitsun thunderstorms and had no chance afterwards to fix her hair afterwards. The outfit was without any doubt quite special. And special was also the music and the stage show. I needed a little time during opener 'Rattlesnake' to chum up with the electronic sounds. On stage, Annie Clark did not act alone; she was supported by a three-piece band. While Annie was playing the guitar, two guys were treating drums and keys. The second lady on stage was taking care of a Moog synthesizer and during 'Regret' she supported the sound with her bass play.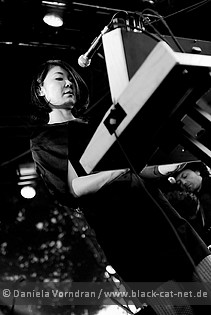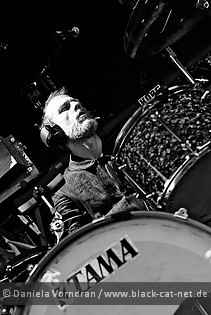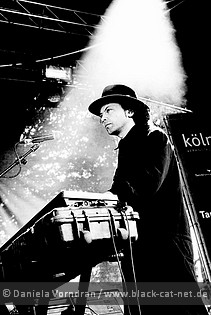 'Digital Witness' was much catchier than the clumsy beginning of the show and commanded a first view on the synchronised motion sequences of the ladies, who obviously liked to present rehearsed gestures simultaneously. Towards the end of the 45 minutes lasting show you could see similar during danceable 'Birth In Reverse' between lady and guy on keys. Besides that all, the band brought a pink, stair-like podium where Annie took position with her guitar during the show so no one could claim he hadn't seen the front woman properly. During the solemn 'Every Day Disappears' she seemed nearly like a fragile dolly whereas little later during 'Marrow' she pretended kind of seizure. All in all, this was a very interesting start of the evening, even though I wished for some more drive every now and then. Occasionally, the artists on stage seemed little lacklustre… but it might be that intention was to underline the subtle monotony of the songs.
Setlist

01. Rattlesnake
02. Digital Witness
03. Cruel
04. Every Tear Disappears
05. Prince Johnny
06. Cheerleader
07. Marrow
08. Regret
09. Birth In Reverse
Rating

Music: 7
Performance: 7
Sound: 7
Light: - (daylight)
Total: 7 / 10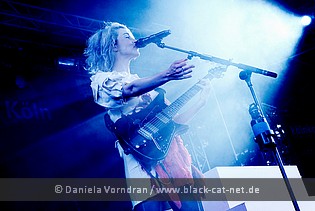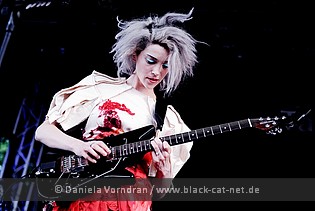 The National

'Trouble Will Find Me' is the sixth album of New York based band THE NATIONAL and successor of critically acclaimed master piece 'High Violet' that sold more than 600,000 worldwide. After a twenty-two months on tour accompanying 'High Voltage', the band was back home deciding for a break. But guitarist Aaron Dessner quite fast started working on new songs and inspired the other band members. THE NATIONAL was founded 1999 and consists of singer Matt Berninger, brothers Aaron (guitar, bass, piano) and Bryce Dessner (guitar) plus brothers Scott (bass, guitar) and Bryan Devendorf (drums). Their first albums 'The National' and 'Sad Songs For Dirty Lovers' as well as the mini album 'Cherry Tree' were leading to a contract with Beggars Banquet in 2004. 'Alligator' (2005) contained the underground hymn 'Mr. November'. 'Boxer' (2007) with secret hits 'Fake Empire', 'Mistaken For Strangers' and 'Start A War' was sold more than three times as much as its predecessor. Finally, the 2010 album 'High Voltage' was a commercial success and loved by music critics. On Stage, the band is furthermore supported by two more musicians on keys and wind instruments.
http://www.americanmary.com
/
https://www.facebook.com/thenationalofficial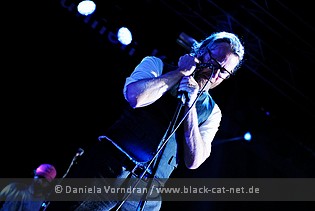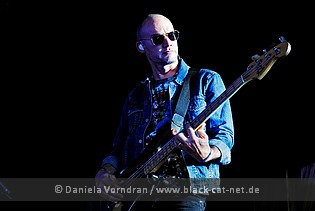 Music & Performance

Of course, the main act of the evening, THE NATIONAL, was the centre of interest, who started the show after a short intro short past eight. 'Start A War' from the 2007 album 'Boxer' was kind of nice relaxation exercise that already found a lot of admiration while Mr. Berninger hardly was standing on stage and already realized it was too hot for him. Immediately he took off his jacket and things moved on. With 'Don't Swallow The Cap' from the current album 'Trouble Will Find Me' (no. 11 in German Charts) the guys upped the tempo and with his sonorous baritone Matt was not only taking care for the hymnal moments during 'I Should Live In Salt'. The pushing 'Anyone's Ghost' (from the Top-Ten album 'High Violet' from 2010) aroused enthusiasm and with 'Bloodbuzz Ohio' the set moved on with another hit from this album. Quickly, 'Sea of Love' followed before with the calm 'Hard To Find' the time for big emotions was coming. Atmospheric 'Afraid Of Everyone' was enriched by the commitment of the wind section and presented Berninger fully in his element. During 'Squalor Victoria', the piano was used for the first time on this evening and made the singer screaming.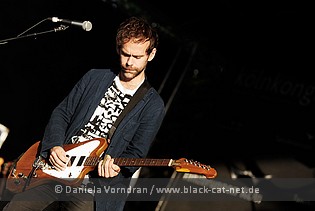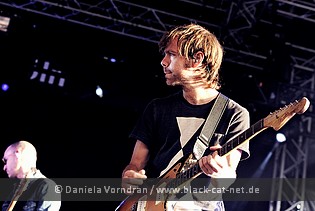 The audience constantly clapped along but I had preferred a lower noise lever where I was standing during the haunting 'I Need My Girl' or the restrained 'Green Gloves'. Especially during the calmer songs it was really disturbing when people around me chatted loudly. Is this the reason to attend a concert? Should I stand in front rows if I only want to talk? Well… let's go back to the show… 'This Is The Last Time' made you move and also 'Abel' from the 2005 album 'Alligator' went on in the same beat. The whole set lived from the perfect mixture of pushing danceable songs and the calmer solemn ones. 'Apartment Story' belonged to the latter ones, followed by the tension laden 'Humiliation' that made up the big strumming and screaming final. During tearjerker 'Pink Rabbits' not pink rabbits were topic but a beverage made of milk, strawberry syrup and tequila. Matt enjoyed playing he had already too much of it but soon he took things back by stating he is definitely not drunk… and grabbed a wine bottle before intonating 'England' and 'Graceland'. 'Fake Empire' marked with strong wind section the end of the main set. But some encores were following since there was still time until 22:00.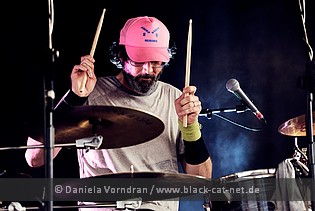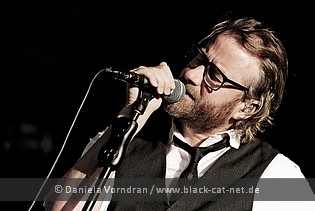 Long acclamations were needed to bring the band back onto stage before the PERFUME GENIUS track 'Learning' was presented. During 'Mr November', there was no holding for the front man and he left stage just to appear right within the audience, the microphone cable on his coat-tails, becoming longer and longer since Matt was really taking a long tour through the audience that was just freaking out due to this fact… even though there were not so many teens in front of stage. For 'Terrible Love', front man Matt was back on stage and also the ST. VINCENT troop joined THE NATIONAL to sing altogether on their last German show. The Cologne audience rewarded the artists with never-ending applause. For the emotional final, THE NATIONAL focusses on acoustic and performed 'Vanderlyle Crybaby Geeks' without big ballyhoo. A last high five for the fans and the clock already showed 21:50. A short parting ceremony and the New York guys were gone, leaving an excited audience back at the Tanzbrunnen who enjoyed a perfect concert evening with perfect early summer weather.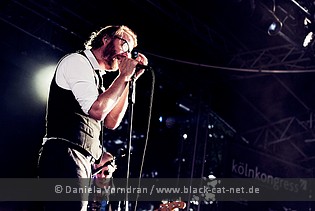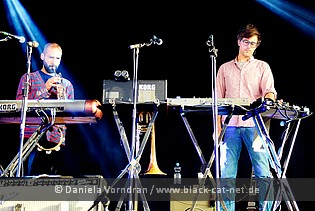 It was just a little sad that the band did not bring the big LED wall for some additional light effects. Maybe it was just too bright during the whole concert so the additional light did not really make sense…
Setlist

01. Start A War
02. Don't Swallow The Cap
03. I Should Live In Salt
04. Anyone's Ghost
05. Bloodbuzz Ohio
06. Sea of Love
07. Hard To Find
08. Afraid of Everyone
09. Squalor Victoria
10. I Need My Girl
11. This Is The Last Time
12. Green Gloves
13. Abel
14. Apartment Story
15. Humiliation
16. Pink Rabbits
17. England
18. Graceland
19. Fake Empire
---
20. Learning (PERFUME-GENIUS-Cover)
21. Terrible Love
22. Vanderlyle Crybaby Geeks
Rating

Music: 9
Performance: 8
Sound: 8
Light: - (mostly daylight)
Total: 8.3 / 10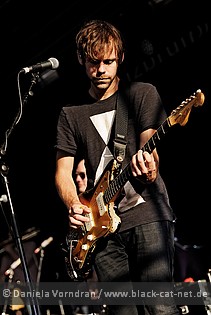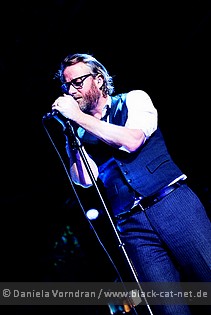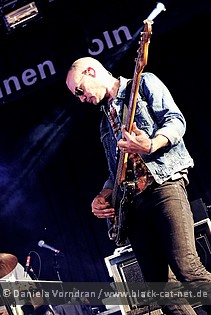 All pictures by Daniela Vorndran (
http://www.vorndranphotography.com
/
http://www.facebook.com/blackcatnet
)