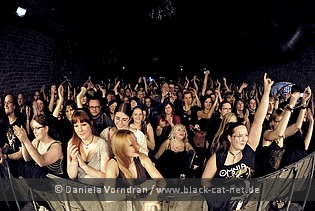 Matrix, Bochum, Germany
27th November 2014
Omnia - Earth Warrior Tour

Based in the Netherlands, OMNIA describes its style as Neo-Celtic Pagan Folk so the band members play different kinds of instruments typical for folk and sing in English, Welsh, Breton, Latin, Hindi and some other languages. With a new album released in spring, they are stopping now in Germany to present it live after they had already played shows in i.e. Poland, USA and Mexico. Lots of people were heading to Bochum and the queue outside was long… and the venue packed and hot!
The Dutch band was founded 1996 by Steve Evans-van der Harten. The name OMNIA meant "Everything" in Latin and stands for the exclamation " Omnia chaos est", what means "Everything is Chaos", the leitmotif of the band. Steve always was a very nature-bound and spiritual human and he transfers it to his band and the music. At the beginning, he and his former band members tried to revive Northern European Celtic and Roman music and they mainly played in big European museums. In 2002, his wife Jennifer became member of the band and OMNIA realigned towards a Neo-Celtic direction. Since that time, they call their music Pagan Folk Rock. The new OMNIA album, 'Earth Warrior' released 25th April 2014, comes with a crystal-clear message: It's the eleventh hour for the world and it's time to act! With 'Earth Warrior', the band verbalises with huge effort their concerns about the earth we live at and the rage against the unstoppably proceeding and ruthless destruction of the environment. OMNIA are known for the fact that they do not stick to their musical genre but also include influences from other musical directions into their repertoire. On 'Earth Warrior', they do it very extensively so that the Pagan Folk Rock feeling get the short end of the stick.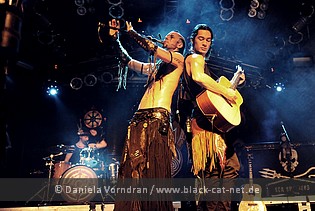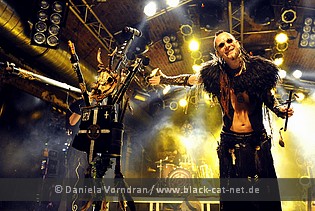 OMNIA is Steve 'Sic' Evans-van der Harten (vocals, various instruments), Jennifer Evans-van der Harten (vocals, neo Celtic harp, hurdy-gurdy, piano, bodhran, sansula), Daphyd 'Crow of War' Sens (Carbon-Fibre triple slide-didgeridoo), Rob van Barschot (drums) and a new guitarist joining them on stage.
http://www.worldofomnia.com
/
https://www.facebook.com/worldofomnia
Music & Performance

It was already warm – as you know it from the venue when it is crowded – before the band started. And when they entered the stage in time at eight, the heat level was soon increasing bit by bit. The Pagans were cheerfully welcomed and already with the first sounds of 'Fee Ra Huri' the audience was dancing. With their bewitching mixture of Pagan and Celtic Folk combined with modern elements of Rock or Rap, OMNIA is known for their deep spirituality and their connection to nature. All this was shown in lyrics and songs. Also, the clothing style combining leather and other materials with playful accessories and mystic tattoos, gives the impression of very authentic and honest music. 'I don't speak human' was already a first highlight telling a story of the non-working dialogue between human and animal, followed by 'Alive!' out of the album 'Wolf Love'. Lyrics and music were dark and melancholic, the audience was waving to the sounds. There was a lot of applause during the set and Steve included the audience totally into the show. 'Weltschmerz' saw the first, but not last, appearance of contact juggling artist Kelvin Kalvus, [
http://www.kelvin-kalvus.de
], who impressed big time with his abilities.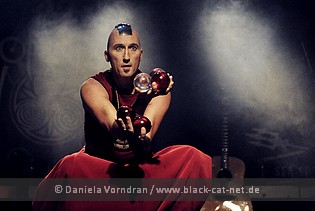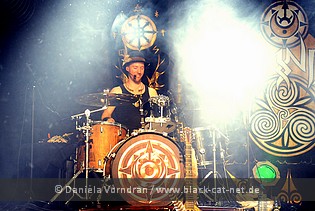 Before 'Earth Warrior' started, Steve made a little statement about how we should take care for the world, took a Sea Sheppard flag that was woven in the audience and made sure, how important our earth is. After the serious song, we were taken by party mood with 'Black House', the "Whiskey" song. Steve had a good laugh and could not really that he was handed a glass of Whiskey. He said, that German girl in the first row was also attending their British concerts and during each concert, she was handing over a glass of Whiskey during this certain song. What a nice gesture! The show went on with several more appearances of Kelvin and of course with the great music of OMNIA. During their set, the band touched all possible emotional facets. The encore was introduced by a Didgeridoo intro, before the concert finally found an end with 'Epona' and 'Saltatio Vita'. Taking a look into all those happy faces leaving the hall afterwards, this must have been indeed a great concert, hot, emotional, sweaty and with a ban din best mood.
Setlist

01. Intro
02. Fee Ra Huri
03. I don't speak human
04. Alive!
05. Weltschmerz (+Kelvin)
06. Earth Warrior
07. Black House (Whisky)
08. Kokopelli
09. Crazy Man
10. Auta Luonto
11. Triceltika (+Kelvin)
12. Guitar Solo Intro
13. Call me Satan (+Kelvin)
14. Niiv (+Kelvin)
15. Sheenearlahi
16. Dance until we Die
17. Noodle the Poodle
18. Drum Solo Intro
19. Mutant Monkey
20. Free Bird Fly
21. Etrezomp-ni Kelted (+Kelvin)
---
22. Didge Solo Intro
23. Epona
24. Saltatio Vita
Rating

Music: 8
Performance: 9
Sound: 8
Light: 8
Total: 8.3 / 10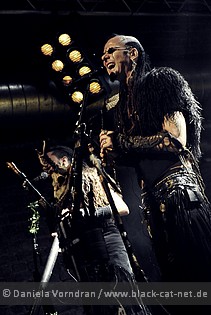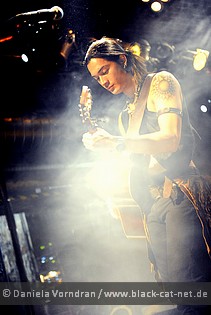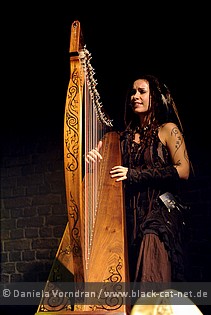 All pictures by Daniela Vorndran (
http://www.vorndranphotography.com
/
http://www.facebook.com/blackcatnet
)