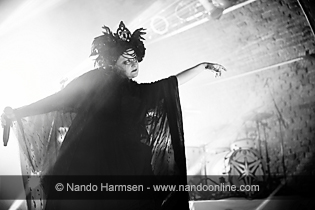 Matrix, Bochum, Germany
28th November 2014
L'Âme Immortelle, K-Bereit, Esoterik

After five years of silence, Thomas Rainer and Sonja Kraushofer are back on stage with L'ÂME IMMORTELLE. Just like they are announcing, it has been far too long after they released their previous album 'Momente' in 2011. But now they are back with a new album called 'Drahtseilakt' and a short tour through Germany, Russia, Switzerland and of course their home country Austria. The concert at the Matrix is the second in row and the official release of their album. L'ÂME IMMORTELLE will be supported by K-BEREIT from France and ESOTERIK from the U.S.
Esoterik

The American dark wave synth band ESOTERIK was formed only a year ago by Allison Eckfeldt, Brady Bledsoe and Austin Hayes. Their debut album 'Enlightenment' was released in January 2014. The music of ESOTERIK is a traditional synth pop with dark undertones that sounds like a tribute to the new wave / dark wave and gothic subculture.
https://www.facebook.com/esoterikmusic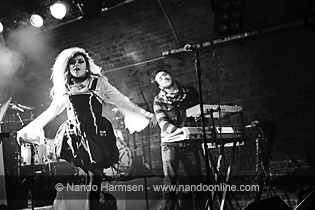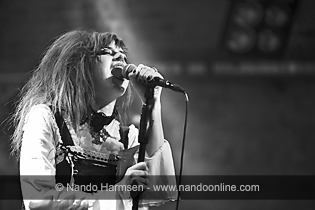 Music & Performance

ESOTERIK is already performing when I arrive at the venue. The first thing that my eye is catching is the bright blue hair of singer Allison Eckfeldt. She is singing and dancing wild over stage, performing open and easy accessible songs. Her appearance makes you almost forget Bledsoe and Hayes who accompany her on both sides of the stage behind their keyboards. At times her voice resembles Siouxsie Sioux. But that is also because the music finds their roots from that era. But it has that typical modern sound coming from the digital instruments. ESOTERIK is a nice warming up for the evening and clearly entertaining for the fans that are here for the main act.
Rating

Music: 7
Performance: 7
Sound: 7
Light: 5
Total: 6 / 10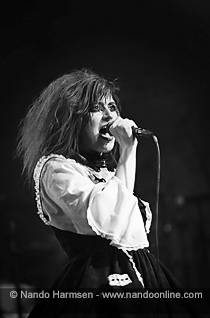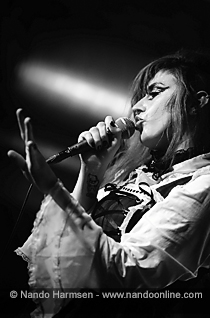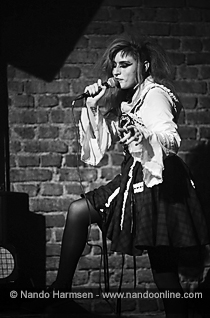 K-Bereit

Back in the eighties K-BEREIT was one of the first bands from France that set foot in the world of industrial and electronic body music. The band was known as KRIEGBEREIT back then. The following decade founder Dominique Lallement formed COBALT 60, together with Jean-Luc De Meyer (FRONT 242). Lallement started K-BEREIT in 2002 with Fred Sebastien and returned to a darker and more danceable industrial sound. It took almost ten years before the release of their first album 'Positive sound, Negative beat'. In 2013 Lallements girlfriend Audrey Bach replaced Sebastien and thus gave a female touch to the band. K-BEREIT became dark, danceable and "glamustrial", as they like to call it.
https://www.facebook.com/pages/K-BEREIT/208956319292
Music & Performance

The performance of K-BEREIT wasn't what anyone could expect. They start their show with Lallement unrecognizable behind his keyboard, wearing his dangerous looking helmet with spikes. Bach is having the rest of the stage for herself. Everything goes well during the first two songs but then Bach goes down with a bang. At first everyone is guessing it belongs to the show, mainly because she already went down on her knees before, but when Lallement is leaving his place behind his instrument vary hasty, throwing down his helmet, it becomes clear something went terribly wrong.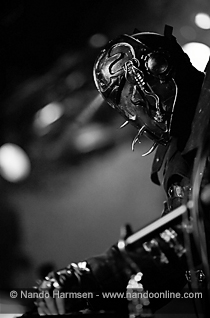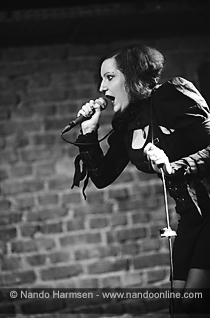 Bach has lost consciousness and help from backstage is arriving after a few moments. What is happening next takes place behind a large black blanket hold up by two people. It is clear the show of K-BEREIT has come to an end. Unfortunately the audience is left without any explanation or message about the health of Audrey Bach. The evening continues if it was only a minor accident. Only through Facebook we can find a small message everything is alright again. I think someone from the venue should at least have informed the audience she regained consciousness and was okay.
Rating

No rating
L'Âme Immortelle

The Austrian duo L'ÂME IMMORTELLE has been a successful band in Germany from the beginning. Their first album 'Lieder die wie Wunden bluten' became very popular in the dark underground culture. The popularity was established with their second album '…In Einer Zukunft Aus Tränen Und Stahl'. The sound that consist out of the harsh male voice of Thomas Rainer and the emotional female vocal of Sonja Kraushofer is very characteristic. Songs address melancholic themes and have lovelorn lyrics. The Darkwave sound has evolved through the years but now with the new album 'Drahtseilakt' they return to their roots.
https://www.facebook.com/LAI.official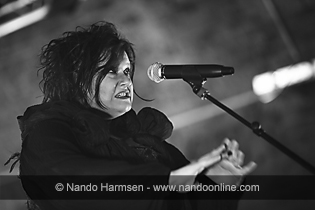 Music & Performance

Expectations were very high. L'ÂME IMMORTELLE has been promoting their new album and short tour through Germany a lot, promising an epic-electronic apogee. This is their second gig of that tour and also the official release party of their new album. The stage is dressed up nice to give a certain atmospheric appearance that reflects the music. But all eyes are on Kraushofer and Rainer when they appear on stage during the intro. If anyone should expect to hear songs from the new album they are mistaken. Only at the sixth song they play one of the new tracks called 'Eye of the Storm'. L'ÂME IMMORTELLE seem to stay in the past as they continue with older work instead of the new ones. Rainer even mention the time travel they are taking this evening. The audience doesn't seem to mind. They enjoy to hear 'Tiefster Winter', 'Gefallen' and 'Wie Tränen im Regen' and most of them are singing along.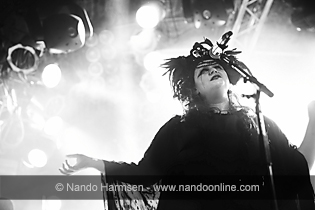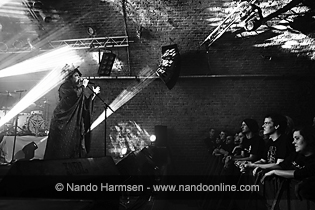 On stage there is almost no interaction between Kraushofer and Rainer. They share the same stage, sing together but it doesn't seem they are aware of each other. Not much, that is. Rainer is dressed in a black suit and Kraushofer is wearing some worn-out dresses. It does feel real gothic and nothing like the popular overvalued female fronted 'metal' bands we have seen over the past decade. Kraushofer, who stands out with her glowing red hair, has a good clear voice that really stands out when 'Bitterkeit' and 'Live will never be the same again' is performed. Unfortunately the new songs continue to be of absent; I only count five new ones, of which one is the intro of the first encore.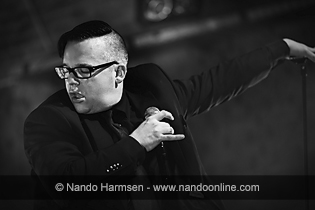 During that encore there is the first real interaction between Kraushofer and Rainer. But it doesn't last longer than two songs. For the last song of the evening Rainer sings 'Lass mich fallen' which he calls very personal for him. During the performance he attempts very hard to cry, and eventually he succeeds. Although the minimal representation of the new album L'ÂME IMMORTELLE performs very well this evening in front of a wonderful and enthusiastic crowd. Too bad the sound wasn't optimal, but that has little to do with L'ÂME IMMORTELLE and everything to do with the venue.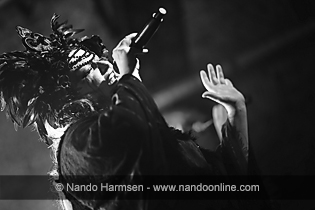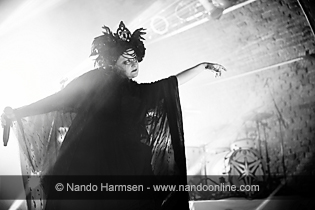 Setlist

01. L`Étang Mâlo (intro)
02. Tiefster Winter
03. Judgement
04. Gefallen
05. Wie Tränen im Regen
06. Eye of the Storm x
07. Fallen Angel
08. Stumme Schreie
09. Drown them x
10. Love is Lost
11. Bitterkeit
12. Komm zu mir x
13. Es tut mir leid
14. Tauch mich in Dein Licht x
15. Phönix
16. Life will never be the same again
---
17. Erste Schritte (intro 2) x
18. 5 Jahre
19. Aus den Ruinen
---
20. Requiem
21. Lass mich fallen
Rating

Music: 9
Performance: 8
Sound: 7
Light: 8
Total: 8 / 10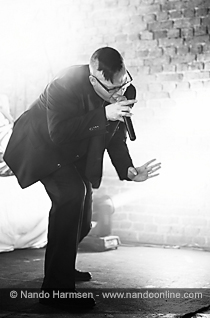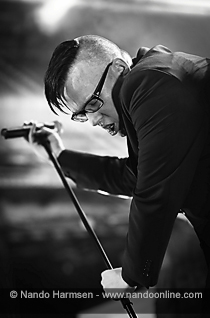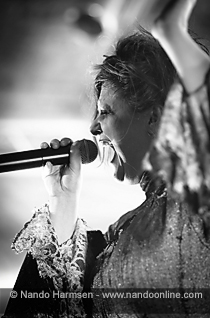 All pictures by Nando Harmsen (
http://www.nandoonline.com
)