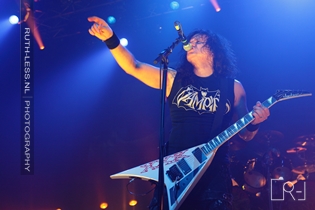 013, Tilburg, The Netherlands
4th December 2014
Kreator, Arch Enemy, Sodom & Vader

Legendary formation KREATOR brings a smashing line-up for their show at the end of this year. Swedish melodic death metal machine ARCH ENEMY will join them with their new leading lady Alissa White-Gluz and a brand new album titled 'War Eternal'. The line-up is completed with the German trash metal veterans of SODOM and Polish death metal band VADER. Unfortunately, due to crazy traffic and even a traffic jam inside the parking garage, I missed both VADER and SODOM. Fortunately, I was just in time to see the two main acts of this evening at a sold-out 013 in Tilburg.
Arch Enemy

ARCH ENEMY is a melodic death metal band from Halmstad, Sweden. The band was founded in 1996 by CARCASS guitarist Michael Amott along with Johan Liiva, both originally from the influential death metal band CARNAGE. The band was first fronted by Johan Liiva, who was replaced by Angela Gossow as lead vocalist in 2000, and with Gossow stepping down in March 2014 and being replaced by Canadian singer Alissa White-Gluz, formerly lead singer for THE AGONIST. Gossow remains connected to the band though in the role of manager. ARCH ENEMY has released nine studio albums, a live album (Burning Japan Live 1999), two DVDs and three EPs. With the replacement of Gossow, a new album was announced as well. The album 'War Eternal' was released in 2014. ARCH ENEMY is Alissa White-Gluz (vocals), Michael Amott (guitars), Jeff Loomis (guitars), Sharlee D'Angelo (bass) and Daniel Erlandsson (drums).
www.archenemy.net
/
www.facebook.com/archenemyofficial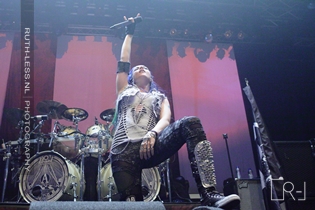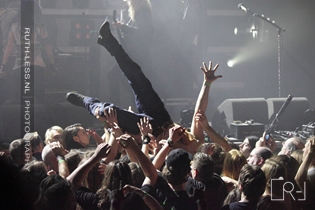 Music & Performance

I think there's little question whether new singer Alissa would be able to fill her predecessor's shoes, but after tonight, we will know for sure. After the intro, the first notes of 'War Eternal' from the latest album blast from the stage. Michael, Jeff, Sharlee and Daniel are welcomed with loud cheers from the audience, going up another notch when Alissa shows up. Instead of focusing on this years' album, the band pays considerable attention to some classics from the past. In the first part of their set, we go back as far as 2001 with 'Ravenous', 2004 with 'Dead Eyes see no Future' and the audience is treated to a couple of songs from the successful album 'Kaos Legions' (2011). Also not new are Amott's wicked guitar riffs.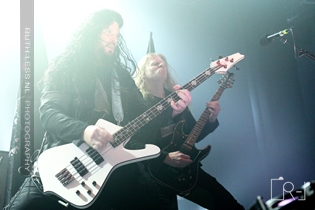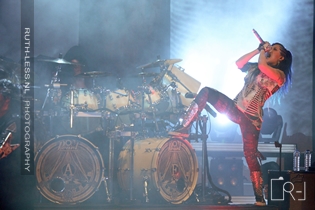 Though quite impressive and easy on the eye, Alissa's brutal female vocals are not always in the lead with ARCH ENEMY songs, but very well balanced with the other instruments, leaving considerable room for Amott, Loomis, D'Angelo and Erlandson to show off their skills. Alissa proves a good host, although some of the audience clearly are only here to see their heroes of KREATOR. The show ends with 'Fields of desolation' from debut album 'Black Earth'. With something old and something new, ARCH ENEMY's proven to be still on top of their game and I'm looking forward to seeing them again on stage in the future!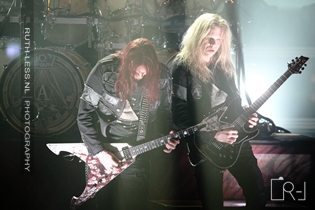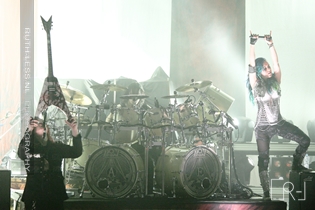 Setlist

01. Tempore Nihil Sanat (Prelude in F minor)
02. War Eternal
03. Ravenous
04. My Apocalypse
05. You Will Know My Name
06. Bloodstained Cross
07. Under Black Flags We March
08. As the Pages Burn
09. Dead Eyes See No Future
10. No Gods, No Masters
11. We Will Rise
12. Nemesis
13. Fields of Desolation
14. Enter the Machine
Rating

Music: 8
Performance: 9
Sound: 8
Light: 6
Total: 7.8 / 10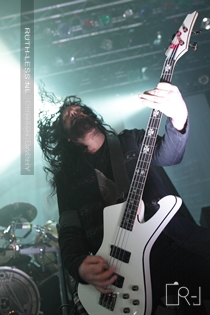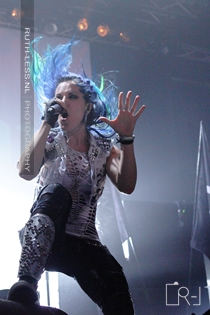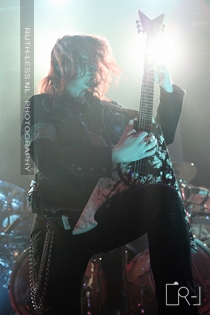 Kreator

KREATOR is a thrash metal band from Essen, Germany, founded in 1982. They originally started under the name METAL MILITIA, later TYRANT and TORMENTOR, finally KREATOR. The name KREATOR is derived from the name of a demon in the German mythology. Their style of music is similar to their compatriots DESTRUCTION and SODOM, two other thrash metal bands from Germany. KREATOR's work has been consistently in the vein of pure thrash, with the exception of four albums ('Renewal', 'Cause for Conflict', 'Outcast' and 'Endorama'). In the 1990s they undertook serious experimentation, incorporating Industrial, Gothic and Avant-Garde elements into their sound. The results were uneven in some fans' and also critics' eyes. Since 1985, KREATOR has released thirteen studio albums, two live albums, five video albums (VHS and DVD) and two EP's. KREATOR is Miland "Mille" Petrozza (vocals / guitrar), Sami Yli-Sirniö (guitar), Christian "Speesy" Giesler (bass) and Jürgen "Ventor" Reil (drums).
www.kreator-terrorzone.de
/
www.facebook.com/KreatorOfficial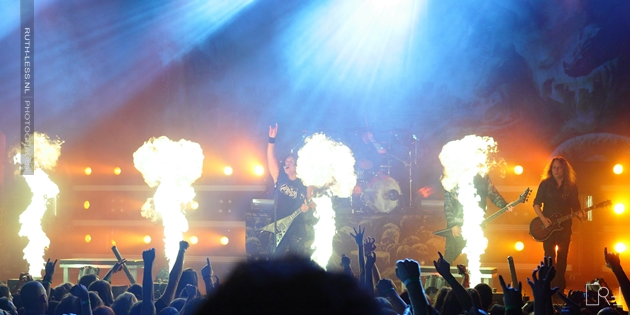 Music & Performance

On stage preparations look promising as we wait for trash metal legend KREATOR. Their intro is the 1969 Zager and Evans hit song 'In the Year 2525'. The theme of disturbing future predictions is enforced by real life images of technological disasters, explosions and wickedly smiling world leaders. And so, the atmosphere for KREATOR is set. These guys don't do half a job when it comes to touring and during the first few songs (amongst others 'Violent Revolution', 'Civilization Collapse' and oldie 'Extreme Aggression') we get heavy light effects, and both fire as well as CO2 from the installations in front of the stage. The venue is sold out and after a few songs there is a reasonable amount of beer on the ground and in the air; seems like everybody's having a great time!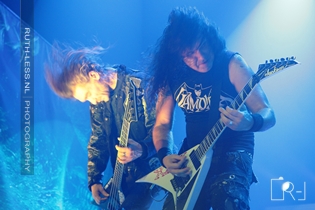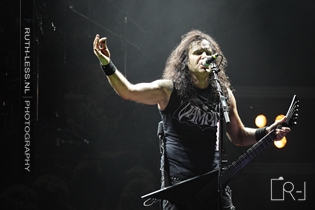 Up next, it only takes little encouragement from singer Miland to get the audience going and we see some circle pits going soon after. KREATOR is eager to play this evening and song after song is thrown at the audience. We go back and forth through their extensive repertoire with amongst others 'Phantom Antichrist' from the latest studio album and 'Endless Pain' from their debut album in 1985 – for the looks of it a fair amount of the audience was still in diapers back then or not even born at all – their enthusiasm does however match the older part of the crowd, which is great to see. After IRON MAIDEN cover 'number of the beast' and a few early KREATOR songs, this trash metal evening comes to an end – my ears ring as I head back to the car – what a night!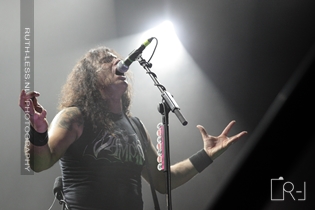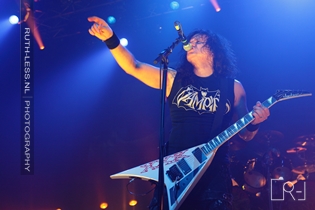 Setlist

01. In the Year 2525 (Zager & Evans song)
02. The Patriarch
03. Violent Revolution
04. Civilization Collapse
05. From Flood into Fire
06. Extreme Aggression
07. Phobia
08. Enemy of God
09. Voices of the Dead
10. Endless Pain
11. Phantom Antichrist
12. Death
13. Hordes of Chaos
14. Warcurse
15. The Number of the Beast (Iron Maiden cover)
16. Pleasure to Kill
17. People of the Lie
18. Flag of Hate / Tormentor
Rating

Music: 7
Performance: 8
Sound: 7
Light: 6
Total: 7 / 10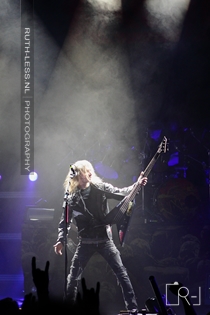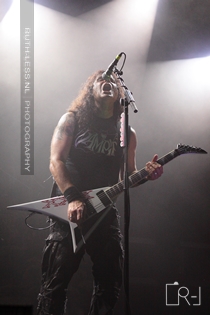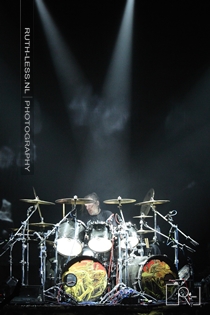 All pictures by Ruth Mampuys (
www.ruth-less.nl
)