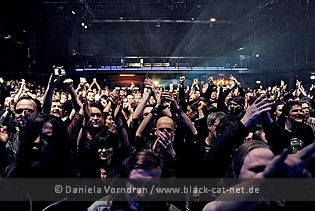 Turbinenhalle, Oberhausen, Germany
8th February 2015
Monster Magnet & Bombus

Just a few month ago I did a review on the last MONSTER MAGNET output 'Milking the Stars' and I really fucking loved it and enjoyed it multiple times, so when I realised they come to Germany I freaked out a little over this opportunity. I heard about the support BOMBUS some time ago and checked them out, I figured this would be a worthy mixture and great fun for audiences on the tour (spoiler alert: it was great fun). The house was well attended but not sold out like the last few times, but hey I wouldn't want it any other way because stoner rock is more grounded and private than power metal or stadium rock.
Bombus

BOMBUS are a heavy metal band from Gothenburg, Sweden which initially signed to Mourningwood Recordings, releasing three singles and their debut album 'Bombus' before signing to Century Media on 10 April 2013 releasing another single called 'Apparatus', on 6th May 2013, and their second and according to the reviews successful studio album 'The Poet and The Parrot' (reminds me that I need to buy this one) on 26th September 2013. BOMBUS is energetic, chaotic and very loud. BOMBUS is Feffe (guitar, voice), Matte (guitar, voice), Jonas (bass) and Peter (drums).
http://www.bombusmusic.com
/
https://www.facebook.com/bombusmusic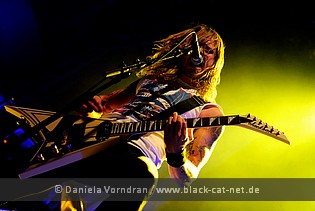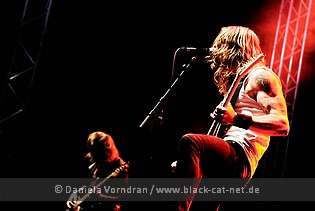 Music & Performance

This Gothenburg based metal outfit fronted by singer Feffe starts their set with 'Raised by Pigs' which instantly reminds me of MOTÖRHEAD if they would play with the slightest bit of finesse. Technically the band plays almost flawless and heavy as fuck (as for the flaws, maybe it is the soundman in charge who is to blame). The rest of the set really starts to grow on me slowly, at first I am annoyed because these guys are fucking loud and pretty chaotic but a few songs later I start to recognise the more complex patterns hiding behind the noise and ultimately as the set ends with 'Into the Fire' (a rather catchy song for a band like BOMBUS) I realise I really like BOMBUS.
Setlist

01. Raised By Pigs
02. Apparatus
03. Master The Reality
04. Let Her Die
05. Enter The Night
06. Biblical
07. Outsider
08. A Safe Passage
09. Into The Fire
Rating

Music: 6
Performance: 6
Sound: 6
Light: 6
Total: 6 / 10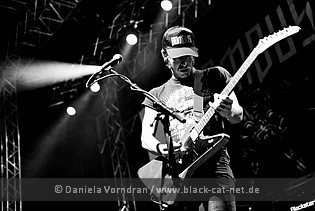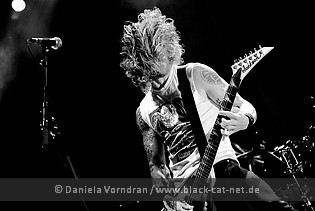 Monster Magnet

Okay, here comes a little introduction for those who don't know MONSTER MAGNET, this epic stoner rock band formed in 1989 in the veins of bands like: HAWKWIND or MC5. MONSTER MAGNET are pioneers of the genre and among those who managed to do their job with success. Since the early nineties this band managed to put out twelve records. Among the things I really like about front man Dave Wyndorf is that we share the same taste in comics, Dave is a huge Jack Kirby fan (Google him he is the king). MONSTER MAGNET is Dave Wyndorf (vocals), Ed Mundell (guitar), Phil Caivano (guitar), Jim Baglino (bass) and Bob Pantella (drums).
http://www.monstermagnet.net
/
https://www.facebook.com/monstermagnet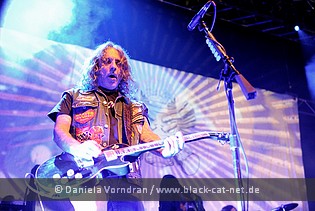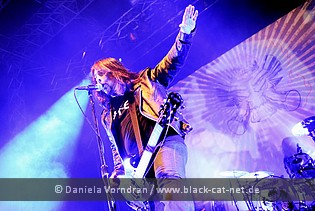 Music & Performance

The atmosphere in the hall really begins to boil as MONSTER MAGNET enter the stage is all too clear that everyone is here for Dave and his guys. The band plays flawless and starts epic right from the start with 'The Right Stuff' followed by 'Dopes to Infinity' all accompanied by the crowd singing along every word. The crowd really parties hard and I have to admit I am having a blast and way to many beers while enjoying songs like 'Last Patrol' and 'Spine of God'. Of course, very famous 'Space Lord' from the 'From Dusk till Dawn' movie was finishing the set. I am very glad I have been here and had the chance to see the guys (and buy a shirt). A big thumbs up from Germany! PS: I will see them again... like multiple times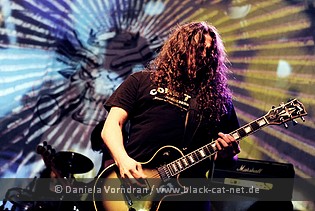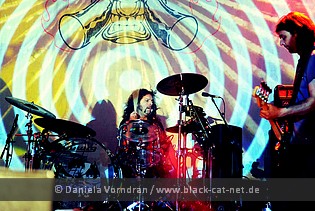 Setlist

01. The Right Stuff
02. Dopes to Infinity
03. Look to your Orb
04. Twin Earth
05. Clouds
06. Last Patrol
07. Spine of God
08. End of Time
09. Stay Tuned
10. Three Kingfishers
11. Tractor
12. Space Lord
Rating

Music: 9
Performance: 9
Sound: 9
Light: 9
Total: 9 / 10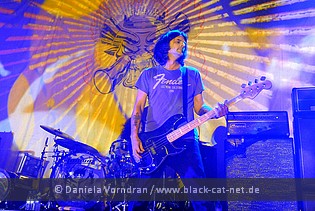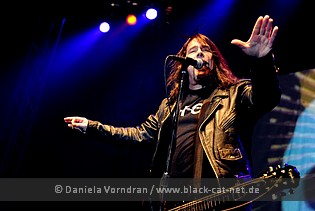 All pictures by Daniela Vorndran (
http://www.vorndranphotography.com
/
http://www.facebook.com/blackcatnet
)