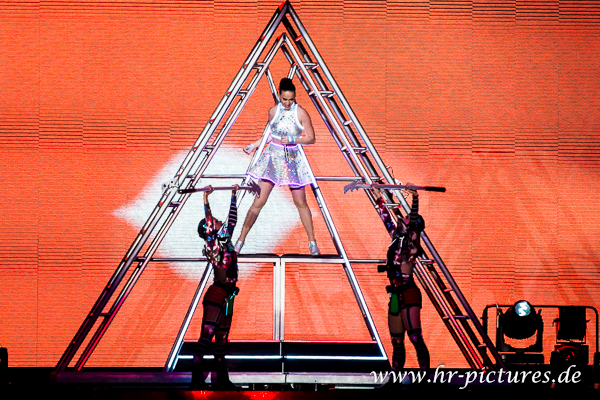 Olympiahalle, Munich, Germany
2nd March 2015
Katy Perry - 'Prismatic World Tour' - & Support: Charli XCX

KATY PERRY had her breakthrough in 2008 with the single 'I Kissed A Girl', although she is already active in the music business since 2001. Her current album 'Prism', which was published in 2013, is at the same time her up to now most successful one in Germany. Now after the great success of her UK shows, KATY PERRY started her European tour through 18 countries. According to the Financial Times, her show is one of the "most mad and most entertaining" concerts of the year. Read yourself what we think of it.
Charli XCX

CHARLI XCX (Charlotte Emma Aitchison, born 1992) is an English singer and songwriter. Early at the age of 14 she started songwriting and became famous by posting songs in MySpace in 2008 from her debut album '14', which was never officially released and financed by her parents. In 2012, CHARLI XCX wrote the top ten hit 'I like it' for the Swedish Pop duo ICONA POP which has reached number one in the UK Charts and number three in the German Media Control Charts. Live on stage CHARLI XCX is performing "her" song, too. CHARLI's second and major-label debut album 'True Romance' was released on 12 April 2013, and peaked at number eighty-five on the UK Albums Charts (Germany: n/a). She released five singles out of this album. Her recent album 'Sucker' was more successful (UK: 15, GER: 57), especially the resulting singles 'Boom Clap' (UK: 6, GER: 36) and 'Break the rules' (UK: 35, GER: 4). 'Break the rules' became very known in Germany because of the usage of this song as theme for the 2015 series of the RTL Television "Jungle Camp". Her last single 'Doing it' was featured by Rita Ora and reached Top Ten in UK (#8). CHARLI XCX mentioned several different artists as her influences, e. g. Madonna, David Bowie, Björk, Kate Bush, The Ramones, Spice Girls and many more.
http://www.charlixcxmusic.com
/
https://www.facebook.com/charlixcxmusic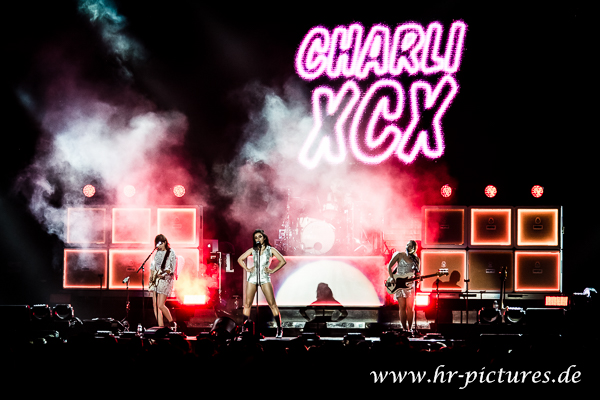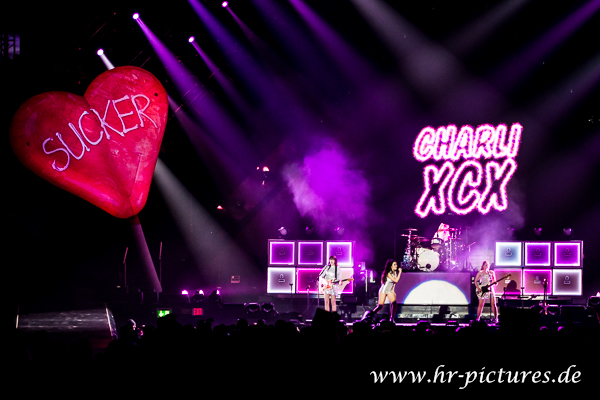 Music & Performance

Due to the bad weather conditions in Munich with the related traffic problems and/ or because of a Monday evening, the show at the Olympiahalle wasn't very crowded as CHARLI XCX entered the stage, where a huge heart with the letters "Sucker" was attached right over it. CHARLI XCX and her female live players (guitar, bass, drums) wore glittery clothes (like human disco balls) and the live players had white angel wings strapped on their backs. CHARLI XCX performed a very convincing show by singing and dancing over the whole stage and switching from one side to another cheering the audience. Especially when the second song 'I Love It' began, the audience started celebrating, dancing and singing. Despite her age of 22, CHARLI XCX showed her huge experience as artist, very good singer and worthy support act that the crowd was warmed up very well for the following show of KATY PERRY. Due to the acoustic situation of the Olympiahalle, the sound in front of stage was well conditioned. But in the back (on the tribunes) it was very "thin" and a little too quiet.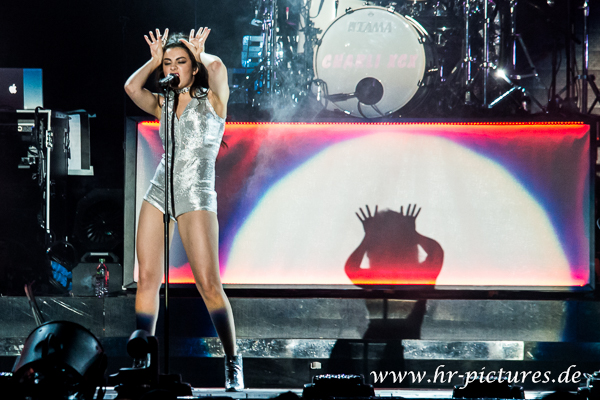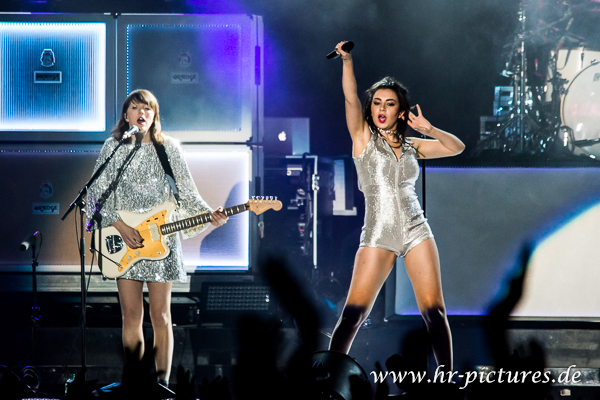 Also the full set of lights and effects weren't used, as usual for a support act. For the rear part of the concert hall two huge screens were installed, which broadcasted live by several cameras.
Setlist (based on set lists of recent shows)

01. London Queen
02. I Love It (ICONA POP cover)
03. Famous
04. Super Love
05. Break the Rules
06. Breaking Up
07. Die Tonight
08. Doing It
09. Boom Clap
Rating

Music: 8
Performance: 8
Sound: 7
Light: 6
Total: 7.5 / 10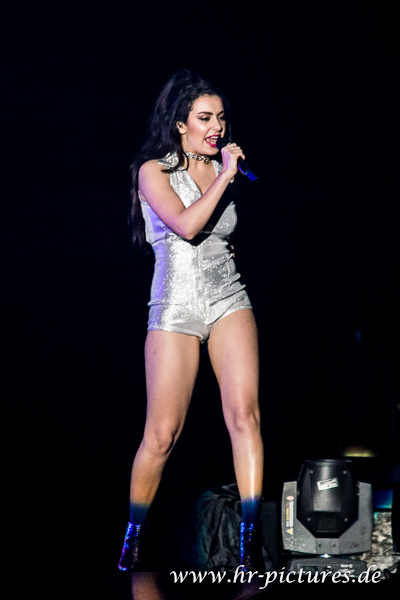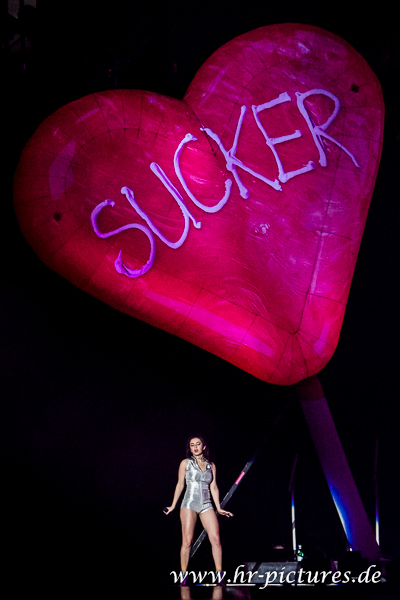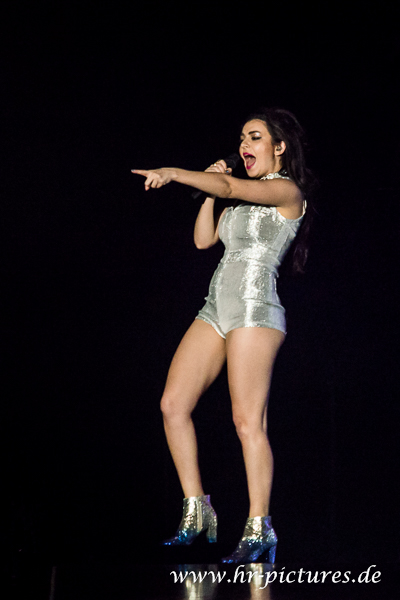 Katy Perry

What to say about KATY PERRY? Over 80 million singles + 11 million albums sold, over 66 million followers on twitter (one of her three Guinness world records). PERRY has received many awards and was included in the Forbes list of "Top-Earning Women in Music" for 2011, 2012 and 2013. In a range of about eight years from her major contract in 2007 and her debut single 'I kissed a girl'(2008), she became one of the most influencing women in pop business after MADONNA. Her third album 'Teenage Dream' (2010) became the first record by a female artist, which gained five number-one US Billboard Hot 100 songs, and the second overall after Michael Jackson's album Bad (1987). The last album 'Prism' (2014) ranked on number one in iTunes in almost 100 countries and was sold over six million times so far and the resulting singles 'Roar' and 'Dark Horse' entered the charts all over the world. PARRY's performance at the Super Bowl XLIX halftime show on February 1, 2015, with special guests LENNY KRAVITZ and MISSY ELLIOTT gathered 118.5 million viewers in the United States, becoming the most watched and highest rated show in Super Bowl history. The viewership was higher than the game itself, which was viewed by an audience of 114.4 million. The "Prismatic World Tour" began on May 7, 2014 in Belfast. On March 2, 2015, in Munich the tour started in Germany at the almost sold out Olympiahalle.
http://www.katyperry.com
/
https://www.facebook.com/katyperry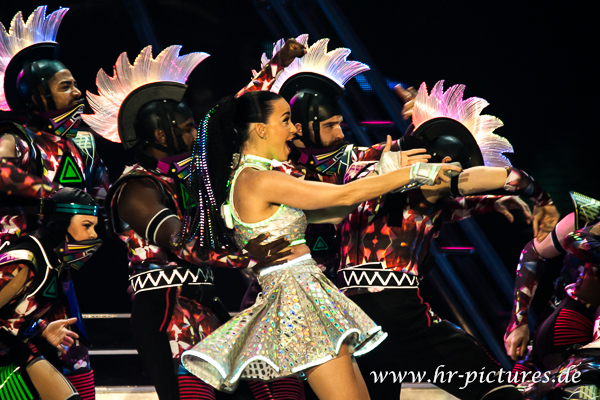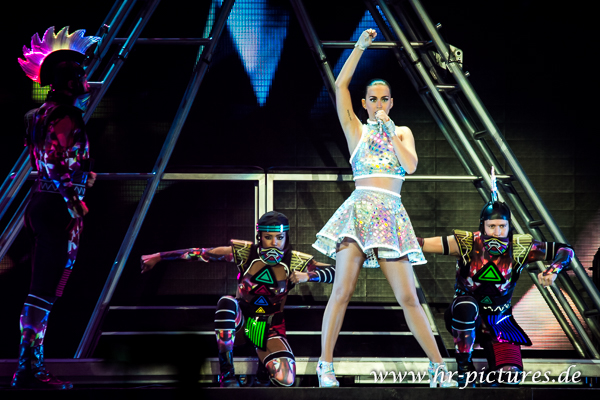 Music & Performance

Against all prejudices not only teenage girls were the main part of the audience, almost every age was represented. The main features of the teenage viewers were the blinking plastic LED cat ears with the initials of KATY PERRY (K.P.) on the heads which anticipated the main theme of the evening - a bombastic, colourful and glittering disco show! Colourful and full of bright glittering stones in her dress with colour-changing ribbons, KATY PERRY opened the show and entered the stage out of a huge pyramid, supported by colourful warriors with illuminated spears and shields. Right as first song she performed her top-single 'Roar', so that the audience on the floor got very fast into a dancing, singing and party atmosphere. Every three/ four songs the main theme on stage changed (5 parts + 2 encores) and according to the themes the dresses of KATY and her dancers changed, too (see themes on set list). The breaks between the theme changes were covered by dancers and artistic performances so that no one got bored.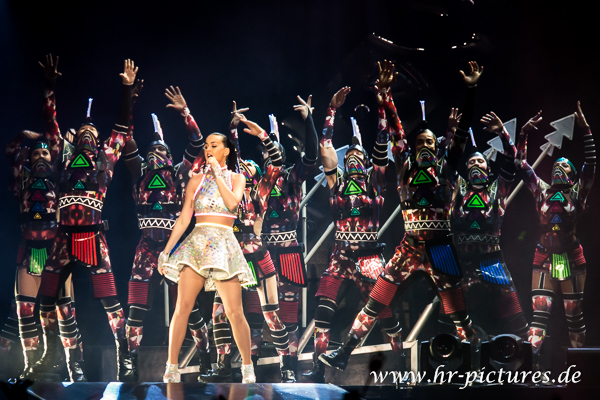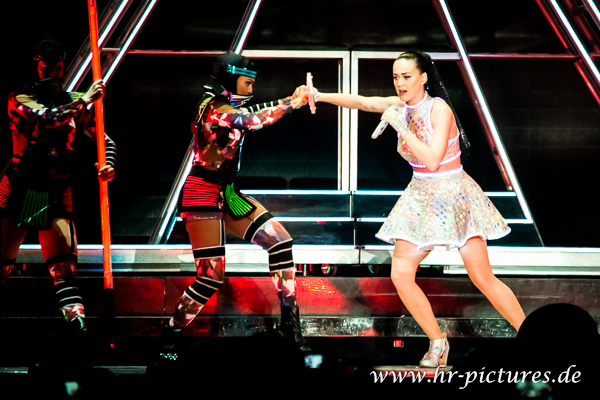 During the show PERRY showed herself in a very good mood and interacted very often with the audience by talking to them, shaking hands, learning German words or even taking selfies with a fan on stage - a superstar down to earth. But she did not manage to animate all viewers to stand up and dance during the whole show, especially on the tribunes. Only during the last song, 'Fireworks', almost every viewer in the Olympiahalle was standing and cheering. The full power of sound and light/ lasers was used and showed an impressive spectacle for eyes and ears. KATY was supported by a huge live band including background singers, who sometimes helped to make her slightly thin and little inconsistent voice more powerful, especially while she was dancing and performing her "breath-taking" stage show. The true capability of the support band flashed only once, as 'I kissed a girl' was performed in a very "rocky" version.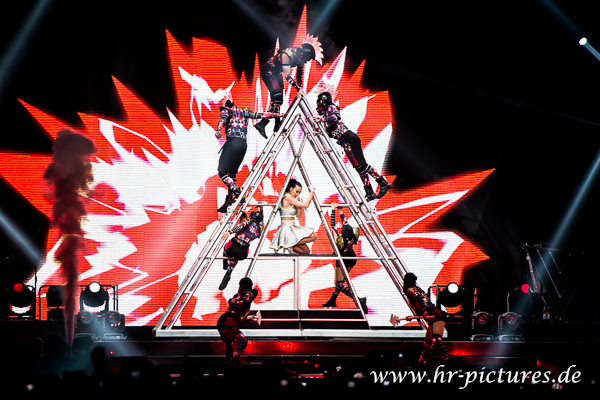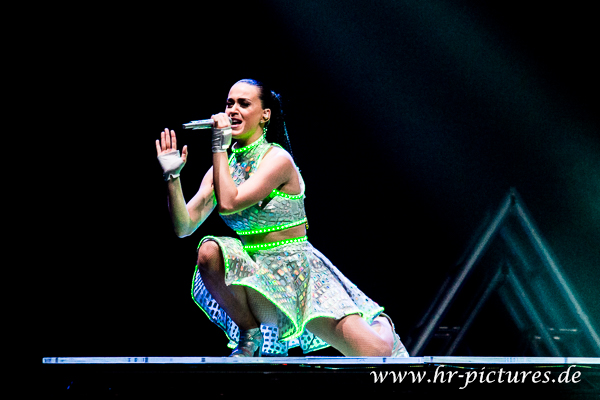 In summary a less bombastic glittery show with a little bit more singing capabilities and usage of the live band would have been better for a sophisticated audience. But seen as a huge teenage pop party (especially visually), KATY PERRY did a great show, which manifested her leading role as today's pop queen.
Setlist

-Prismatic theme-
01. Roar
02. Part of Me
03. Wide Awake
04. This Moment / Love Me
-Egyptian theme-
05. Dark Horse
06. E.T.
04. Legendary Lovers
08. I Kissed a Girl
09. Hot N Cold / International Smile (With Vogue by MADONNA)
-Acoustic theme-
10. By the Grace of God
11. The One That Got Away / Thinking of You
12. Unconditionally
-Throw Back theme-
13. Megamix Dance Party
14. Walking on Air
15. This Is How We Do / Last Friday Night (T.G.I.F.)
-Hyper Neon theme-
16. Teenage Dream
17. California Gurls
---
18. Birthday
---
19. Firework
Rating

Music: 9
Performance: 7
Sound: 8
Light: 9
Total: 8.5 / 10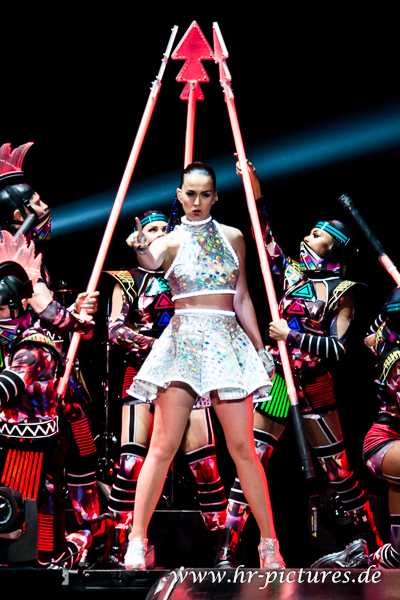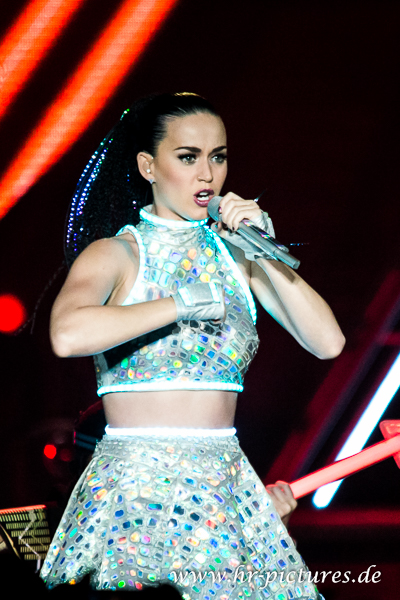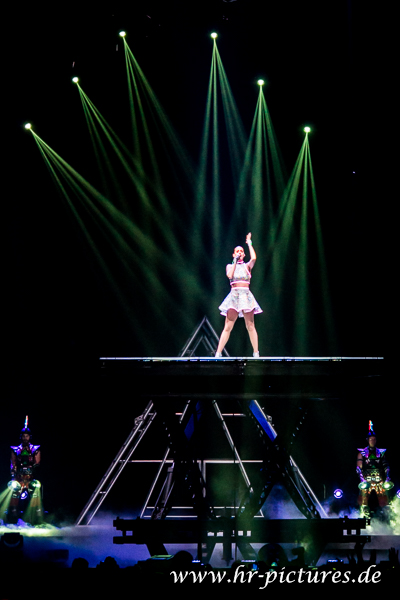 Full Gallery

All pictures by Helge Roewer (
www.hr-pictures.de
)