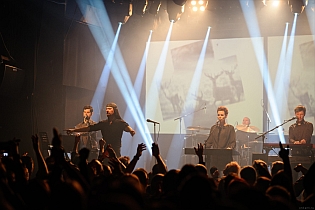 Tavastia, Helsinki, Finland
16th March 2015
Laibach

Slovenian industrial legend LAIBACH does not need much introduction, being around since 1980 and securing several conceptual works. 2014 was a touring year for Slovenian music collective LAIBACH after releasing their critically acclaimed album 'Spectre'. But also early 2015 will saw even more LAIBACH dates. For Finnish audience LAIBACH's appearance has an additional meaning: Finland is a birthplace of widely known movie 'Iron Sky'.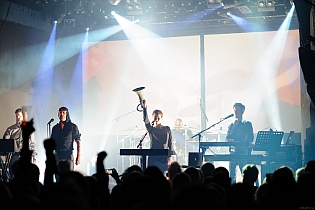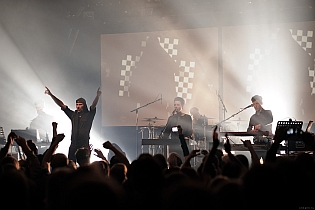 The movie, directed by Timo Vuorensola, is a sci-fi story of Nazis survived on the moon and coming to contemporary USA, and it features a lot of visuals borrowed from Second World War Germany blended with contemporary industrial look. LAIBACH's music was a great match to the visuals of heavy machinery used by "space Nazis". (That being said, LAIBACH is obviously must not be associated with any kind of Nazism ideology). In 2014, LAIBACH released its latest album 'Spectre' that wound up to sound quite uncommon for a person familiar with an old-school LAIBACH, featuring plenty of female opera-signing vocals.
http://www.laibach.org
/
https://www.facebook.com/Laibach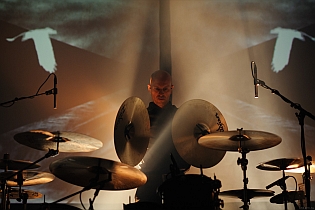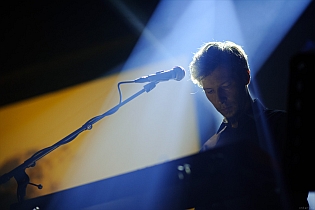 Music & Performance

Major part of the gig, of course, were the tracks from latest album 'Spectre'. LAIBACH members are not exactly known for some wild action on stage, preferring to stand still next to their microphones and synthesizers. Yet, this show was much better visually than the one couple of years ago in Nosturi, Helsinki. LAIBACH features a large screen which dominates the stage, where support visuals are shown. As a rather successful band, LAIBACH has the opportunity to make expensive-looking music videos, that are naturally displayed during the matching songs. Most improvement in visual appearance since 2013 were many light cannons installed on the stage, making beamed lights, impressively piercing the atmosphere of the club and highlighting the performers. Centre stage was, of course, held by singers Milan Fras and Mina Špiler. (I suspect that Mina was actually the main signer during the gig).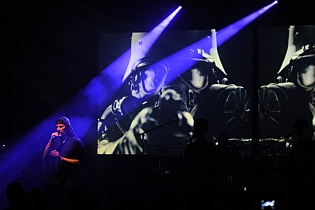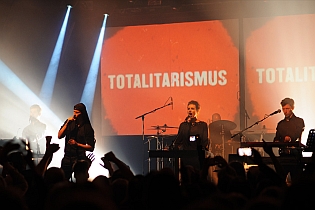 Despite the fact that I could not find myself hooked by LAIBACH's last opus at home, in a club atmosphere these tracks were really captivating and hard-hitting, providing an "epic scale" impression due to their complex electronic parts. As commonly happens, the gig followed the tried-and-true recipe of mixing modern material with main LAIBACH hits, not missing, obviously, 'B Mashina' from 'Iron Sky'. It would be rather impossible not to play that piece, especially with rich visuals acquired from the movie. (Naturally, the 'Iron Sky' director, a metal musician himself, could be found supporting the column in some far end of the club.) The show was concluded by energetic 'Tanz mit Laibach' and 'Leben heißt Leben'. Overall, the gigs of LAIBACH this year are well worth visiting. 'Iron Sky 2', too, is underway with its promo clips featuring tracks borrowed from LAIBACH's 'Volk' album.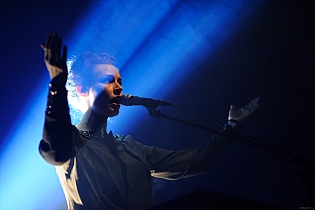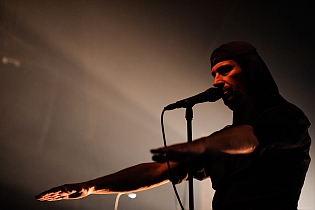 Setlist

01. Olav Trygvason (Edvard Grieg cover)
02. Eurovision
03. Walk with Me
04. No History
05. The Whistleblowers
06. Koran
07. Resistance Is Futile
08. Each man kills the thing he loves (Jeanne Moreau cover)
09. Americana
10. We Are Millions and Millions Are One
11. B Mashina (Siddharta cover)
12. Alle Gegen Alle (D.A.F. cover)
13. Eat Liver!
14. Bossanova
---
15. Tanz mit Laibach
16. Das Spiel ist aus
---
17. Leben heißt Leben
Rating

Music: 8
Performance:8
Sound: 8
Light: 8
Total: 8 / 10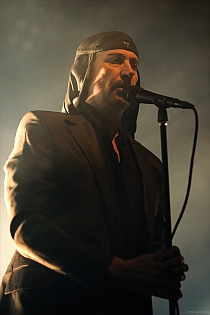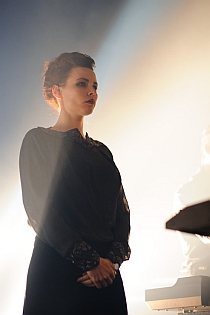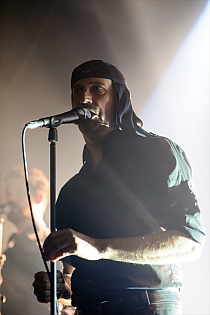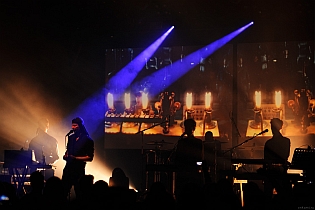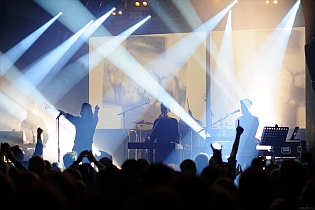 All pictures by Askar Ibragimov