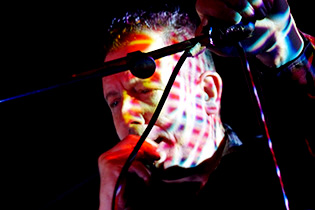 The Hope & Anchor, London, UK
30th April 2015
Naked Lunch

Back in 1979, NAKED LUNCH, and especially front-man Tony Mayo, were hugely influential in the fledgling electronic music scene in the UK. Crucial to the encouragement and development of bands like DEPECHE MODE, they helped shape the androgynous, experimental and progressive music at the time, alongside FAD GADGET, BLANCMANGE, SOFT CELL and THE THE amongst many others. Fading away gracefully once the mid-eighties were reached, to have them back again now, and playing such iconic venues as London's Hope & Anchor, is something of a revelation.
https://nakedlunchofficial.com/
/
https://www.facebook.com/NAKDLUNCH1/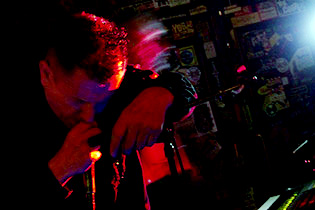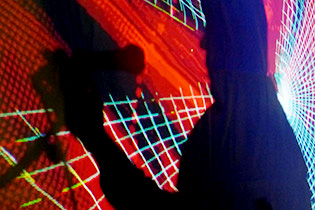 Music & Performance

From the beginning of the show it's clear this is not some nostalgia trip. Opening with the fabulous 'We Are', the band play it tight and disciplined while giving the appearance of improvisation. "We are rich, we are poor" growls Mr Mayo, a man whose distinctive and assured stage moves look even more impressive when silhouetted on the ever changing, colourful projection that more than makes up for the meagre light show the venue can offer. The pulsing 'Slipping Away Again' gets the crowd moving, a funky and muscular rhythm section pushing this one to its limits, and 'Alone' that follows marries a huge beat, with icy synths and a sinister relentlessness. It feels completely contemporary, and starkly relevant, yet revisiting those same feelings of isolation and confusion that shackled an emerging creative artistic youth from back in the late seventies. There's plenty of warmth and humour on show too. If not distracted by the drummer's mad flashing glasses, or the psychedelic guitar, there's Tony Mayo's apparent set-list amnesia.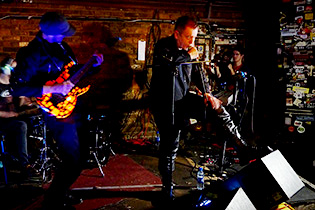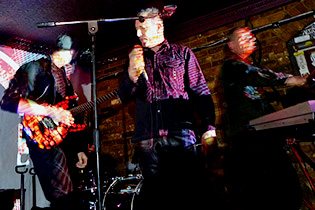 "What's the next one?" he asks more than once. "The one in the set!" comes the reply. And it's the front-man's endearing personality that holds everything together wonderfully. He stalks the stage menacingly at times, occasionally standing with his back to the audience, but his stage persona still exudes a warm approachability. When singing he fixes steely eyes in a near distance, and his vocals range from seductive and gravelly to the dirty-uncle-at-a-wedding sneer that comes on all leather and chains in the early classic 'Le Femme'. To be honest, it's hard to take your eyes off him. Classic song 'Rabies' is dispatched with taut efficiency, fast, funky and irresistible, and 'Weekend Behaviour' stomps and struts about the small stage like a petulant teen. It's a strange and unique slice of eccentricity that works magically live. And 'Fade Away' is show-cased in a similar manner, like it was written yesterday and desperate to be heard. The audience are clearly enraptured by the whole performance, and the calls for an encore are genuine and unforced, the band one collective grin as they deliver one last time.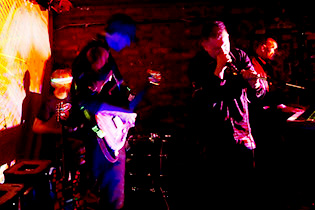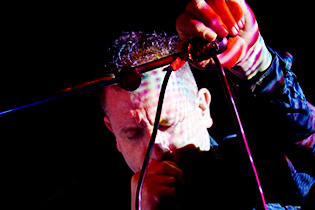 It's hugely refreshing to see a band like NAKED LUNCH still making, and playing, cutting edge electronic music. And as a full band, not as two men and a laptop, which sadly seems to be the fate of most music in this genre. Tonight's show was a genuine performance, a full, flirty, fabulous set that satisfied those who were there first time around, but will have caught the ear of anyone looking for new musical directions and creative sounds.
Setlist

01. We Are
02. Slipping Again Again
03. Alone
04. Le Femme
05. Rabies
06. Glow
07. Weekend Behaviour
08. Emotional Turmoil
09. Fade Away
10. Slipping Again
Rating

Music: 9
Performance: 10
Sound: 8
Light: 7
Total: 9 / 10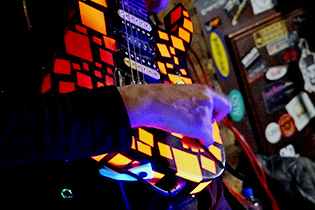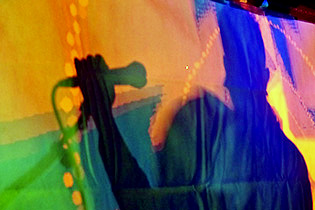 All Pictures by Stephen Kennedy