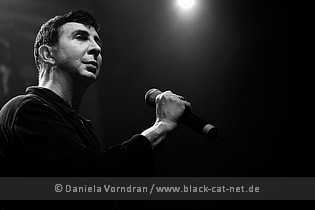 Bürgerhaus Stollwerck, Cologne, Germany
17th September 2015
Marc Almond

Finally I had the chance to see one of my heroes of my youth performing live at the nice venue Bürgerhaus Stollwerck in Cologne. And apparently I wasn't the only one who was eager to see him as this place, with a capacity of 500 guests, was completely filled. Most of the audience was roughly my age so you could assume that the people were fans from the early beginning. But before I could finally enter the venue it took me almost half an hour to find a parking place so that I had to fear not to arrive before the show starts. And once again my love-hate for this city was assured. Cologne, you have so many nice venues in different sizes - small ones in pubs that give you almost a living room feeling, midsize ones and then at last the big arenas - but you have a severe lack of parking opportunities or you have to pay a fortune.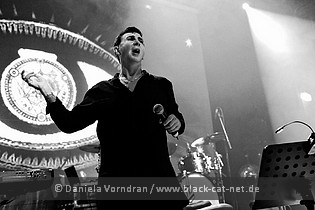 The singer and songwriter from Southport, Lancashire, UK, started his music career as one half of the renowned Electro duo SOFT CELL in 1979. Their cover version of 'Tainted love' brought them a N°1 position in the charts of 17 countries and their first album 'Nonstop Erotic Cabaret' was also critically acclaimed. After releasing four albums, the duo separated amicably in order to pursue their own solo projects in 1984. Already when engaged in SOFT CELL, Marc had a side project, MARC AND THE MAMBAS, with which he launched two albums between 1882 and 1984. By involving a complete classic orchestra with Pop music in the studio as well live, he was a vanguard of a new musical form. During his solo career, MARC ALMOND had sung many duets with numerous famous musicians like KELLI ALI,GENE PITNEY, NICO, SIOUXSIE SIOUX, P.J. PROBY,NINA HAGEN, JIMMY SOMERVILLE and the duo ROSENSTOLZ, to name just a few. His duet with GENE PITNEY of 'Something's gotten hold of my heart' in 1989 advanced to the position of his biggest success.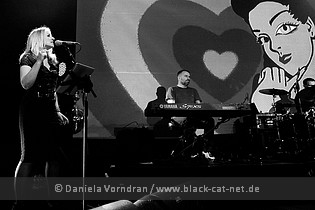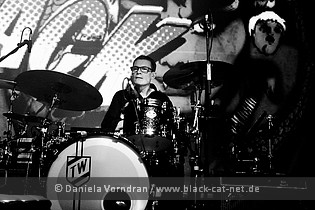 Up to 2004 he was busily writing songs and releasing albums, also live albums and a twin album one with specially translated songs of French chansons, poetry of Rimbaud put to music and the other with songs of JAQUES BREL, performing live with DAVE BALL as SOFT CELL again and even launching a new album, and while he lived in Moscow, Russia, he worked and recorded an album in a collaboration with renowned Russian musicians influenced by Russian Folk and Gypsy Romantic. His career suffered a sudden disruption when he had a terrible motorcycle accident which caused a coma of two weeks. After awakening MARC ALMOND was occupied with overcoming several disabilities and had to learn many things again which took him, understandably a longer time. He even had to learn to sing again with the help of the vocal coach Mary Hammond. But he successfully fought his way back and soon was creative as before. His current album was just launched in March of this year.
http://www.marcalmond.co.uk
/
https://www.facebook.com/MarcAlmondOfficial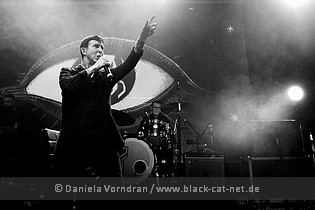 Music & Performance

When the band and then MARC ALMOND entered the stage they were greeted with a big applause and cheering. On this tour, MARC is supported by NEAL X with his band THE MONTECHRISTOS. Some might remember NEAL X as guitarist of SIGUE SIGUE SPUTNIK. Opener of the concert was a song of the new album, 'Minotaur', followed by a good mixture of old and new songs. Despite the fact that MARC ALMOND is not in his twenties anymore and had to cope with the ramifications of his accident I noticed that time nevertheless was kind to him as he really looked amazing and fit. Even his live vocal quality was fantastic. His expressive and emotional performance underlined each song and was rewarded with great applause. Every now and then he addressed to the fans and invited them to wave their arms or sing along. But for real the audience didn't need much invitation as you could see people dancing unison to the songs and singing with him the refrains, especially to the older songs. For the title track of the new album he made an introduction by telling that this song is biographically influenced by his childhood memories, growing up at the seaside.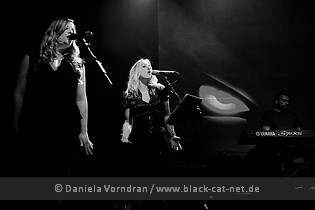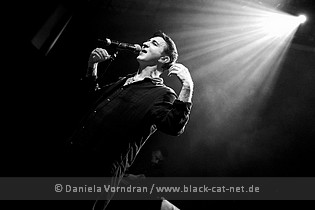 Apart from the light effects the songs were underlined by artistic video animations with some pieces of the artwork of ROY LICHTENSTEIN. There was also a nice melange between slow and faster, danceable songs and MARC ALMOND as well danced on the stage and apparently he had a lot of fun, too. To one song he even played guitar as well, though I had the impression that he is not the most experienced guitarist. But well, it had a bit of a Rock star feeling. My personal highlight was the performance of some SOFT CELL songs of course. And as we all knew the lyrics by heart, it was easy to sing along with him. With 19 songs the concert had quite a long setlist but the fans wouldn't let MARC ALMOND go without an encore. For the last song, 'Say hello wave goodbye', some fans were perfectly prepared as they had some sparklers and while we all sang loudly the lyrics, MARC ALMOND took some sparklers from them. Before he and the band left for good, he introduced each member of the band and thanked the audience wholeheartedly. And so a wonderful concert evening ended.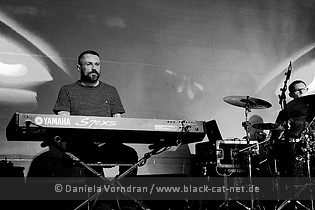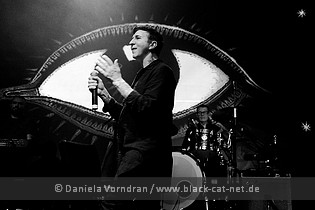 Setlist
01. Minotaur
02. Bad to me
03. The stars we are
04. Burn bright
05. Something's gotten hold on my heart (GENE PITNEY cover)
06. Variety
07. The dancing Marquis
08. Darker times
09. Champagne
10. Black heart
11. The velvet trail
12. Scar
13. Black leather jacket
14. Demon lover
15. Tears run rings
16. Meet me in my dreams
17. Brilliant creatures
18. Bedsitter (SOFT CELL song)
19. Soul inside (SOFT CELL song)
---
20. Gutterhearts
21. Tainted love (GLORIA JONES cover)
22. Say hello wave goodbye (SOFT CELL song)
Rating

Music: 10
Performance: 10
Sound: 9
Light: 8
Total: 9.5 / 10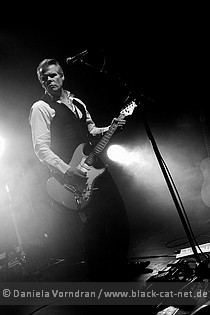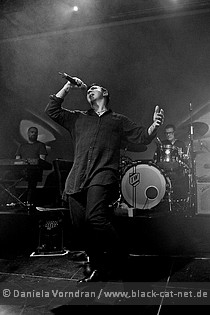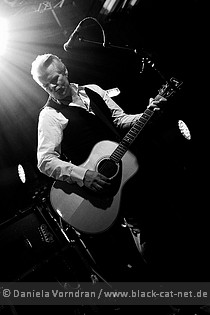 All pictures by Daniela Vorndran (
http://www.vorndranphotography.com
/
http://www.facebook.com/blackcatnet
)