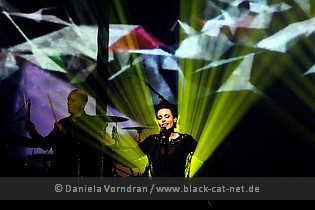 Live-Music-Hall, Cologne, Germany
20th January 2016
Laibach – The Sound of Music Tour

Now you will pay! Barbarians are coming, crawling from the east. And these barbarians are LAIBACH from Slovenia, who just embarked on their "The Sound Of Music" tour with a brand new programme and fistful of yet unreleased songs they had prepared for their infamous North Korean gigs in August 2015. Since LAIBACH live is always a spectacle this was a show not to be missed!
In my book LAIBACH's 'Spectre' tour in 2014/15 was one of the best shows I've ever seen, and album and tour respectively allowed the Slovenian art collective to (re-)gain even more popularity. No surprise, the album is arguably their most accessible and "Pop-ish" one in their back-catalogue and the accompanying live show took the edgy and steamy Electro-Pop of 'Spectre' even one step further. But with LAIBACH you never can be sure what comes next! Fans who probably hoped for a simple extension of the 'Spectre' tour might have been a little gutted but this year's dates operate under the name "The Sound of Music Tour" for a good reason! "The Sound Of Music" is a 1960s Broadway musical written by Richard Rodgers and Oscar Hammerstein, with a respective movie from 1965.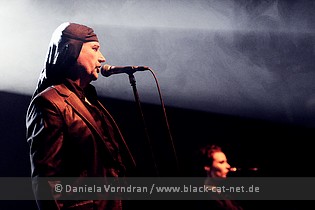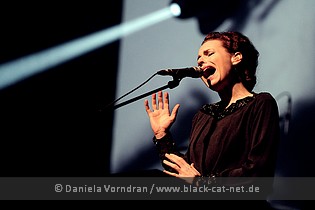 LAIBACH prepared a selection of songs from this musical for their infamous concert in Pyongyang, the capital of Democratic People's Republic of Korea, since the musical is allegedly highly popular in North Korea. But there may be another, much more subversive reason why LAIBACH chose songs from this musical for their North Korean gig: Under the surface of kitsch, cheesy tunes, family harmony and ridiculous love stories is the real story of the Trapp family who opposed the Nazis in the Third Reich and eventually managed to escape to the USA as travelling musicians under the name "Trapp Family Singers". As if bringing LAIBACH, of all bands, to the most un-ironic place on Earth wasn't enough, picking songs from a musical with such a story line for a show in North Korea is pure genius. Singing songs about a family escaping a dictatorship by the means of music in the most totalitarian and most restrictive country of our days – just think about it for a minute! LAIBACH managed to kidnap an entire state for one of their subversive, equivocal art performances.
http://www.laibach.org
/
http://www.facebook.com/Laibach/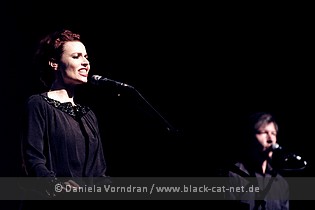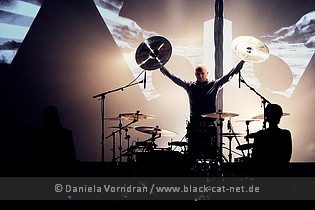 Music & Performance

So songs they performed in Pyongyang last August were to be expected at the new tour, of course. And perhaps also songs they didn't perform there, as North Korean censors cut their set to just eight songs last minute. But the first part of LAIBACH's gig in Cologne were reserved for some older tracks, beginning with the 25-minute piece 'Olav Tryggvason Poem', an adaptation of an opera by Edvard Grieg. Perhaps the most challenging concert opener ever! The track is slow, dark and tells the story of a Norwegian king in the middle ages and the conversion of the Norse to Christianity. Not quite the type of music to cheer up a concert audience but nevertheless absolutely impressive, especially in combination with the brilliant videos projected on two huge screens behind the band. And LAIBACH did not intend to make it easy for the crowd tonight and continued with the noisy Industrial classic 'Smrt za Smrt' from 1984 before they jumped to the 21st century with 'Now You Will Pay' and 'The Great Divide'.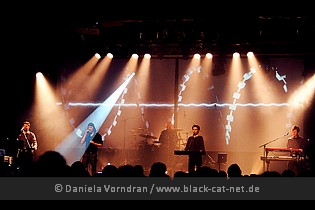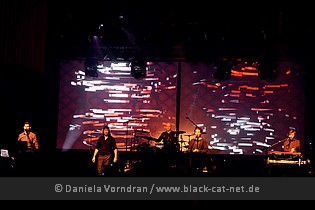 Both songs are from the 2003 album 'WAT' and lyrically they seem to be a perfect prediction of the refugee crisis Europe has to face today. The words of 'Now You Will Pay' in particular appear like an artistic summary of the typical hue and cry you might hear from conservatives and right-wing people these days. It's the last three lines ("Barbarians are coming, heading your way. Whatever you took from them - now you will pay!") which give the whole thing a different twist. By the way, LAIBACH prompted their followers to donate for refugee organisations on the official Facebook page last autumn, which should tell you something! 'Eurovision' from 'Spectre', a perfect match to the previous songs with its distinct "Europe is falling apart!" slogan, finished the first act of the LAIBACH show. As usual over the last few years, LAIBACH had a 10-minute intermezzo (some may call it cigarette break) before they return to stage for something completely different.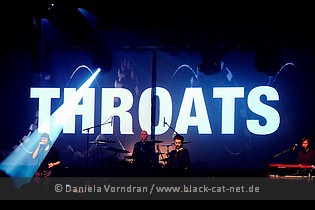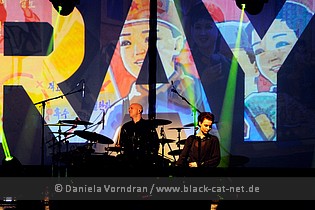 Now it was time for the "Sound Of Music" material, and it was perhaps a bit too predictable that most of the songs were basically Mina Spiler doing the lead vocals with piano accompaniment, some scarce, brooding synth noises and singer Milan Fras taking a backseat and only delivering a few lines. The exception was 'My Favourite Things', which is also probably one of the weirdest moment in LAIBACH's live history, which is surely not short of weird moments. But did you ever envisaged Milan Fras singing a children's song with his guttural voice about "cream-colored ponies" and "schnitzel with noodles" while "My Little Pony" cartoons and images of canned soups, steaks, rocking horses, snowflakes, apple pies and Korean girls float over the screens? No? See!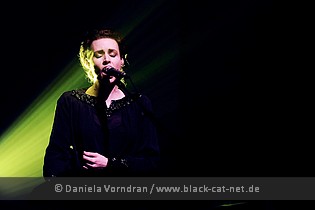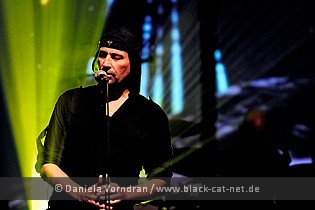 MARIKA RÖKK's 'Mach dir nichts daraus', actually a morale-boosting ditty from the end of the Nazi era in 1944, saw Mina Spiler taking over the lead vocal duties again before 'The Whistleblower' launched a round of songs from the 'Spectre' album. The reaction of the audience proved that these songs were more than welcome as they marked a change from the overall minimalistic, rather slow-going pace of the show so far. In fact LAIBACH could have come with a better balanced set if they didn't play all four "Sound Of Music" ballads in a row or simply switched them with the 'Olav Tryggvason Poem', which could also be a fitting opener for the second act. Well, I had the impression that for some concert goers it was too many slow songs in a row, to say the least. Not that a band like LAIBACH would care! However, the quality and genius of LAIBACH was obvious, anyway, and in the encore they gave the crowd two live stables with 'B Machina', complete with video footage from the 'Iron Sky' movie, and a mash-up of 'Leben heisst Leben' and 'Opus dei', turning the somewhat ridiculous feel-good anthem by Austrian band OPUS into a triumphant, rolling military march with a cacophonous, dissonant ending.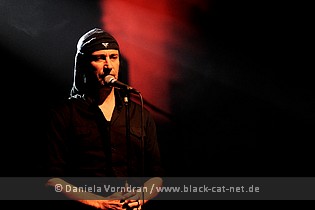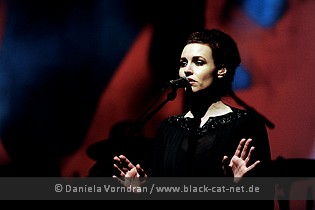 I'm sure I wasn't the only one who would have been happy about another encore, especially as the popular 'Tanz mit Laibach' was strangely omitted from the set. It would have been also nice if we got 'The Final Countdown', not least because it was also one of the songs LAIBACH performed in Pyongyang. But as some sort of encore we got the video trailer for the forthcoming movie about LAIBACH's North Koreans adventure. The trailer features British Comedian John Oliver and his hilarious take on the band's visit to the country, shots of the audience in Pyongyang (some of them seem to wonder if LAIBACH was Kim Jong-Un's latest torture method...) and footage of the performance itself, of course. In a way, the "Sound Of Music" tour relates to the previous 'Spectre' like 'Volk' in 2008 to its preceding 'WAT' tour. After a tour full of marching rhythms, stomping beats and electronic anthems, as you would expect from LAIBACH, you get a more subtle, somehow quieter show which focusses more on art and expanding the LAIBACH universe even more. I already wonder what the next LAIBACH will bring!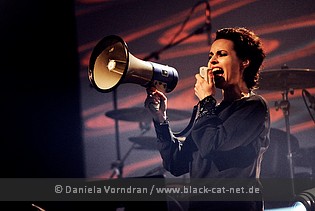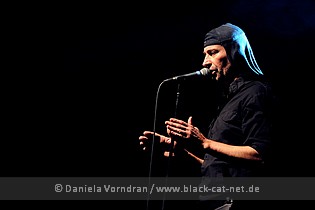 The "Sound Of Music" tour will continue in April 2016:
06. 04. 2016 Bochum Christuskirche
07. 04. 2016 Frankfurt Batschkapp
09. 04. 2016 Audincourt Le Moloco
10. 04. 2016 Tilburg Theater Tilburg Concertzaal
12. 04. 2016 London The Forum
14. 04. 2016 Aalborg Studenterhuset
15. 04. 2016 Leipzig Haus Auensee
16. 04. 2016 Dresden Alter Schlachthof
17. 04. 2016 Munich Muffathalle
John Oliver on going Laibach going to North Korea:
http://www.youtube.com/watch?v=9ngq19ak5WE
Setlist

01. Olav Tryggvason Poem
02. Smrt za Smrt
03. Now You Will Pay
04. The Great Divide
05. Eurovision
---Intermezzo---
06. Do Re Mi
07. Edelweiss
08. My Favorite Things
09. The Sound Of Music
10. Mach dir nichts daraus
11. The Whistleblowers
12. No History
13. Bossanova
14. Resistance Is Futile
---
15. B Mashina
16. Opus Dei/Leben heißt Leben
Rating

Music: 10
Performance: 9
Sound: 8
Light: 10
Total: 9.3 / 10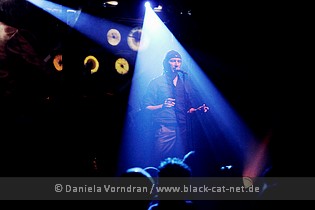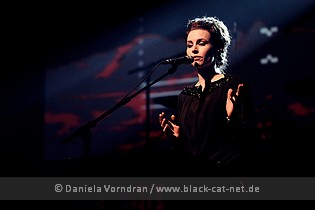 All pictures by Daniela Vorndran (
http://www.vorndranphotography.com
/
http://www.facebook.com/blackcatnet
)