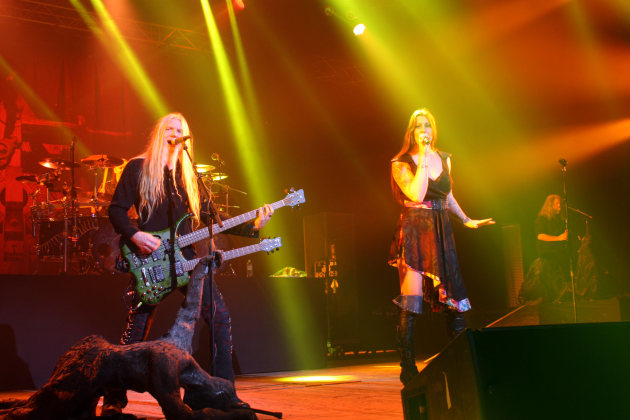 Live Review: Nightwish - Kiev 2016

National Palace Ukraine, Kiev, Ukraine
22nd May 2016
Nightwish

On the 22nd of May symphonic metal legends - Finnish rockers NIGHTWISH has played at the National Palace Ukraine in Kiev. The band visited us with joy as a part of their tour "Endless Forms Most Beautiful" in support of the new album.
The album of NIGHTWISH, 'Endless Forms Most Beautiful', which was released in March 2015, was written by the main author of lyrics, the band's composer and keyboard player Tuomas Holopainen under the influence of scientific papers of Charles Darwin, Richard Dawkins, and creative works of poet Walt Whitman. The composition 'Sagan', which was published as a part of 'Élan' single, is dedicated to astronomer Carl Sagan. NIGHTWISH is a band with 20 years of history, whose contribution to music is truly difficult to describe in words, they are great masters of their craft. Magic lyrics of songs and compositional basis created by keyboard player Tuomas Holopainen, strong high-pitched voice of Floor Jansen and boundless professional and sincere performance of all the band members is a symphonic and scenic harmony, penetrating directly into hearts and souls of listeners. Creative work of NIGHTWISH is a fairy-tale world of sounds and images, which has given life to our reality, and which made this reality brighter and more interesting.
http://www.nightwish.com
/
https://www.facebook.com/nightwish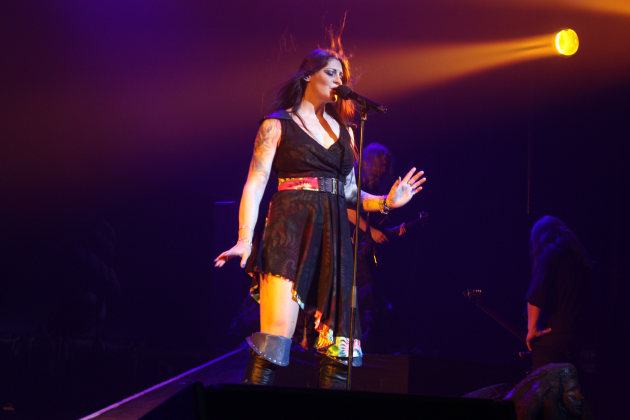 Music & Performance

The concert of the band in the Palace Ukraine has flown in the same breath. Fans of the musicians were carefully prepared for a meeting with their idols and they organized a great flash mob - on the seats in the hall before the concert, guests could found special sheets (white and blue) with instructions for use. During the finale of the first song, 'Shudder before the Beautiful', everyone should lift a sheet. Lifted together, the sheets held by fans formed the national flag of Finland. Floor sincerely thanked the audience from the stage for this action. "Beautiful Ukraine, beautiful Kiev", - the musicians were obviously happy to visit the capital of Ukraine and were in a good mood. My camera constantly caught smiles of simple-minded Finns. And the audience in the hall tirelessly screamed, sang along to the artists, danced, jumped and supported musicians in every way. Floor congratulated Ukrainian fans for the win of Ukraine at the Eurovision Song Contest, and the audience just exploded with applause and words of gratitude.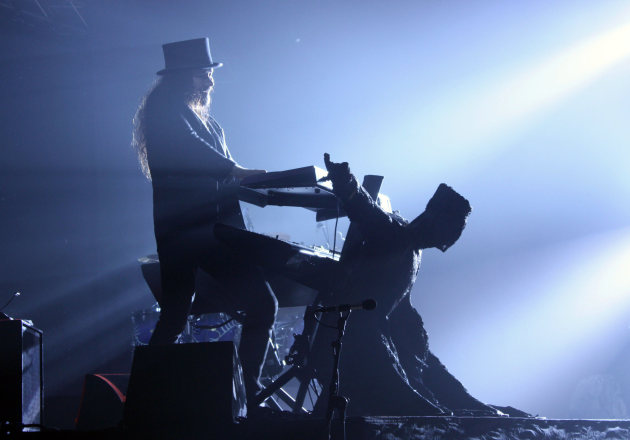 Guitarist of NIGHTWISH Marco said a few words, addressed to the politicians before performing the song 'While Your Lips Are Still Red': "We live in a world where has grown impregnable wall - economical war, religious war, political war. I don't know the people who are responsible for all of this. But I have a message for them - all of them must kiss each other, as long as their lips are still red". And after these words Marco played this song, which completely reflects the meaning of what he said. I really wanted to hear 'Wishmaster' live, but, unfortunately on this tour, it seems that this song is not planned. The focus is done more on the new compositions. And it is quite logical. After an hour and a half the musicians gladly shook hands at parting to the fans, some of whom have got warmly welcome mediators from artists. When NIGHTWISH bowed and left the stage, the hall could not recover for a long time.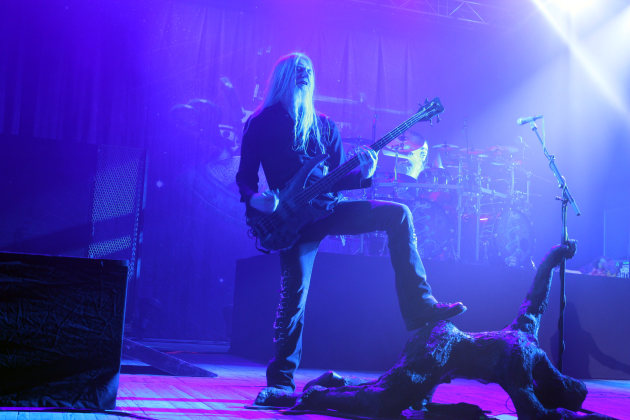 Fans called the band for an encore for a very long time, but unfortunately, the Finnish rockers did not return to the audience this evening. And maybe it's true that when the meetings are rare they are more warm and joyful for both sides! And if it's really "JUST MUTUAL LOVE", like NIGHTWISH wrote on their Facebook page about the concert in Kiev, then we will necessarily meet each other, exchange our smiles, warm looks, and crazy emotions! Come back to us soon, our Finnish rock heroes!
Setlist

01. Intro: Roll Tide (Hans Zimmer song)
02. Shudder Before the Beautiful
03. Yours Is an Empty Hope
04. Ever Dream
05. Storytime
06. My Walden
07. While Your Lips Are Still Red
08. Élan
09. Weak Fantasy (Preceded by a Dawkins' narration)
10. Sahara
11. She Is My Sin
12. I Want My Tears Back
13. Nemo
14. Stargazers
15. Ghost Love Score
16. Last Ride of the Day
17. The Greatest Show on Earth (Chapter II & III)
Rating

Music: 10
Performance: 10
Sound: 10
Light: 10
Total: 10 / 10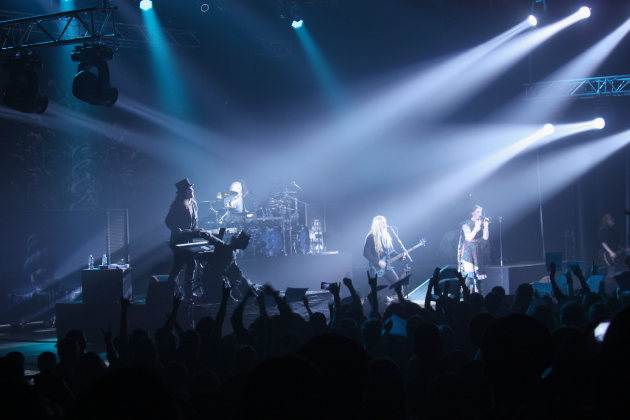 Full Gallery

All pictures by Iryna Kalenska
The Russian version the article can be found
HERE
!