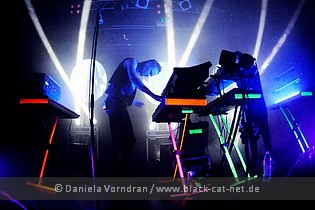 Zentrum Altenberg, Oberhausen, Germany
31st August 2016
Kite

During this summer full of festivals, KITE stop in Oberhausen to play a concert at the Zentrum Altenberg. This show marks yet another first for me and I am extremely excited and cannot wait to see them. The venue is a small club, its industrial atmosphere perfectly fitting the dark, melodic, and passionate performance I am looking eagerly forward to. I have a feeling that this will be a most remarkable night.
KITE are a very versatile Swedish indie electronic pop band based in Stockholm. Nicklas Stenemo (The Mo, Melody Club) gives KITE a unique voice, while Christian Berg (Strip Music, The April Tears) delivers the duo's captivating synth sound. Debuting in 2008, KITE have released six EPs from 'Kite I' to 'Kite VI'. Their music ranges from classic 1980s synth pop to more ambient tunes and darker sounds. In 2010, they release the single 'Jonny Boy' while already working on their next EP. In 2015, 'Kite VI' reaches fans around the world, yet again mixing classic synth pop with more experimental sounds. If you have not yet had the chance to experience KITE live, keep your eyes open for their next dates. You can follow KITE easily on Facebook here
https://www.facebook.com/KiteHQ/
.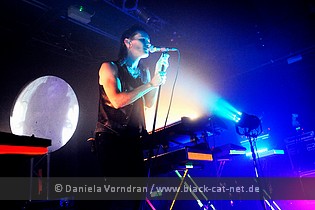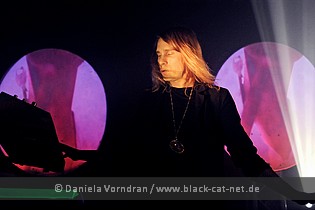 Music & Performance

KITE are often referred to as a secret tip, however, the audience seems to know exactly what they will get. The lights in the club go out. The small crowd gathers in front of the stage. A row of four keyboards, synthesizers, and analogue modules occupies the rather limited space. Satellite dishes are set up for video projections, various spotlights and big cats with laser eyes complete the scene. This is KITE and I am expecting a stunning light show. The duo enters the stage and plays 'Nocturne', the last song of their latest EP. This appears inconvenient at first, as this particular piece of music is—while being very experimental in sounds and voice tuning—quite slow and dark. Still, it is an alluring performance and KITE have my immediate attention.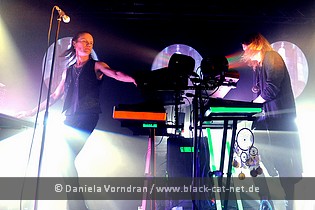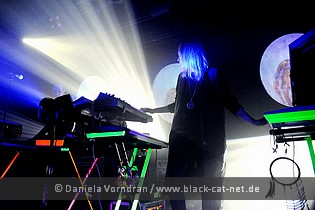 The duo takes the audience onto an astonishing journey through their EPs, spoiling their fans with well-known songs like 'Jonny Boy', 'Ways to Dance', 'Dance Again'. Yet another highlight: 'Up for Life', an enthralling nine-minute piece of art with a more progressive approach, a hymn to celebrate to. The combination of sound and light is stunning. It is spectacular. Even if I wanted, I cannot stand still. The beats, the rhythms, and the melodies invite the audience to get loose, to dance along, and to just feel the music. Nicklas Stenemo's distinctive voice unfolds with all its passion and urgency. The video projections and the lasers make me feel like I am caught in a dream I never want to wake up from. The audience reacts enthusiastically, with people dancing, waving their arms and erupting in loud applause and cheerful whistles after each song. Often, songs are merged in a range of classic analogue sounds or modern vibrating vibes. This shows just how perfectly KITE have mastered their instruments and their live performances.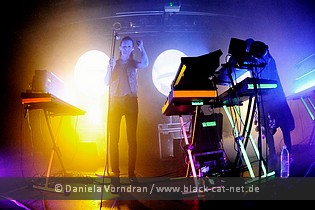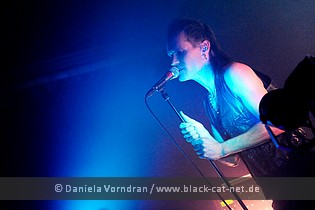 Fifteen minutes into the show, KITE play two songs from EP VI, 'Count the Days' and 'True Colours'. The latter sucks me in the moment it emerges from its energetic transition. The beat pushes me on relentlessly while I am getting lost in the despair the lyrics express. I am torn between a feeling of melancholy and the sparks of a darker, pulsating energy. This song is mesmerizing. My eyes are glued to the stage as KITE dance and play the keys. Rays of light emphasize their performance and provide for perfect visuals. After that, I feel exhausted and electrified at the same time. KITE end their show after about one mind blowing hour of fantastic music. They return with the encore, 'A Little More Time'. If only it were true and there was more time to indulge in their music. Conclusively, I can only recommend to go and see KITE live. They are amazing and I will make sure to be there next time they come to Germany.
Rating

Music: 9
Performance: 10
Sound: 9
Light: 9
Total: 9.3 / 10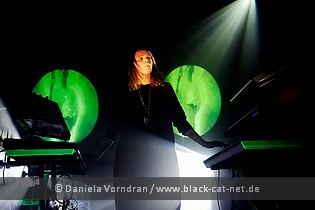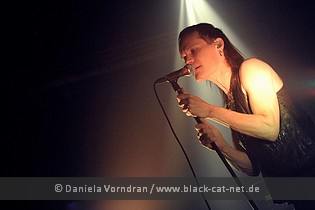 All Pictures by Daniela Vorndran (
http://www.vorndranphotography.com
/
http://www.facebook.com/blackcatnet
)