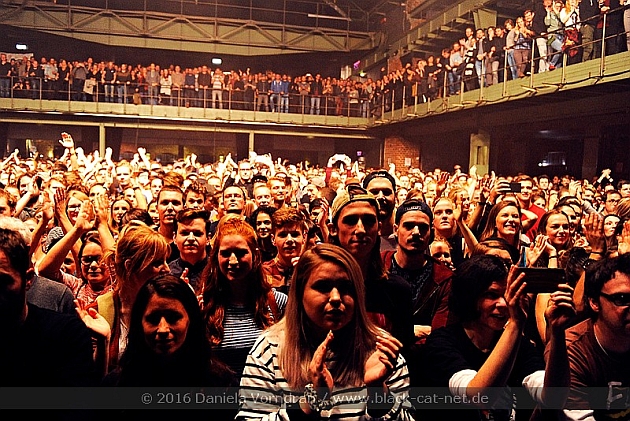 E-Werk, Cologne, Germany
13th November 2016
Moderat

Club concerts, my love. Especially if they are sold out as is the E-Werk in Cologne tonight. MODERAT from Berlin are going to heat up the club with thundering waves of bass and beautiful melodies. The industrial setting of the venue seems perfect for the MODERAT show and I am expecting to have a fantastic night
MODERAT are three artists from Berlin who have initially met in 2002. The group consists of the two DJs Sebastian Szary and Gernot Bronsert who form the duo MODESELEKTOR and Sascha Ring, an electronic music artist known as APPARAT. After their first EP from 2003 and several mixes, their debut album, the self-titled 'Moderat', finally releases in 2009 and is followed by the sophomore 'II' in 2013. This year, MODERAT have released their third album 'III', and their first ever live album 'Live' is about to hit the streets this month. The recording from a Berlin gig in June captures the atmosphere fans can feel during the professionally and passionately arranged performances. Beats, bass, beautiful melodies, and Sascha Ring's voice create a unique electronic sound people all over the world enjoy. Make sure you check on their website
http://moderat.fm/
and their Facebook page
https://www.facebook.com/moderat.band/
For news, dates, and their latest music.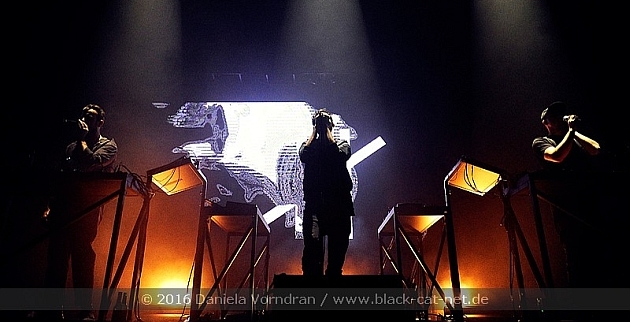 Music & Performance

The MODERAT concert is sold out and it is already getting hot and crowded at the venue a while before the show starts. MODERAT enter the stage punctual at half past eight, the lights go out and the crowd greets the three musicians with frenetic applause. The E-Werk is packed and dark as the music starts and 'Ghostmother' begins. It is a slow track, a song to reach out to the crowd and capture it immediately, underlined by Sascha Ring's distinct voice that makes the performance even more haunting and beautiful at the same time. The stage is only sparsely lit during the first minutes, with an ambient video projection at the back of the stage. This changes, however, with 'A New Error', the second song. Mid-tempo and with clean beats and a vibrating bass, the music rains down on the crowd. People dance although there is little space left to move. The stage is bathed in flaring white and orange lights and MODERAT deliver a great performance.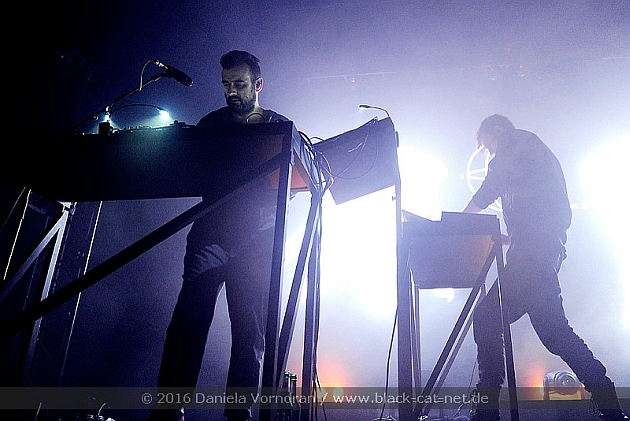 These first minutes have already raised the temperature at the venue significantly. Time for a quick break during which Sascha Ring greets the crowd and introduces MODERAT. After his short empathic speech, people can dance again to 'Running'. During the following thirty minutes, MODERAT mix various styles of electronic music, among them different kinds of IDM, house, dance, and hip-hop. Ambient tracks like 'Eating Hooks' alternate with energetic performances such as 'Les Grandes Marches', accentuated and staged well by Sascha Ring playing an electric guitar. The whole sound, the beats, the bass that shakes the core, as well as the strobe lights, lasers, and matching video projections keep the audience in motion, caught in the atmosphere and sensation and dancing to the music as if it was never going to end. Loud applause erupts after every song and people are obviously having a wonderful time, bathing in light and sound and enjoying themselves.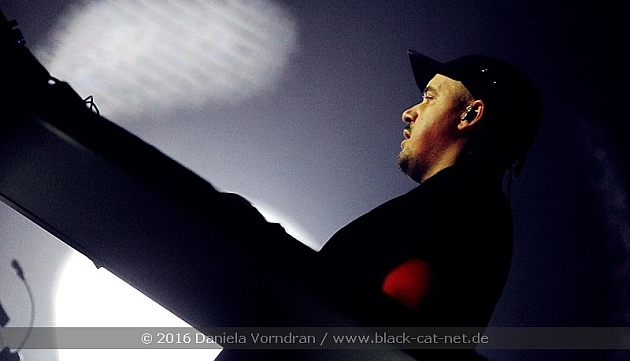 As the last song of the last encore ends and concludes a most mesmerizing time with MODERAT, people slowly return to the here and now and gradually scatter into the night. This leaves us thinking that the best part of seeing MODERAT live is the atmosphere, how sounds and visuals merge and how captivating the overall performance feels. This has been a great show. The sound, however, could have been even better. While it was rich and vibrant up front, the lower frequencies got partly lost at the back. Overall, this has been a fantastic experience and I can only recommend to go and see MODERAT perform live on stage.
Setlist

01. Ghostmother
02. A New Error
03. Running
04. Abandon Window (Moderat remix) (Jon Hopkins cover)
05. Eating Hooks
06. Rusty Nails
07. Reminder
08. Animal Trails
09. Last Time
10. Les Grandes Marches
11. Nr. 22
---
12. Milk
13. Bad Kingdom
14. The Fool
15. Intruder
---
16. Versions
Rating

Music: 8
Performance: 8
Sound: 8
Light: 9
Total: 8.2 / 10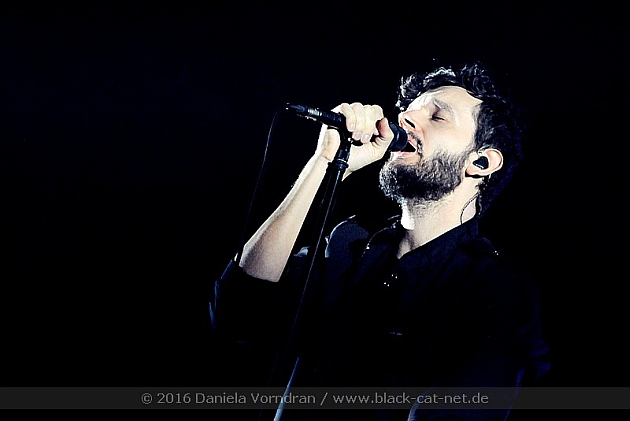 All Pictures by Daniela Vorndran (
http://www.vorndranphotography.com
/
http://www.facebook.com/blackcatnet
)