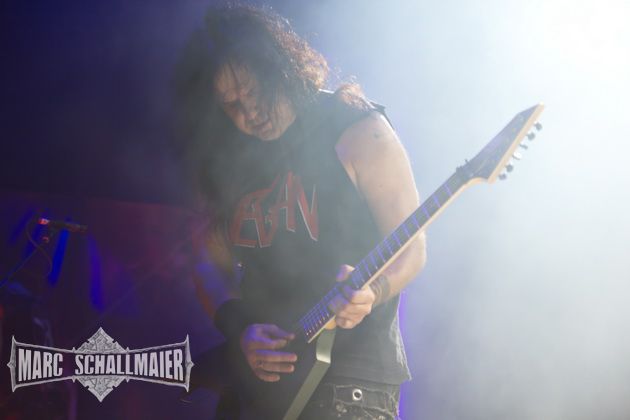 Mehr! Theatre, Hamburg, Germany
4th February 2017
Kreator and supports Sepultura, Soilwork, Aborted

"Dee Dee Na Na Na – Saturday night and I feel the air is getting hot…" Wait, that was something else from the 90's, but turn that dance-tune into a Thrash Metal influenced version, all bangers would join in yelling it loud and joyful in face of a Metal Fest like this. What a package in the really great and nice Mehr! Theatre next to the Elbe river. The huge hall is well-frequented when already for the first band of the evening, ABORTED.
Aborted

ABORTED rush headfirst into their gory and utterly brutal set. A "light" amuse-gueule is anything else but these Belgian Death Metal Grind professionals. With absolutely perfect, sharp and thundering sound (besides KREATOR the best of the evening) the crowd gets disembowelled by chunks like 'Divine Impediment', 'Cadaverous Banquet', 'Necrotic Manifesto' or the live killer 'Threading on Vermillion Deception'. Even when most people are just staring, rhythmic nodding included, ABORTED are very welcome. No surprise, because the band shows full effort, vocalist Sven De Caluwe whizzes across the stage like a madman on bad (or missing) medication. On top of that the lightshow and metres high fog fountains are atmospheric and impressive, as well as the glass coffins with rotten skeletons in it as a sweet stage-decoration.
www.goremageddon.be
Setlist

01. Divine Impediment
02. Cadaverous Banquet
03. Meticulous Invagination
04. Necrotic Manifesto
05. Hecatomb
06. Coffin Upon Coffin
07. Termination Redux
08. Threading on Vermillion Deception
09. Bit by Bit
Soilwork

After a blood feast like ABORTED, it's not easy for the Swedish Melodic Death Metallers SOILWORK to stand the test. They don't have to: 20 years, 11 albums; so they know what they are doing and they are doing really good, but tonight not particular infectious. Maybe it's because ABORTED were so fucking heavy and energetic, even when SOILWORK have more technical stuff going on. Guitarist David Andersson plays such nice solos while bandmate Sylvain Coudret remains a little bit too quiet, same thing with the keyboards. The setlist is a blend from half of their albums, ending it with the melodic and slightly epic 'Stabbing The Drama'. Applause and nonetheless: Horns up!
www.soilwork.org
Setlist

01. The Ride Majestic
02. Nerve
03. Rise Above the Sentiment
04. Bastard Chain
05. The Living Infinite I
06. The Chainheart Machine
07. Two Lives Worth of Reckoning
08. Late for the Kill, Early for the Slaughter
09. Stabbing the Drama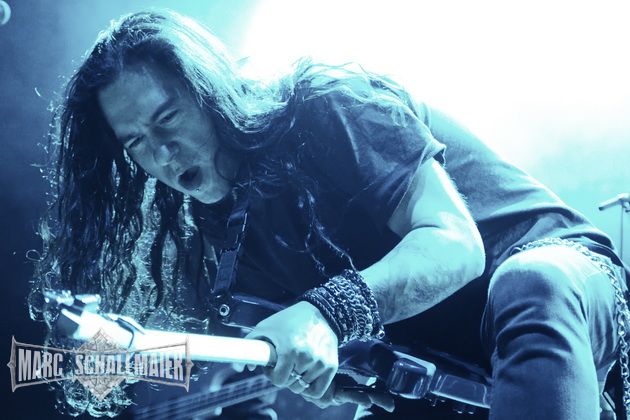 Sepultura

With their strong new album 'Machine Messiah' on the back, SEPULTURA were entering the stage very relaxed. 'I Am The Enemy'. Woohoo! This easily brings the fast and punkish numbers a la 'Policia' or even some 'Nailbomb' stuff to mind. Sound is and stays a little bit dumb but forceful. Derek Green's attitude is just adorable, he asks with a smile: "Alles klar? Wie geht's? Alles cool?". The Germans hail, so everything should be "klar". A lot of new stuff is played, almost half of the 'Machine Messiah' album, enriched with 'Choke', 'Desperate Cry' and 'Inner Self'. Besides the fantastic Andreas Kisser on guitar, Eloy Casagrande is a raging bull behind his drum kit, sorry, but Igor C. is not missing. The classic ending-package 'Refuse/Resist', 'Arise', 'Ratamahatta' and for sure 'Roots Bloody Roots' make most of the people happy and banging and jumping in the moshpit. SEPULTURA are always good to have.
www.sepultura.com.br
Setlist

01. I Am The Enemy
02. Phantom Self
03. Choke
04. Desperate Cry
05. Alethea
06. Sworn Oath
07. Inner Self
08. Resistant Parasites
09. Refuse/Resist
10. Arise
11. Ratamahatta
12. Roots Bloody Roots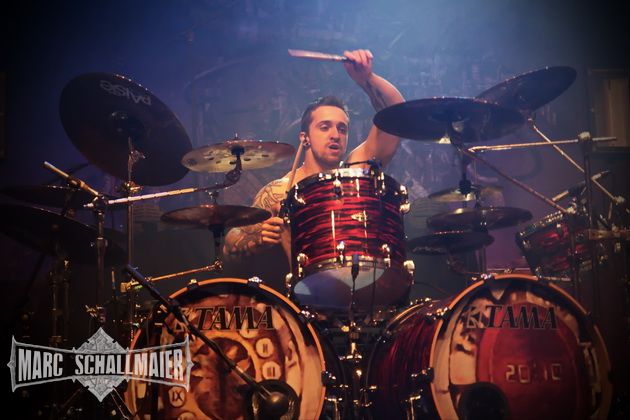 Kreator

Now KREATOR are taking its toll and the 'Choir of the Dammed' declares the beginning of the end. 'Hordes Of Chaos' are totally freaking out while massive 'Phobia' and confetti bombs are filling the room, just because 'Satan Is Real'. For sure, this is what everyone was waiting for. Mille in his vegan Slayer shirt talks to the 'People Of The Lie': in 1986 – when KREATOR from Altenessen played Hamburg for the first time – he never thought that this "noise" would ever be in the official German charts at number one. Just happened with their latest release 'Gods Of Violence'. The German Thrash Metal institution is top-notch and delivers 'Total Death' in form of the 'Phantom Antichrist'. One 'Fallen Brother' and 'Enemy Of God' in front of the stage is helped up by attentive metal heads. Three thousand voices sing 'From Flood into Fire'. Apropos fire: The large movie screens are showing a little bit more than the infamous television Super RTL chimney fire, additional photos of Lemmy and crew members are displayed.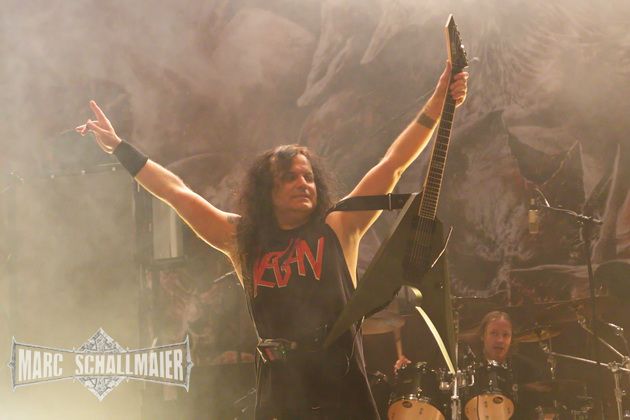 The signs are clear: a spectacular light show, circle pits and walls of death, 'Extreme Aggression', the fan-hymn 'Hail to the Horns' – 'World War Now'! Mille and Sami Yli-Sirniö (Ex-Waltari) slide damn well coordinated from one guitar solo into another, that 'Civilizations Collapse' and 'The Patriarch' ends 'Under the Guillotine' in a 'Violent Revolution', waving the 'Flag of Hate' with the 'Pleasure to Kill'. Everything is mind blowing and stunning, no need to complain, even when opinions diverge about the reverberant sound. KREATOR were here and proofed, that they still belong to the spearhead of the world wide Trash Metal scene. Period.
www.kreator-terrorzone.de
Setlist

Intro: Choir of the Dammed
01. Hordes of Chaos (A Necrologue for the Elite)
02. Phobia
03. Satan Is Real
04. Gods of Violence
05. People of the Lie
06. Total Death
Mars Mantra
07. Phantom Antichrist
08. Fallen Brother
09. Enemy of God (Army of Storms intro)
10. From Flood into Fire
Apocalypticon
11. World War Now
12. Hail to the Hordes
13. Extreme Aggression
14. Civilization Collapse
---
The Patriarch
15. Violent Revolution
16. Flag of Hate
17. Under the Guillotine
18. Pleasure to Kill
Full Gallery

All pictures by Marc Schallmaier