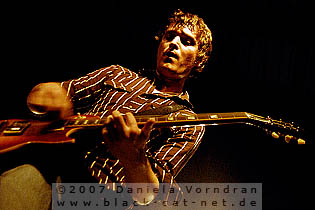 Skaters Palace, Münster, Germany
31st March 2007
Madsen, Profession Reporter

Last Saturday we got a home match. MADSEN were staying during their 'Goodbye Logik Tour 2007' in the old Skaters Palace in Münster with support PROFESSION REPORTER. Again this show was the second last of a tour in 2007. Well, until this time I never spent time in the Skater Palace before. The name is program and it is a playground for skaters. So we were very interested how many people would join the show and how it would be. I am not sure if that concert were sold out but let me tell you the venue was very well filled.
Profession Reporter

PROFESSION REPORTER was founded in Koblenz / Germany 2002. They named after a film called 'Professione: reporter' from 1975. The band consists of Markus Krieg (vocals, guitar), Oliver Fries (vocals, guitar and keyboard), Lars Triesch (drums), Thomas Friedmann (guitar) and Frank Bandur (bass). Being on their own club tour with their first regular album 'The Lipstick Durability Test' (released in November 2006) they were playing a little gig at the Luna Bar / Münster once before. Now they were booked for four gigs as support for MADSEN.
http://www.professionreporter.de/
/
http://www.myspace.com/professionreporter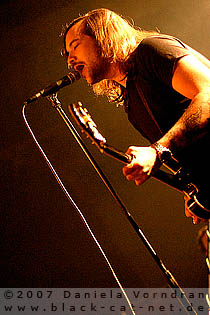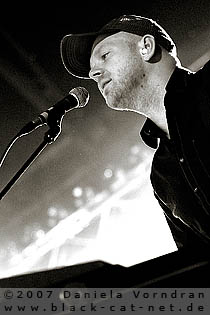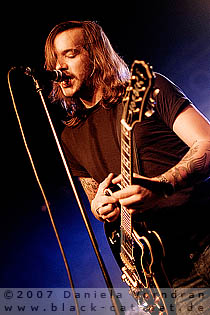 Music
When PROFESSION REPORTER entered the stage the palace was already pretty well filled. The MADSEN audience was joining them right from the start. With two guitars and a bass their songs sounded good and spread some kind of calmness - just like knowing from the music of the sixties and seventies. Unfortunately there was no catchy tune for me but the crowd had their fun. Vocalist Markus seemed to be very surprised about that point so he thanked after every song. The set run about thirty minutes and included eight songs.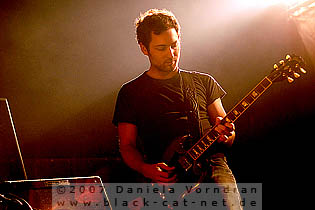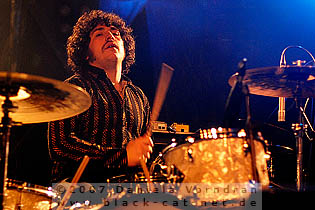 Performance
Profession Reporter started at 8 o'clock. With their entire instruments the stage appeared very small for the support act. But anyway, it worked. In my opinion it could have being one guitar less but the band offered a good show. Even for a view moments the sound seemed to be a little spongy. The light show was good with lots of bright lights - not very common for a support act.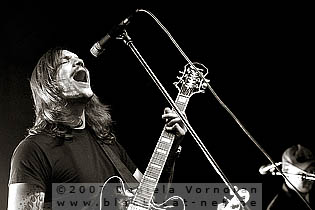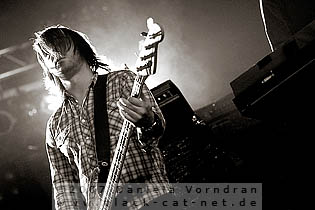 Rating
Music: 6
Performance: 5
Sound: 6
Light: 8
Total: 6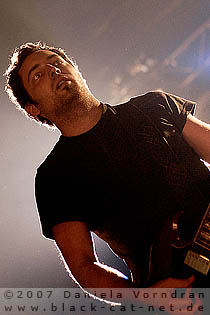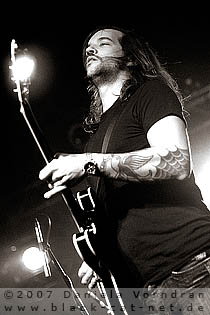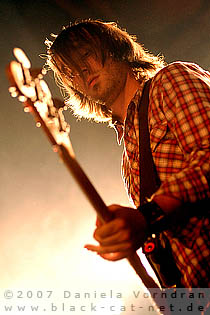 Madsen

The success of the Madsen brothers started in 1996 when they founded their first two Bands 'Alice's Gun' (Hardrock) and 'Hoerstuatz' (HipHop/Crossover) in Clenze / Germany. All the songs were written by themselves and in English. Eight years later, we are writing the year 2004, the three brothers decided to break new ground and called themselves MADSEN. The band consists of Sebastian Madsen (vocals, guitar), Johannes Madsen (guitar), Niko Maurer (bass), Folli Jahnke (keyboards) and Sascha Madsen (drums). Two albums in two years, the guys are less then steady. Their first Single 'Die Perfektion' was released in March 2005 and only two month later their first Album 'Madsen' let the musical world listen attentively.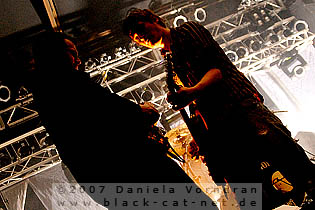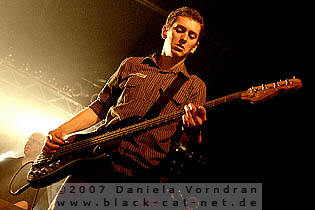 Their second and current Album 'Goodbye Logik' followed in August 2006 including the single 'Der Moment' (released at February 2007). For MADSEN it makes no different playing small clubs or performing at festival such as Rock am Ring, Rock im Park, Southside, Hurricane or Nova-Rock with bands like METALLICA, MATÖRHEAD and PLACEBO. They loved it! So after their gig as support for WIR SIND HELDEN 2005 and as act at the 'MTV Campus Invasion 2006' they were visiting Münster for the third time.
http://www.madsenmusik.de/
/
http://www.myspace.com/madsenband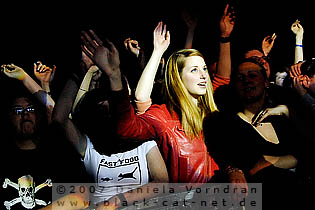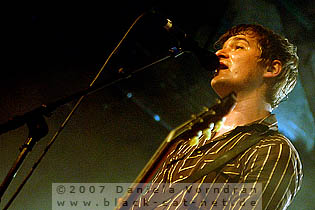 Music
Even before MADSEN entered the stage the folks was blustering 'Madsen, Madsen'. I asked myself if the concert was running for hours. Simply amazing! With the opener 'Ein Sturm' everybody in the venue was knowing it will be a hot party. The crowd rocked their bodies! After playing 'Diese Kinder' singer Sebastian welcomed the audience with a big grin "Wir wissen, daß Münster verrückt ist" (We knew that Münster is crazy). Presenting 'Immer Mehr', 'Goodbye Logik' and 'Nitroglycerin' Sebastian let us be part of his punchy voice. In a moment of silence he told us about a boyfriend and his problems. So Sebastian decided to call his acoustic guitar Bob and introduced a funny quatrain. But enough of laughing! With their current single 'Der Moment' there was not time for let the audience to draw breath.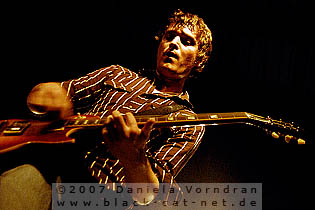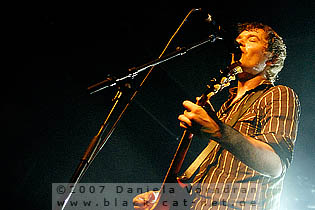 MADSEN were playing a fisted board and let the crowd sing along. Between the songs over and over Sebastian told little tales. "Als ich aus dem Bus ausstieg fragte mich einer ob heute Sido spiele" (When I left the tour bus in the morning somebody asked me if SIDO is playing tonight). In the next moment MADSEN rocked the palace until the end. Their lyrics are keenly, powerful and catchy. The peak level of this evening was not easy to find, because Johannes, Niko, Folli and Sascha were forcing the audience on and on. And everybody in the palace was with the band. A cover version of the Beatles song 'A Hard Days Night' followed after the classic song 'Du schreibst Geschichte'. On the request of the crowd they came back for their first single 'Die Perfektion' and with 'Mein Therapeut und ich' the concert finished after about 90 minutes.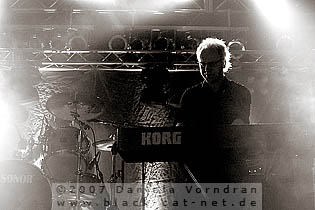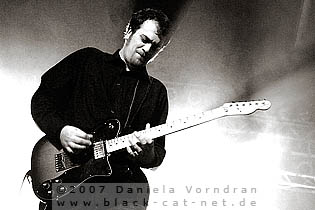 Performance
At 21 o'clock the show started. MADSEN were playing clear notes and had lots of fun. They were presenting their songs in a compact and powerful way. On stage MADSEN were keeping calm in comparison with their audience. But that is MADSEN. Although, after the last song Sebastian decided to took a bath in the crowd carefully. Well, he must have remembered the concert they played in Hannover / Germany in 2006. During a song his brother Johannes wanted to take a bath too. While the other band members were still playing he laid down his guitar and jumped into the audience. He hurt his hand because everybody gets out of his way.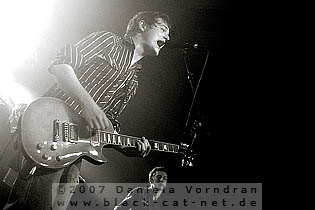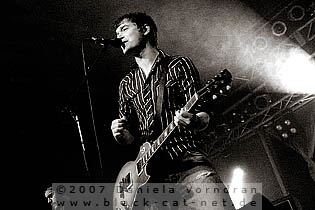 Johannes, you know seeing the difference between Hannover and Münster now! Maybe Sebastian remembered this moment. From the beginning the security did not get any free time. Every second, people were crowd surfing. The light show was simple but brilliant - still remembering this warm colored orange. It was an unexpected good concert in the Skaters Palace. Thanks a lot guys. Such shows make our job be amusing.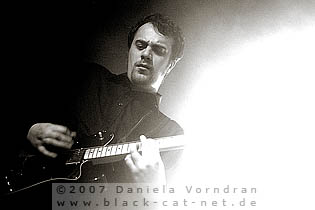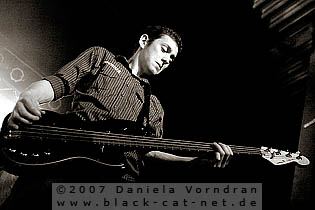 Setlist
01. Ein Sturm
02. Diese Kinder
03. Immer mehr
04. Good bye Logik
05. Nitroglycerin
06. Der Moment
07. Ich rette die Welt
09. Euphorie
08. Vielleicht
10. Unzerbrechlich
11. Ich komme nicht mit
12. Panik
13. Du schreibst Geschichte
--------------------------------------
14. Hard Days Night (Cover version THE BEATLES)
-------------------------------------
15. Die Perfektion
16. Mein Therapeut und ich
Rating
Music: 8
Performance: 6
Sound: 8
Light: 8
Total: 7.4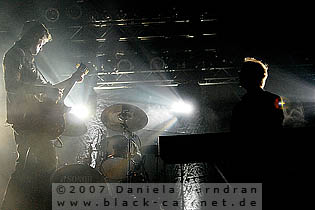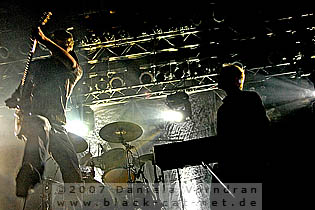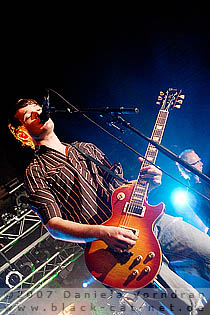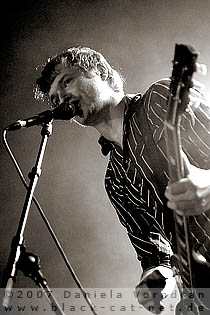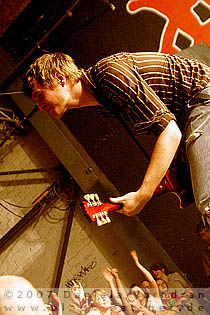 All pictures by Daniela Vorndran (
http://www.vorndranphotography.com/
/
http://www.black-cat-net.de/
)
{jos_sb_discuss:17}