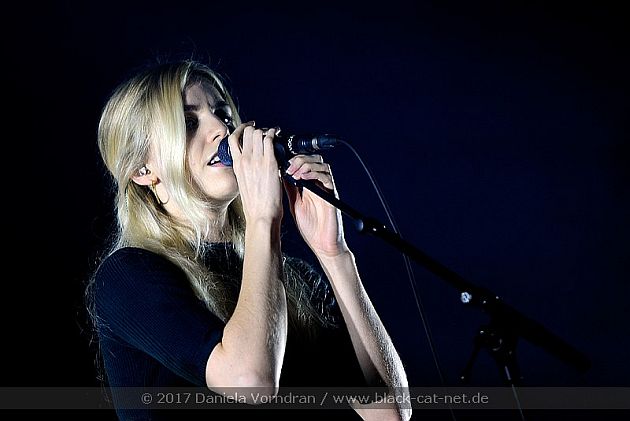 Palladium, Cologne, Germany
25th November 2017
London Grammar & Lo Moon

LONDON GRAMMAR and their uncanny ability to make intimate subjects feel universal came to Cologne promoting their second studio album, 'Truth Is A Beautiful Thing', on a sold out Saturday evening at the Palladium. The opening was by LO MOON from Los Angeles, California and their melancholic troughs.
Lo Moon

LO MOON
is an indie pop / rock trio formed in 2011, made up of Matt Lowell (vocals, guitar), Crisanta Baker (synth, bass, samples), and EURYTHMICS Dave Stewart's son Sam Stewart (guitar). They're based in Los Angeles, California. However they have never considered themselves an LA band as they're all from different parts of the world: NY, Colorado, and England. Lo Moon creates music that's expansive and cleanly crafted with atmospheric peaks expressing melancholic troughs. Matt Lowell – "The core of the songwriting process revolves around me, but I have always looked at songwriting as very collaborative. I think ideas flow so much better with people in the room and the more energy the better for me. Without the beauty and voices of everyone involved, these songs would not be what they are by the time any one hears it." They have released just three singles: 'Thorns', 'This Is It' and 'Loveless'.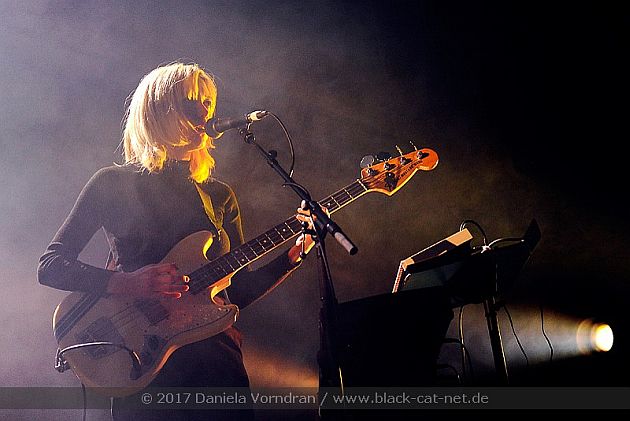 LO MOON came on stage at around 20:00. The Palladium was nearly full. They delivered a glacially gorgeous show. The way the synths surge and then fall away to make way for the singer's tones sound not unlike early Thom Yorke. The audience received enthusiastically every song. http://lomoonofficial.com / https://www.facebook.com/lomoon
Rating

Music: 7
Performance: 6
Sound: 8
Light: 7
Total: 7 / 10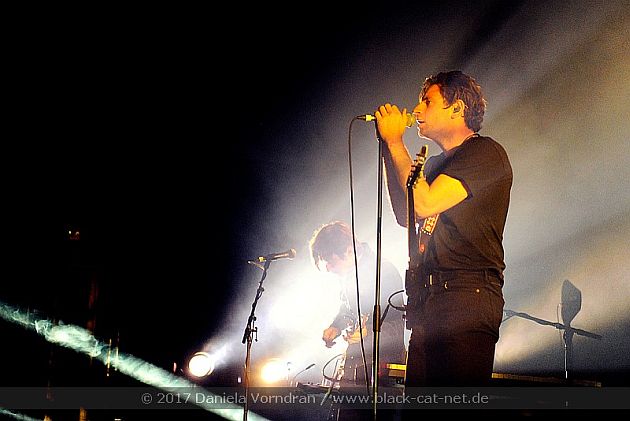 London Grammar

LONDON GRAMMAR
is an English indie pop band from Nottingham, formed in 2009. The band consists of Hannah Reid (vocals, piano), Dan Rothman (guitar) and Dominic "Dot" Major (keyboard, djembe, drums). Their music has been described as "a blend of ambient, ethereal and classical sounds" with melancholy guitar, soaring vocals, and plaintive lyrics. Hannah Reid's powerful, haunting vocals is prominent on all of LONDON GRAMMAR's tracks. 'Metal & Dust', their debut release, was released in February 2013, while their debut album, 'If You Wait', was released in September 2013. The album reached number two on the UK Album Charts and was certified double platinum by the British Phonographic Industry (BPI). The band's second studio album, 'Truth Is a Beautiful Thing', was released in June 2017, peaking at number one on the UK Albums Chart. The songs are a collaborative effort as Reid explains: "I write the lyrics and the top lines. But the songs initiate from all three of us. Dot will write a piano part or a music score. Dan will add some guitars." She describes the songs as "emotionally affected" and said that she "writes about people who come in and out of my life." http://www.londongrammar.com / https://www.facebook.com/londongrammar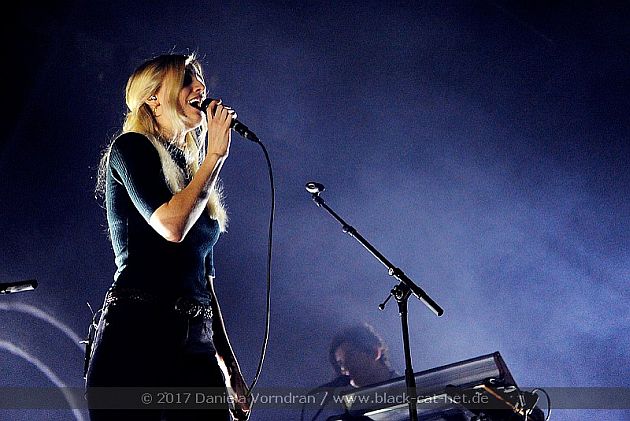 Music & Performance

Cologne's Palladium is absolutely teeming with people while the stage is set up for LONDON GRAMMAR. The trio hit the stage, Hannah Reid in tight black, delivering an eclectic set of songs. They opened with 'Who Am I', and the heft of meaning conveyed through Reid's vocal nuances is matchless. After a stellar start the band slid from 'Flickers' to 'Help Me Lose My Mind' before following up with the heavier sights from their 2013 debut album, 'If You Wait'. The songs are truly built around Reid's voice, every musical fragment serving to further elevate her extraordinary instrument. An LED screen spans the entire length of the back of the stage and gives a wonderful widescreen effect. Each song has an accompanying visual theme and we're transported through what appears to be a solar eclipse (in black and white) to an extraordinary forest that whales eventually swim through - these images are so spectacular that we often find ourselves mesmerized by the action on stage. Major's attention to detail in replicating sounds live on keys, drums and drum pads often pulls focus and keeps things organic.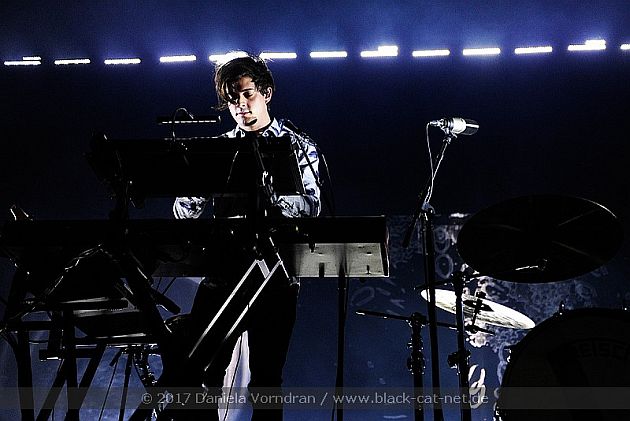 Familiar songs, 'Stay Awake' and 'Wasting My Young Years' let the crowd sing the choruses and scream the lyrics back to the band word for word, but it was the new songs that had Reid singing like an angel, 'Truth Is A Beautiful Thing' sent a shiver of beauty so as Reid's flawless performance. When Reid sits to play piano, with bushfire visuals in full effect on the screen behind the trio, the audience experience feels like mass meditation. The trademark organ sound of 'Hey Now' set the venue alight with screams and did not disappoint before the main set was brought to a close with 'Big Picture'. They returned moments later for a three song encore, wrapping up an emotional night with 'Metal & Dust' with flourishing instrumental evoking MASSIVE ATTACK. Reid's voice is like a tuning rod for the soul. On last night's performance LONDON GRAMMAR must be the definition of live music perfection and with Reid's stunning voice; she showed last night that she was born to sing.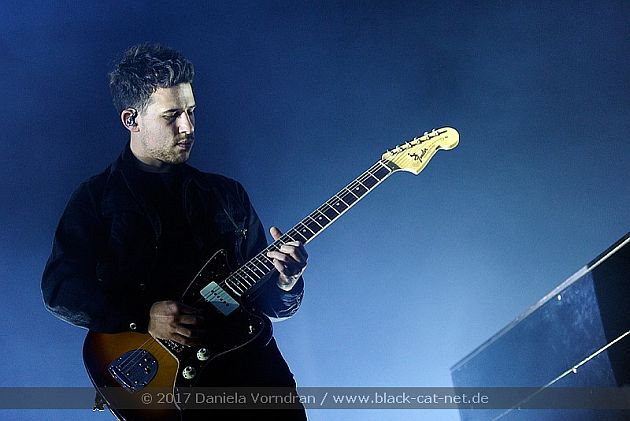 Setlist

01. Who Am I
02. Flickers / Help Me Lose My Mind
03. Stay Awake
04. Hell to the Liars
05. Truth Is a Beautiful Thing
06. Sights
07. Wasting My Young Years
08. Hey Now
09. Strong
10. Nightcall (Kavinsky cover)
11. Big Picture
---
12. Bones of Ribbon
13. Oh Woman Oh Man
14. Metal & Dust
Rating

Music: 9
Performance: 8
Sound: 10
Light: 10
Total: 9.3 / 10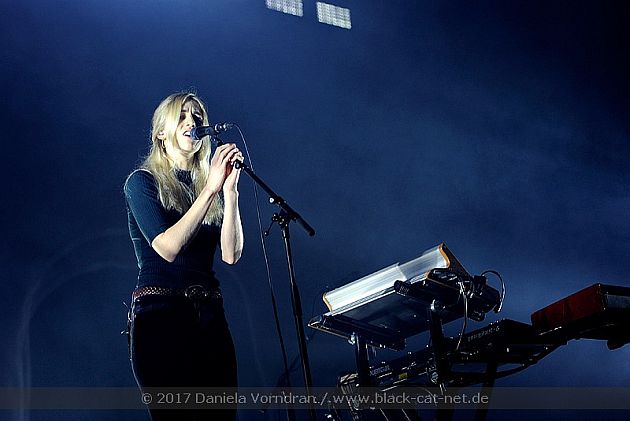 All pictures by Daniela Vorndran (
http://www.vorndranphotography.com
/
http://www.facebook.com/blackcatnet
)