Page 1 of 2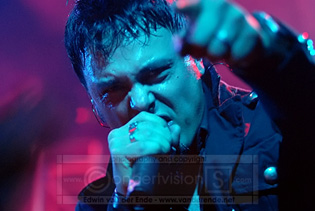 De Boerderij, Zoetermeer/Plato, Helmond, The Netherlands
29 & 30 March 2007
Kamelot, Leaves' Eyes, Fairyland
A good package of bands can make the difference between a totally packed venue and just an ordinary, mediocre concert. Not that the last thing ever happened with Kamelot. When they come to Europe, they always have a fan base that easily can fill up a venue like De Boerderij. This time it is different. Leaves' Eyes returns to Europe after their long tour with Blind Guardian. When two bands are missed for a long time, it is not a surprise that both shows are totally sold out. It will be everything than ordinary, that's for sure!
Personal Note:
It was not the intention to make a report from both days, but sometimes you have to change your plan. The first day in Zoetermeer I only had the chance to see the first part of Leaves Eyes. Due to traffic problems my interview with Kamelot was delayed. After that interview I went back, just to see the encore of Leaves' Eyes. Suddenly there was a hypo (lack of sugar) and the next thing I know is that I had to stay backstage for a long time to recover from the attack of migraine. When you read this story keep in mind that I had to make a mixture of both days. Next time I hope to be there totally focused again. I want to thank Kamelot, Leaves Eyes, Frank van Liempd, Harold and crew for the help.
Fairyland


The French metal scene is not very well-known in the rest of Europe. Sometimes a band gets more support like The Old Dead Tree, but it is hard to get a larger fan base. Fairyland maybe sounds like a fantasy, gothic band, but don't judge on the name. They are a bombastic melodic power metal band with influences from Blind Guardian and Rhapsody. More on:
http://www.fairyland-metal.com
Music
With their bombastic sound, many keyboard parts and full melody lines you have to be a power metal fan to stand their sound. Their last album 'The Fall Of An Empire' (Napalm Records 2006) had a great response in the media. With that in their pocket and the experience on the French tour with Sonata Arctica: you can expect a quality live show. They are not very original in their sound, but they bring it in a very own way. I soon enough get the feeling that power metal is not a sign that it fits well in a package with Kamelot. Both bands are active in that scene, but on a different level. What is understandable for a support act. Why is it so hard to stay interested and to really listen to this band? Well it is just a lot of the same structure.
Frontman Maxime has a clear and original voice and the rhythm section is strong. Sometimes the keyboard parts from Philippe are too much in front of the mixture. Than you miss the details from guitarist Anthony. Live it is hard to make a good sound together and both evenings the band struggled with finding a good balance. After all they deserve a change. Songs like 'Anmorkenta' (also on their MySpace:
www.myspace.com/fairylandfantasia
) are worth it to hear on stage. Especially because the songs are composed in a traditional power metal way. When you stay open for it: Fairyland can add an new element in that scene. After all they played a good set: the arrangements and keyboard are really adding something more to their sound. On stage it is necessary to have those moments besides the drum and guitar lines. It would be better to see this band on a festival like 'Summer Darkness' or just when not so many people in the crowd are focused to see Kamelot.
Performance
Vocalist Maxime has a typical French accent, but he makes a connection with the audience. Together with keyboard player Philippe – who also does some backing vocals – they are the face of the band. They are more in the spotlight and giving more attention to the audience. On both sides from Maxime is guitarist Anthony and on bass Thomas (who also plays the guitar every now and than). They are acting very natural on stage. The drums are more covered in the back, well unless as much as possible with the gear from Kamelot already on stage. They make a lot of 'little' movements like poses, headbanging, walking around and putting their hair of their face. They have all their own show on the songs. That makes it a bit more hectic on stage, but unless there is happening something. It would be nicer when Maxime makes contact with his band members, to evolve them more in the show. Everyone stays on his own position and after a while it gets a bit static. They can convince the audience, translate the songs on stage, but now the next level is to act like a real band together. They have the energy and enthusiasm: that makes it much easier in the end.
Rating
Music: 6.3
Performance: 6.8
Sound: 6.2
Light: 5.6
Total: 6

Leaves' Eyes

When you name some great gothmetal vocalists one of them is definitely Liv Kristine. During her time in 'Theatre Of Tragedy' she created a whole new sound and became one of the founders of the scene. Years later with her solo album 'Enter My Religion' (Roadrunner Records 2006) and the albums she did with Leaves' Eyes, she still adds a special element in this music scene. Leaves' Eyes became over the years a very respectful and heartwarming band. Besides the music, it is the personality of the band members what makes the band special. With their loyalty to the fans they create always a warm atmosphere. After the release of ' Vinland Saga' ( Napalm Records 2005) it went very fast: a long tourist is the result. On the upcoming Metal Female Voices they will record their first live DVD. Now they are back to keep the fire warm: Leaves' Eyes brings some warmth and enthusiasm on this tour.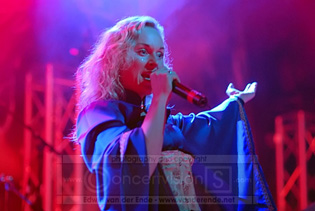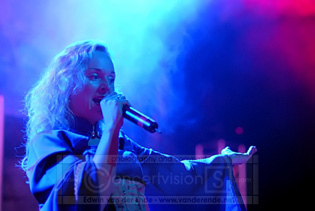 Music
The first day of a new tour is always hard. When Leaves' Eyes enters the stage in Zoetermeer there are problems with the hard disc. During songs like 'Farewell Proud Men' there were no backing vocals and arrangements. It seems that vocalist Liv Kristine can't hear the rest of the band. Also her microphone has no sound for a few minutes. An other artist would leave the stage and make a new entrée, but Liv stays and continues the show in a natural way. Her voice carries the whole song and when the power comes back she stands there without any hesitation. Liv showed here that a real artist knows how to handle unexpected moments. After all it was very unique to hear only Liv with her soft and clear voice.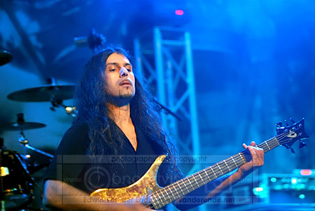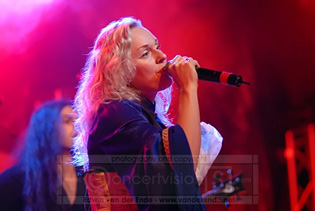 During the set her sound grows and with her smile she has all the attention. It is good to see that this band toured a lot. All the band members know how to work together and that makes it good to listen at. With Liv in the front, making connection with the audience, their songs are brought to a higher level. That is why you have to see this band on stage: the songs are so much stronger and convincing when you see the emotions from Liv. She is the soul and the hart of this band. Fort the first time 'The Crossing' from the Legend Land EP is added to the setlist. A good choice, because it is a more heavy song. With vocalist Alex to represent the darker side. Liv and Alex are a strong couple on stage: both have the real emotions and enjoy it all. With their natural appearance on stage you certainly get more excited. Some more attention in Zoetermeer goes to Moritz (also playing in Darkwell) on drums: he is more in the front mix now and you can hear live a more detailed sound of him. The same counts for Christian on bass: he gets more the space to show his talent. Songs like 'Into Your Light' and ' Elegy ' are the audience favorites and the reaction is overwhelming, especially when you know how warm it was inside.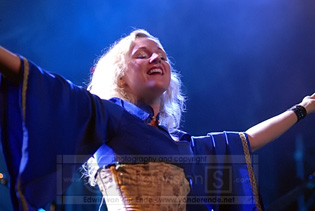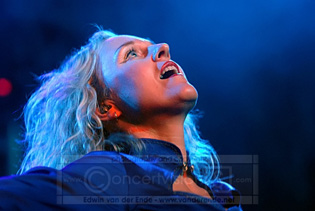 The day after in Helmond was even warmer on stage: audience and band members had to fight against the sweat. Leaves' Eyes changed the setlist a bit: a good sign. 'Norwegian Lovesong' is played in a special way and during the ballad some people in the audience brought some little stars firework. The atmosphere is warm and everyone is enthusiastic. The guitar parts were sometimes a bit static, but both men did a great job. Alex brings even the percussion on stage during the Norwegian spoken song. 'Solemn Sea' is one of the encores and of course 'Legend Land' is played as well. Especially the heavier songs are a perfect contrast with the mid-tempo ones and shows that Liv fits that very well also. All together Leaves' Eyes played both days a very convincing, natural show. Professional and with the warmth they have. Liv and her men are definitely grown into a very strong and solid band.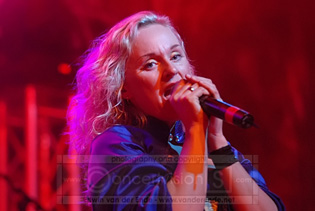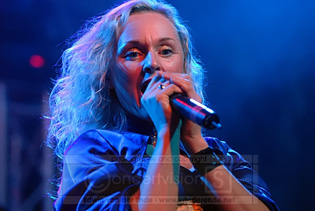 Performance
With her curly blonde hair, blue eyes and sweet smile Liv Kirstine is a charming personality. When she enters the stage, dressed in a new blue Kimono-dress, she welcomes the audiences in her own way. Waving, looking at some people, smiling and that all together. She is heartwarming and that is her strength. She doesn't need a strong performance or a catchy show. She is just standing there, showing her passion and the audience only has to follow her to her travel to her beloved country. When she closes her eyes and tells about the undiscovered land, we see Norway grey and undiscovered. Liv has that power. Together with Alex she brings the energy during songs like 'Oceans Way.' Alex with his long hair, screaming his longs out and Liv with her sweet voice on his side. Alex runs around and the power is there: the audience gets more excited.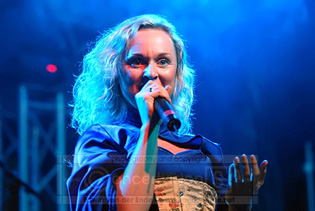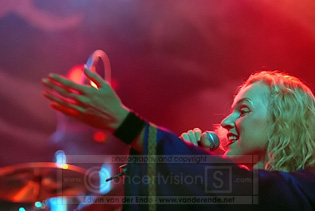 There are solo parts for guitarist Mathias, far away in the left corner. He is totally focused on his parts and barely makes any connection with the audience. On the other hand it is better to stay on the background when Liv has all the attention. Same counts for the other members. Sometimes Christian has a connection with other guitarist Thorsten on the right side of the stage. Both men are quite shy it seems, but give a lot of energy. In his totality the whole show comes natural, without forced elements. Even Moritz, the most recent member since 2005, has that attitude. It is a certain lifestyle also with their calm faces, happiness and devotion. All the musicians are working hard and are totally happy to see that a packed venue enjoys it.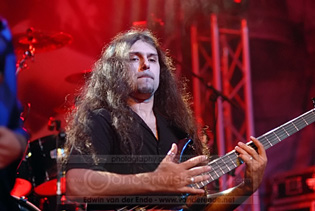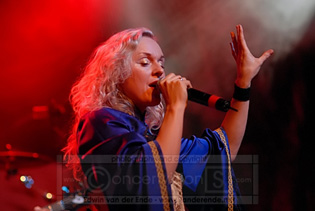 I thought they reached their highest level during their performance in Paris, but the Dutch crowd is special for this band and that makes the whole show totally different. When the last song ' Elegy ' is played Liv has a big smile on her face. Concerts in Paradiso, Amsterdam and Hedon, Zwolle are coming up. Many people will try to keep that special feeling for a little while, because this band makes you happy and warm inside: maybe it was because of the bad air-conditioning also, but it is for sure the most heartwarming gothic band. Leaves' Eyes can be sure of a strong Dutch support in the future as well.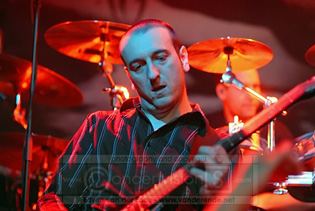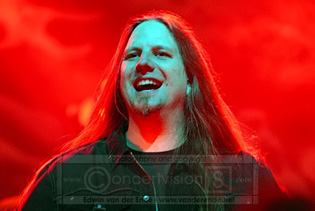 Setlist (Helmond)
01. Farewell Proud Men
02. Oceans Way
03. The Crossing
04. Into Your Light
05. New Found Land
06. Norwegian Lovesong
07. Temptation
08. Lyset
09. Legend Land
10. Solemn Sea
11. Elegy
Rating
Music: 8.7
Performance: 9.0
Sound: 8.3
Light: 7.3
Total: 8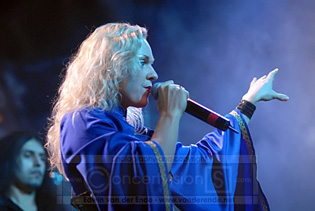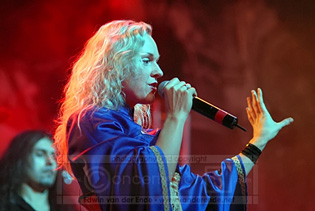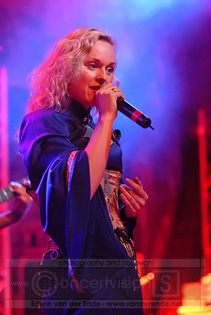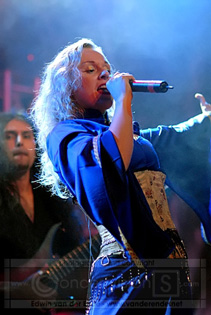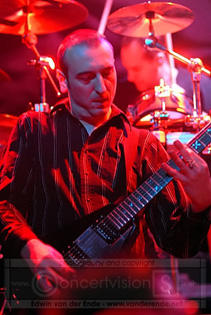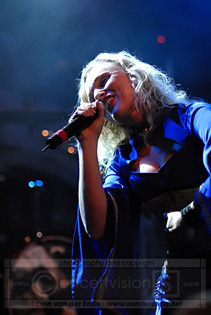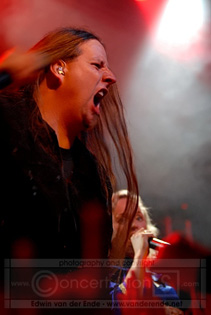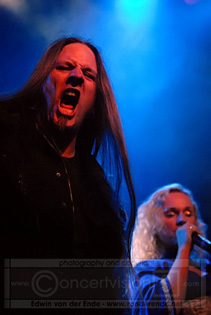 Kamelot

After their last releases Kamelot is not labeled anymore as a ' power metal band.' They became their own trademark and the success is overwhelming. Now they are back to remind us that we aren't forgotten. Between the gigs and festival tour Kamelot recorded a new album called 'Ghost Opera' that will be released in the beginning of June. With a jetlag and a bit a hectic atmosphere Kamelot enters the venue 'De Boerderij.' The kick-off from their new promotion tour is started without a tour manger and Thomas is not only the lead guitarist this evening. He runs around, but finally the band enters the stage in a totally calm and peaceful atmosphere. It says enough that the tour starts here in this cold 'Holland.' The fan base is strong over here and it is no surprise that it is totally packed in the front when Khan starts the show.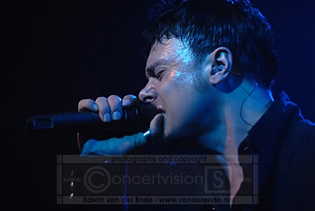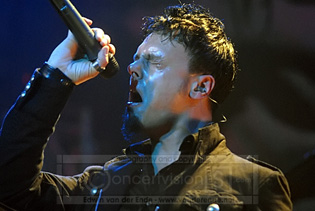 Music

In totally darkness the change-over is made. A new huge backdrop with the cover from the upcoming album, some guitars on the side of the stage. The crowd is patient and there is the change to get some water or walk around. The intro sets in and the band enters the stage. Suddenly 'When The Lights Are Down' is set in: a heavy, up-tempo start of the gig. A good choice because the vibe is immediately there. The whole crowd can sing along and you can feel the adrenaline. Roy Khan is definitely grown in his sound. The last time in Zoetermeer it was to practice for the DVD recording and he was not that clear. Now he sounds more powerful in the high parts. With his typical movements he is really a personality on stage. Thomas Youngblood on his left also is the face of the band: he is the spirit behind Kamelot. With his long hair, headbanging and fast solo's he is an important element in the show and in their sound.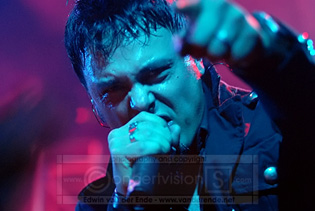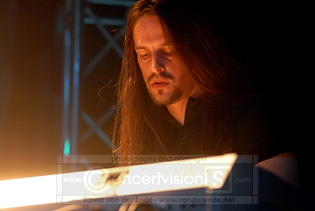 For the first time Glenn Barry on bass and Thomas Youngblood are doing more backing vocals. That gives the music a deeper dimension besides the sound of Khan. There is enough time in the setlist for the other musicians to show their own quality. The first solo is for Casey behind his drum kit. He is fast and very dynamic and during his solo he shows that to the crowd. The whole set has a very good sound: songs like 'Nights Of Arabia' and 'This Pain' are more dynamic on stage. Than you see the faces of Thomas and Khan full of energy and emotion. During the ballad 'Abandoned' a new female vocalist joins the band: a bit shy, but with a clear voice she brings the female parts.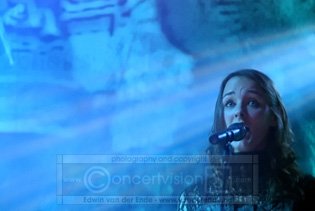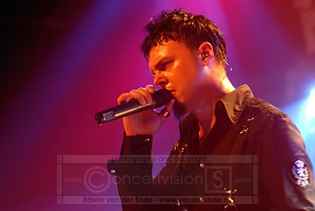 Also some new songs are played. 'Morning Star' has the same structure as the songs on their last record: well balanced between heavy parts from drum and guitar, arrangements, and the more melodic voice from Khan. Also on the other two songs Khan dares to use a different technique: a lower side of his voice and less up-tempo melody lines for him. Suddenly it changes into a very heavy metal song. You can hear 'Ghost Opera' on
you tube
. Especially the orchestral intro is a new element. I wonder how it would be when Thomas Youngblood cooperates with Tuomas Holopainen from Nightwish: it could be a great combination when those men can work together.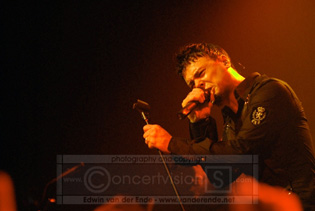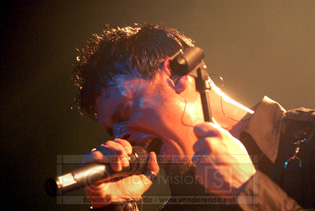 The lyrics are also more down to earth: reference to the live shows. Live the songs fit very well in the setlist. Thomas grabs the attention with his dynamic solo parts. Than halfway the set it is time for Oliver behind the keyboard to show the crowd his quality: a mixture between classical masters a la Deep Purple. Not everyone can be patient to hear the details and quality, but Oliver has a very unique sound. What is not always good to hear when he plays with Doro or Kamelot.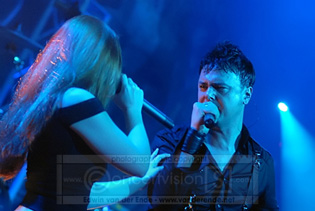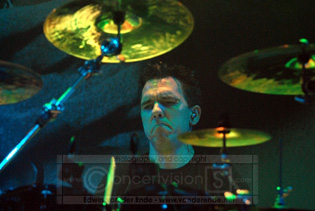 Then in Zoetermeer it is time for Simone (vocalist Epica) to share the stage with Khan. On the DVD she wasn't that clear, but now she is more natural and sounds much better. Khan is not that distant anymore in his attitude, so the show looks much better. Thomas shows his new talent during the last encore 'March Of Mephisto.' His grunts are more powerful than a year back ago. When finally the curtain falls, the people in the venue are tired, sweaty and satisfied. Even when you don't like high vocals lines or up-tempo metal, you have to admit that Kamelot is a master in this scene. They are respectful musicians with a dynamic show.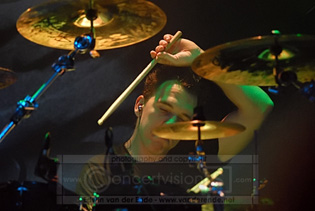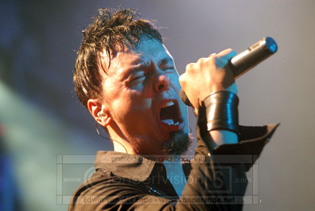 Performance
Khan is the filling the stage totally with his appearance. He has a typical way of acting during the songs. Sometimes he kneels, with two hands holding his microphone. Another moment he bent forward to grabs the attention from the crowd. The first day in Zoetermeer he is immediately back in his element. When there is a solo part from Casey or Thomas he leaves the stage to get some water or change clothes. His new black outfit is to warm on stage. Halfway the set he enters the stage in a long black coat. When the intro starts he suddenly throws it away saying: ,,It is so hot on stage, no idea why I wanted to wear this today!" Normally he doesn't talk that much, but he tries a bit more than only the famous 'come on Holland.' When he announces that there will be free promo cds from the song 'Ghost Opera' the crowd is screaming: both days it is an extra surprise for the real fans.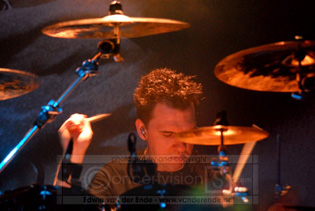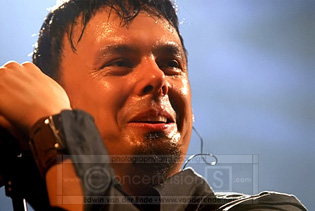 In comparison with Zoetemeer the atmosphere in Helmond among the people is more relaxing and very enthusiastic. It is amazing to see all those hands razing and clapping when Thomas screams for it. The first day was not easy for Kamelot: the band was running around a lot and sometimes needed to leave the stage to get some water. The leather trousers from Thomas are getting wider and he can't move that easy. Sometimes it is an advantage to see the show from the side of the stage. In Helmond I wasn't aware of those things a lot, but had the change to see the whole stage from behind the sound desk.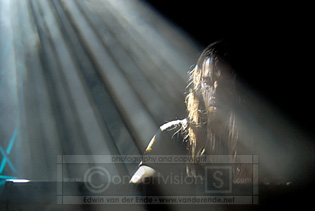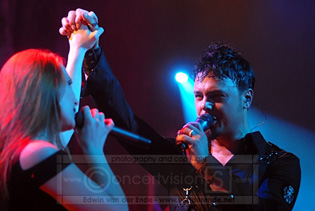 Their soundman is working a lot, and I must say it is necessary when you have change-overs from guitars. Back to the show: Khan is grown a lot in his performance. He is more open and natural. Also Glenn is less shy: he is more active during the backing vocals and bass parts. Still most of the attention goes to Thomas: when he closes is eyes during a solo, or looks at Khan for a fast smile, he is the one who makes it interesting. There is Casey who also gives a lot during the show, but I only had the change to see him well in Helmond: he managed to do a lot of tricks behind his drum kit. Oliver is headbanging a lot in the right corner. Although everyone has his own parts, Kamelot acts like a real band, very united and full of secrecy. There is certain chemistry between the men when they are playing their set: they like it, if it is hot or not. They enjoy the attention from the fans and they know that they play a technically perfect set. Kamelot is ready to make a new big step forward!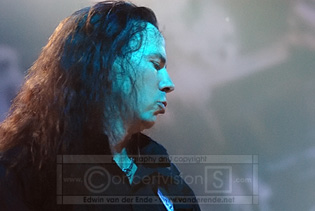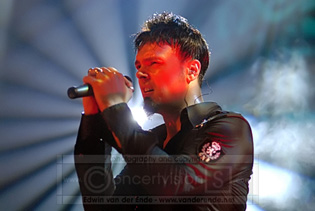 Setlist (Zoetermeer)
01. When The Lights Are Down
02. Soul Society
03. Morning Star – new song
04. Lost & Damned
05. Nights Of Arabia
06. Abandoned
07. This Pain
08. Instrumental part
09. Center Of The Universe
10. The Human Stain – new song
11. Descent Of The Archangel
12. Key solo
13. The Haunting
14. Forever
---
15. Ghost Opera – new song
16. Karma
---
17. March Of Mephisto

Rating
Music: 9.0
Performance: 8.5
Sound: 8.5
Light: 7.0
Total: 9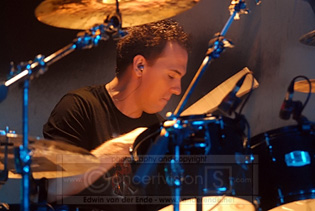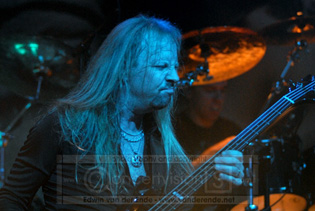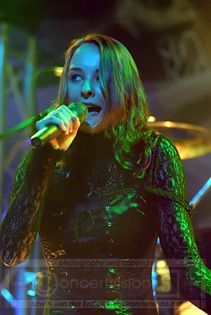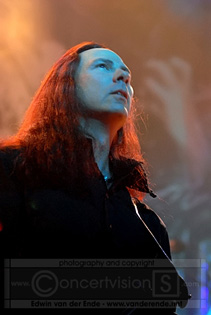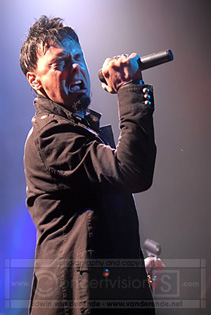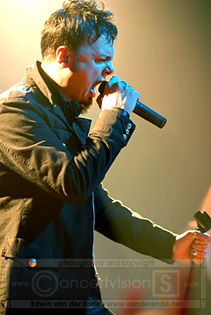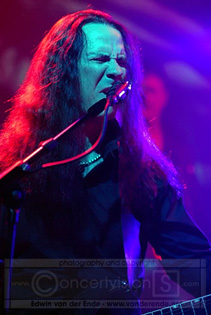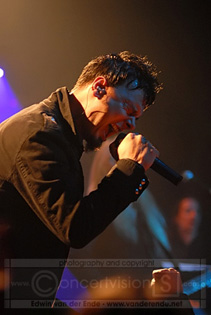 More photos on page 2
{jos_sb_discuss:17}