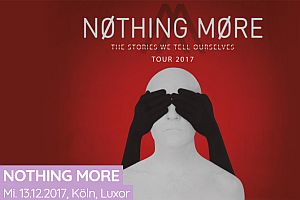 Luxor, Cologne, Germany
13th December 2017
Nothing More – "The Stories We Tell Ourselves Tour 2017" – Support: Psycho Village

Last Wednesday night, the cosy Cologne Club Luxor was packed to the limit (aka sold out), because people wanted to check out another hidden gem from the American Rock scene: the band NOTHING MORE. These four guys from San Antonio, Texas are on heavy rotation in the refreshingly diverse American radio station landscape, and have been nominated for three Grammy Awards for their latest record 'The Stories We Tell Ourselves'. Yet, as the rather small concert venue indicates, they managed to stay mostly under the radar here in Europe.
Psycho Village
For the European part of the tour, three guys from Austria named
PSYCHO VILLAGE
served as the support act. They describe their music as "Post Grunge", and since the 2014 release of their debut EP 'Selfmade Fairytale - Part 1', they spent most of their time touring. www.facebook.com/PsychoVillage / www.psychovillage.com
Music & Performance

Their set started at sharp 8 pm. Taking up the rather confined stage space were two projections with accompanying videos throughout the set list, which added a little bit of Karaoke feel. The three musicians managed to squeeze themselves in, and played a nice relatable set of songs. After 30 minutes playtime, singer Daniel Kremsner decided to take his microphone stand and guitar off stage and into the crowd for the last song.
Rating

Music: 5
Performance: 6
Sound: 6
Light: 5
Total: 5.5 / 10
Nothing More
The band
goes way back to 2003, when back in middle school, then drummer Jonny Hawkins and two of his friends bonded over campfires, and decided to start a band. However, things got off to a slow start, and the band had difficulties finding a record label deal, amongst other hardships in their personal lives. Deciding that things needed to change, Jonny switched from drums to vocals, and the band started a Kickstarter campaign to self-fund the recording of a new album, which they released independently in 2013. From there, things took a whole different direction. Radio stations started to pick up their extremely catchy and poignant songs (check out 'Jenny'), and two appearances on the 2013 Aftershock festival in California gave them the strongly coveted record deal, plus the chance to tour with the likes of CHEVELLE, SHINEDOWN, and FIVE FINGER DEATH PUNCH in the subsequent years. Find out more about the band via www.nothingmore.net or www.facebook.com/nothingmore
Music & Performance

The change-over was rather interesting to watch as the stage hands assembled a weird contraption in the stage centre, which the band calls "the Scorpion", and which looked very much like it had been designed by H.R. Giger having watched too many 'Mad Max' movies. It contained all sorts of hoses, chains, buttons, as well as a drum. At 9pm the lights were dimmed and a hip hop track started blaring from the speakers, during which the band entered the stage, and which faded into the opener 'Christ Copyright' from their self-titled album rereleased in 2014. Singer Jonny Hawkins did not even bother to put on a shirt or shoes and socks for that matter, and had everyone immediately rethink their diet plan due to his extremely chiselled physique. All jokes aside, this man was radiating pure energy on the microphone, as he seemingly never stood still and engaged the crowd, or circled and drummed on the aforementioned "Scorpion". This literally took the centre of the stage, when bassist Daniel Oliver strapped his bass guitar vertically to a lengthy extension. Singer, guitarist and bass guitarist stood round the base guitar and, with the help of the drummer performed an impressive display of different sounds all stemming from the base guitar.
Things took a quieter turn halfway through the set, when guitarist Mark Vollelunga switched his electric for an acoustic guitar, and performed the ballad 'Just say when' together with Jonny full singer songwriter style. After this they went full throttle again, and performed the intense 'Do you really want it?' from their new album. One song later the crowd's screams were heard, and the band played their uber hit 'Jenny', sending the packed place into full frenzy. After another intermezzo at the 'Scorpion', it was singer Jonny who announced the last song, as well as the fact that NOTHING MORE does not do encores, because they deem them to be fake. During the final song, NOTHING MORE pulled an artistic stunt, involving Jonny releasing his inner drummer on the scorpion, as well as Mark and Daniel picking up drums from the edges of the stage, beating them wildly. Towards the end of the song, both moved in a synchronized way towards the 'Scorpion', held the drums up for Jonny, who had climbed on top of the Scorpion, and unleashed his remaining energy onto all available drums in his vicinity.
Although the playtime was a mere 75 minutes, it felt like a worthwhile experience. It certainly featured an impressive display of musical creativity as well as the ingenious use of technology to create a lasting impression. So be sure to catch them next time on tour here in Europe, which hopefully will be the case during summer.
Setlist

01. Christ Copyright
02. Let 'em Burn
03. Mr. MTV
04. Don't Stop
05. Bass/Drum Solo
06. Ripping Me Apart
07. Go to War
08. Just Say When
09. Do You Really Want It?
10. I'll Be OK
11. Jenny
12. Ocean Floor
13. This Is The Time (Ballast)
14. First of the Year (Equinox) (Skrillex cover)
15. Salem (Burn the Witch)
Rating

Music: 8
Performance: 9
Sound: 9
Light: 7
Total: 8.3 / 10