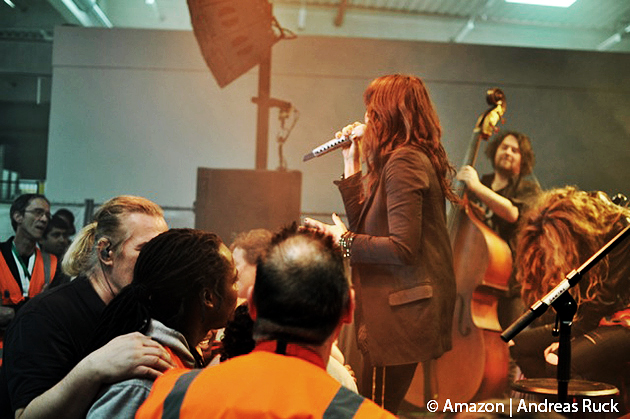 Amazon, Brieselang, Germany
7th December 2017
Nena - unplugged concert

What a Christmas surprise for the employees of Amazon Brieselang near Berlin! It was kept secret right up to the last minute which music act would play for the 1,000+ employees of Amazon. Then the manager let the cat of the bag - 80s world star
NENA
. Wow! Hard to believe, but it was really true. With more than 25 million records sold worldwide, NENA is one of the most successful German artists in the history of music. Today she would perform five of her biggest hits unplugged with her band. https://www.nena.de / https://www.facebook.com/NENAofficial
Music & Performance

"I am no copy, I am the original: NENA." And with that, NENA welcomed the employees of the shipping giant Amazon, who were allowed an extra hour for the music event. A concert-ready stage was purpose-built in one of the warehouses, complete with all the trimmings. Even NENA would not forget this sight any time soon. Many in the audience wore orange safety vests, which the employees have to wear in the halls for safety reasons. It is immediately clear that NENA is an absolute professional - after all, she already has 40 years of stage experience. From the very beginning she skilfully played with the audience and they ignited immediately, singing along with the first hit, 'Nur geträumt'. NENA was accompanied by her band and as backing vocalists, her two children Larissa and Sakias. Sakias even sang the song 'Das weiße Schiff' alone. The Amazon employees were enthusiastic and were now more and more involved into the concert. During '99 Luftballons', NENA asked five men and five women each to help her sing. Then two giant balloons with the inscription LOVE were passed through the crowd until the end of the concert.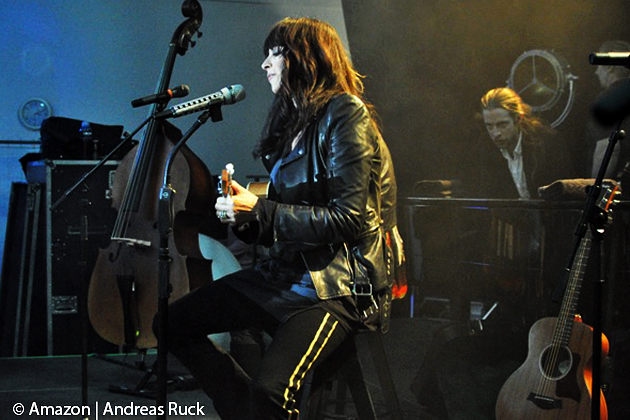 NENA charmed everyone with her very friendly and authentic way. The conclusion was the wonderful 'Irgendwie, irgendwo, irgendwann'. Everything was absolutely live, absolutely unplugged. Not everyone can do that, but it was no problem with her great voice. The applause knew no limits in the end. The band thanked the employees for the wonderful opportunity, and then thanked the staff for their great work, as they are like a substitute for Santa Claus in the run up to Christmas, making many people happy with their work. NENA played two times that day, once for the employees of the morning shift and once for the late shift. The mayor of the community Brieselang was invited to the later event. Of course, I was interested in how a concert by a German-speaking artist was liked by the many foreign employees. Everyone was enthusiastic, even though most did not know NENA and of course did not understand the lyrics. One can say, Amazon hit the jackpot with the artist selection. A totally successful event.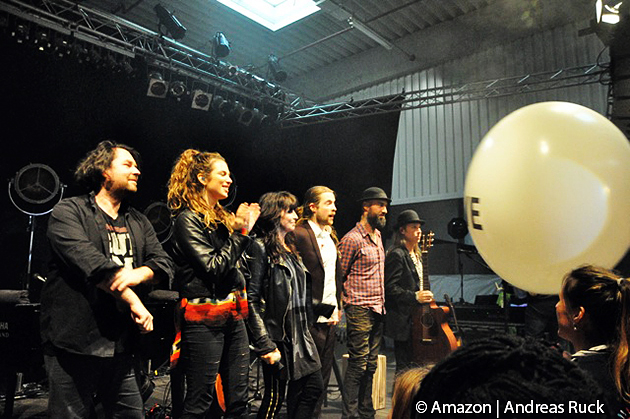 Thank you, NENA, for letting the Amazon workers forget about their exhausting work for an hour, and you have certainly gained many new fans to join you on your spring and summer 2018 tour!
Setlist

01. Nur geträumt
02. Leuchtturm
03. Das weiße Schiff (Sakias)
04. 99 Luftballons
05. Irgendwie, irgendwo, irgendwann
Rating

Music: 10
Performance: 10
Sound: 8
Light: 8
Total: 9 / 10
All pictures by Amazon | Andreas Ruck