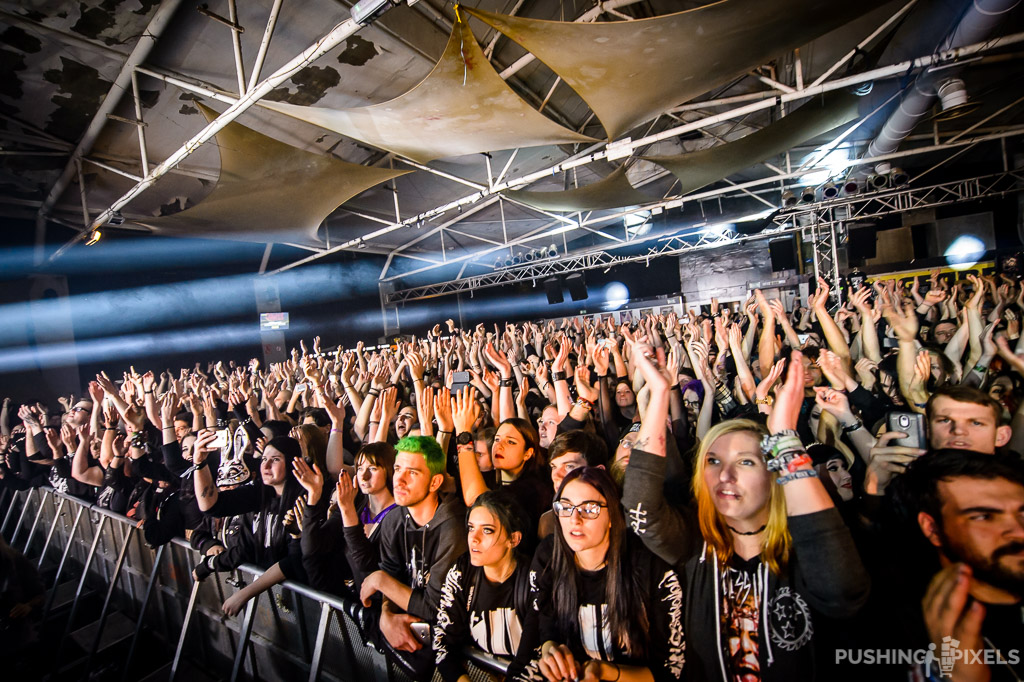 Essigfabrik, Cologne, Germany
7th February 2018
Motionless In White – "The Graveyard Shift" European Tour 2018 – Special guests: Cane Hill & Ice Nine Kills

Originally, the Metalcore Goth band MOTIONLESS IN WHITE was scheduled to play the cozy Cologne club Luxor, but due to popular demand the concert had to be upgraded to the more spacious Essigfabrik in Cologne. This is certainly a sign that things are going well for the band on its first European headline tour, of which Cologne was the last stop, before the band headed home to the US.
Ice Nine Kills
The first band on this evening's roster was the Boston Metalcore formation
ICE NINE KILLS
. They released four studio albums so far, the last of which is called 'Every Trick in the Book', which was released in 2016. https://www.facebook.com/IceNineKills / www.iceninekills.com
Music & Performance

At 8pm sharp, the band entered the relatively wide stage of the Essigfabrik, and immediately raised the temperature inside the rather cold concert hall a few degrees. The quartet did a very good job as an opener, as they did not fail to impress the audience with mighty riffs, precise breakdowns and carefully augmented electronic effects. Singer Spencer Charnas found a good way of interacting with the audience, and also his alternating between screaming/growling and clear singing passages was quite appealing. The band provoked the first circle pit of the night, and – judging from the number of band shirts sold - seemingly won over quite a lot of new fans with their 30-minute gig.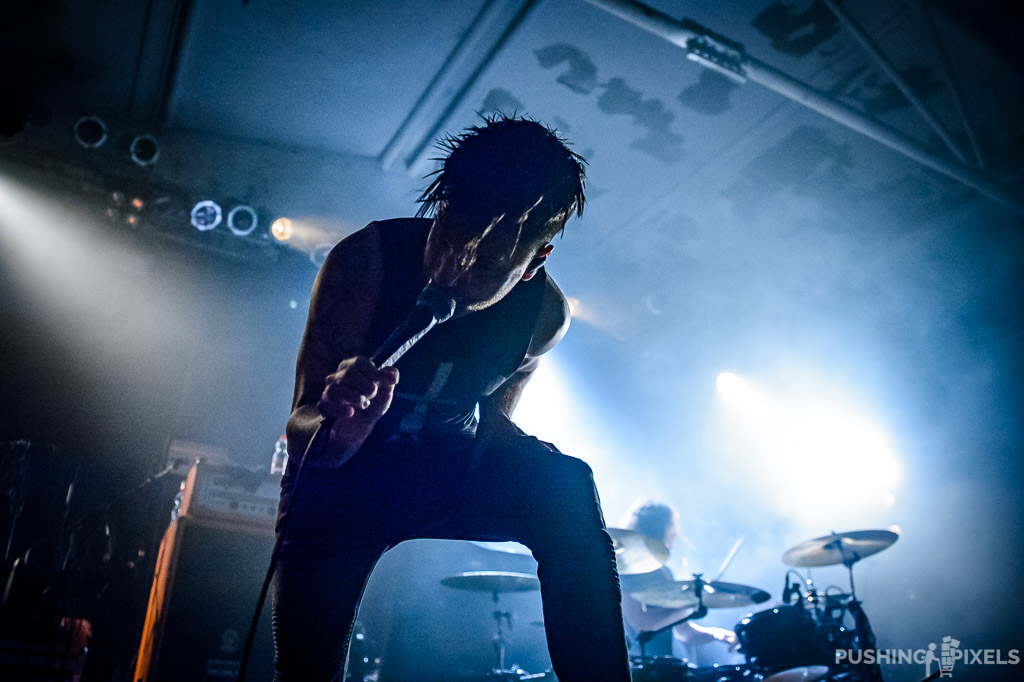 Setlist

01. Communion of the Cursed
02. Bloodbath & Beyond
03. The Plot Sickens
04. Connect the Cuts
05. Enjoy Your Slay
06. Hell in the Hallways
07. Me, Myself, and Hyde
Rating

Music: 8
Performance: 7
Sound: 7
Light: 6
Total: 7 / 10
Cane Hill

Next in line were
CANE HILL
, a Nu metal band from New Orleans, Louisiana. They formed back in 2011 and have released their second album 'Too far gone' in January this year. https://www.facebook.com/wearecanehill / www.wearecanehill.com
Music & Performance

At around 8:50pm, the band took the stage and started off with 'Time Bomb', a track from their self-titled debut EP. Initially, CANE HILL with their Screamo-oriented version of heavy music made quite a good impression. However, the more complex rhythm-patterns employed by the band in their songs made the music a bit less accessible to first-time listeners. This was probably the reason, why the crowd was notably less enthusiastic during their gig, which ended after 40 minutes.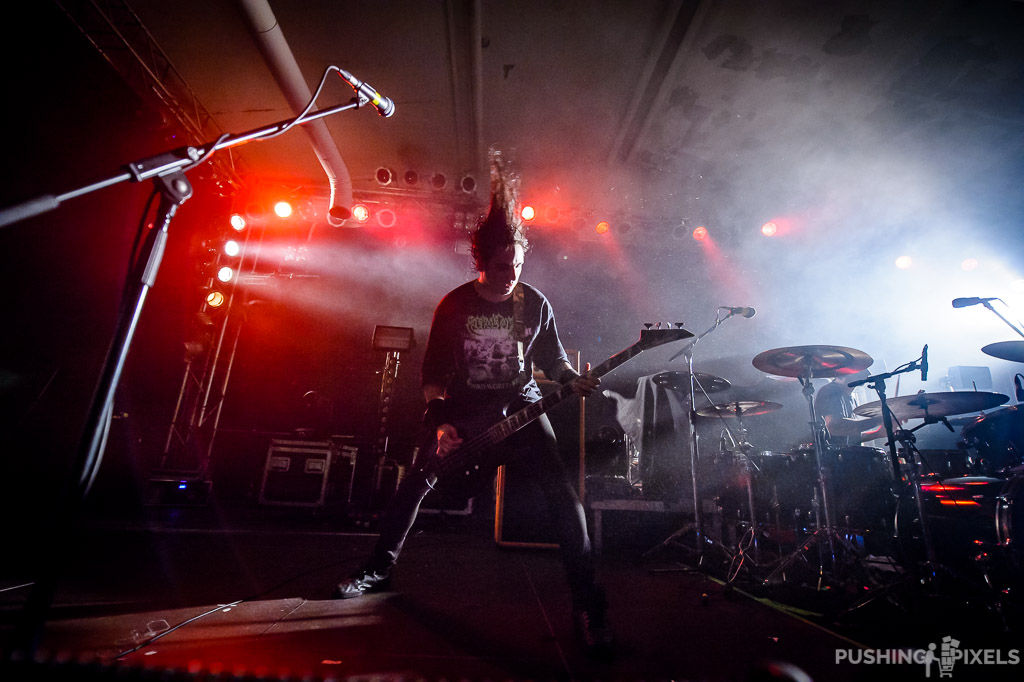 Setlist

01. Time Bomb
02. Lord of Flies
03. It Follows
04. True Love
05. Ugly Model Mannequin
06. Erased
07. 10¢
08. Too Far Gone
09. Cream Pie
10. Fountain of Youth
Rating

Music: 6
Performance: 6
Sound: 6
Light: 6
Total: 6 / 10
Motionless In White

The roots of Goth Metal band
MOTIONLESS IN WHITE
go back to the year 2005, where the original band members met in high school and started playing music. Their major level debut 'Creatures' which put them on the map of the American metal scene, was released in 2010. Their latest album is called 'Graveyard Shift', and was released in May last year, and with 'Necessary Evil' contains a collaboration with KORN front man Jonathan Davis. www.motionlessinwhite.net / https://www.facebook.com/motionlessinwhite
Music & Performance

Shortly before 10pm, the GORILLAZ track 'Clint Eastwood' started blaring from the speakers, which caused a few amused reactions among the audience. With 'Rats' from their latest album 'Graveyard Shift', MOTIONLESS IN WHITE immediately shifted into gear, and put the pedal to the metal music-wise. Throughout the set list they showed no sign of letting up, serving new material as well as classics from older albums, such as 'Reincarnate' or 'Immaculate misconception'.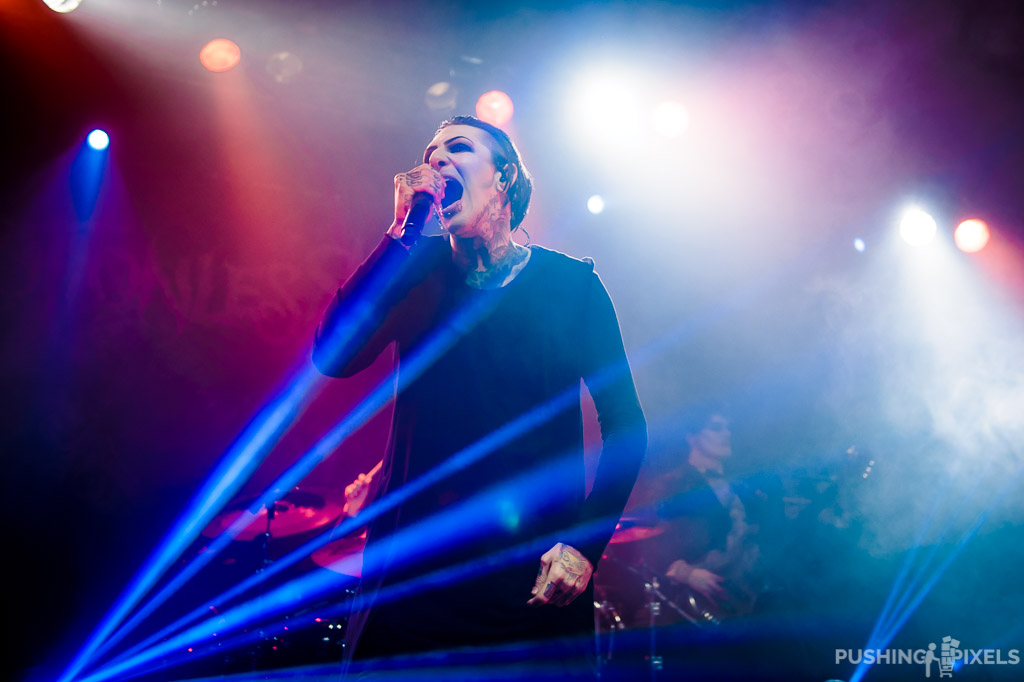 And each Goth Metal show certainly gets better with a little bit of (eye) candy thrown in, as two girls kept re-appearing in various dresses, splashing the crowd with super soakers, tossing umbrellas, handing out candy, and - after the final encore song - red roses. Song six, 'Abigail', saw a guest appearance of ICE NINE KILLS singer Spencer Charnas. But my personal highlight of the evening was a cover song from - as singer Chris 'Motionless' Cerulli put it – "one of the greatest bands ever on earth": RAMMSTEIN with 'Du hast'. Covering this song certainly was a homerun for MOTIONLESS IN WHITE as everyone inside the room screamed the lyrics. All this was underscored with a superbly choreographed light show and an excellent live sound setting, which managed to combine deafening volume with enough nuances, so that every instrument and also Chris' voice came through.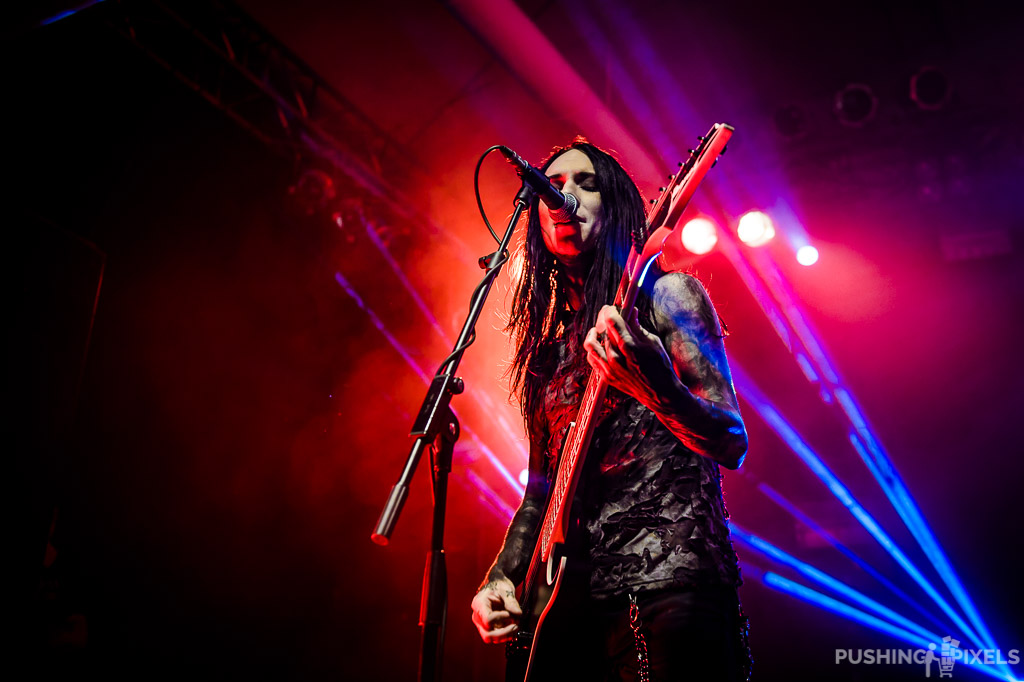 The encore 'Eternally Yours' marked the evening's end point, which gave the fans a nice sendoff after the 80-minute set. And it is not difficult to fathom that MOTIONLESS IN WHITE are positioning themselves as potential torchbearers for Goth Metal, once MARILYN MANSON ultimately decided to retire.
Setlist

01. Rats
02. Reincarnate
03. Necessary Evil
04. Soft
05. Loud (Fuck It)
06. Abigail
07. 570
08. A-M-E-R-I-C-A
09. Du hast (Rammstein cover)
10. Dead as Fuck
11. Not My Type: Dead as Fuck 2
12. Immaculate Misconception
13. Contemptress
14. Devil's Night
---
15. Eternally Yours
Rating
Music: 9
Performance: 8
Sound: 9
Light: 8
Total: 8.5 / 10
All Pictures by Markus Felix
See also (all categories):