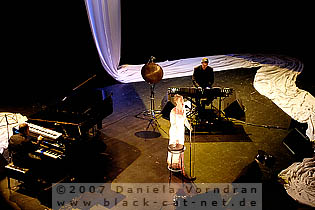 Theater am Marientor, Duisburg, Germany
18th April 2007
Lisa Gerrard


On 16th February 2007, the best of compilation 'The best of Lisa Gerrard' was released. With this compilation, one thing becomes quite sure: LISA GERRARD is a unique and fascinating singer and composer. Her career extends over nearly two decades with DEAD CAN DANCE, award-winning movie soundtracks, several celebrated solo albums and collaborations. The fifteen track grasping best of album gives a precise and convincing view into the different directions of her musical producing. 'The best of Lisa Gerrard' was compiled by herself and merges a collection of soundtrack titles, DEAD CAN DANCE highlights and selected solo songs together to a fascinating piece of art. On 18th April, this unique and great artist could be seen live at the 'Theater am Marientor' in Duisburg / Germany. The venue was very well chosen: it was a theatre with special charm, ranks and red velvet seats – quite a unique atmosphere for a concert.
Music

Her musical road trip started in the early 80s, when she founded the exceptional and hardly classifiable band DEAD CAN DANCE together with Australian Brendan Perry. The band released nine albums in-between 1984 and 1995. The musical variety of DEAD CAN DANCE was remarkable, grasping from world music influences over medieval chants, folks and baroque styles to Celtic influences and electronica. In the mid-nineties, LISA's musical vision was overgrowing the work of DEAD CAN DANCE. On her first solo album 'The mirror pool' (1995), the Victoria Philharmonic Orchestra was supporting her breathtaking voice. Several other collaborations followed: on 'Duality' she was working together with Pieter Bourke; later on, the melancholic and majestic 'Immortal Memory' was released which she composed and recorded together with Irish composer Patrick Cassidy.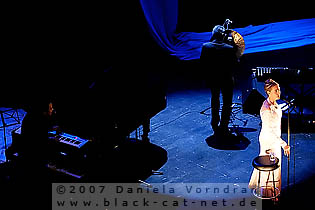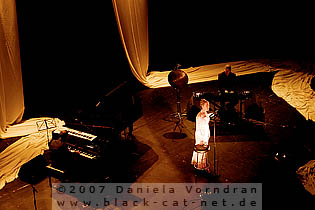 Over the last few years, LISA GERRARD reached the status of a demanded soundtrack composer – not very surprising thinking of the cinematic quality of her music. To the movies she was working at, belong: Gladiator, Heat, Mission Impossible 2, Layer Cake, Insider, Nadro, Ali, Whale Rider, Black Hawk Down, Tears of the Sun, Constantine and El Nino de la Luna. LISA received 'Golden Globe' nominations for Insider and Ali, 'Grammy' and 'Oscar' nominations as well as a 'Golden Globe' for the music to Gladiator as well as several more international awards for Whale Rider. More information:
http://www.lisagerrard.com/
/
http://www.beggarsgroup.de/
/
http://www.myspace.com/lisagerrard
LISA GERRARD, Australia's most powerful voice, attracted a very mixed audience during the evening in Duisburg, reaching from urban chic and city casuals to Goth and hippies. What is the spell of that singer performing often songs in a language of her own making? This certain spell is not easy to grasp, it is a feeling coming from the inside, it's the sheer emotions she causes when using her voice as an instrument. I think not only me had shiver rushing over the body and goose bumps or a big lump in the throat when she started singing. Her voice moved von deepest blues low to thrilling high… without failing even once. It was magical.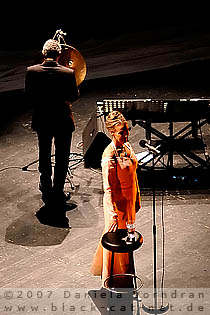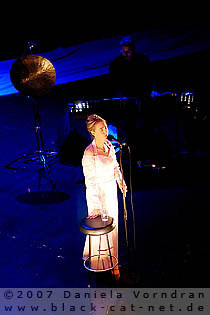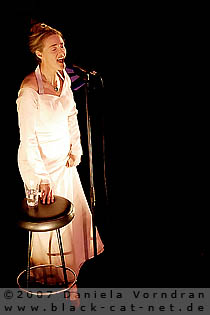 On her solo tour she was supported by three more musicians on stage: John Bonner – long-time DEAD CAN DANCE touring member – on keyboards and on piano and synthesizer as well as the yangqin Michael Edwards presented his abilities. He also worked with Lisa on her latest solo album 'The silver tree' and presented beautiful gentle piano lines on stage. Third person on stage was Andrew Hutton who provided some additional backing vocals and introduced all band members as well as the technical crew later during the show. During her concert, Lisa presented her recently released greatest hits album. In nearly two hours all in all, lots of songs out off her solo work and soundtrack offerings were presented as well as several songs out of the DEAD CAN DANCE era which were welcomed by the audience with exalted cheers. The set culminated with 'Now we are free' from the Gladiator sound track. Lisa seems to love the silent moments and in-between the songs you could hear a needle falling down; it was so calm in the theatre. When the musicians left the stage after the main set, standing ovations and loud applause and cheers floated to the venue to call them back. Lisa first came back alone to present a gorgeous a-capella reading of 'The wind that shakes the Barley' followed by 'Salem's Lot' which was presented by all musicians. As a second encore, Lisa presented the lullaby 'Sleep' when her voice was supported by piano only. That was such a touching moment and a great finish of the show.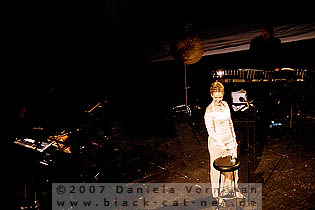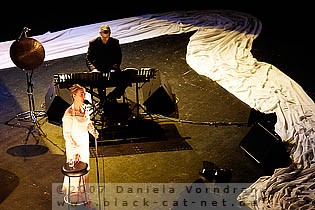 Performance
As you could expect it from a theatre performance, the beginning of the concert was announced by several gongs. About five minutes before the start you could hear the gentle crashing of waves as well as the singing of whales. Sharp at eight, Lisa in her beautiful white evening dress entered the stage together with her two supporting musicians. The stage was very sparse but fitted the sound very well. The microphone as well as a stool with a glass of water in front and piano, synth as well as the yangqin behind were surrounded by waves of a white material, floating down the rear black curtain to the front of the stage like a river. These curtains were illuminated in different colours, fitting the mood of the songs, from gentle placid green and blue to vibrant red or orange.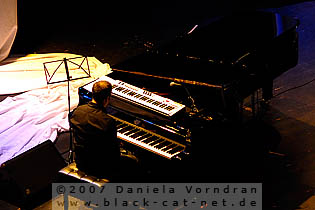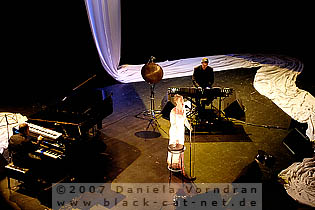 The show was no rock or pop show; it was more a classic concert the audience got presented during that evening. Main person on stage was always Lisa and she had always control. During the songs, she never moved her feet and only occasionally her hands. Anything and anyone was concentrated on her voice only. And that was the most important during the show anyway. The big show was needed; the performance was in her face and in her amazing voice. Musically they relied on backing tapes supported by live piano, synth, gong any yangqin. Maybe some more live percussions would have added another level to the performance, which was great anyway how standing ovations and long lasting applause at the end proved.
Setlist
01. Tempest
02. Desert Song
03. Sacrifice
04. Maharaja
05. Sea Whisperer
06. Black Forest
07. Sanvean
08. Wandering Star
09. Meltdown
---
10. Paikea Legend
11. In Exile
12. Host Of Seraphim
13. Space Weaver
14. Dreams Made Flesh
15. Now We Are Free
---
16. The Wind That Shakes The Barley
17. Salem's Lot
18. Sleep
Rating
Music 10
Performance 9
Sound 9
Light 8
Total 9.3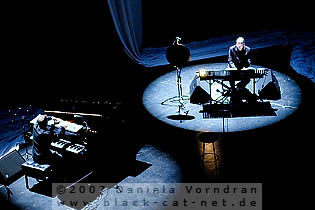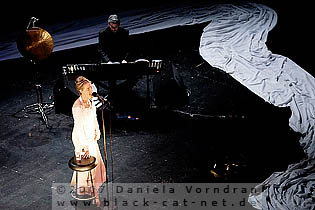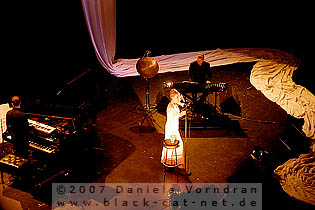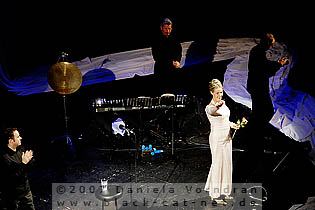 All pictures by Daniela Vorndran (
http://www.vorndranphotography.com/
/
http://www.black-cat-net.de/
)
{jos_sb_discuss:17}