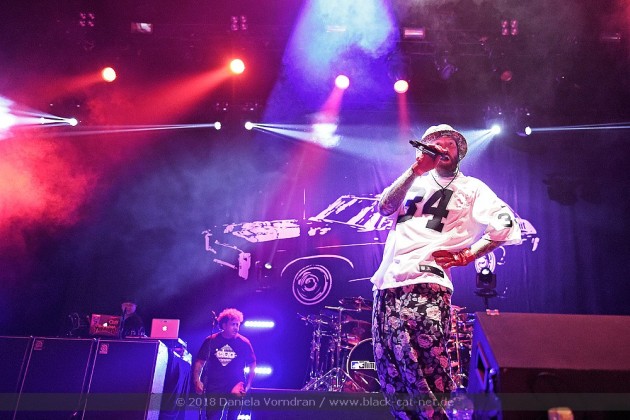 Westfalenhalle, Dortmund, Germany
20th June 2018
Limp Bizkit & Blvck Ceiling

They are still popular, especially in Germany. It's obvious that LIMP BIZKIT fans don't care that the band around lead singer/ rapper Fred Durst hasn't released anything new since 2011. Lots of shows on their 2018' German tour are sold out. In Dortmund, three years after their last gig at Westfalenhalle, there were approx. 9,000 people. Before the "Heroes of Nu Metal" entered the stage we weren't that much entertained by a spooky support act.
Blvck Ceiling

Daniel Cuccia, whose stage name is Daniel Ocean, regularly puts out electronic music. The guy from Spokane, Washington (USA) has released numerous albums, singles and EPs since 2011. www.facebook.com/pg/blvckceiling
Music& Performance

A guy behind a laptop, wearing a ski mask, playing some instrumental mid-tempo tunes between House, Electro, and Ambient. And that's it. No interaction, no real songs, nearly no light. No one seemed to understand why LIMP BIZKIT chose
BLVCK CEILING
to open. But hey, they seem to like to do it that way. Remember 2011 when Dutch rap-crew DOPE D.O.D. opened and was booed out of the building? After 25 minutes the "show" was over.
Rating

Music: 4
Performance: 0
Sound: 8
Light: 1
Total: 3 / 10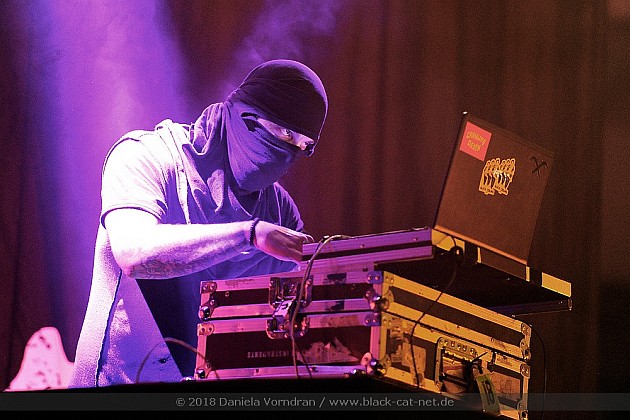 Limp Bizkit

LIMP BIZKIT
formed in Jacksonville (USA) in 1994, and became immensely famous during the 90ies. They released tracks such as the immensely energetic 'Rollin' (Air raid vehicle)', or the obnoxious 'Behind blue Eyes', which also made it into the charts. For a three year-period from 2006 until 2009 the band went into a hiatus. In 2011 the band released the album 'Gold Cobra', which represented a first life sign after all these years. Currently, they are working on new songs. www.limpbizkit.com / www.facebook.com/limpbizkit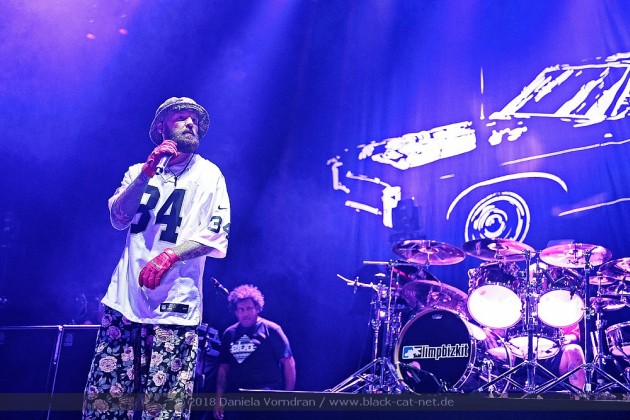 Music& Performance

All killer, no filler, no new material! In fact, LIMP BIZKIT didn't even play songs from their latest album. The setlist was full packed with tracks from 'Significant Other', 'Chocolate Starfish And The Hot Dog Flavoured Water' and some covers. Unfortunately the Florida natives - this time without their bass player Sam Rivers, who is actually dealing with serious back pain - chose some of the most worn out songs of rock music history. Who really wants to see Fred Durst turning into Kurt Cobain (Smells Like Teen Spirit, Heart-Shaped Box) or - even worse - Zack de la Rocha (Killing In The Name…)? But that's the only negative point one can say about this gig. The sound of a whole generation pumped out of the boxes and sounded fresh as ever, the audience completely freaked out and Durst thanked them a thousand times for being that energetic.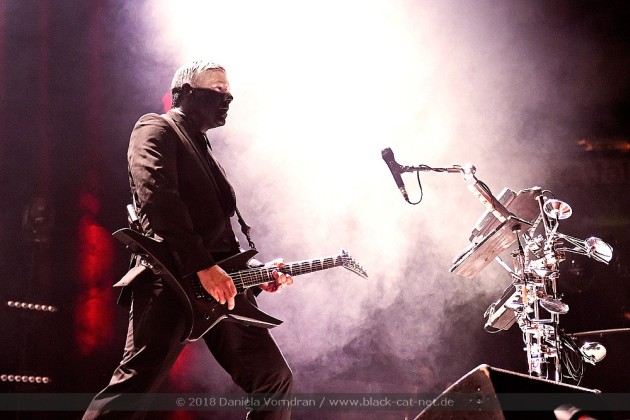 But let's make one thing clear: If you don't want to jump around to the tight drumming of John Otto and the sharp riffs of Wes Borland, you're probably dead… or older than 45 years. The absolute highlight of a well entertaining 85-minute-gig happened before 'Chocolate Starfish' hit-single 'My Way'. Borland spotted a fan holding up a sign with the words "Wes, let me please play My Way". To the surprise of everyone, the band put the young man up on stage. Borland took over the mic and gave his guitar to the unknown guy. Probably the biggest moment of his life! He played the song without any notable mistakes and was allowed to witness the rest of the show at the side of the stage. A great move by some world-famous rock stars you don't get to see that often.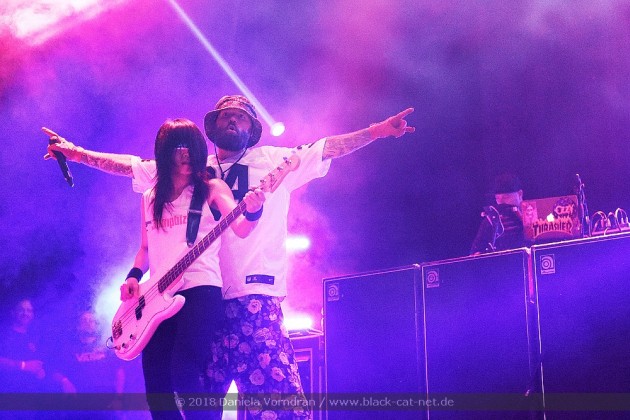 All in all, the "soft cookies" delivered an entertaining show that was absolutely worth the 50 bucks you had to pay. Hopefully they return soon, but then with new songs and without mediocre cover versions.
Setlist

01. Show Me What You Got
02. Hot Dog
03. Rollin' (Air Raid Vehicle)
04. Nookie (until second chorus)
05. Full Nelson
06. My Generation
07. Eat You Alive
08. Faith (George Michael cover)
09. Behind Blue Eyes (The Who cover) (until bridge)
10. My Way (with fan on guitar and Wes on vocals)
11. Boiler
12. Covers Medley (Master Of Puppets, Holy Wars, The Punishment Due, Cowboys From Hell)
13. Smells Like Teen Spirit / Heart-Shaped Box (Nirvana cover) (until first chorus each)
14. Killing in the Name (Rage Against the Machine cover)
15. Break Stuff
16. Take a Look Around
Rating

Music: 8
Performance: 9
Sound: 8
Light: 6
Total: 7.8 / 10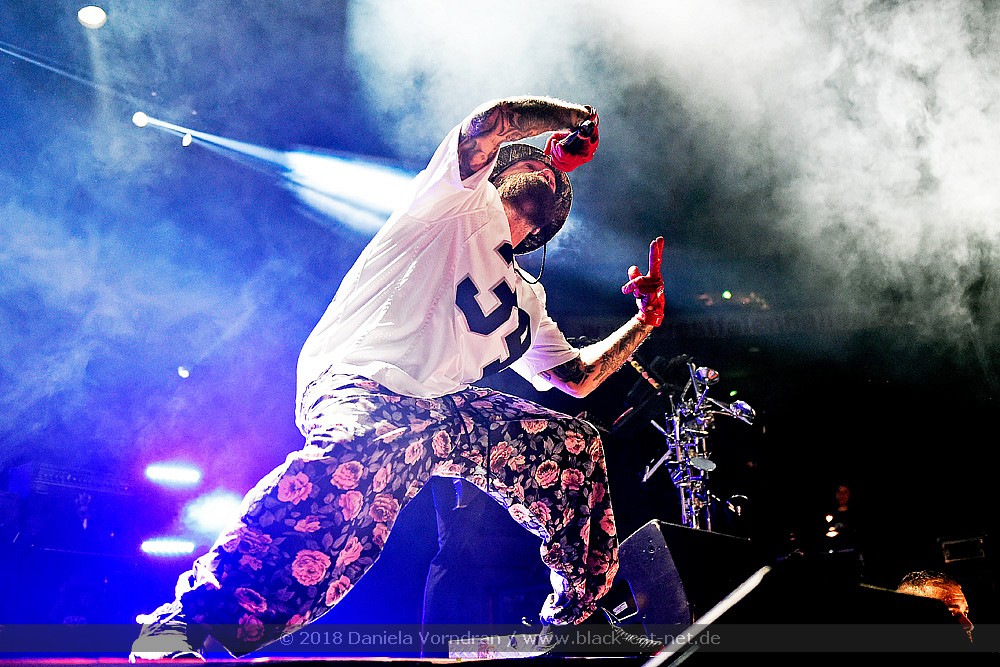 All pictures by Daniela Vorndran (
http://www.vorndranphotography.com
/
http://www.facebook.com/blackcatnet
)