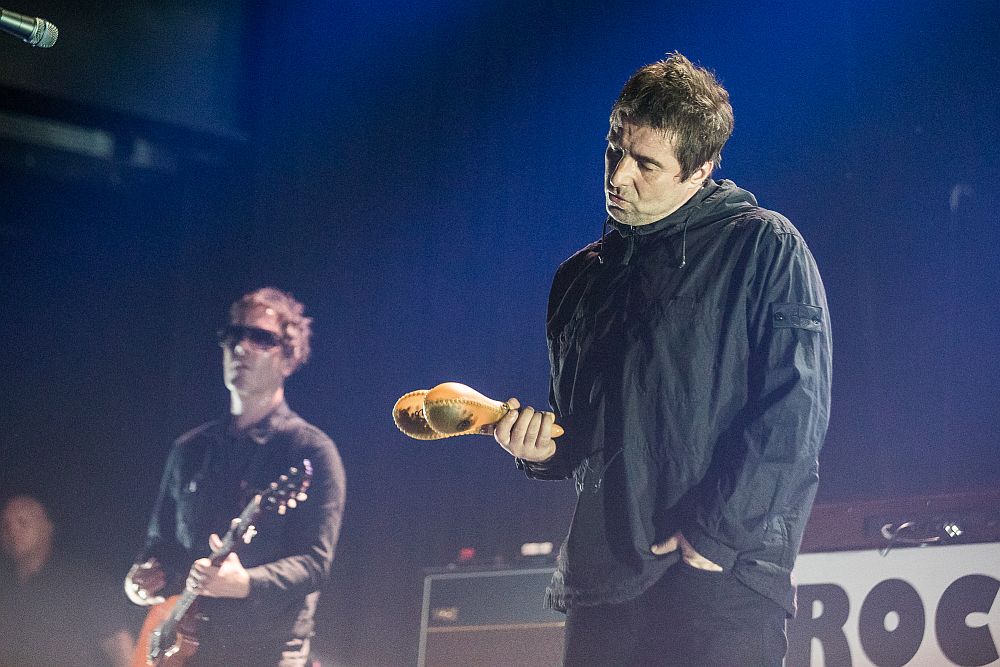 Palladium, Cologne, Germany
5th July 2018
Liam Gallagher - "As you were" European Tour 2018 - Special guest: The Sherlocks

LIAM GALLAGHER, the ex-Oasis singer, who identifies as William John Paul GALLAGHER at airports, certainly has earned his reputation for all sorts of eccentric behaviour over the decades. You most definitely do not get a lifelong ban for flying with Cathay Pacific for nicking peanuts.
However, in terms of music talent, Liam is certainly one of the most gifted singers, probably on par with JOHN LENNON, who Liam claims serves as THE musical influence for him. After the break-up of OASIS after Noel Gallagher's departure in 2008, Liam teamed up with the remaining band members and released a record under the band-name BEADY EYE in 2011. This venture was declared dead by Liam via his favourite social media outlet Twitter in 2014. In 2017 Liam did what he earlier claimed he would never do: releasing his first solo record titled 'As you were'. Luckily for fans, this also meant that he would embark on an extensive tour, which originally should have led him to Cologne four months ago in March. But the gig was cancelled at the last minute, as Liam claimed to have vocal problems. In this light, everyone was kind of relieved that the gig actually took place.
The Sherlocks

The formation
THE SHERLOCKS
from Sheffield took over the job as the opener for this evening. The four British lads formed in 2014 as a cover band and became an overnight social media sensation in the two years after they supported THE ENEMY. Their debut album from 2017 is called 'Live for the Moment', which they promoted by touring relentlessly and building a euphoric followership on the British Island. www.thesherlocksmusic.co.uk / https://www.facebook.com/TheSherlocksOfficial.
Music & Performance

At 8pm sharp, THE SHERLOCKS entered the stage of the Palladium, which - despite the sunny weather - was refreshingly well-tempered. They played 'Last night' from their debut album as an opener. The instrument set-up with VOX amps and Fender guitars could not have been more British. Also in terms of music, the SHERLOCKS offered an un-surprising, but refreshing update on the genre that became known as Brit-Pop has to offer. The band used their 30 minutes of playtime to give viewers a taste of their repertoire and to invite everyone to their upcoming gig in the Blue Shell, Cologne beginning of October.
Setlist

01. Last Night
02. Escapade
03. Will you be There?
04. Magic Man
05. Nobody Knows
06. Live for the Moment
07. Chasing Shadows
Rating

Music: 8
Performance: 7
Sound: 7
Light: 6
Total: 7 / 10
Liam Gallagher

It seemed like a lot of people who bought tickets for the originally sold-out date in March had trouble turning up for the replacement date, as the show was not sold-out, and lots of people had trouble finding buyers for their spare tickets in front of the venue. www.Liamgallagher.com / https://www.facebook.com/LiamgallagherOfficial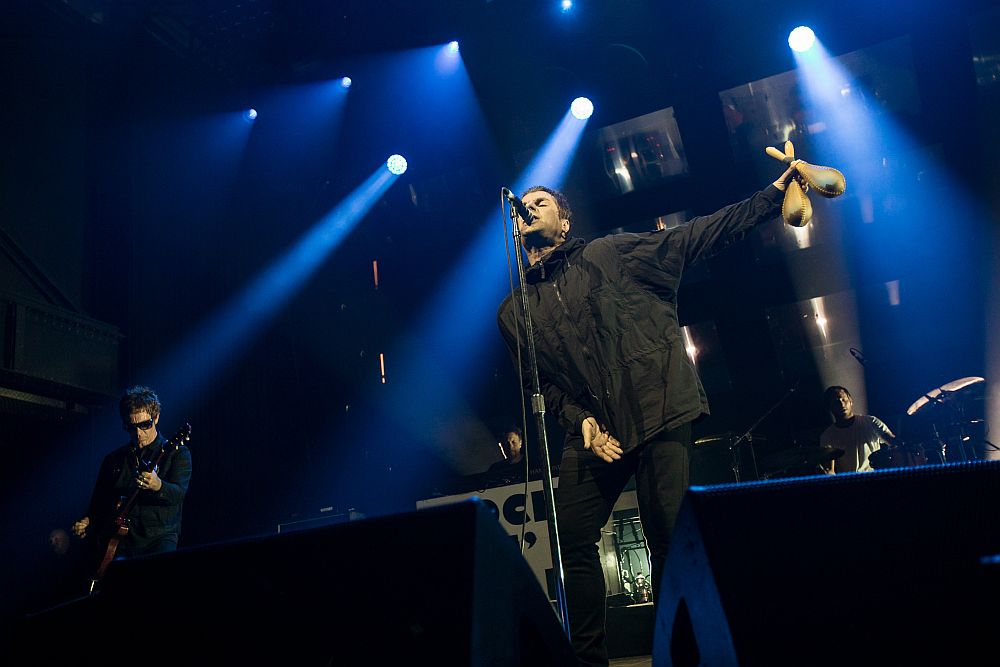 Music & Performance

After a rather normal stage break of thirty minutes,
LIAM GALLAGHER
and his four band mates went on stage around 9pm, but not before the 'Manchester City Champions Chant' and the OASIS song 'Fuckin' in the Bushes' were played from tape. At this point it became obvious that Liam had a lot of travelling fans from the UK with him, who sang those two introductory songs from the bottom of their hearts, even if they were only played from tape. The first "real" song then was the iconic OASIS cover 'Rock n' Roll Star', which got the crowd fired-up immediately. Anyway, a look on the setlist revealed that roughly two-thirds of the songs played on that evening were from the legendary times, when Noel still wrote songs for Liam. The crowd obviously did not mind at all, as each well-known song raised the party level by a notch or two, which could be observed by the number of filled beer cups sent flying into the air. But also Liam's solo songs were well-received.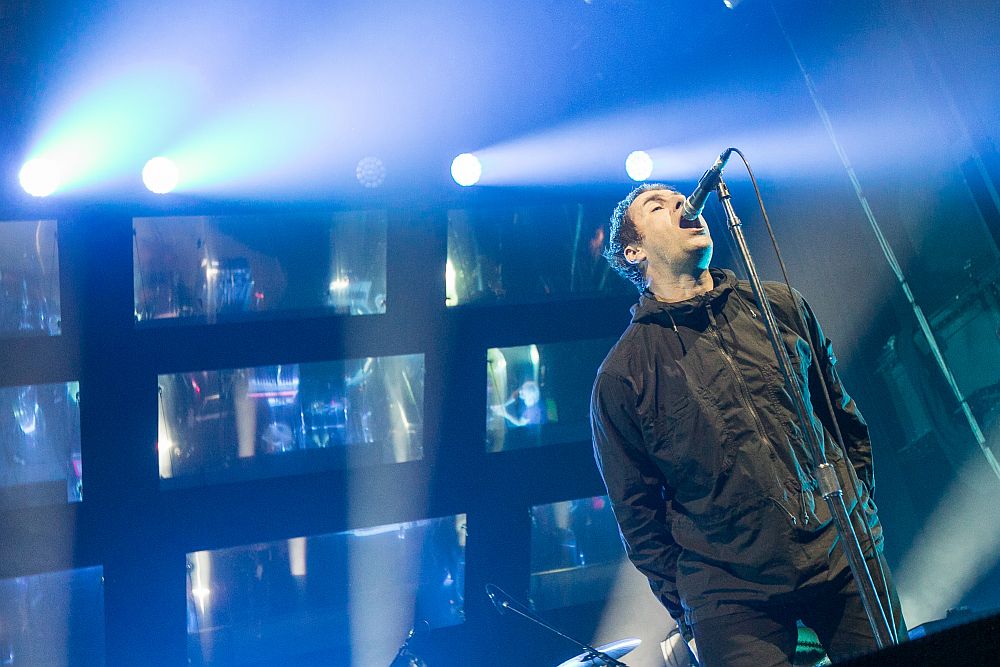 In between the song breaks the crowd alternated between "Li-am, Li-am" and "Football's coming home" chants. Liam's interaction with the crowd were also rather friendly. At one point in time, he formally apologized for not being able to make it for the originally scheduled gig in March, and he also showed sensitivity to potentially hurt German feelings by asking "What the fuck happened in the World Cup, man?", which was met by more "Football's coming home"-chants by our British guests. All in all, it seemed to be a very good evening for Liam and his band. He never threatened to walk off the stage at any point - which is always a plus - during the first hour of the main set. And if there was some kind of contest between the Gallagher brothers who of the two could squeeze in more OASIS songs in their concerts, Liam would have won it by a mile. Steady chanting and clapping brought back the band for more.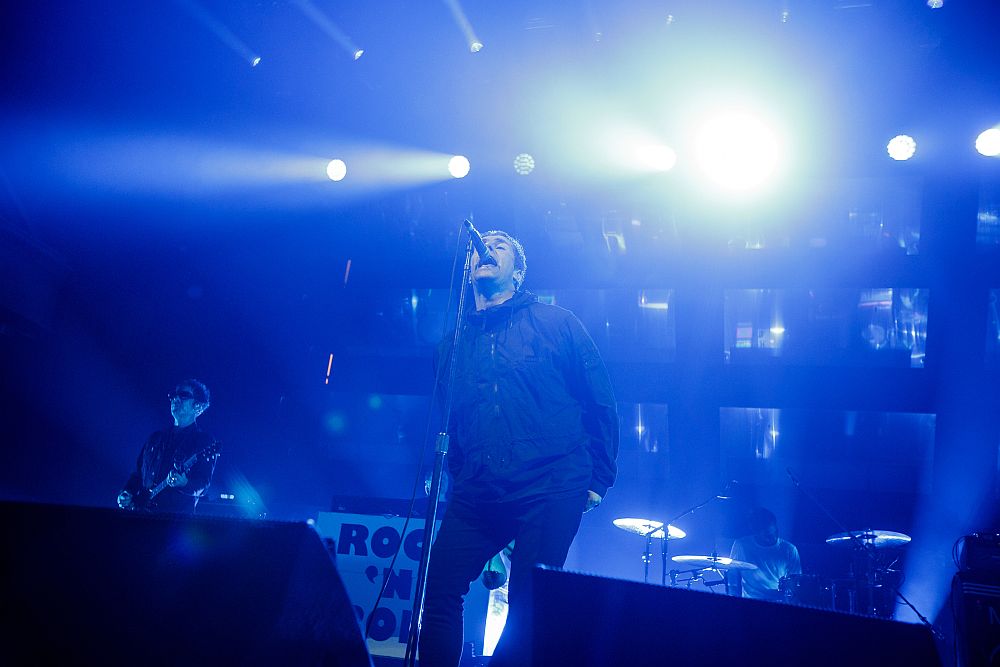 The five-song encore solely consisted of OASIS songs, of which the last two were performed in an intimate set-up with drums and an acoustic guitar, which underscored the indisputable vocal qualities of that night's protagonist. After 80 minutes of playtime the virtual curtain fell, the band said good night, and all the spectators went home with the warm feeling of having witnessed a truly remarkable performance. And even Liam attested via Twitter that Cologne was "in the zone tonight", so everyone had their reasons to be happy.
Setlist

01. Manchester City Champions Chant (from tape)
02. Fuckin' in the Bushes (Oasis song) (from tape)
03. Rock 'n' Roll Star (Oasis song)
04. Morning Glory (Oasis song)
05. Greedy Soul
06. Wall of Glass
07. Bold
08. For What It's Worth
09. Bring It on Down (Oasis song)
10. Listen Up (Oasis song)
11. Slide Away (Oasis song)
12. I've All I Need
13. You Better Run
14. Whatever (Oasis song)
---
15. Supersonic (Oasis song)
16. Some Might Say (Oasis song)
17. Cigarettes & Alcohol (Oasis song)
18. D'Yer Wanna Be a Spaceman? (Oasis song) (acoustic)
19. Live Forever (Oasis song) (acoustic)
Rating

Music: 8
Performance: 7
Sound: 8
Light: 7
Total: 8 / 10
All Pictures by Rainer Keuenhof