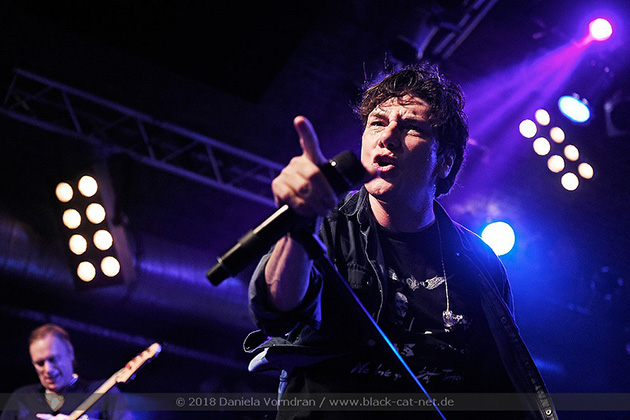 Matrix, Bochum, Germany
6th August 2018
Mr Big & Fozzy

After some festival performances Mr Big also played 2 club shows in Germany. In Bochum and Aschaffenburg. I was sure beside songs of the last album, 'Defying Gravity', they will also play many of their hits again. I'm sure no one was disappointed at all and a fantastic show expected us once again.
Fozzy

FOZZY has always been about one thing: bringing good times back to rock and roll. In every incarnation of the band from the Mongoose McQueen era to the present day, Chris Jericho and Rich Ward have been rocking the socks of fans all over the world, reminding all who see them that rock and roll is about invoking dirty, sweaty, loud, spandex-clad jubilation. Ward is one of the most versatile, underrated riffers in Rock and Metal, and has been since being a founding member of STUCK MOJO, a band still known as being one of the innovators of the Rap Metal genre. In 2000, Chris Jericho, already known the world over for his legendary professional wrestling career, sat in on a few FOZZY sessions before becoming a permanent FOZZY fixture at lead singer. FOZZY inched up the metal ladder (Jericho knows a thing or two about ladders) after releasing four progressively popular studio albums.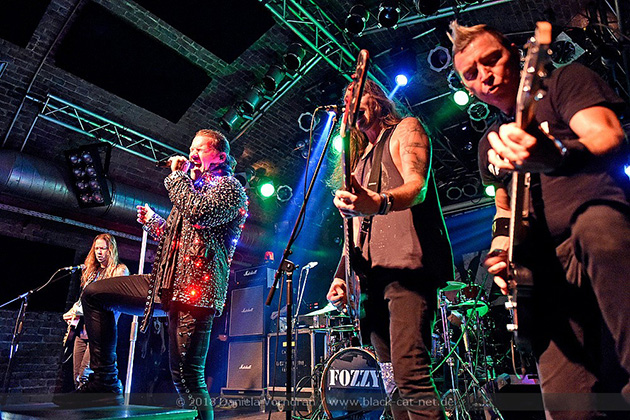 It was 2012's 'Sin & Bones', which featured the single 'Sandpaper', that found the band reaching a level of legitimacy that allowed a mass audience to drink in the Hardcore, heavenly noise they bring to Rock's supper. 'Sin & Bones' eventually reached #143 on the Billboard Top 200 Chart. In promotion of the album, FOZZY would tour with rock giants such as METALLICA, SHINEDOWN, AVENGED SEVENFOLD and British metal legends SAXON. Now, FOZZY has their sights set on their "Judas Rising" Tour, which kicked off in Virginia Beach, VA on May 5. Fans will get to bang their heads to the hit 'Judas', which hit #1 on the iTunes Metal Chart and #5 on the iTunes Rock Chart, along with their newest release 'Drinking with Jesus'. http://www.fozzyrock.com / https://www.facebook.com/FozzyRock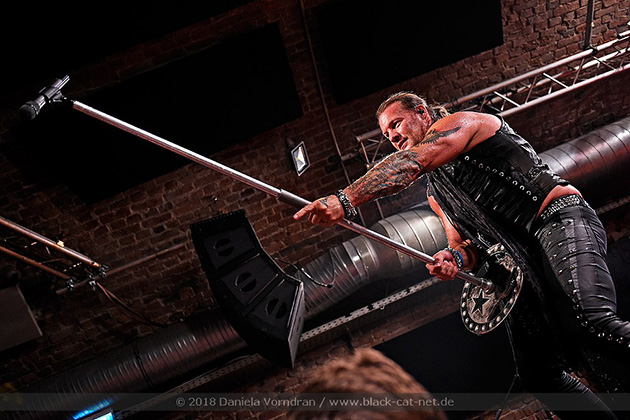 Music & Performance

If we thought that it was hot in the Matrix already - FOZZY came out and made everyone sweating still more. Their own fan base was there and the whole atmosphere was just fabulous from the beginning. FOZZY opened with the title track of their recent album, 'Judas', and now it was all about celebrating Rock and Roll and having a good time. One of the guitarist jumped already into the crowd at the second song and within the song 'Burn me out' the band let some fans come up on stage to sing and rock with them together. The audience was in the middle of a big party. Between the songs they shouted: FOZZY! FOZZY! FOZZY! Singer Chris also took the fog machine and so even more good air if there was still a little bit left. FOZZY showed they are a great live band and they love to entertain. Maybe there will follow a tour as headliner soon?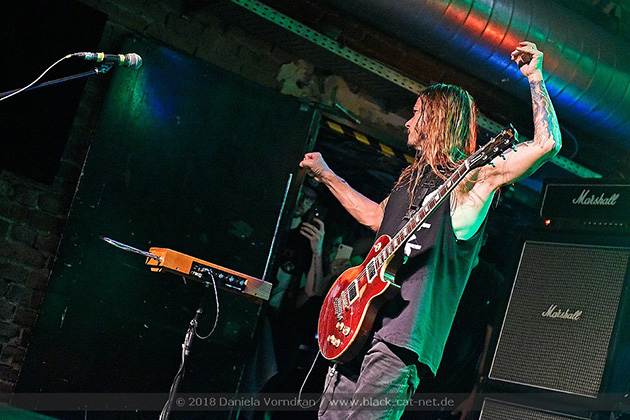 Setlist

01. Judas
02. Drinking With Jesus
03. Burn Me Out
04. Painless
05. Elevator
06. Do You Wanna Start A War
07. Lights Go Out
08. Bad Tattoo
09. Sandpaper
Rating

Music: 8
Performance: 8
Sound: 5
Light: 8
Total: 7.8 / 10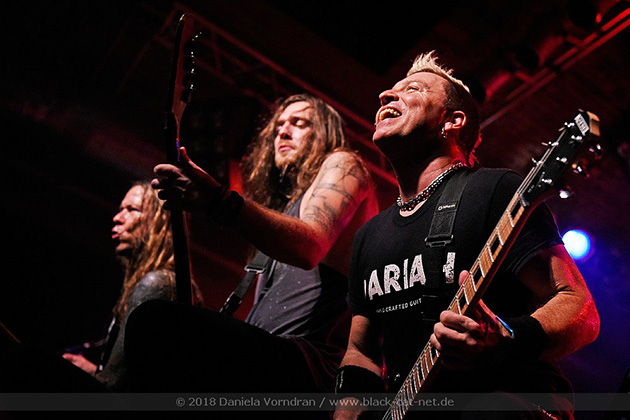 Mr Big

MR. BIG is an American Hard Rock super group formed in
L
os Angeles in 1988. The band was originally composed of Eric Martin (lead vocals), Paul Gilbert (guitar), Billy Sheehan (bass guitar) and Pat Torpey (drums & percussion). Their songs are often marked by strong vocals and vocal harmonies. Their hits include 'To Be With You' (a number-one single in 15 countries in 1992) and 'Just Take My Heart'. MR. BIG have remained active and popular for over two decades, despite internal conflicts and changing music trends. They broke up in 2002, but after requests from fans they reunited in 2009; their first post-reunion tour was in Japan in June 2009.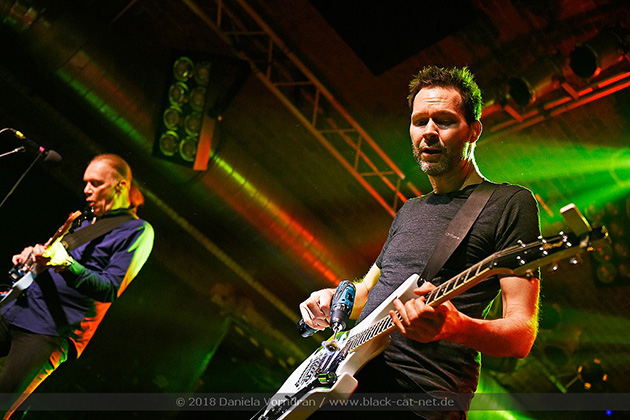 To date, MR. BIG have released nine studio albums the latest being 'Defying Gravity'. This latest album was recorded in Los Angeles in six days and released on 21st 2017. Matt Starr recorded the drum tracks, while Pat Torpey acted as "drum producer". The saddest day in their history and friendship - on 7th February 2018 drummer Pat Torpey died from complications of Parkinson's disease at the age of 64. His last show took place at the Wulfrun Hall in Wolverhamton on 23rd November, 2017. http://www.mrbigsite.com / https://www.facebook.com/mrbigmusic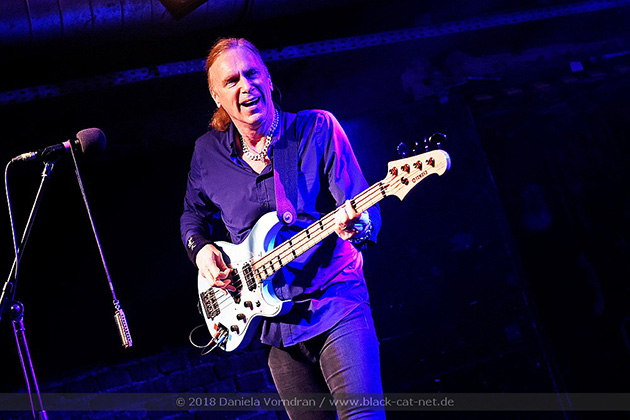 Music & Performance

Hot, hotter, MR BIG. There was no time, no strength and air to waste. The crowd was ready for the lads and they started straight away with their electric drill song 'Daddy, Brother, Lover, Little Boy'. Of course Billy and Paul used also drills again to play their bass and guitar. Eric was wearing a t-shirt with a picture of Pat Torpey as memory and to show that Pat is and will be always with them. Later Billy said they have booked all the dates when Pat was still there. And sure he would have loved this tour and the fans miss him as well. Behind the drums was now Matt Starr who recorded already the drum tracks for the last album. Eric was always in touch with the audience. He talked with people or made grimaces and he had always something to say before the next song started. The first "sing-along" was already very early with 'Just take my heart'. Of course Paul and Billy had their solos. Sometimes they fight a duel and while 'Price You Gotta Pay' Eric stood behind Billy to play his bass while Billy was playing the harmonica.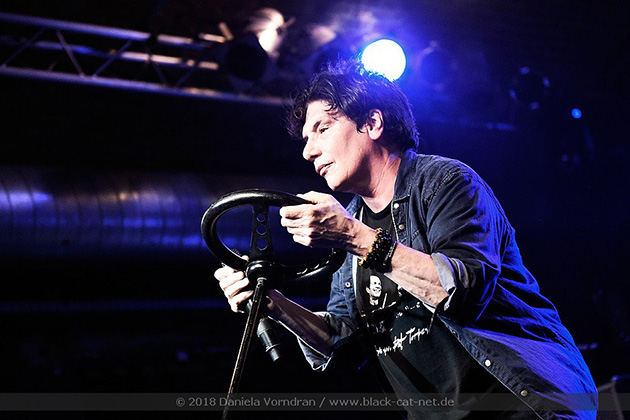 They played a quite good mix of songs and of course the other two sing-alongs 'Wild World' and 'To Be With You' weren't missed. MR BIG shows are always full of energy and quality. Their music and Eric's rough and powerful voice is that special combination. It was over too soon and if you love Hard Rock and you haven't seen MR BIG live yet, make sure to take the next chance.
Setlist

01. Daddy, Brother, Lover, Little Boy
02. Rock & Roll Over
03. Alive And Kickin'
04. Just Take My Heart
05. Take Cover
06. Green-Tinted Sixties Mind
07. Everybody Needs A Little Trouble
08. Price You Gotta Pay
09. Paul Gilbert Guitar Solo
10. Open Your Eyes
11. Wild World
12. Undertow
13. Around The World
14. Billy Sheehan Bass Solo
15. Addicted To That Rush
16. To Be With You
---
17. Colorado Bulldog
Rating

Music: 10
Performance: 9
Sound: 5
Light: 8
Total: 8 / 10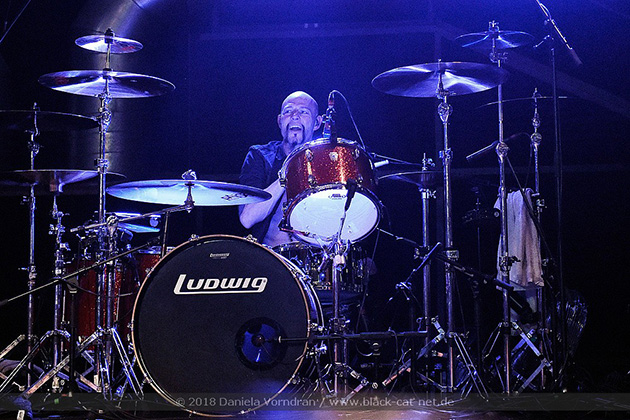 All pictures by Daniela Vorndran (
http://www.vorndranphotography.com
/
http://www.facebook.com/blackcatnet
)