Lahti Energia Event Park, Lahti, Finland
21st July 2018
Nightwish, Timo Rautiainen & Trio Niskalaukaus, Beast in Black

"You are warmly welcome" - said the accreditation approval from Nelonen Media. By arriving at the Mokkula Open Air aka NIGHTWISH summer gig, one of only two Finnish dates of the band, I realized all the deep meaning of these words. It was extremely humid and warm, with a real probability of thunderstorm. Of course, it is not something that organizers could influence.
The bet was to get 15,000 people to the concert, an audience that exceeds many full-fledged open-airs, be there Finland or Germany. The event was not sold-out, but nevertheless, the area was really crowded. NIGHTWISH is a number one cultural export of Finland, and as it is not an extreme music (in fact you can hear it on a bus or in a local McDonalds) it gathered many people starting from early teenagers to the spectators of retirement age. The event area was partially covered by grass, so people made the picnic set-ups, lying blankets and standing there throughout the gig. The area was beautiful - VIP section got access to a water shore with pretty Finnish landscape.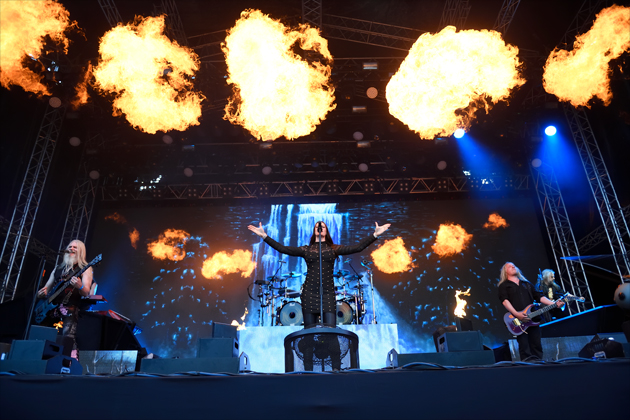 Beast in Black

The opening act was BEAST IN BLACK, an up and coming offspring of BATTLE BEAST (a profound example of name migration here) - that plays energetic Power Metal with connotations to NIGHTWISH's style. High-pitched vocals of Yannis Papadopoulos together with really catchy songs are very much spot on - no wonder that the band is not a first-time opener for NIGHTWISH and generally is doing really good, playing large stages of major festivals throughout Finland. A well-made music and well-rehearsed movements on stage! Too bad they had about half an hour only.
Rating

Music: 8
Performance: 8
Sound: 8
Light: 6
Total: 7.5 / 10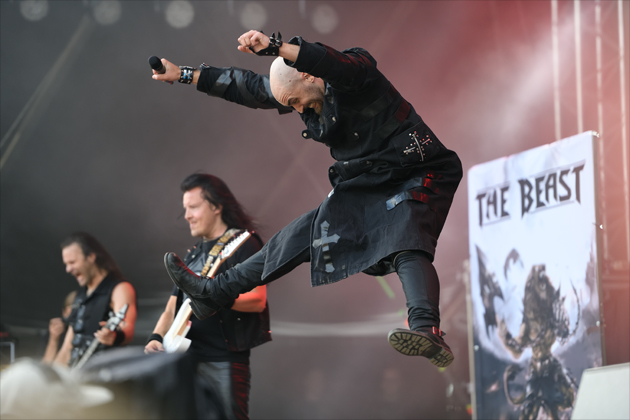 Timo Rautiainen & Trio Niskalaukaus

TIMO RAUTIAINEN & TRIO NISKALAUKAUS was the second warm-up. While Wikipedia claims that the band made Finnish Metal mainstream, to me it remains a typical Finnish Rock band mainly perceived by locals. Their lyrics are devoted to tragic Finnish events and sometimes touch social issues such as ecology and global warming. While some reaction followed from the crowd, it was not really overwhelmingly huge. The band actually was on an eleven-year year hiatus / breakup and came back in 2017 with some new material, hence the large touring in this summer.
Rating

Music: 6
Performance: 6
Sound: 6
Light: 6
Total: 6 / 10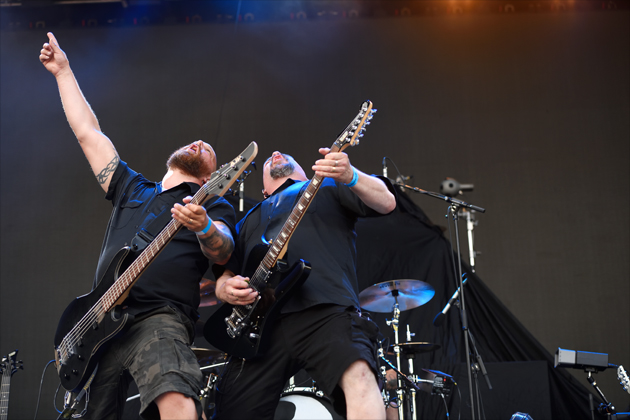 Nightwish

NIGHTWISH usually does not capitalize much on personal performance: the mastermind Tuomas Holopainen never leaves his keyboard stand deep in the stage, the singer Floor Jansen is also not moving too much, and the show is mainly stolen by the ever-charismatic bass player Marco Hietala. Besides, having a football field worth of spectators, the show heavy relies on a huge video wall and on massive fire effects. The last album ('The endless forms most beautiful') was released in 2015, and the band seems totally fine touring with it up until now. The current tour is called "Decades", likely referring to the setlist that is composed of the early songs such as 'Elvenpath' (from 1997) or 'Wish I Had an Angel' (circa 2004). While it is rather difficult to approach opera sound that Tarja Turunen delivered, the band makes here a certain point by including these old favourites. It is perceived as a message of integrity and confidence.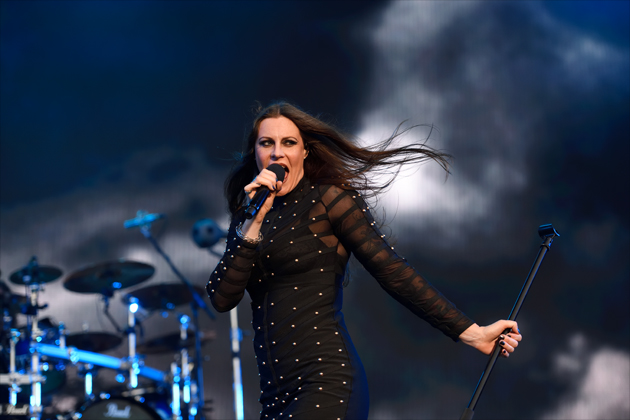 Demonstrating Finnish scene roots and more connections to the past days, NIGHTWISH recruited a couple guests. First was Tapio Wilska, a former stage technician of NIGHTWISH in the early days, who was performing dark vocals on 'Oceanborn' (1998). He was a musician in several Metal bands, most notably FINNTROLL, and made few more appearances on NIGHTWISH songs; he also had connections with Timo Rautiainen's band so apparently he should have felt at home. Another guest was the well-known accordion player, ever cheerful Netta Skog, of TURISAS and ENSIFERUM past, who joined for 'Wishmaster' part. The musician left ENSIFERUM about half-year ago and presently doing some solo shows. Following by countless pyro effects through the entire show, prolonged fireworks concluded the set.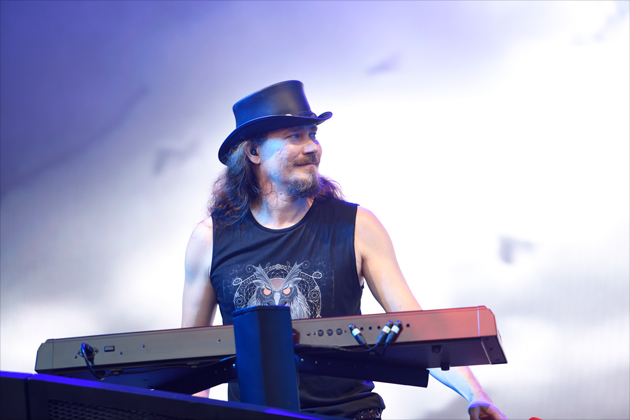 Setlist

01. Intro (Swanheart performed by Troy Donockley)
02. End of All Hope
03. Wish I Had an Angel
04. 10th Man Down (with Tapio Wilska)
05. Come Cover Me
06. Gethsemane
07. Élan
08. Sacrament of Wilderness
09. Deep Silent Complete
10. Dead Boy's Poem
11. Elvenjig ([traditional] cover)
12. Elvenpath
13. I Want My Tears Back
14. Wishmaster (with Netta Skog)
15. The Carpenter
16. The Kinslayer
17. Devil & the Deep Dark Ocean (with Tapio Wilska)
18. Nemo
19. Slaying the Dreamer
20. The Greatest Show on Earth (Chapter I: Four Point Six; Chapter II: Life; Chapter III: The Toolmaker)
21. Ghost Love Score
22. The Greatest Show on Earth (Chapter IV: The Understanding; Chapter V: Sea-Worn Driftwood)
Rating

Music: 9
Performance: 8
Sound: 9
Light: 9
Total: 8.8 / 10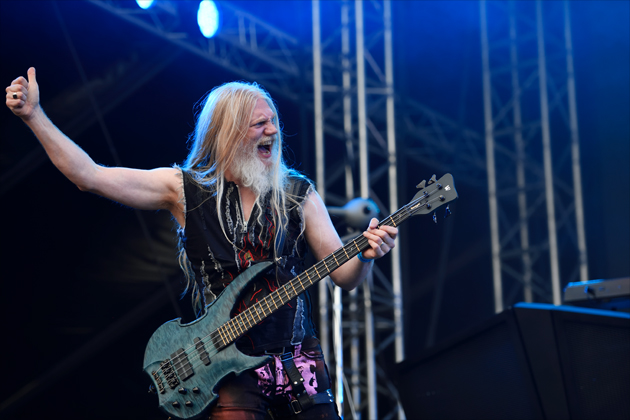 At the end, a couple words about the organization. The humid weather was out of control, but what organizers could the influence is the logistics. It was easy to get to Lahti from Helsinki by a one-hour drive. What was difficult is to get to the gig once the car got parked. Shuttle-buses were promised frequently from the Lahti's main square, but for 30 minutes we saw only one bus, that was letting people in quite slowly (as the driver had to collect money from everyone). Said 30 minutes were spent lining up for a taxi. Lahti is a small, not very fast-paced place, and a favourite of capital area artists for its cheaper venues and good vicinity to Helsinki. Luckily, when many thousand people went back from the gig, a lucky coincidence with a bus happened - otherwise, it would be entirely clear whether the pedestrian trip is required (not a big fun after a long day). The area has insufficient parking places and the promised bus services were really not enough. Part of the first band was missed completely, and I would expect that people who arrived about an hour before the first band started could only take a bus for the second band time. Something to work on…
All pictures by Askar Ibragimov