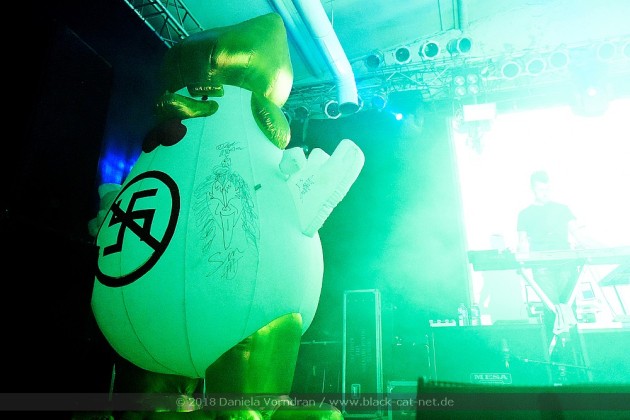 Essigfabrik, Cologne, Germany
14th August 2018
Ministry - "Amerikkkant" European Tour 2018 - Special Guests: Grave Pleasures

The legendary Industrial Metal pioneers MINISTRY were scheduled to play a headline show at the cosy venue Essigfabrik in Cologne in between their festival appearances as part of their tour promoting the new album 'Amerikkkant'.
Grave Pleasures

It seems like a lot of people have seen MINISTRY on festivals this year, such as the M'era Luna or Alcatraz on the weekend before. Thus, not as many people as expected seemed to have felt the need to buy a ticket for their headliner tour stop in Cologne, as the Essigfabrik was far from sold-out. Support act GRAVE PLEASURES were up first on the ticket. GRAVE PLEASURES are a Finnish Post-Punk / Rock band from Helsinki, which emerged from the break-up of another band called BEASTMILK in 2015. GRAVE PLEASURES have released two studio albums so far, of which the last one is called 'Motherblood', which has been released in 2017. https://www.facebook.com/gravepleasvres / www.gravepleasures.com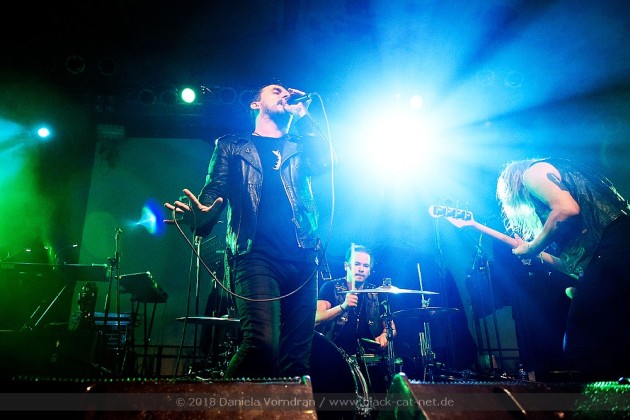 Music & Performance

Shortly before 8pm, the band entered the stage of the Essigfabrik accompanied by an Industrial-sounding intro, and immediately kicked off their set with the song 'Infatuation Overkill' from their most recent album. The classic five-piece band had a little trouble staying out of each other's way due to the confined space of the Essigfabrik stage. When GRAVE PLEASURES began playing, the venue was still half-empty, but over the course of the 30-minute set, more and more people arrived to listen to their set. Their music might be for you if you are into Punk Rock but can also handle a little more complex rhythm patterns than your average BAD RELIGION song. However, the majority of people seemed to have come to have their ass kicked in a harsher way, so not too many people seemed to click with the band, and the applause was more on the polite side of the spectrum.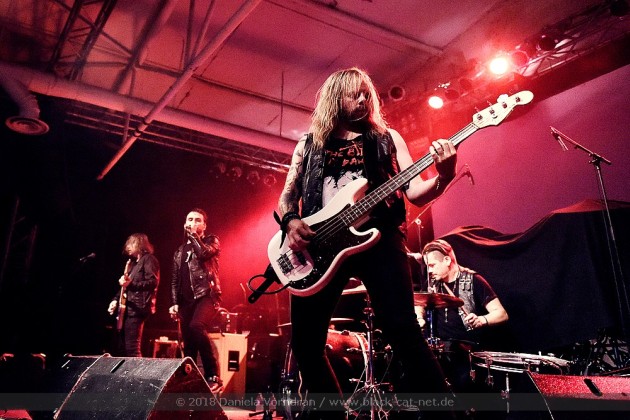 Setlist

01. Infatuation Overkill
02. Doomsday Rainbows
03. Fear your Mind
04. Laughing Abyss
05. Mind Intruder
06. Genocidal Crush
07. Haunted Afterlife
08. Deadenders
09. Joy through Death
10. Death reflects us
Rating

Music: 6
Performance: 7
Sound: 7
Light: 6
Total: 6.5 / 10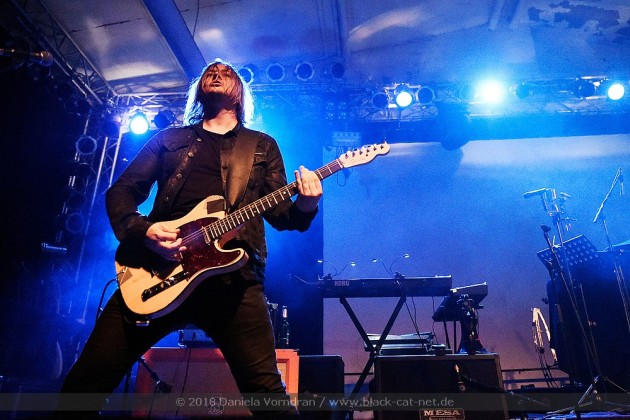 Ministry

Industrial Metal band MINISTRY has been founded in Chicago beginning of the 80ies by Al Jourgensen. Over the almost four decades of their existence, Al is the only constant member of the band, acting as singer, producer, songwriter and instrumentalist, releasing a total of 14 studio albums in the process. MINISTRY were immensely successful with their first three studio albums beginning of the 90ies. The band dissolved in 2008, but re-united in 2011. Since then, Al Jourgensen and his musician friends have released three more albums. The last is called 'AmeriKKKant' and contains a vicious and blistering criticism of America since the election of November 2016. www.ministryband.com / https://www.facebook.com/WeAreMinistry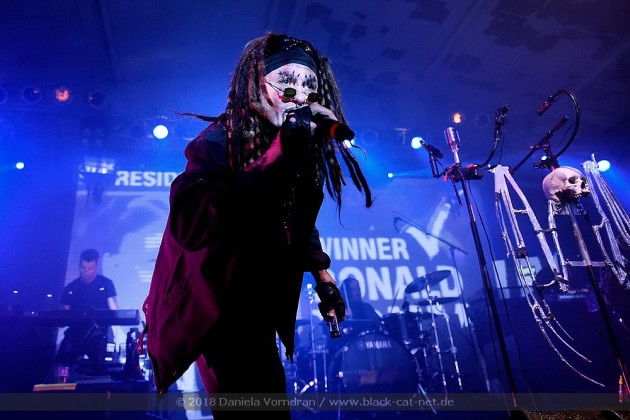 Music & Performance

During the change-over it became clear that this would not be your typical Rock show. Most of the stage space was taken up by a huge drum set and two keyboard / DJ Stations, as well as two blow-up Trump chickens with anti-Nazi symbols, situated at each side of the stage. A quarter past 9pm, Al and his six musicians entered the stage, and started to perform first 'Twilight Zone' and the 'Victims of a Clown' from MINISTRY's latest album 'Amerikkkant'. Al Jourgensen behind his giant micro stand with four different microphones sporting his slim sunglasses looked like a much angrier version of Whoopi Goldberg. During the song, distorted video footage of Trump was projected all over the place onto a giant screen in the back, which made it utterly clear that MINISTRY are not big fans of president no. 45.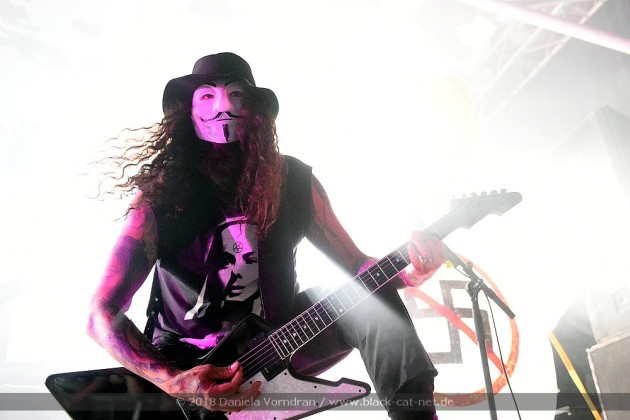 The next song, 'Punch in the Face', saw a lot of rough treatment of the Trump chickens, which Al repeatedly tried to kick off the stage. In the wake of the song 'Señor Peligro' Al addressed the subject of immigration, reminding everyone that "we are just humans". This was a comforting and unifying message, despite all the blistering political criticism of the current state of American affairs. This become even more evident during the song 'Antifa', during which two guys dressed in the uniform of autonomous groups went on stage, waving the characteristic Antifa flags. More than an hour into the set, Al announced to the clamouring crowd that now it was time for some "old shit". 'Just One Fix' contains one of the band's best guitar riffs and is what old-school fans have been waiting for all night from Ministry's most popular album, 1992's 'Psalm 69: The Way to Succeed and the Way to Suck Eggs'.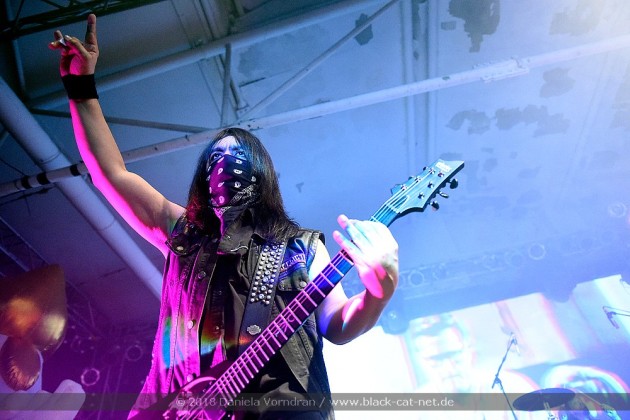 This gem from the distant past was followed by 'N.W.O.' from the same album and kept the fierce mosh pit going. After that, it went even further back in history to 1989 with the song 'Thieves' from the ground-breaking album 'The Mind is a Terrible Thing to Taste'. With 'So what', MINISTRY closed the main part of the set, only to reappear a few minutes later for a two-song encore, which - besides the much longed for hit 'Psalm 69' - contained the 'Matrix' soundtrack outtake 'Bad Blood'. All in all, MINISTRY have provided a good 90 minutes of politically charged musical education, which underscores their relevance also in their fourth decade of existence.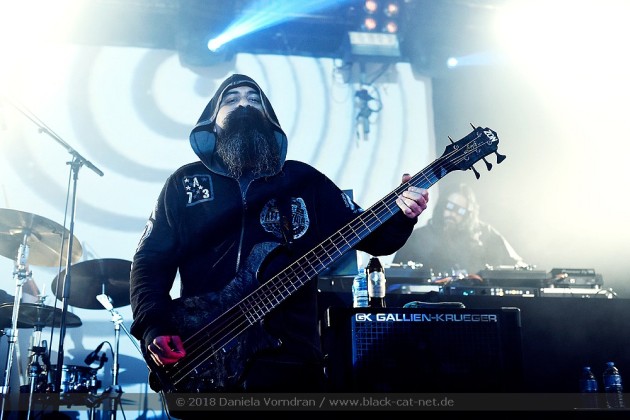 Setlist

01. Intro (Twilight Zone)
02. Victims of a Clown
03. Punch in the Face
04. Señor Peligro
05. Rio Grande Blood
06. LiesLiesLies
07. We're Tired of It
08. Wargasm
09. Antifa
10. Just One Fix
11. N.W.O.
12. Thieves
13. So What
---
14. Psalm 69
15. Bad Blood
Rating

Music: 8
Performance: 9
Sound: 8
Light: 7
Total: 8 / 10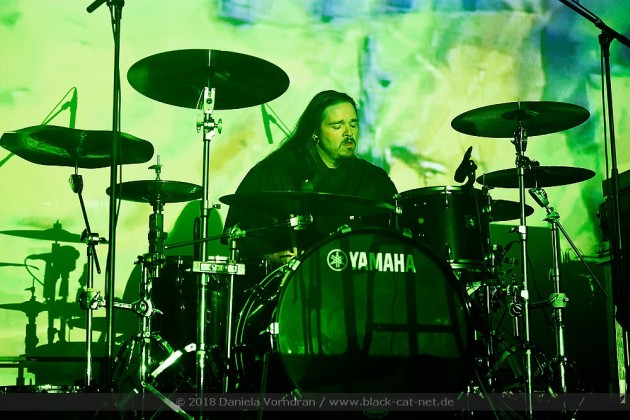 All pictures by Daniela Vorndran (
http://www.vorndranphotography.com
/
http://www.facebook.com/blackcatnet
)
See also (all categories):