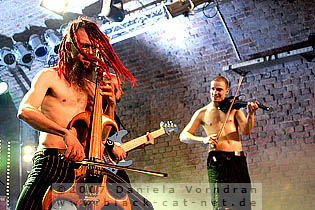 Matrix, Bochum, Germany
3rd April 2007
Letzte Instanz, Jesus on Extasy


3rd April of 2007 - a rainy and cold day… but it was to become one of the best nights I ever experienced. Reason for that: JESUS ON EXATSY and LETZTE INSTANZ live in concert at the Matrix in Bochum.
JESUS ON EXTASY



JESUS ON EXTASY

is a young band that was founded two years ago. They combine electronic sounds with the good old guitar. You could basically say that they play Industrial Rock. The band consists of four members – two guys and two girls: Dorian Deveraux (vocals, synths, samples), Chai Deveraux (
6-string, samples, synths, backing vocals, programming), Alicia Vayne (guitar) and Ophelia Dax (keyboard and synths). So, it's a good mixture. ;-)
http://jesusonextasy.com
/
http://www.myspace.com/jesusonextasy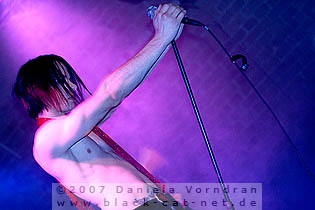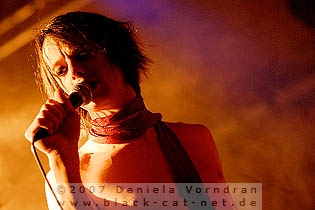 Music
The tracks of JESUS ON EXTASY were mixed really great because on one hand you had those typical industrial elements and on the other one, you had those heavy guitar riffs. If you bring them together, you have a mixture that explodes as soon as it touches your ears. The drug ecstasy is known to have an addictive action. And let me tell you, JESUS ON EXTASY does too. Only being the opener that night, they were not able to play additional songs but JESUS ON EXTASY knew how to deal with that problems. They just stopped a song right in the middle, turned of the lights and then, after the audience screamed for more, they just continued the song with the sentence "Hey! We're not done yet!" With the played tracks, they tried to show us how their debut album 'Holy Beauty' sounds like. They also played their first single 'Assassinate me', which was also remixed by well-known industrial heroes KMFDM. Only playing a couple of songs, they soon finished their concert after a great performance with excellent music.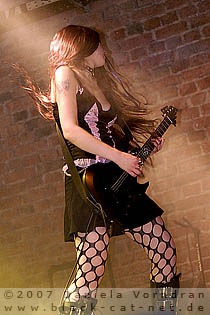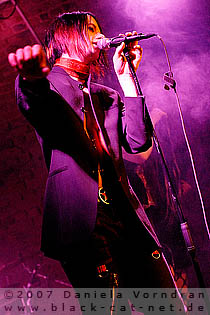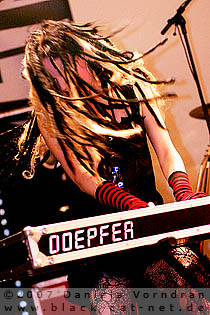 Performance
Waiting for only a couple of minutes, JESUS ON EXTASY soon came up on stage, looking as good as always. Dorian Deveraux, a.k.a. vocal X-tasy, was dressed with a shirt that later on, somehow, disappeared – screaming female fans inclusive. Chai, a.k.a. 6-string X-tasy, came up on stage, holding his 6-string guitar and with perfectly matching clothes to his hair. In the left corner of the stage, Ophelia Dax was standing. She is also known as Synthetic X-tasy. It wasn't hard to recognize her because she is one of the few female synth / keyboarder players that not only stand behind a big box but really is acting and having fun while playing her instrument. Last one on stage was Alicia Vayne, a.k.a. sinfully attractive guitar X-tasy. She always tried to play with the photographers and you could see that she had a lot of fun on stage.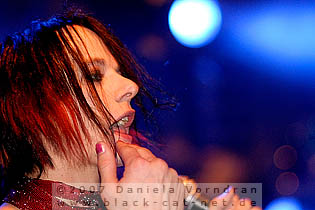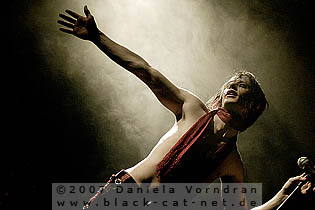 The band always tried to keep in touch with the fans by directly looking at them, shaking their hands and letting them sing into the microphone (which basically ended kind of strange because the female fan wasn't really a good singer ;-)).
Although, the majority of the audience came to see LETZTE INSTANZ, there is no doubt that they definitely got some new fans that night. Dorian wasn't only singing the tracks, he was also performing them, including that he acted like he was dying, even 2 times. The show was marked by a lot of fog which kind of gave a bad view to the whole concert. The light was really good for the Matrix and gave a touch of violet, blue and red.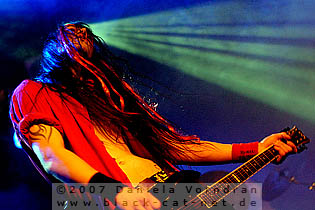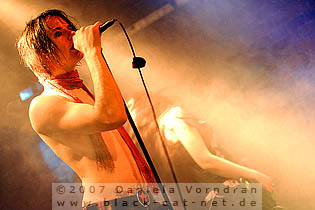 Setlist
01. Drowning
02. Nuclear Bitch
03. Assassinate Me
04. 2nd Skin
05. Alone
06. Nowhere Girl
07. Puppet
08. Holy Beauty
09. Neochrome


Rating

Music 9
Performance 8
Sound 9
Lights 8
Total 8.6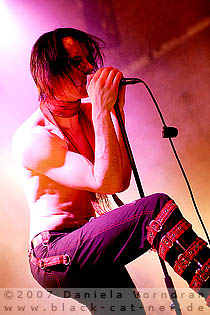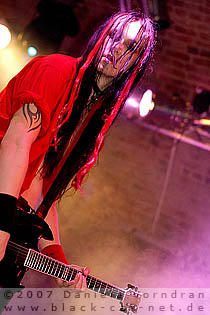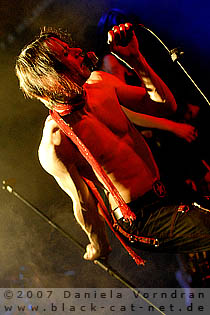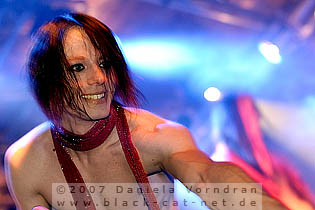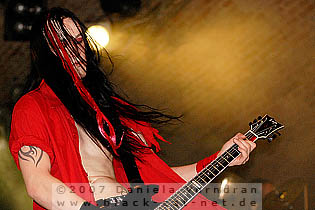 Letzte Instanz
These musicians have always been synonymous with movement, departures and courageousness, the line-up having changed several times before LETZTE INSTANZ got together in their current constellation in 2005. The line-up, consisting of artists from Saxonia, Bavaria and Berlin, is a novelty on the German music scene, last but not least due to their unusual composition, and together they are among the spearheads of the German rock music scene, relying not on short-lived trends but standing in the tradition of German-language musicians, striving for expression and independence. LETZTE INSTANZ have always opted for artistic independence and against flirting with commercial success. Last year's album 'Ins Licht' (into the light) proved impressively that they are on the right path. High chart positions, successful gigs, and towards the end of the year a tour alongside SCHANDMAUL proved that LETZTE INSTANZ are among the most popular and original acts on the German music landscape.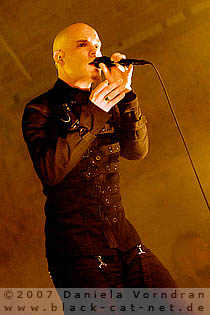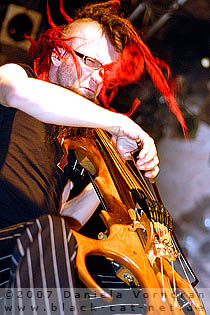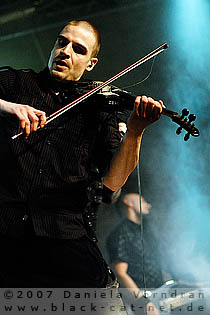 Now, they released their new CD 'Wir sind Gold' (we are gold). Many of the songs on it were written and composed during their 2006 autumn tour. This time, producer Sven Peks and guitarist Oli manned the controls, the band wanting to express their team spirit and leave nothing to coincidence. All band members were more involved in the recording process than ever before, which gave the cuts a very personal and individual note, also on the production level, so 'Wir sind Gold' reflects pretty much all those elements that constitute LETZTE INSTANZ live: friends who give all they got to create emotionally intense and beautiful moments! http://www.letzte-instanz.de/ / http://www.myspace.com/letzteinstanz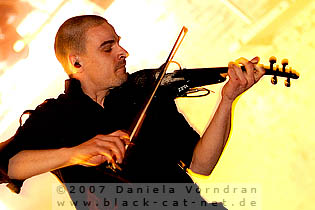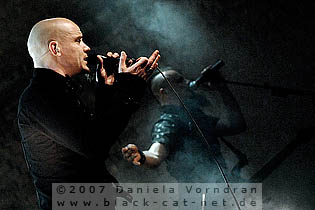 Music
LETZTE INSTANZ showed all their skills and delivered a feeling that was incredible. They didn't only play pieces of the new album but also some old famous ones like 'Das Stimmlein' (where the audience was a big part of with their singing and jumping) or 'Rapunzel' (which was definitely one of the best songs that night). They also played their new single 'Wir sind allein' (we are alone) which gave a good expression of the upcoming tracks of the new album.
Some solos of the violine and the guitar just perfected the music at this concert. After all, they played about two hours of the finest music I've ever heard. The mix of the cello, the violine, the bass and guitars, the drums and the stunning vocals completed the sounds to a music that development an atmosphere nobody could escape. They ended the concert with 'Sandmann', a song that couldn't even be more perfect for the last song to play. After all, their music was phenomenal and everybody wished it would have lasted even longer.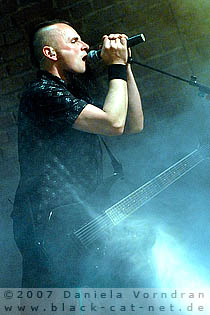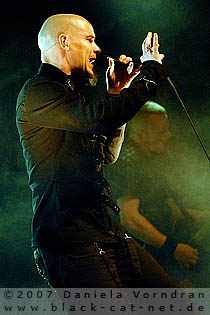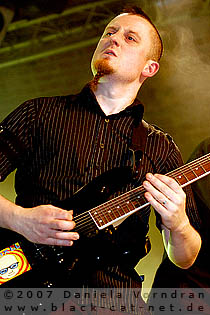 Performance
Front man Holly was the first one to enter the stage. He espeally tried to deliver what the songs he is singing are about with his facial expressions. And the fact that he doesn´t have any hair on this head (also known as bald head) only contributed to it. The second one was M.Stolz (violin). Usually guys playing a violine wear suits and are sitting on a chair without even moving one millimeter but in this case, we've got a happy guy who was jumping all over the stage playing his instrument (which he did really really well). Don't forget about B. Cellini, playing an instrument that matches to his name - the cello. He really gets your attention first of all with his cello which looks different than others because it's thin and wavy and just... different. The second thing about him you can't ignore - his hair. He has a short mohawk with long red dreadlocks. And he even got his own throne, so that everybody could see him. Now, the last members Oli (guitar), Holly D. (guitar), Specki T.D. (drums) and Micha (bass) finally entered the stage, completing the band.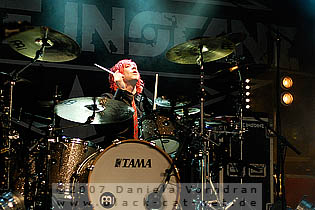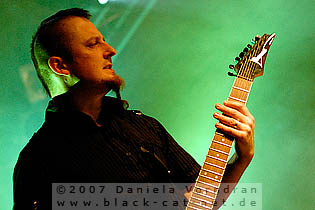 Rocking the stage they had the audience clapping their hands and singing their songs in one big choir. They even had them jumping to several songs. So, it actually was like a work-out that night. ;-) The band acted like they were on a playground - the stage. They delivered an awesome feeling to the whole room. And playing additional songs just made the concert even better. I guess, I wasn't the only one thinking they could have played another hour. ;-)
At one point of the show, they had the theme "Why do musicians masturbate?" but they really didn't get to a point where you could say they had an answer to that question. To defend the conversation they said that there won't be any underage people at this concerts. But guys, you forgot: at that time, the students had holidays and believe me, looking at the first row, there were some underage people at the show.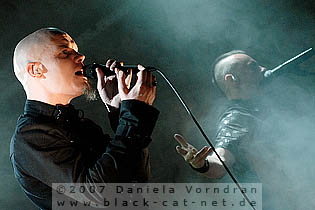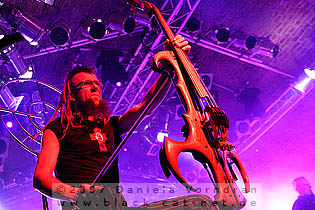 Setlist
01. Into + Du und Ich
02. Unerreicht
03. Sonne
04. Und das Meer
05. Sturmvogel
06. Der ewige Kreis
07. Das schönste Lied der Welt
08. Tanz
09. Maskenball
10. Worte brennen gut
11. Kopfkino
12. Frei
13. Morgenrot
14. Wir sind allein
15. Monument der Stille
16. Das Stimmlein
17. Ohne Dich
18. Rapunzel (Dein Kuss)
---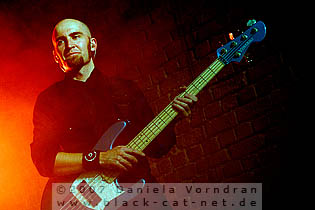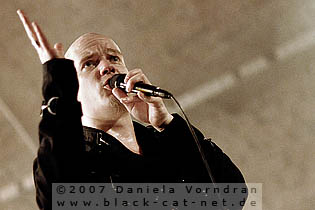 19. Sprachlos 2007
20. Jeden Morgen
21. Ganz oder gar nicht
22. Kalter Glanz
23. Mein Todestag
---
24. Für immer und ewig
25. Sandmann
Rating

Music 10
Performance 9
Sound 9
Lights 8
Total 9.3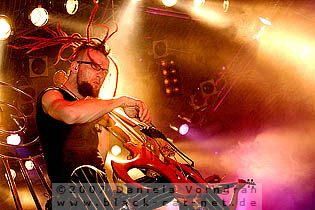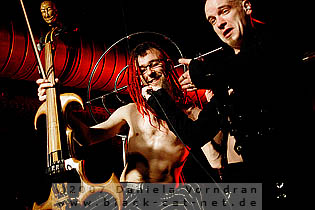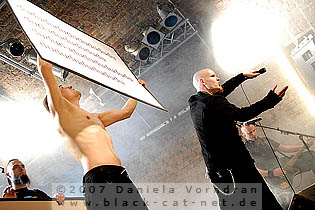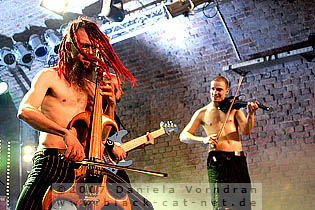 All pictures by Daniela Vorndran (
http://www.vorndranphotography.com/
/
http://www.black-cat-net.de/
)
{jos_sb_discuss:17}