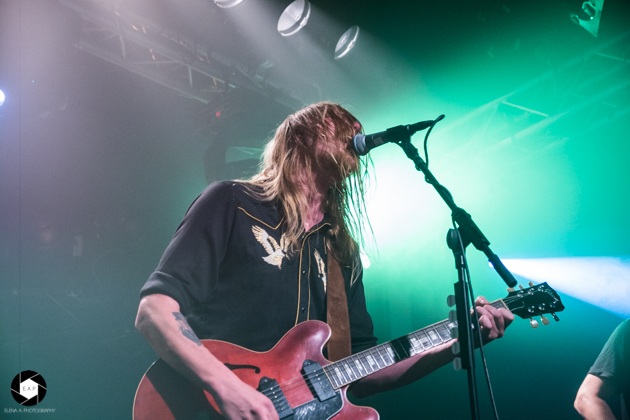 Den Atelier, Luxembourg City, Luxembourg
6th October 2018
Graveyard

Two years after announcing their breakup, Swedish kings GRAVEYARD made a very welcome return to Luxembourg on Saturday night. Joining them was their new drum Oskar Bergenheim and their new album 'Peace'.
GRAVEYARD is a Swedish Hard Rock band from Gothenburg, formed in 2006. In October 2014, the band announced that bass player and co-founder Rikard Edlund was leaving the band to "pursue other musical ventures". On 23 September 2016, the band announced they had broken up, citing, "all so classic reasons". GRAVEYARD announced their reunion on 26 January 2017, with a new drummer. The old drummer Axel Sjöberg decided to stay with his new band.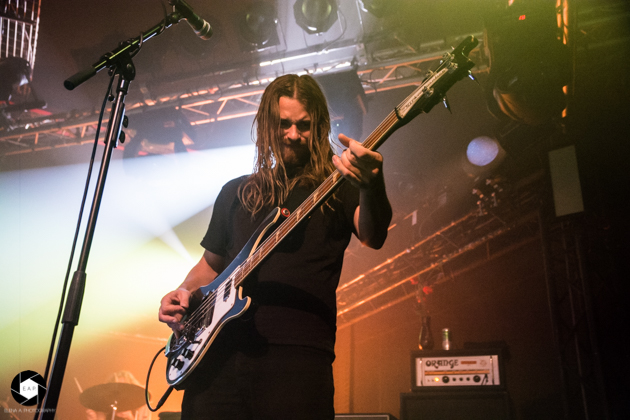 Music & Performance

GRAVEYARD start their set with 'Walk On' from their latest album, 'Peace'. Closing your eyes, you can feel the rhythm sending you cruising down the highway with only the moon to guide you. The trading guitar solos of Jonatan Larocca-Ramm and Joakim Nilsson enhance the feeling of flying down the road urgently seeking escape. As usual, the lyrics invite you to create your own narrative and reflect on how this song embeds within your essence. The band is not moving much but that's not really necessary, all musicians seem very relaxed. The band is obviously having fun, even though the eyes of singer Joakim Nilsson are barely visible. Much too concentrated is the talented head of the band with his vocal lines, which he brings across especially well this evening. GRAVEYARD's setlist was damn near perfect as it pulled from the band's most knowable albums. The band really seemed to pay attention to creating a setlist that had a certain flow. Every song seemed to create a wave of feels as they one minute had losing the audience's mind (and voice) and then two songs later feeling the hairs on their arm stand at full attention and feeling Goosebumps take over their body.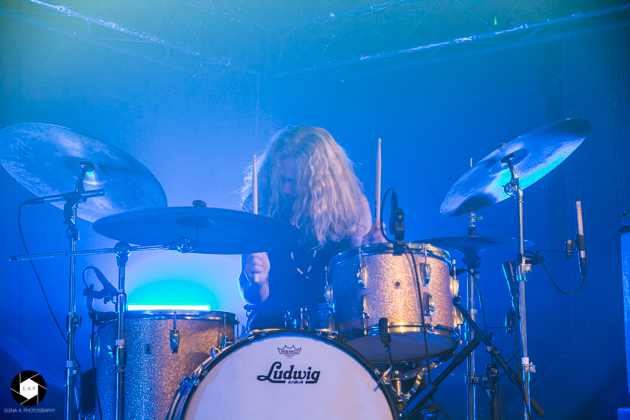 It is so very clear that Graveyard haven't lost their dominant groove with the new drummer, which is especially warm in the harder songs. In 'Bird Of Paradise' for example the voice is reminiscent of Jimi Hendrix. Otherwise the smoky organ of Joakim Nilsson, immersed in whiskey, dominates, who can also sing honestly more variable and expressive. In addition the dynamic interaction of dry guitar riffs, bluesy solos, pumping basses and a natural sounding drum set. With authentic light-footedness GRAVEYARD played such carefree songs as the fuzzy boogie rocker 'Cold Love', the swinging 'Please Don't' and the psychedelic 'The Fox'. The latter is a perfect example of the diversity as guitarist Jonatan Ramm blasts out a fuzz pedal riff that would feel right at home on some lost 1960's garage rocker. One of the highlights of the evening was 'Low (I Wouldn't Mind)' which the band plays as encore. This song from 'Peace' is majestic with its duelling guitars and gospel-like vocals in between.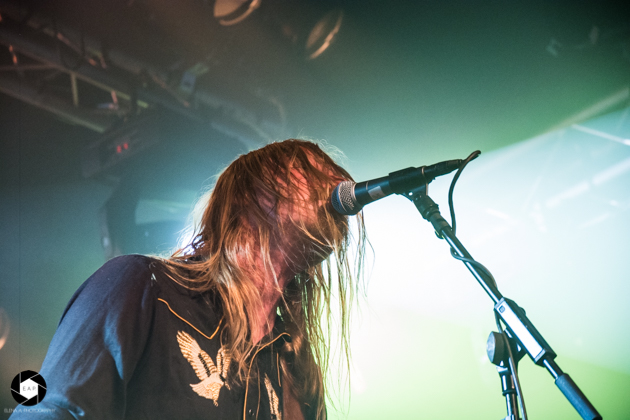 GRAVEYARD absolutely showed last night that they really seem to have found their place that they need to be and everything seems to have perfectly locked into place on a personal level allowing them to put all their focus into the music and their performances. If you have the chance, do not miss the opportunity to catch GRAVEYARD live. They will not disappoint.
Setlist

01. Walk On
02. Please Don't
03. The Fox
04. Hisingen Blues
05. Uncomfortably Numb
06. Cold Love
07. Buying Truth
08. Slow Motion Countdown
09. An Industry of Murder
10. It Ain't Over Yet
11. Bird of Paradise
12. Goliath
13. Magnetic Shunk
---
14. Low (I Wouldn't Mind)
15. Ain't Fit to Live Here
16. The Siren
Rating

Music: 9
Performance: 7
Sound: 9
Light: 8
Total: 8.3 / 10
All Pictures by Elena Arens