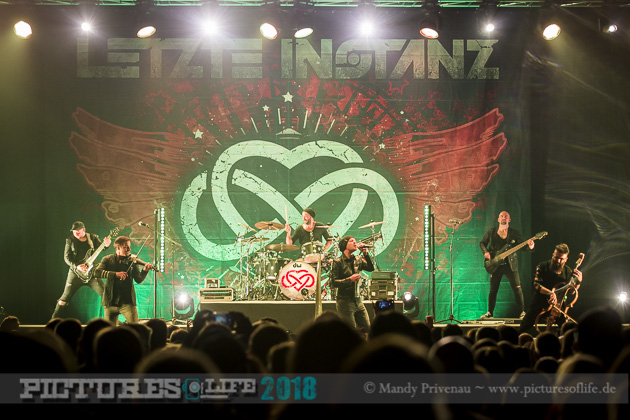 Alter Schlachthof, Dresden, Germany
13th October 2018
Letzte Instanz - "20 Years Anniversary" - Guests with own shows: Zeraphine & Lord Of The Lost - and many special guests

LETZTE INSTANZ invited friends, fans and colleagues to celebrate their 20th birthday at Alter Schlachthof in Dresden mid of October and many followed that invitation. The expectation were high for this night: LETZTE INSTANZ invited their friends from ZERAPHINE and LORD OF THE LOST to "warm-up" before their own gig. This combo was just perfect for me, so I didn't hesitate long to get my ticket back in spring.
Before the concert there was plenty of time for me, so I enjoyed the very warm and sunny October day by strolling around Dresden Neustadt and enjoying its alternative, cosy flair. Many steps, delicious Indian meal and lots of vitamin D later I headed to the location: Alter Schlachthof. After waiting for about an hour in the warm autumn sun that just started to set and getting to know some other fans, the doors opened at 6 pm and we could enter the location. First thing to do, of course, was to find a good place to see the bands. Also I already spotted the merch stands that were full of treasures to check for later. Just before the concert should have started, we got to hear some pipe & drum music by the DRESDEN PIPES & DRUMS. The ensemble went in through the doors and played while walking through the audience. Nice surprise and great special to start the evening.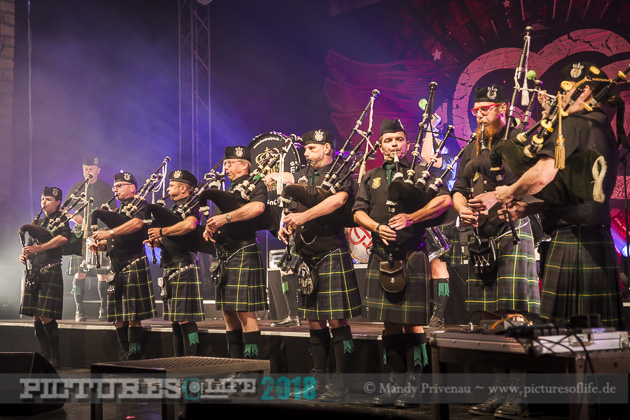 Zeraphine

ZERAPHINE is for me a very special band. I remember how I discovered them back in 2002 (?) on an 'Orkus' compilation with the song called 'Be My Rain' and immediately fell in love with the voice, the music and the lyrics. That was a start of a never-ending love story though ZERAPHINE themselves unfortunately didn't release any new material since about 2010. Sven Friedrich started with SOLAR FAKE a new band back in time that got all the attention and became very popular in the last years. I enjoy SOLAR FAKE as well, though ZERAPHINE is deeply missed by me. In the last two years ZERAPHINE became a little bit more active as live band though, playing some festivals and also a few special gigs. Unfortunately I missed some of the shows, but this year I was about to get the chance to see them twice: at M'era Luna and now at the special gig for LETZTE INSTANZ in Dresden.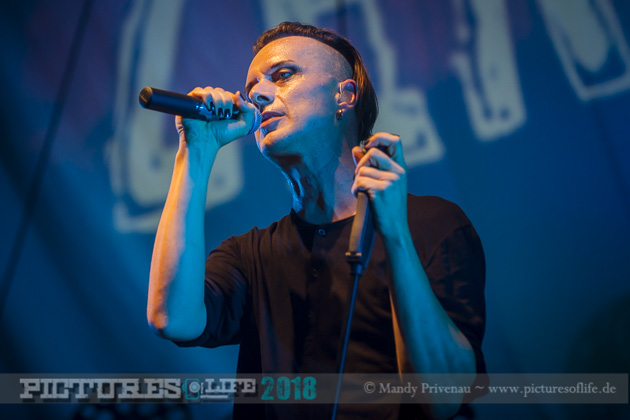 The atmosphere was already very good and welcoming from the beginning. 'Die Macht in Dir' made a powerful intro to the gig. It was a pleasure to see all the guys on stage. Thinking about for how long I am already listening to this band, felt crazy as the person who started listening to them back in 2002 was just a 13-year-old teenage girl. We all got older, on and in front of the stage, but the message of the songs and their timelessness just caught me in a bubble without time and rush for a moment. Sven Friedrich didn't miss the chance to announce 'Out Of Sight' as a song from the "new" or "latest" album 'Whiteout' (released in 2010. You know what "new" here means). Somehow this seems to be a bittersweet gag. Funny at some point, bittersweet for many fans. But as Sven said "well, it is how it is". A very deep song was 'Ohne Dich', with so much darkness it that just covers everything.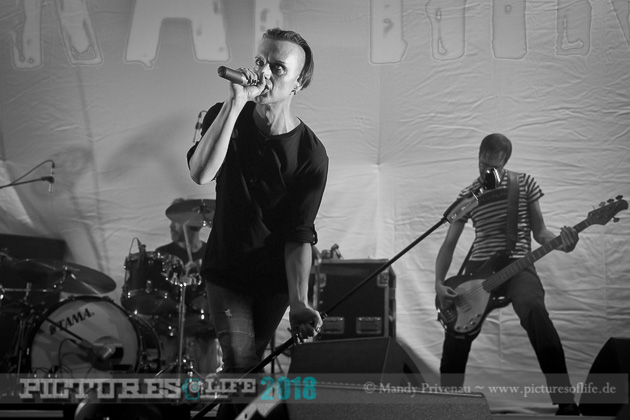 Just the next song after 'Ohne Dich', was the first one for me at all: 'Be My Rain'. Though rain is usually not considered with something positive and the lyrics are, as you might expect, not what you call "optimistic" - for some reason while listening to it I am more thinking of rain as something that is clearing the thoughts and imagine how the sun breaks the clouds. Also the rest of the setlist was just perfect to dive in and take a ride to the bittersweet past of approximately every second Goth teenager in the 2000s, be it 'Siamesische Einsamkeit', 'Die Wirklichkeit' or the heart-breaking song for the lighters to get out 'Sterne sehen'. After ten songs ZERAPHINE said goodbye to the audience to make the stage ready for the next guests on the schedule today: LORD OF THE LOST.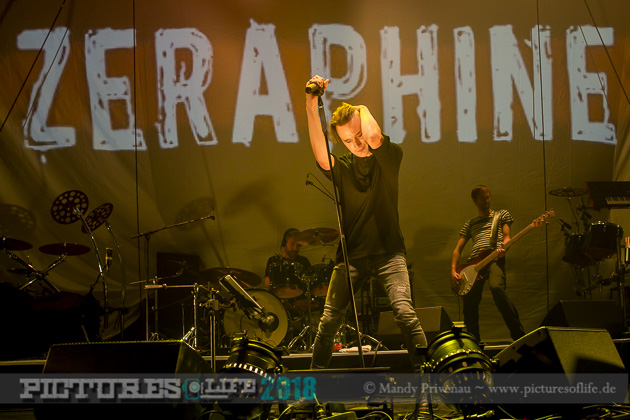 So far, we all just hope to see ZERAPHINE somewhere someday, hopefully soon again and maybe, just maybe also with something new. As long as it is not the case, we keep on enjoying the songs they created for us already about a decade ago.
Setlist

01. Die Macht in Dir
02. No Tears
03. Out Of Sight
04. Ohne Dich
05. Be My Rain
06. Still
07. Inside Your Arms
08. Siamesische Einsamkeit
09. Sterne sehen
10. Die Wirklichkeit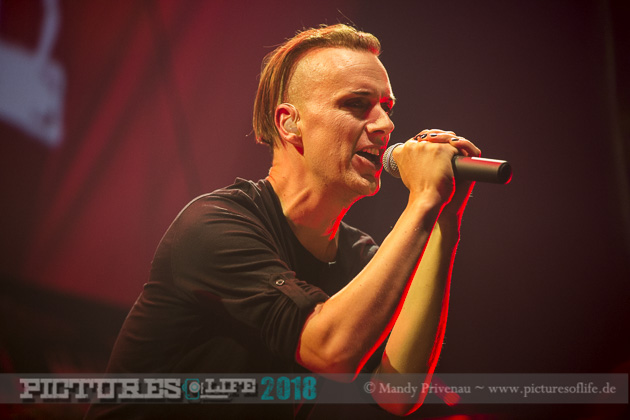 Lord Of The Lost

LORD OF THE LOST got such a breath-taking professional appearance on stage. They started their set with some of their most popular songs from the new album, 'Thornstar', released this summer. 'On This Rock I Will Build My Church' is just like saying "Here I am and who you are to discuss with me?" It is pure rock & metal power, celebrated by five amazingly talented guys on stage. Also the other three songs from the new album show majestic power of drums, guitars and the bass and of course the keys on stage. Not to forget the vocals by Chris Harms here of course. He came on stage with his left arm being in plaster bandage due to an accident that happened just lately. Nevertheless the whole show he was performing as professional as you can imagine.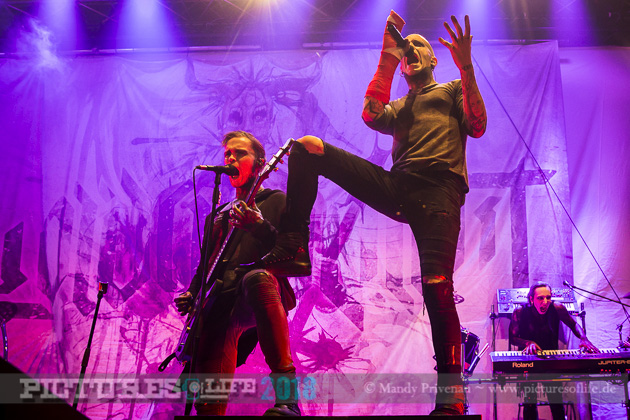 The second part of the setlist was a time travel through all the in the meanwhile loved and well-known songs of their career. Some of the very early time were e. g. 'Prison' (remember the heavenly 'What is heaven for?' that got broke by heavy sounds in a second) and of course the unforgettable 'Dry The Rain', the hymn of the early LORD OF THE LOST era. 'Blood For Blood' is one of these songs that don't fit in any category and become so important, so you don't even know if it was really meant to turn out that way. The self-made 'Hyper-Hyper' allusions show the guys' ability to not take themselves too serious and still make great music.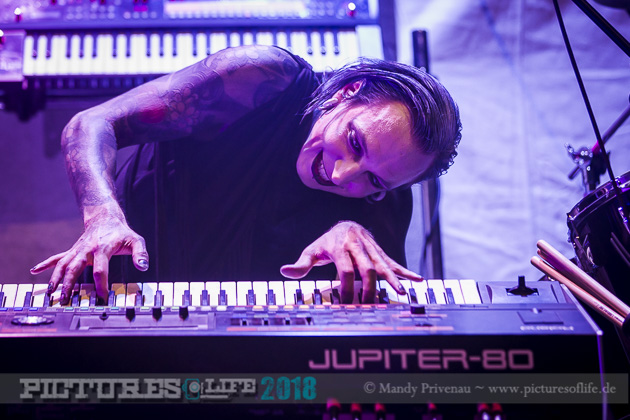 At the same time there are songs like 'Die Tomorrow', also performed on this evening that are about life and how important it is to take all the chances we got and not rely on 'still having time to do it later'. Coming back to this little weird and therefore magnificent songs: LORD OF THE LOST finished their intermezzo as birthday party guests with the best party song ever: 'La Bomba' is everything one can wish to create as a musician or band. A crazy mix of styles and rhythms that lets the halls full of black dressed people shudder to the mix of Latin and Metal rhythms. So the crowd was already in the best mood to celebrate the stars of the night: LETZTE INSTANZ.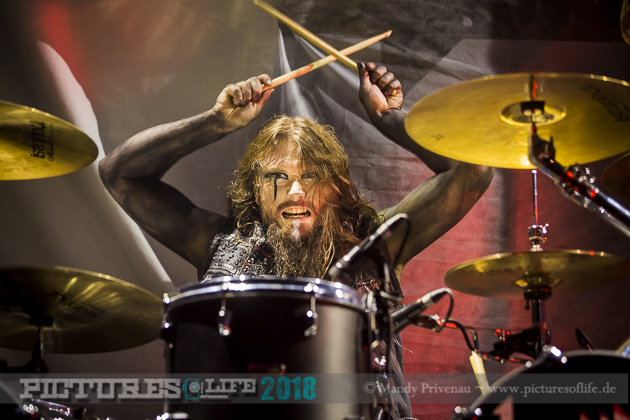 Setlist

01. On This Rock I Will Build My Church
02. Loreley
03. Morgana
04. Black Halo
05. Intro Empyrean
06. Drag Me To Hell
07. Prison
08. Dry The Rain
09. Six Feet Underground
10. Blood For Blood
11. Doomsday Disco
12. Die Tomorrow
13. La Bomba
Letzte Instanz

Before entering the stage for their own birthday bash, LETZTE INSTANZ showed a video with loads of birthday wishes from sooo many people whose paths crossed their own in the past, just a little sneak peek: Joachim Witt, Andy LaPlegua (Combichrist), Dero (Oomph!) and many, many more. It was a heart-warming, sometimes funny video footage that was followed by pictures of the band throughout the two decades. Holly Loose came on stage to the music of 'Morgenland' and just after some moments the huge white fabric, that just was used to show the video and the pictures, fell down and we could finally see the whole band behind it. The start was fulminant and the band in the best form.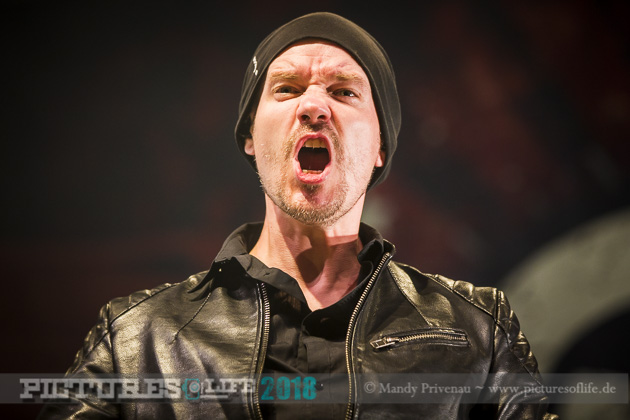 The show turned out to be somewhere between 2.5 and 3 hours with such a huge list of songs and surprises, I would need pages to write about them all. Songs from the whole two decades were presented to the fans and everyone was celebrating all of them. And there were a lot of special guests, the most special one was for sure Sebastian Lohse (aka Robin Sohn), singer of LETZTE INSTANZ from 1997 until 2004 and the voice of the first song I heard, another one from an 'Orkus' compilation from very long ago… the times when our parents paid per minute for the internet use, so finding new music was part of a creative process as well. This special song was 'Kopfkino', still one of the best songs of all times for me, but unfortunately not played this night. So guys, here is a to-do for the 25th birthday party ;) Sebastian Lohse joins his (former) colleagues for the songs 'In meiner Erinnerung' and 'Salve Te'. Another singer for 'In meiner Erinnerung' who is joining Holly Loose and Sebastian Lohse, was Sven Friedrich.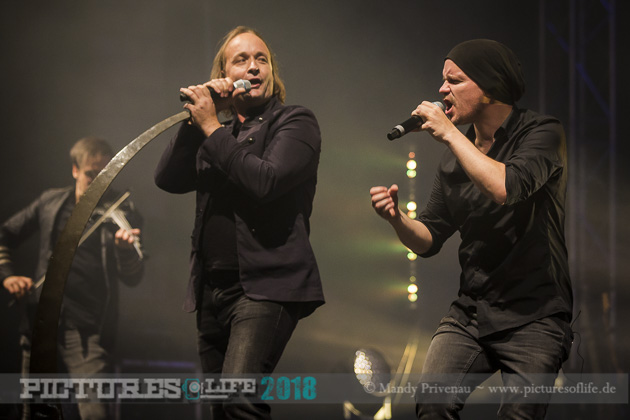 Gared Dirge from LORD OF THE LOST, announced as a great keyboard player (which he is, no doubt!) came on stage for 'Wellenreiter' and 'Wir sind eins'. Also we could see him later helping out with the karaoke version of 'I Was Made For Loving You', a KISS cover that was part of an epic medley in the encore part of the show. Other special guests this evening were Scarlet Dorn ('Der Kuss') and Ally The Fiddle (for the songs 'Blind', 'Der Garten', 'Monument der Stille') who was announced by Holly Loose with the words "we didn't invite women today, we invited only goddesses". Also Johanna Krins ('Monument der Stille) from BANNKREIS, Martin Höfert ('Monument der Stille') and Thomas Lindner ('Der Garten') from Schandmaul came to celebrate LETZTE INSTANZ.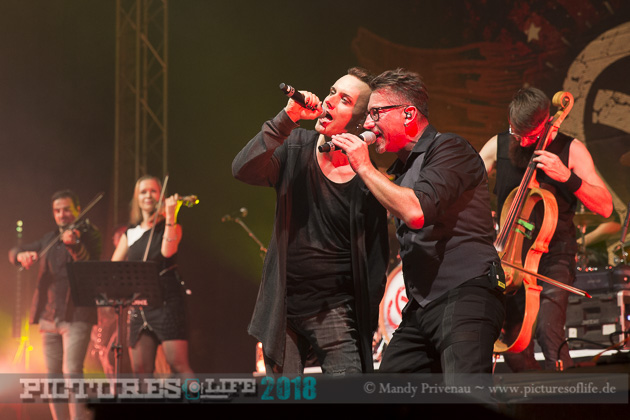 A very special moment of the evening was the medley inside the song 'Rapunzel', consisting of 'Junge', a song cover from DIE ÄRZTE, the previously mentioned 'I Was Made For Loving You' from KISS and a surprising 'Remmidemmi' by DEICHKIND. M. Stolz perfectly played the judged boy in 'Der Junge' with a little messy hair and a bottle of beer in his hand (still missing some destroyed clothes here!). The songs didn't fit together in their style, and so it made them perfect for a trashy, party medley to just celebrate. The end came closer and Holly announced a short song, "only" lasting 17 minutes. It was 'Wir sind allein' and fans knew what should come now: everyone was supposed to take the hand of the person next to him/her and rise the arms in the air and stay, if possible, for the whole song connected this way. Luckily, the song isn't really 17 minutes long, so we did not have to collect dead arms from the floor afterwards. A very beautiful song and sign of community and peace, values that LETZTE INSTANZ spread all over and are never tired to do so. Which I am personally so thankful for! Keep going!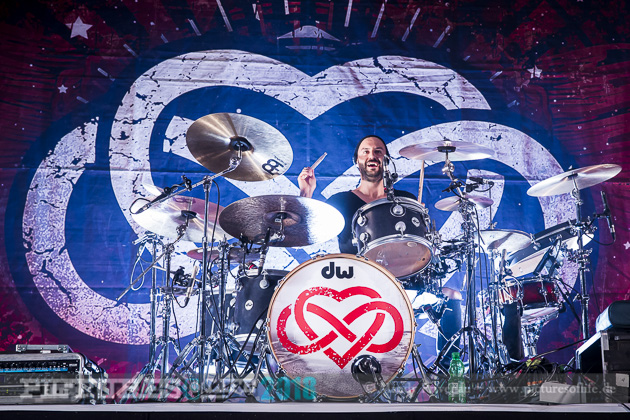 Also the small rant about not being political, but spreading the message of 'Make Love Not War' was heart-warming in these sometimes very challenging times. For the last two songs of the evening, 'Stimmlein' and 'Noch einmal', many of the guest singers came again on stage and joined in. It was a beautiful end to a warm and familiar evening. Afterwards everyone had the chance to catch some musicians and take some pictures or just say "hi". Me and some very cool people I just learned to know before the show met and also took the chance to get some pictures, before we were heading back to the train station, where my 8-hour-long journey back home to Hamburg should start at 3 am. Thank god I was tired enough and slept a lot in the bus that brought me back home from an evening full of memories, love and amazing conversations.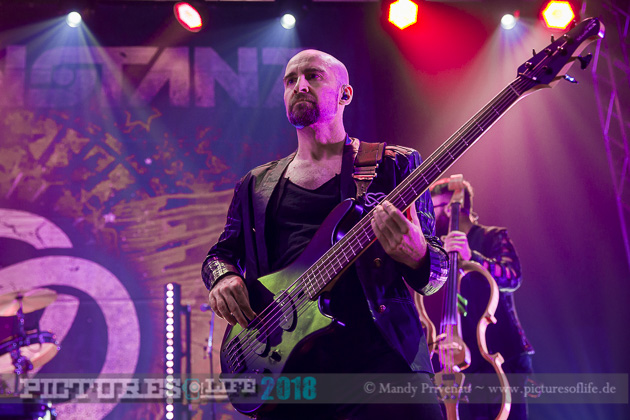 Setlist
01. Intro: Birthday wishes from colleagues and friends
02. Morgenland
03. Maskenball
04. Schwarz
05. Das schönste Lied der Welt
06. Schau in mein Gesicht
07. Disco D'Amour
08. Blind
09. Der Garten
10. Wellenreiter
11. Wir sind Eins
12. Geigenschüler / Egotrip / Sonne / Liebe im Krieg
13. Monument der Stimme
14. Der Kuss
15. Von Anfang an
16. In meiner Erinnerung
17. Salve Te
18. Et In Arcadia Ego
19. Ohne Dich
20. Tränen aus Stein
21. Finsternis
22. Komm!
- Break for DRESDEN PIPES & DRUMS -
23. Mein Todestag
24. Flucht ins Glück
25. Medley: Rapunzel (part one) / Junge (cover version DIE ÄRZTE) / I Was Made For Lovin' You (cover version KISS) / Remmidemmi (cover version DEICHKIND) / Rapunzel (part two)
26. Wir sind allein
27. Das Stimmlein
28. Noch einmal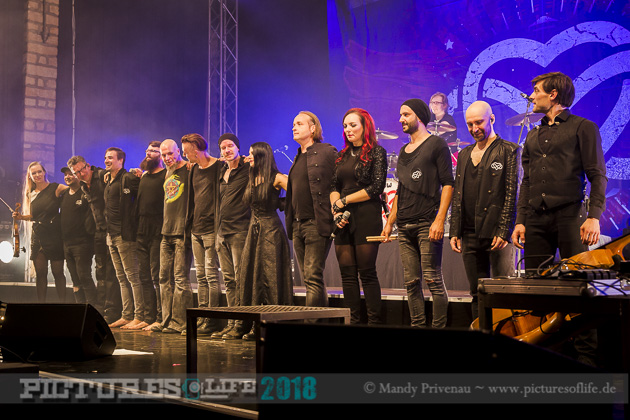 All Pictures by Mandy Privenau