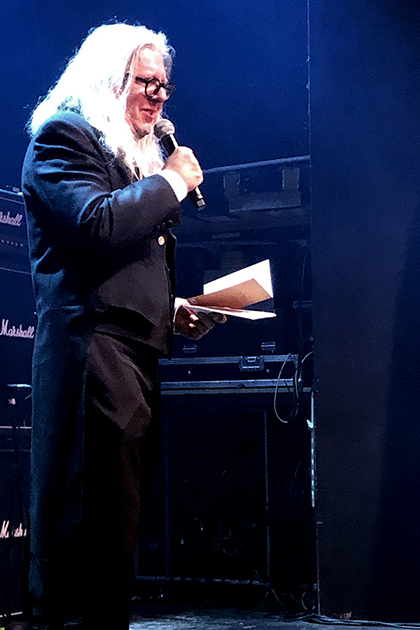 Tavastia, Helsinki, Finland
18th December 2018
Klaus Flaming 60th Birthday Concert with various artists

Radio Rock organized a breath-taking birthday party for Klaus Flaming on Dec. 18th 2018 in Helsinki. Radio Rock is Finland's biggest radio station when it comes to private radio stations focussing on Rock music. Their motto is "Asenne on rock" which means "(Our) stance is rock". Klaus Flaming is a Finnish radio host who started his career in 1988. From 1990 to 2006 Flaming hosted 'Metal Alliance' on Radiomafia and Ylex, in 2007 he started working for Radio Rock and has his own radio show 'Klaus Flaming Kvartaali'.
If you want to deepen your knowledge about Rock and Metal, his shows are a must. There is a different theme every day, like 60s - 70s Rock, Heavy Metal, Heavy Metal subgenres, various themes of Rock and many more. Even if you don't speak Finnish, the selection of songs is worth listening to the show. Don't worry, if you don't live in Finland, you can stream the program via internet. Of course his birthday party had to take place at a legendary venue: Tavastia. At Tavastia bands like HANOI ROCKS, DEAD KENNEDYS, HIM, THE 69 EYES, APOCALYPTICA, NIGHTWISH, CHILDREN OF BODOM, LOST SOCIETY performed in the past. If a band is allowed to play at Tavastia, it's a kind of accolade for them.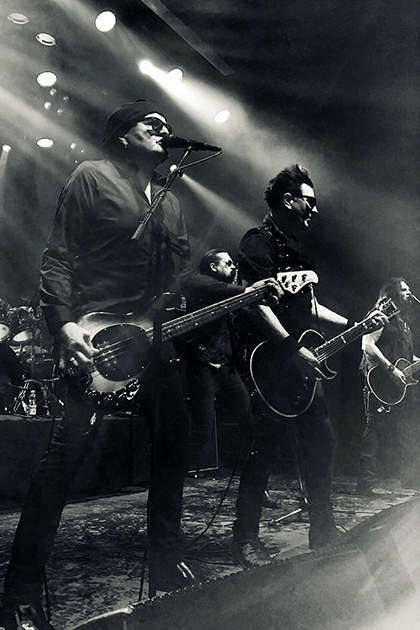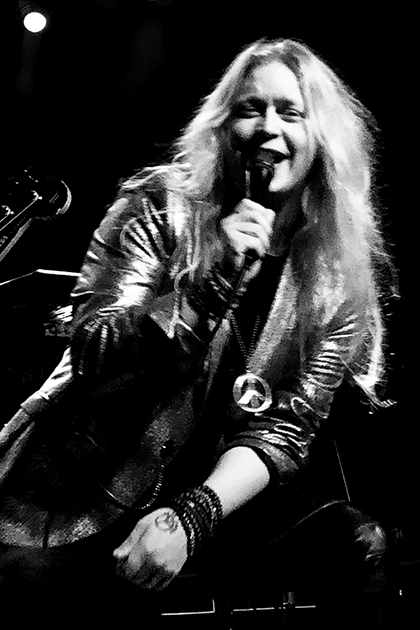 The proceeds of the evening were donated to a charity project (Elmu-Foundation /Teemu Raimoranta-Funds) that supports musicians and live-music. Doors opened at 7pm, photos were taken, and people gathered at the bar or went into the main-hall, making sure they would stand in the front row or get a place on the gallery. There was no crush-barrier between the audience and the stage, which was a bit surprising. If bands like APOCALYPTICA, LOST SOCIETY or THE 69 EYES play a live-show at Tavastia, there is always one. Tavastia's crew can be fully trusted for they have years of experience and during the evening it became clear that a barrier was not necessary. People came there to celebrate and were always ready to let someone squeeze in, if he or she wanted to be in the front for their favourite band.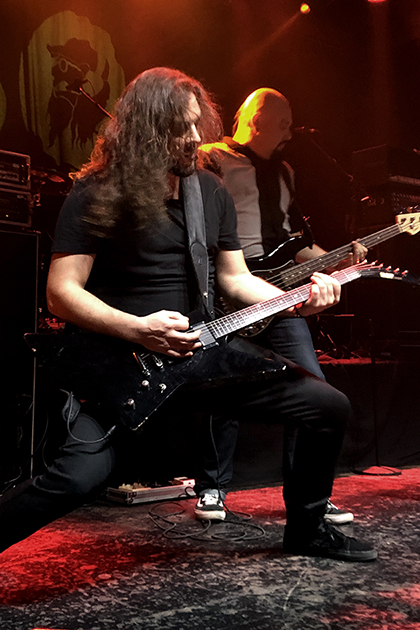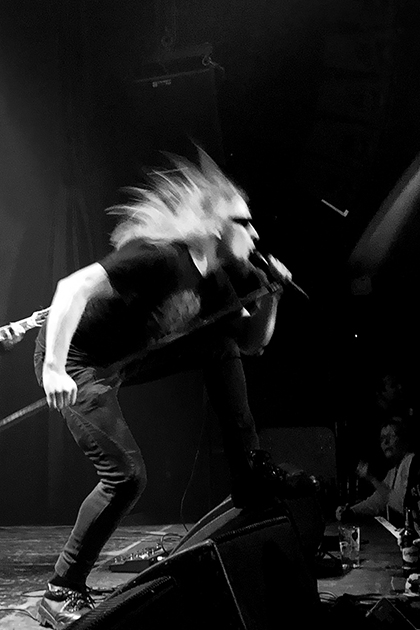 In front of the stage you could literally shake hands with the artists during the show. Some people did so and claimed that they would never forget this moment for the rest of their life. By 8pm the show was opened by Jone Nikula (Radio Rock), who introduced KOTIPELTO & LIIMATAINEN DUO. They played a fantastic acoustic set, covering 'Holy Diver' (RONNIE JAMES DIO) and 'Hunting High and Low' (STRATOVARIUS) and the audience happily joined in. Guys could you please come to Germany for a whole live show? Tavastia's crew did their best on stage and behind to make sure the artists found perfect conditions and the audience would hear the perfect live performance. Yes, it was a real live-concert and it showed the class of every single musician, for there could not have been much time for rehearsals, as most of the bands were on tour previously.
Bands that normally have their own techs and crews were seen on stage between the sets, helping to rebuild everything for their own show or the show of their fellow-musicians. This very down-to-earth stance was really impressing and you could see that all of them are still down-to-earth people, although they play big festivals or sell out large venues. SHIRAZ LANE, who had just returned from a tour with HEAT, performed 'Harder to Breathe' and 'People like Us' from their new album, 'Carnival Days'. Vocalist Hannes Klett brought glam to the whole show in his dancing and jumping on the whole stage in his golden jacket.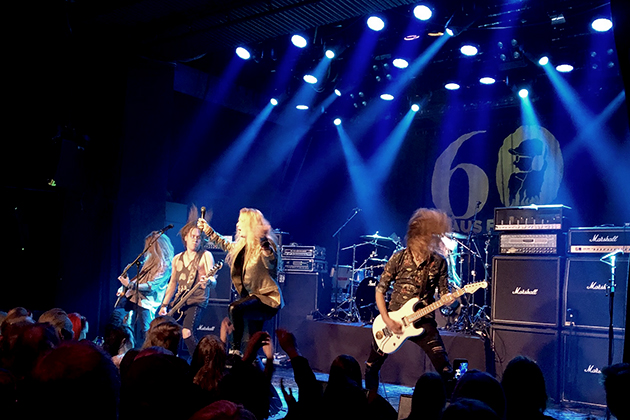 LOST SOCIETY followed suit, performing 'N.W.L' and 'Riot'. Samy Elbana started directing the people to form am mosh-pit and people started to dance. Elbana's microphone fell down, but instead of making fuss and signalling the techs, he simply went to his guitar-players micro and used it, while the audience functioned as a chorus. The band really steered the audience up and Elbana seems to have endless energy, for he was performing with the ALL-STAR-BAND, LOST SOCIETY and helped other artists to prepare for their show the whole evening. LOST SOCIETY will go on their first own headline tour in the UK and Ireland, if you like Trash Metal, you can really look forward to the upcoming shows in February.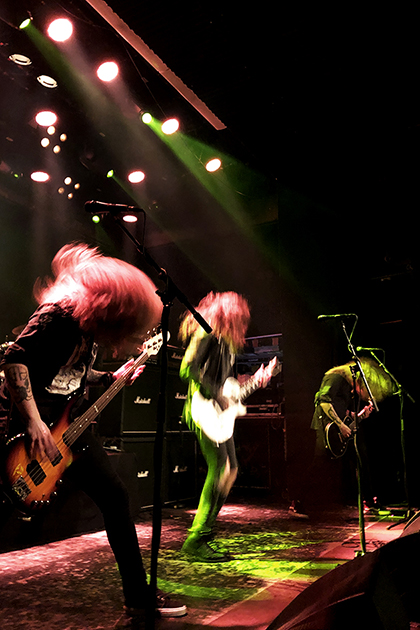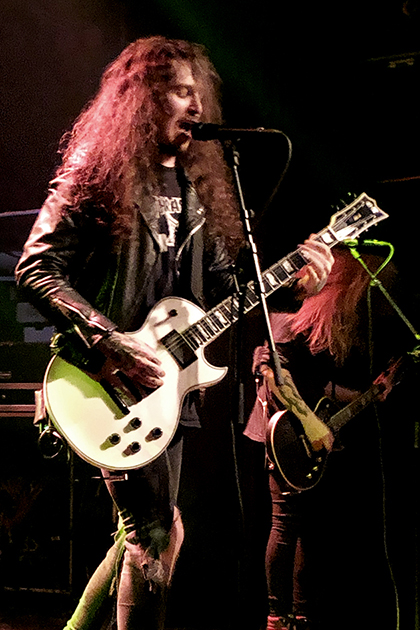 The next set was played by the ALL-STAR-BAND consisting of Kosmo Kröger (HIM, RYTMIHÄRIO - drums), Janne Joutsenniemi (bass), Samy Elbana (LOST SOCIETY - guitar), Kuisma Aalto (MOKOMA - guitar) and various vocalists. Janne Joutsenniemi performed a very devoted cover of 'Ace of Spades' (MOTÖRHEAD) and the band won the admiration of the audience. Pekka Heino (BROTHER FIRETRIBE) performed 'Can't get enough' (BAD COMPANY) and when the band started to play 'It's my Life' (BON JOVI) literally everyone in the room joined in. MR.LORDI himself came, to congratulate Klaus Flaming performing 'God of thunder' (KISS) and a fantastic cover of 'Balls to the Wall' (ACCEPT) asking the audience to become louder and louder. It seemed the musicians had as much fun as the audience and wild guitar solos were performed.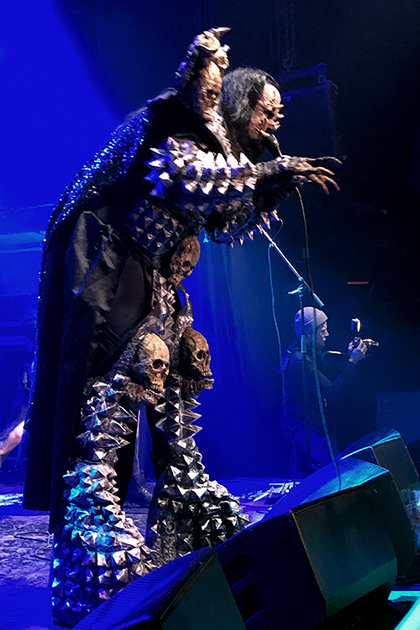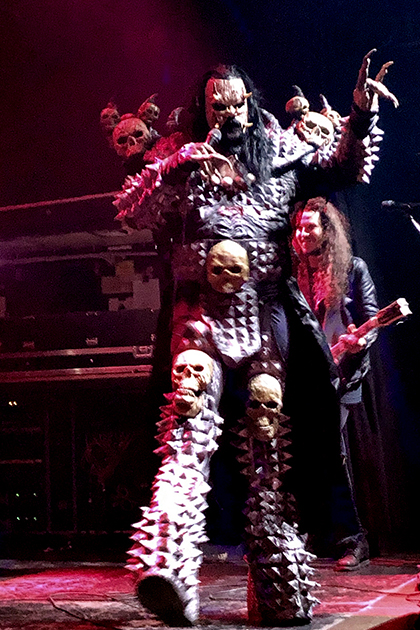 Now it was nearly half-time of the show and the schedule was still really promising. Klaus Flaming gave a short speech and the audience sang 'Happy Birthday' in Finnish for him. MAJ KARMA followed suit, Herra Ylppö had told the audience via Facebook how "dangerous" it could be to listen to Klaus Flaming shows because it was likely one would end up in the record shop, spending money on records. The band performed 'Ukkonen' and '101 tapaa olla vapaa'. Vocalist Herra Ylppö somehow managed to dissemble the microphone during his performance, so he made the audience perform the song, while he ventured to reassemble it.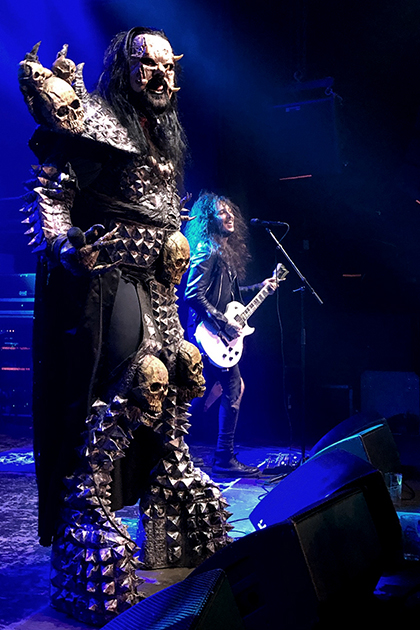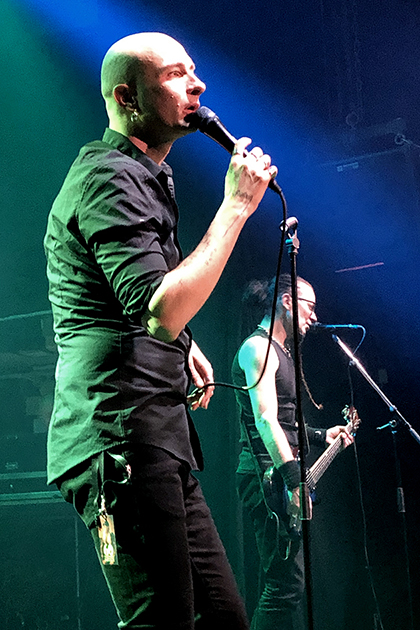 What would be an evening of "Finnish Rock Superstars" without THE 69 EYES, the godfathers of Goth'n'Roll? When the band was announced, the crowd cheered and got louder and louder. The band - currently working on their next album and preparing for a tour to celebrate the bands 30th anniversary - performed 'I just wanna have something to do' (RAMONES). Their hymn 'Lost Boys' was the perfect song for this evening "You wanna rock, nothing's gonna make you stop..." could have been the motto of everyone in the room. THE 69 EYES were in their best of spirits and performed furiously. Unfortunately Jussi69 was absent and his unique drumming-style was missed by the audience. Vocalist Jyrki69 then announced JAY LEWIS and left the stage. Lewis performed 'If You Want Blood (You've Got It)' (AC/DC) with THE 69 EYES.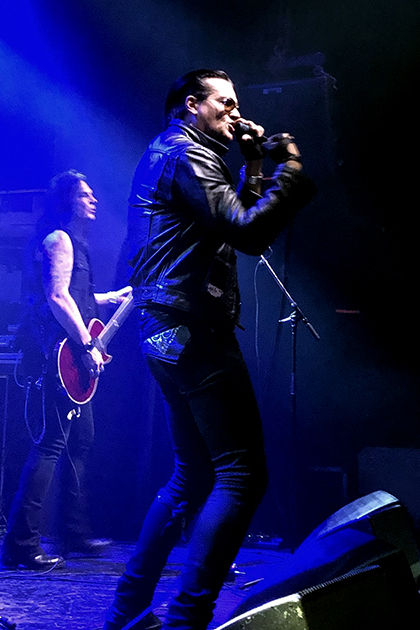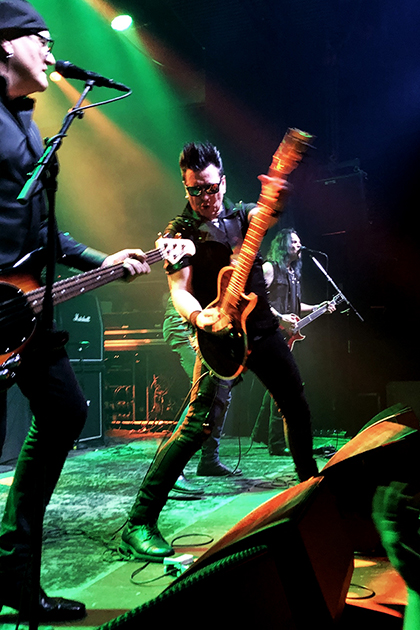 Now a Finnish band you should check out if you like Melodic Metal came on stage. VIIKATE's rather calm performance of 'Tervaskanto' and 'Viina, Terva & Hauta' was a big contrast to the energy-bursting 69 EYES performance but many people in the audience sang along. BATTLE BEAST followed suit and the only female vocalist of this evening (Noora Louhimo) showed, that a female voice can perform metal at its best. Noora Louhimo roamed the stage, raised her fists and made one of her best performances of 'King for A Day'. 'Familiar Hell' and 'Beyond the Burning Skies' were on the setlist as well. If you're in heavy-metal, you should make sure to get a ticket for BATTLE BEAST's upcoming headliner tour.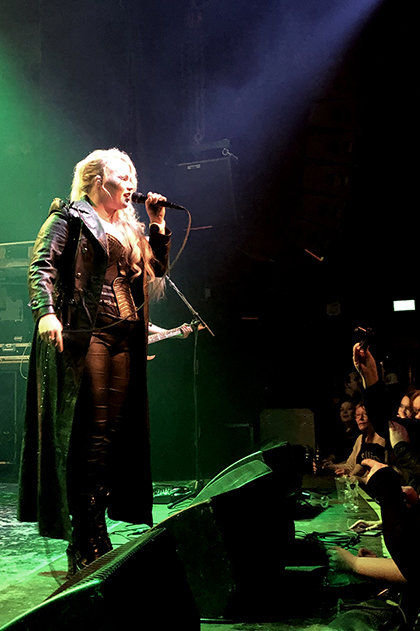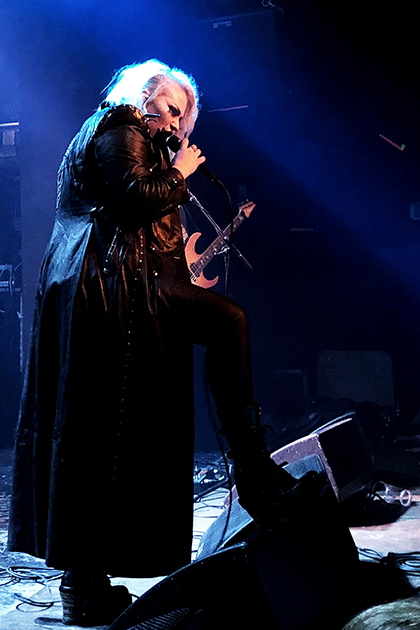 Then it was time for the ALL-STARS-BAND again. Mika Herranen was the vocalist. The audience really rocked to the sound of 'Rock you like a Hurricane' (SCORPIONS) and 'Cowboys from Hell' (PANTERA). The vocalist for the next two songs was Tomy Joutsen (AMORPHIS), who taped the lyrics of the songs on a prompter, to make sure he would deliver a perfect performance. His first song was 'Battery' (METALLICA) and since this was a Rock and Metal show, 'Orgasmatron' (MOTÖRHEAD) followed suit. They could have chosen no better vocalist; Joutsen managed to show his range of voice and made it sound like Lemmy's.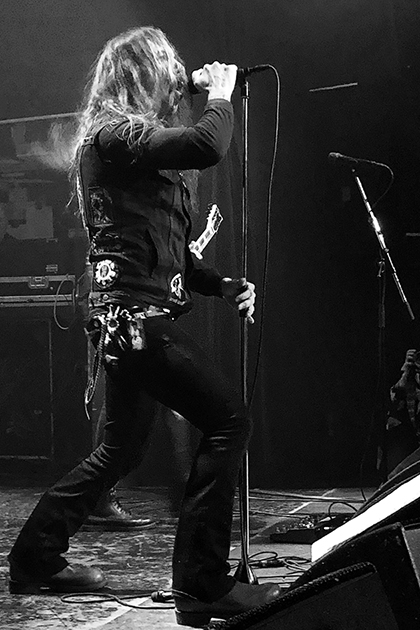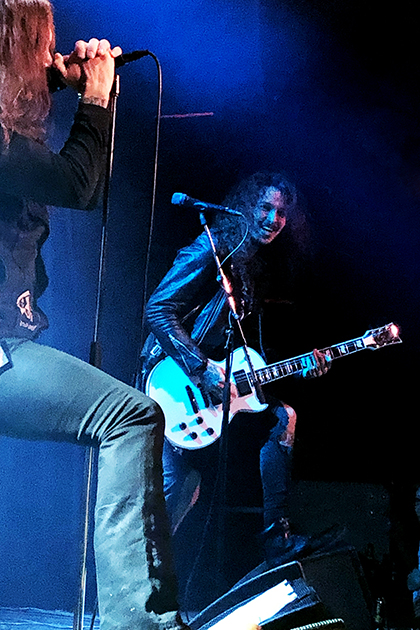 According to the schedule that was published in advance, the show would end at this point... but the ALL-STARS-BAND had prepared a "little" encore. Mikko Herranen opened with 'Enter Sandman' (METALLICA) and many artists came back on stage. Coming to the guitars, there was a unique combination: Bazie69 and Samy Elbana played together on Elbana's guitar at the beginning, and the voices of Finnland's Rock heroes performed 'Enter Sandman' together. Elbana performed like Kirk Hammet in his younger and wilder days and showed that he can play far more than only Trash Metal.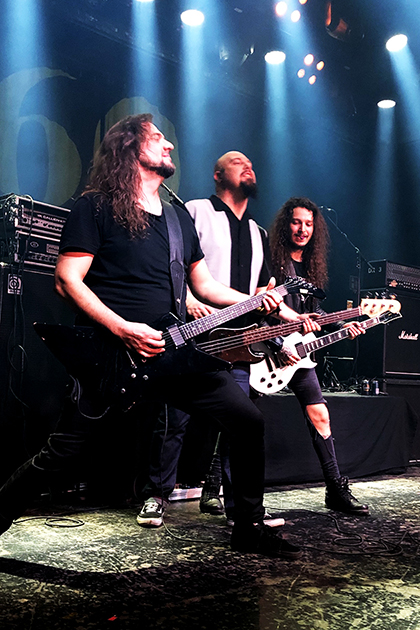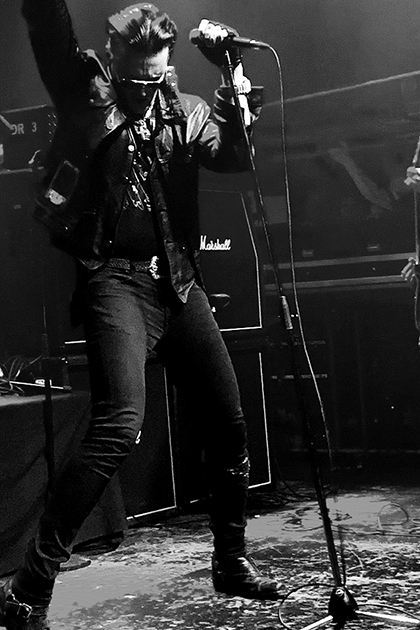 Showdown: Klaus Flaming performed 'Paranoid' (BLACK SABBATH) with the audience and artists, unfortunately his micro was dead at the beginning, but Tavastia's crew saw to it and so it became a legendary song performed by a legendary person. For the audience it was a highlight to see some of Finland's greatest Rock musicians head-banging and playing air-guitar while being on stage (remember, we are in a country that has a world famous air-guitar contest). Samy Elbana's guitar play was the one highlights of the whole evening. In LOST SOCIETY he is a fantastic guitar player, seeing him perform legendary Rock songs is a sheer delight.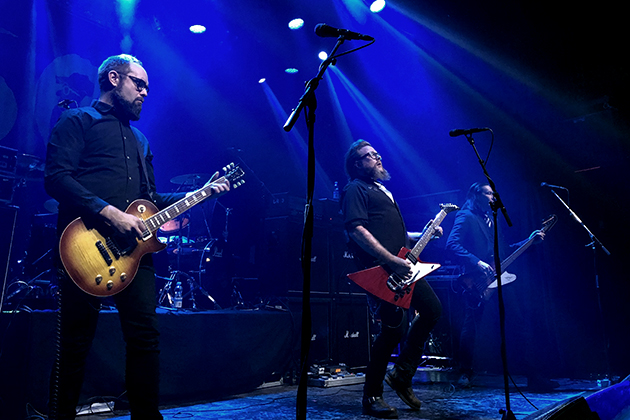 The show was a fantastic display of legendary Rock and Metal songs from all over the world, combined with the best of Finnish Rock and Metal at its best. All in all you could say if Klaus Flaming had hosted the show, it would have been one of his best radio shows. There could have been better gift for him, from the musicians who grew up with his shows. Resume: An evening with big smiles and sparkles in everyone's face, no matter if celebrator, artist, listener, tech, and organizer... an evening you won't forget for a while.
Rating

Music: 10
Performance: 10
Light: 10
Sound: 10
Total: 10 / 10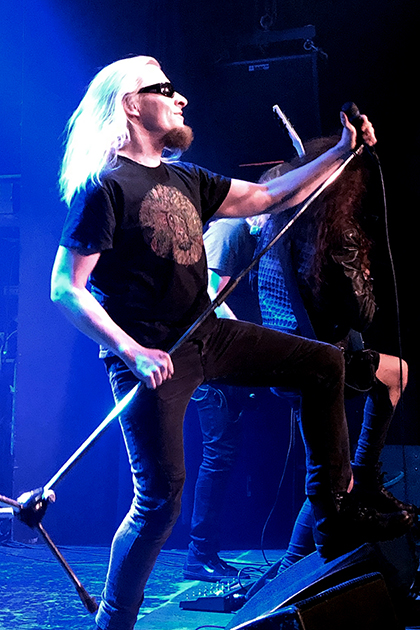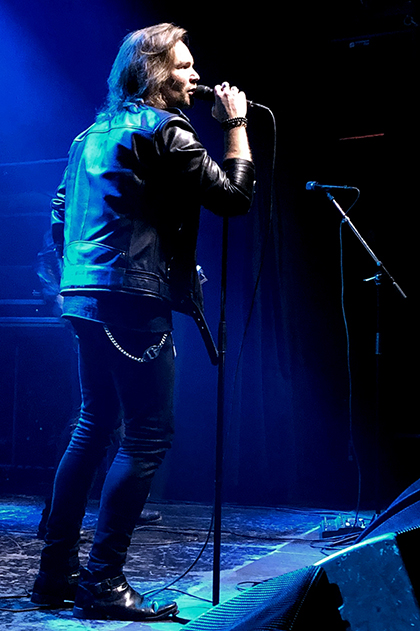 Big thanks to Jone Nikula, who was the show master and showed me around at Radio Rock.
All pictures by Munich Vampire
See also (all categories):