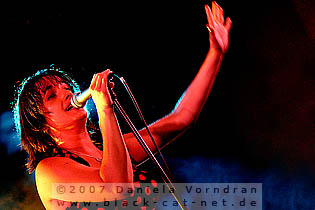 JZE, Essen, Germany
14th April 2007
Kosheen, The Vincent Black Shadow


Bristol-based band 'Kosheen' develeoped their own trademark by blending Dance, Drum'n Bass, Pop and some elements from Rock, and instead being caught between too many stools they wrote a story of success. This spring they embarked on an European tour in support of their brandnew offering "Damage" and to continue this story..



The Vincent Black Shadow


This Vancouver-based four piece THE VINCENT BLACK SHADOW is just as eclectic in their musical output as the band they are supporting this spring. Like KOSHEEN they mix things that don't seem to belong together, unlike KOSHEEN it's a much rockier and organic sound.
http://www.myspace.com/tvbs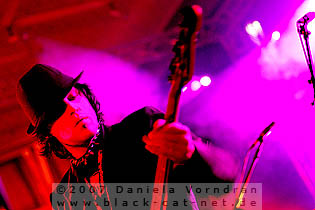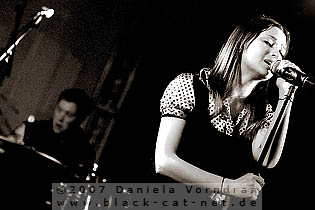 Music
THE VINCENT BLACK SHADOW's musical roots go as far back as to 1940s cabaret sound which has been twisted and contorted to form a modern hybrid and also comprises influences by classic film soundtrack pioneers like Ennio Morricone or Angelo Badelamenti along with Rock and Crossover-acts like Faith No More, No Doubt, Chris Isaak, Blondie, Danzig, Megadeth, plus a wealth of classical music. The Canadian Rock band is comprised of Cassandra Ford (Vocals), the brothers' Robbie (Guitar/Vocals), Chris (Bass/Vocals), Anthony (Drums) Kirkham. The band takes their name from a mysterious motorcycle in the Hunter S. Thompson novels. The vehicle name is the perfect match for the band. Their musical styling also fits within the Hunter S. Thompson "Gonzo" mentality.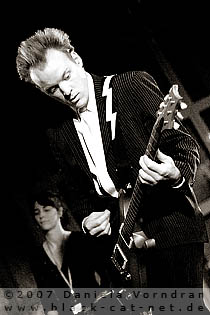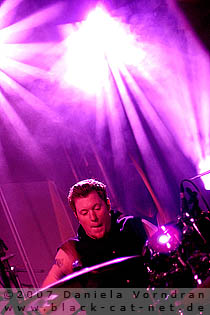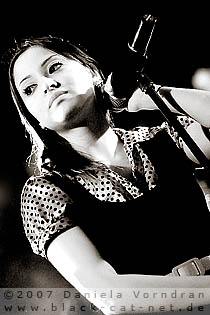 Performance

The JZE in Essen may be a very modern venue with top-notch technology installed but somehow it seems that the architect totally forgot about the acoustical needs of a concert venue. In other words, the sound sucked. There's by far too much echo in this place, and the sound waves roll over a few times while the wandering from wall to wall. Awful! It's a pity that THE VINCENT BLACK SHADOW suffered the most from these circumstances as their performance was actually pretty impressive. They jump from one style to the next within a single song and begin something totally new with the next song. Many details of the tracks got unfortunately lost, details which are definitely worth to be heard but in this place you only got an idea of them.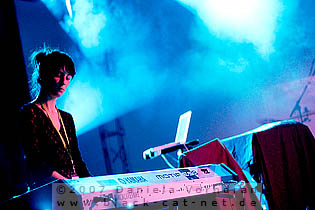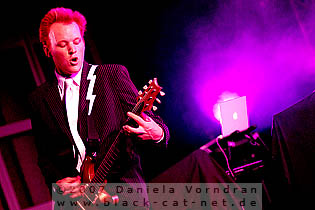 This was not the only reason why their gig made you want to listen again to THE VINCENT BLACK SHADOW - a band that manages to make such an impact under such awful condition does have something to offer, and the Canadian foursome has a wealth of interesting and touching music to offer. The most remarkable aspect of THE VINCENT BLACK SHADOW is the amazing voice of front woman Cassandra. She doesn't move much on stage, in fact she just stands there totally focused on her singing, but her voice will move you!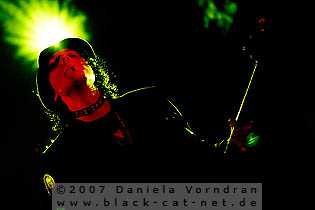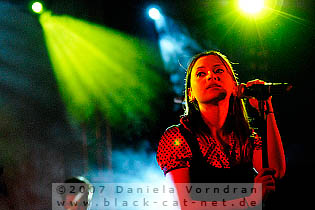 Rating
Music: 8
Performance: 8
Sound: 5
Light: 7
Total: 7.4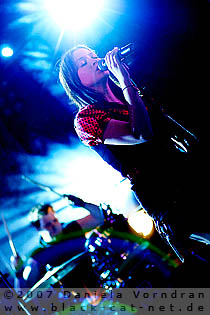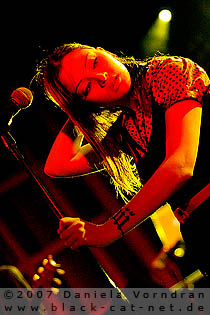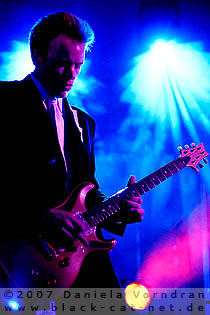 Kosheen

Bristol-based band KOSHEEN is one of the view acts in Pop who truly look forward instead of looking back only to search for inspiration in past decades. Their blend of Dance, Drum'n Bass, Pop and some elements from Rock plus the fantastic vocals of singer Sian Evans is unique and KOSHEEN already developed their own trademark with the debut 'Resist' (2001), and still KOSHEEN managed to broaden their sound without giving up their trademark.
http://www.kosheen.co.uk/
/
http://www.myspace.com/kosheen1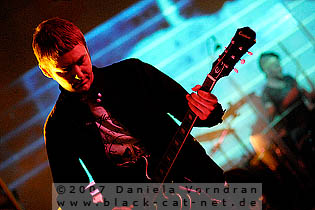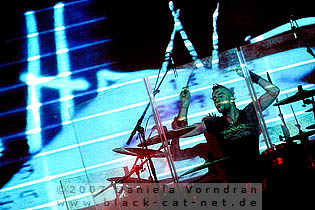 Music
The trio consists of producers Markee Substance, Darren Decoder with female singer Sian Evans. Their first album, 'Resist' (released in September 2001 and reaching number 8 in the UK album chart) spawned the singles '(Slip and Slide) Suicide', 'Hide U', 'Catch', 'Hungry' and 'Harder'. Their second album, 'Kokopelli' (released in August 2003 and named for a mythical Native American spirit) focused less on drum-and-bass beats and more on guitar riffs and darker-toned lyrics. It outperformed its predecessor in the UK album chart by reaching number 7, but did not sell as well as its predecessor. Their third album, 'Damage', was due to be released in 2006 but has been pushed back to early 2007.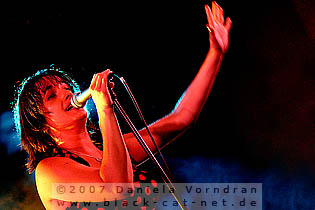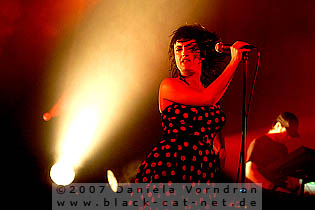 The name of the band is a combination of the Japanese words for "old" and "new". This nicely subsumes the approach of KOSHEEN. They create something new by combining established elements from various genres in a way that it sounds fresh and new. This spring KOSHEEN embarked on a tour in support of the brand new album.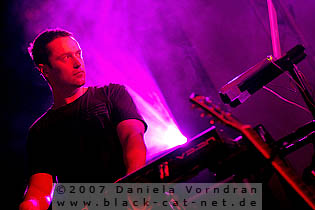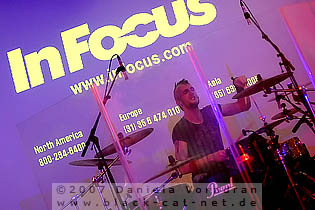 Performance
As soon as KOSHEEN walked on stage welcoming cheers rang out for the much anticipated band. The band started with the mid-tempo gloom of 'Damage', the title track of the new album. Vocalist Sian is stunningly fervent in movement, voice and expression, and with the headlining single from 'Damage', 'Overkill', the band sped up things. To my surprise two of KOSHEEN's biggest hits, 'Hide U' and 'Catch', came next. Pretty early in the set! In the end it was a good idea as both tracks got the crowd really going. The sound also improved, the venue was still too echo-y but perhaps KOSHEEN's low-frequency electronic beats were easier to handle for the technicians in such a venue than guitar-driven sound. The light show was stunning, particularly because of the giant video screen in the back which displayed pastoral imagery, pictures of streets and city skylines in black and white, and much more.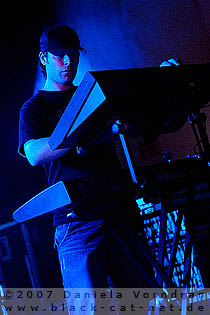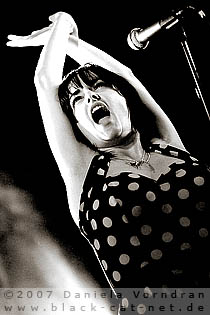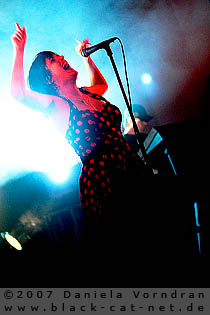 The band was in their best spirits, and this truly transformed to their audience. In fact I have rarely seen a vocalist who spreads so much enthusiasm and passion like Sian Evans, and she really knows how to play with her audience. Still the tracks from KOSHEEN's debut got the best response, but some tracks from 'Kokopelli', like the stormy 'Avalanche' and the refreshing 'All in my Head', seemingly have become live highlights too. A few years back, when the follow-up to KOSHEEN's debut was released, the reaction to the rockier sound of it was rather mixed. Although the tour was in support of the new album 'Damage' we only got five songs from the new output. KOSHEEN knew what the audience wanted and happily delivered exactly this. But they did it in such a natural way that it never felt like a sell-out but simply like a powerhouse of party.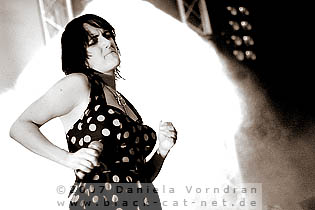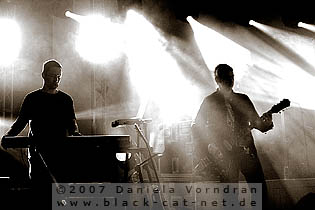 Setlist
01. Damage
02. Overkill
03. Hide U
04. Catch
05. Chances
06. Avalanche
07. (Slip & Slide) Suicide
08. Empty Skies
09. Guilty
10. Hungry
11. Cages
12. Wish You Were Here
13. All In My Head
14. Wish
Rating

Music: 8
Performance: 9
Sound: 6
Light: 8
Total: 8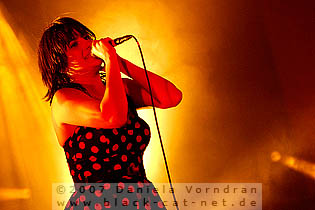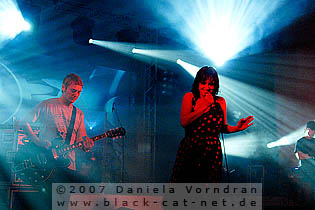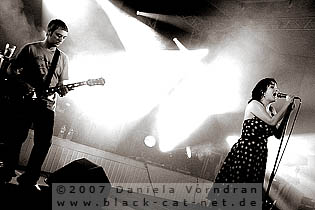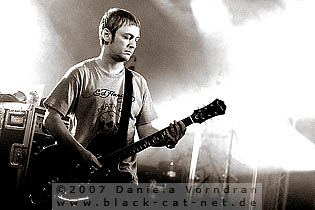 All pictures by Daniela Vorndran (
http://www.vorndranphotography.com/
/
http://www.black-cat-net.de/
/
www.myspace.com/vorndranphotography
)
{jos_sb_discuss:17}